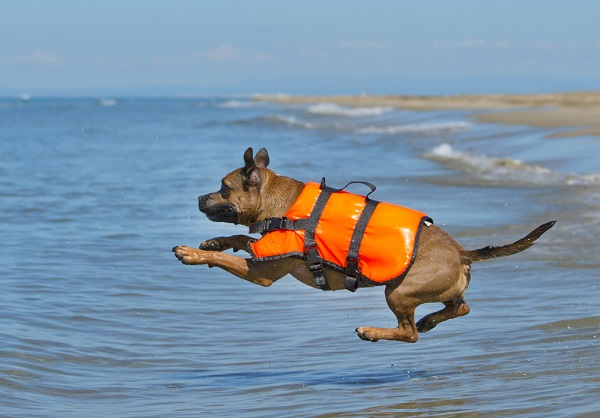 Wading through the descriptions of swim vest for dogs is confusing. How do you know you're choosing the best dog life jacket to keep your pet safe in the water? This is a question I asked when my family talked about getting a boat.
Spending time on the lake used to be our favorite summer activity until life got hectic with a teenager.
But now, my teen is a grown up with a family of his own and the conversation has returned to getting back on the lake. This time however, instead of having kids with us, we'll be boating with our pups, Bailey and Olivia.
It made me realize that I needed information about life jackets for dogs. My research led me to some familiar companies and great products. I found gear for experienced dog swimmers and vests for pups who need a little extra support.
I'm sharing what I learned so your dog can stay safe, whether they're swimming in a backyard pool, a lake or the ocean.
Note: Some of the links in this article are affiliate links. That means I earn a small commission on qualified purchases.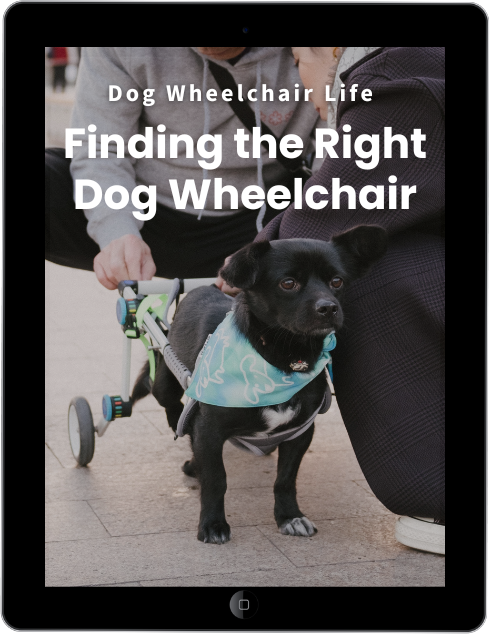 eBook
Find The Right Dog Wheelchair For Your Pet
Your dog has a mobility problem, and you want to buy a wheelchair. But do you know what kind of cart will work best for your dog's individual needs? After a decade of teaching pet owners how to make the right choice, I put the information into an eBook!
Swimming statistics
According to pet insurance stats, approximately 5,000 dogs drown in swimming pool accidents every year. The problem is due, in part, to the misconception that all dogs instinctively know how to swim.
While some pups like Retrievers and Portuguese Water Dogs, love the water, others have no natural interest or ability to swim.
It takes practice and training for these canines to feel comfortable and confident.
Feeling comfortable also depends on when a dog was first introduced to swimming and whether they have the optimal body-shape for it. Young dogs learn to swim faster and so do dogs with athletic bodies.
On the other hand, short, round and flat-faced dogs like French bulldogs and my short-legged Beagle, Olivia, have trouble learning how to float. It takes time for these dogs to enjoy the water.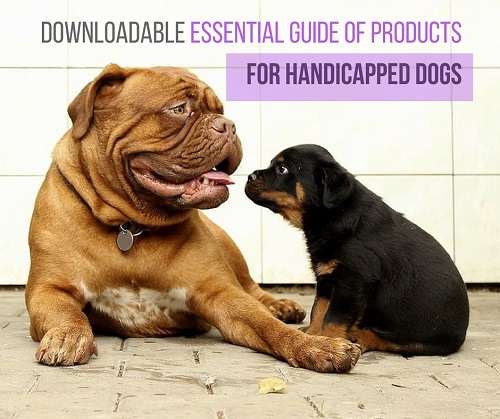 Get the Essential Guide
The Essential Guide of Products for Handicapped Dogs e-book is a labor of love for me. I wrote it to answer your most pressing questions about where to find the best products for your wheelchair dog. You'll find products you didn't know existed and each will improve your dog's quality of life. Print a copy and keep it by your side.
Life jacket must-have features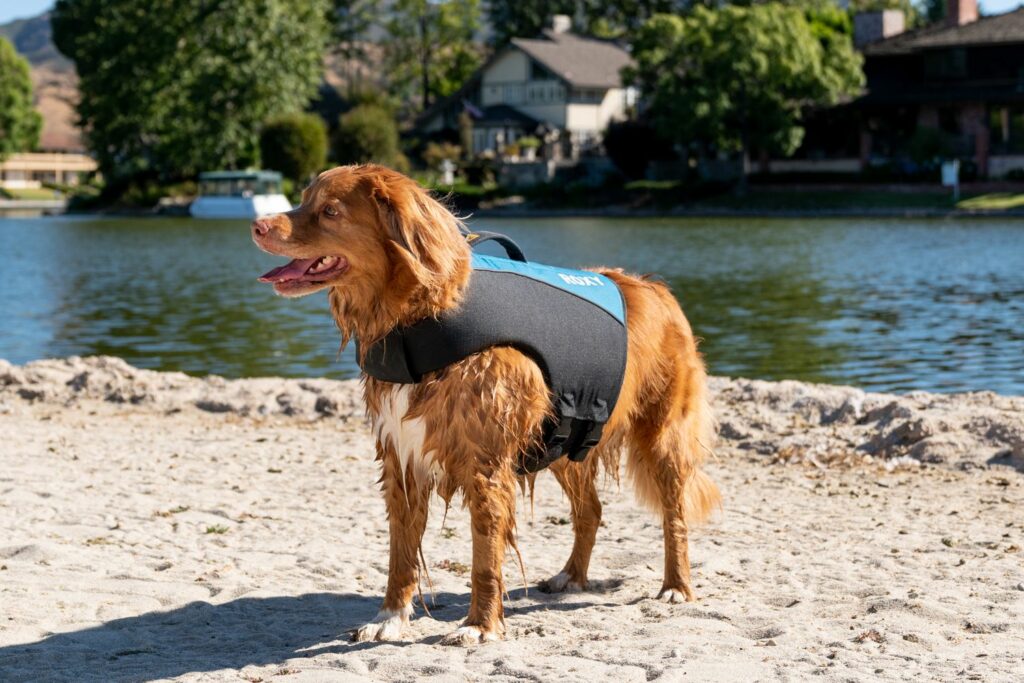 The best dog life jackets have 8 features that enable a pooch to have fun and stay safe. Here are the must-have items:
Maximum Visibility – Brightly colored vests have the best visibility. Be sure the life jacket has reflective materials for even more visibility. Dogs swim low in the water so it's hard for them to be seen by boaters and swimmers. Keeping your pup as visible as possible is extremely important.
D-Ring – Vests with a D-ring sewn into the life jacket enable pet owners to securely attach a leash and keep a dog close-by.
Carry Handle – Life jackets with a sewn-in handle on top of the vest makes it safer and easier to grab a dog in an emergency. Some pet parents also hold onto the handles as a teaching aid for new doggy swimmers.
Quick Release Buckles – Make sure buckles on the jacket are quick release for immediate action.
Good Fit – Swim vests should fit snugly, but not too tight, and they need to stay in place when a dog is moving. To find the perfect fit, measure your dog around the girth (the middle of the body).
Adjustable Straps – For an even more precise fit, adjustable straps help you custom size the swim vest around the chest and under the belly.
Neck Support or Chest Panel – Neck guards and chest panels keep a dog's head above the water at all times. They come in various shapes so it's important to choose a vest that has the right guard for your dog's size and build.
Correct Buoyancy – Flotation panels are the part of the life jacket that keeps a dog above the water. They're located on top of the vest, on each side and under the belly. Each is weighted differently, so it's important to find the correct buoyancy for your dog. Too much buoyancy can flip a dog over or prevent them from being able to paddle.
The best dog life jackets (my favorites)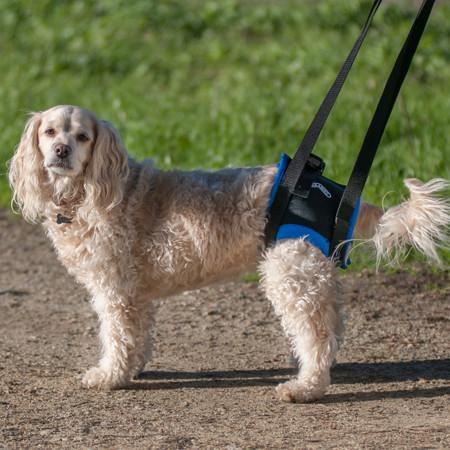 My favorite harnesses for disabled dogs.
Ruffwear Float Coat™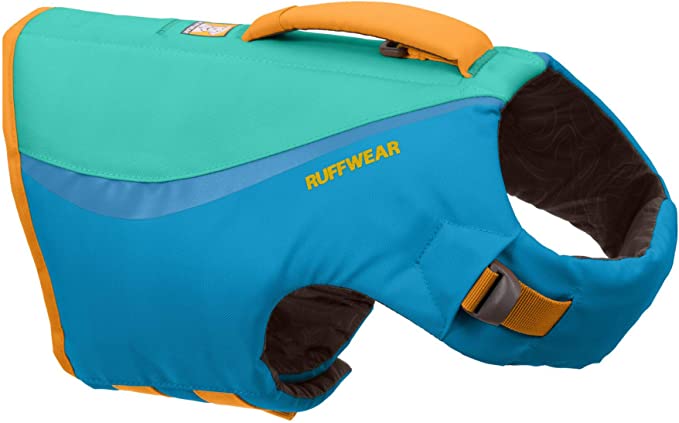 Ruffwear is a well-known company that specializes in top-grade performance gear for dogs who love outdoor adventures. They make gear for backpacking, camping, hiking and snow sports. Their newest line of products focuses on water sports and The Float Coat life jacket.
The Float Coat™ features include:
A vest that's buoyant and secure.
A strong handle to lift your dog out of the water.
Leash clip-in device for added safety and control.
PVC-free foam panels for your dog's health.
A comfortable fit that allows easy maneuvering.
Stunt Puppy Float Doggy™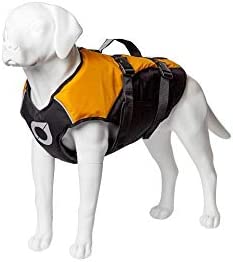 Stunt Puppy prides itself in using human-grade fabrics and the best materials for all of their products. They make collars, leashes, harnesses, life jackets and doggy outerwear.
The Float Doggy stands out from the other canine swim vests because of its unique design.
Most life jackets are open around the chest and front legs. Stunt Puppy thought this caused a problem for some large breed dogs with big heads and chests. They worried these dogs could sink into the open area under their neck and possibly fall through.
I agree and also see the opening around the front legs as a potential problem for dogs with limited mobility.
To correct the situation, Stunt Puppy added a continuous panel that runs from the neck and under the chest. It creates a harness the fits nicely between the two front legs.
Here are other features I like:
The front panel offers added buoyancy, security and comfort. It also keeps a dog's head high in the water.
Float Doggy is curved for a better fit. The design adheres to a dog's body.
The vest offers maximum visibility with bright colors and reflective strips.
It has an easy to grab handle and quick release buckles.
Click to learn more about Stunt Puppy's Float Doggy
Outward Hound
Outward Hound makes three of the best-selling dog life jackets sold on Amazon. Each of the three have more than positive 30,000 reviews.
Outward Hound is a well-known company because of their interesting products for pets. They're interactive dog puzzles are my pups' favorite enrichment toys. Outward Hound is also popular because of their unique structure. The company is run by of a group of pet owners who are committed to making a dog's life better.
Standley Sport Dog Life Jacket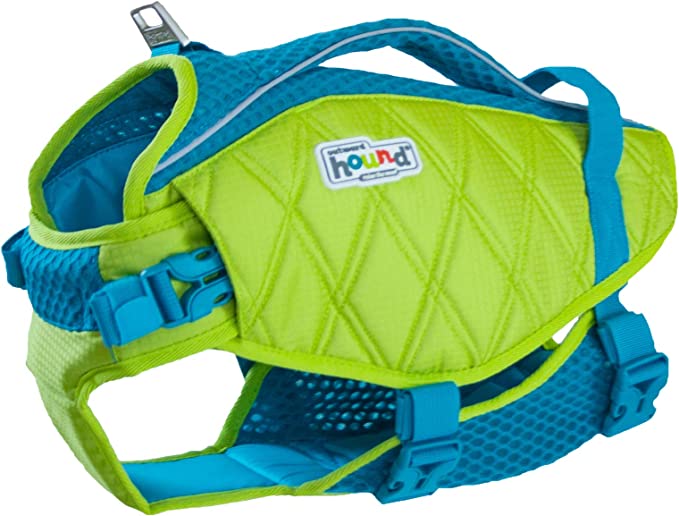 This is the number one selling swim vest on Amazon:
It has all of the must-have features listed above: A top grab handle, a front panel for balanced floating, a D-ring clip for leashes and bright, reflective colors.
The Standley Sport is a high-performance flotation device that's perfect for boating, swimming and water sports.
It's designed for experienced swimmers.
The vest has a special mesh belly band at the bottom so water can drain quickly.
Click here for more information.
Granby Splash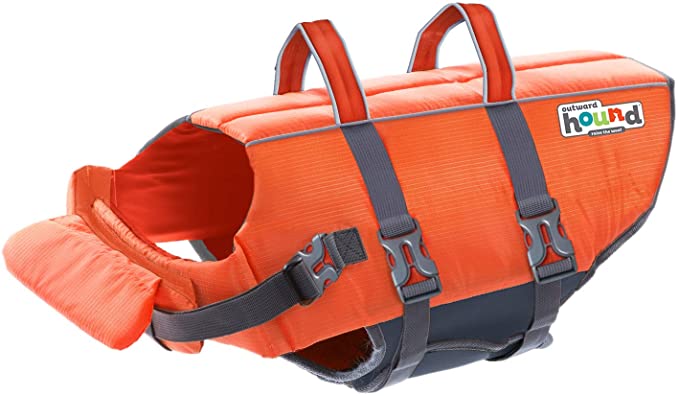 Outward Hound's Granby is a performance vest for the beach, pool or boat:
It has a neck float that keeps a dog's head above the water.
Two grab handles to pull your dog toward you or out of the water.
Adjustable straps for a good fit.
The vest comes in bright colors with reflective accents for high visibility.
It's made from ripstop materials that provide good buoyancy without restricting a dog's movement.
Dawson Swim Dog Life Jacket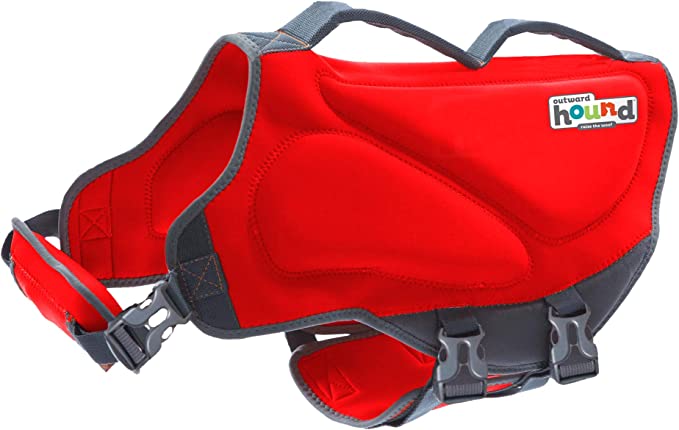 The Dawson is specially designed for novice doggy swimmers.
The features include:
Neoprene side panels for safe and comfortable buoyancy.
Thermal insulation for cooler days.
A neck support panel.
Grab handles.
A D-ring for leashes.
Bright visible colors and reflective panels.
K9 Ballistics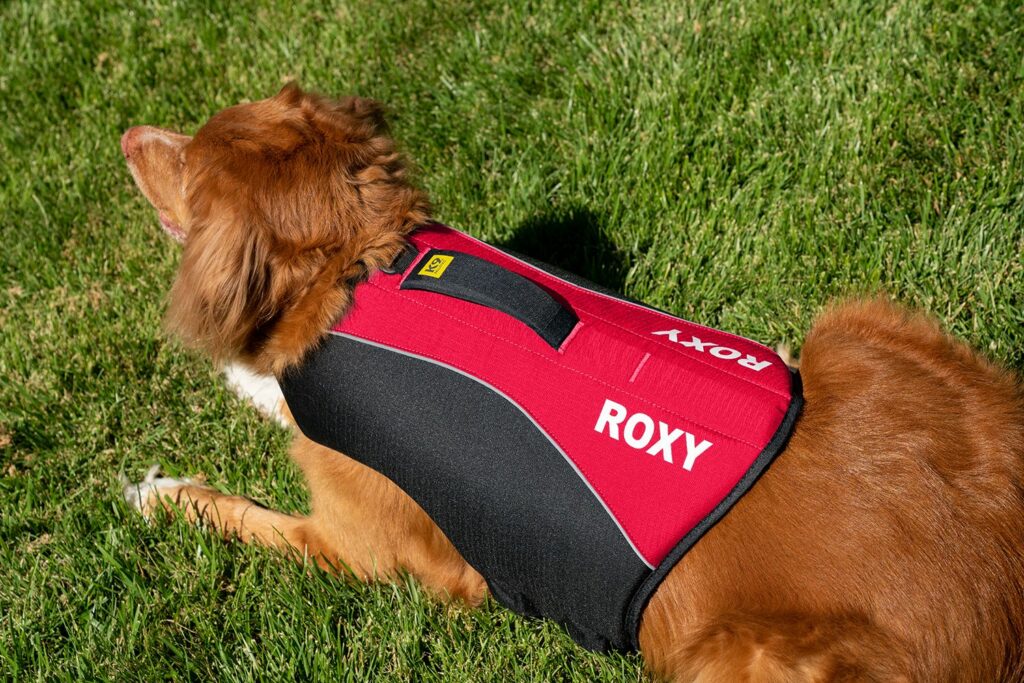 The K9 Dog Life Jacket is the newest product from K9 Ballistics, one of my favorite orthopedic dog bed companies.
K9 Ballistics makes sustainable dog beds that are engineered to reduce the pain of arthritis and other mobility problems. Their beds are comfortable, durable and have a waterproof liner for incontinent dogs, puppies and senior canines.
The K9 Ballistics swim vest is made with the same workmanship. The outside is durable Rip-Stop™ fabric that holds up to swimming and rough-housing on the beach. The foam panels are PVC-free which means your pup won't be exposed to any harmful chemicals.
K9 Ballistics Life Jacket has:
Breathable and durable fabric
Reflective piping along the sides for visibility
Aluminum D-ring for a leash
Telescoping padded neck closure
Two buckles for added safety
Walkin' Pets Swimmin' Vest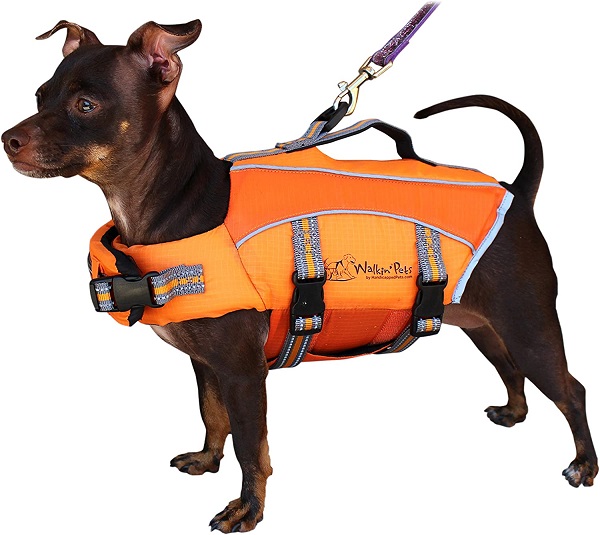 Walkin' Pets is the leader in products for pets with mobility problems. Created by Mark C. Robinson in 2001, the company is the leading dog wheelchair manufacturer – Walkin' Wheels. In addition Walkin' Pets offers a full range of health and safety products for disabled and elderly dogs.
The Swimmin' Vest is a full-body life jacket that's comfortable and lightweight. It can be used for outdoor swimming and boating along with indoor hydrotherapy pools.
Walkin' Pets Swimmin' Vest features:
A bright orange color with reflective trim for easy visibility.
Adjustable closures under the belly and across the chest.
Quick-release clips and adjustable straps for added protection.
A reinforced handle to quickly grip a dog and a D-ring for a leash.
Closed-cell foam flotation pads covered in abrasive-resistant materials.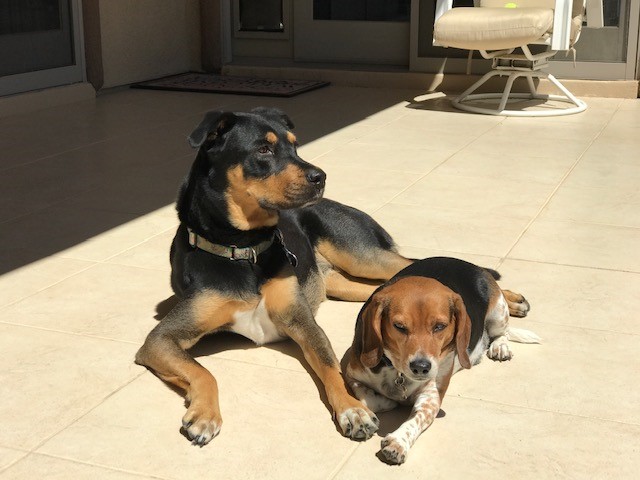 More products for dogs