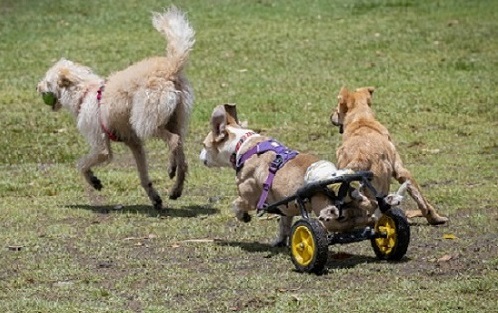 Dog wheelchairs have given mobility to countless animals who would've been left helpless due to paralysis, old age and spinal injuries. The popularity of these carts has grown so much that it can be confusing for owners to choose the right cart for their pet.
To solve this problem, I've put together a detailed review of the leading brands and the features each manufacturer offers. You won't go wrong with any of these wheelchairs, but my breakdown will help you pick the cart that best meets the needs of your pet.
And if you live outside the USA, I've also included a review about my favorite European dog wheelchair company and information about a brand new cart offered in Japan.
Note: This is my personal review after researching the products. I'm not being compensated for this article, although I am an affiliate with HandicappedPets.com. Read our policy.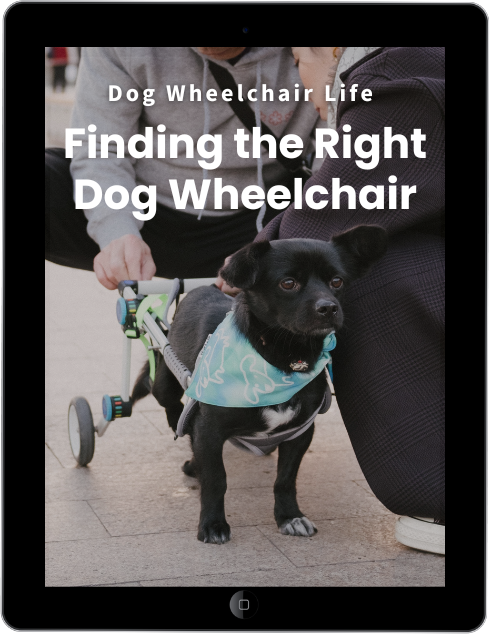 eBook
Find The Right Dog Wheelchair For Your Pet
Your dog has a mobility problem, and you want to buy a wheelchair. But do you know what kind of cart will work best for your dog's individual needs? After a decade of teaching pet owners how to make the right choice, I put the information into an eBook!
The industry leaders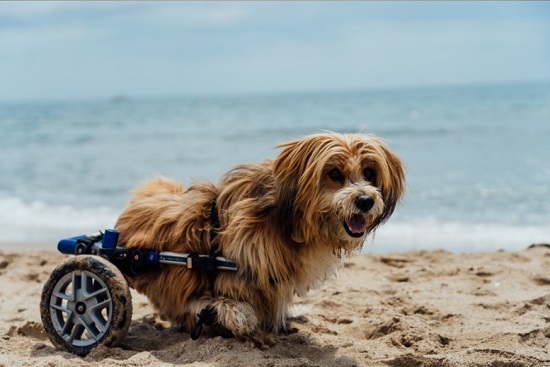 You might be surprised to learn there's more than one industry leader for dog wheelchairs. When my dog Sophie became paralyzed in 2008 there were only a couple of choices for her cart. It was a novelty that even left my veterinarian unsure.
The story has changed today. Wheels for pets has gone mainstream. And social media is full of adorable videos showing dogs, cats, pigs, goats and even an alpaca zooming in their custom carts.
That said, there are five USA based dog wheelchair manufacturers that lead the pack. Each is a valued company that cares about the health and well-being of your pet as much as you do. They also understand the biomechanics of animals so the carts they build move properly with your pet's body.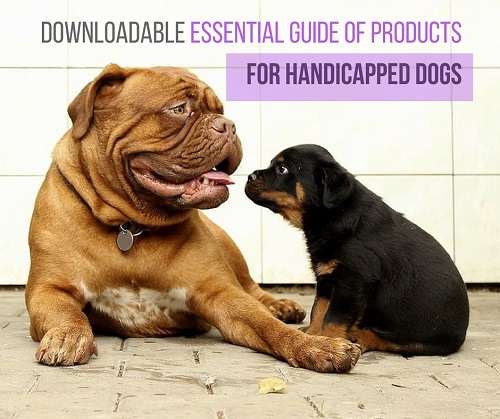 Get the Essential Guide
The Essential Guide of Products for Handicapped Dogs e-book is a labor of love for me. I wrote it to answer your most pressing questions about where to find the best products for your wheelchair dog. You'll find products you didn't know existed and each will improve your dog's quality of life. Print a copy and keep it by your side.
Before you buy a dog wheelchair
Check with your pet's veterinarian to be sure their health will allow them to medically benefit from a cart. And if possible, seek a consultation with a veterinarian credentialed in rehabilitation who can evaluate your dog, properly measure and fit your dog for a cart, and provide the right physical therapy program so they will become accustomed to using their wheelchair safely.
Dog wheelchair categories/styles
There are 3 basic designs of dog wheelchairs you should know. Each is built for a specific purpose to assist pets with different forms of mobility problems.
Rear support wheelchair – This is the most common type of dog wheelchair. It has two wheels in the rear, a saddle for your dog's pelvis to rest on, a harness to keep them strapped in and stirrups in back to keep their hind legs from scrapping on the ground. Dogs use their front legs and upper torso to walk around. A rear support cart is great for dogs who have hind end weakness or paralysis in their back legs, but have good strength in the rest of their body.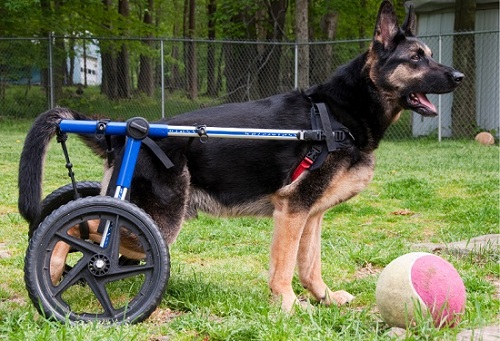 Front support wheelchair – This cart looks like a backwards wheelchair because the wheels are in the front and a dog uses their back legs to push themselves around. It provides support to a dog's chest. Front support carts benefit animals who have problems with their front limbs. This can be due to a birth defect, an injury or after an amputation.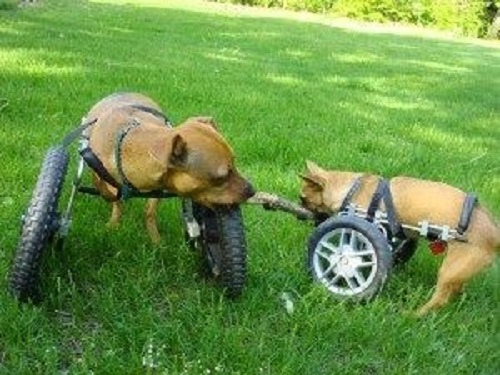 Full support wheelchair or Quad cart – This dog wheelchair has two wheels in the front of the cart and two in back with support in the middle for a dog's torso. Some of them look like little beds on wheels. They support all four limbs of an animal who is unable to move well on their own. These carts are used most often for dogs with a neurological birth defect, after a stroke and dogs with end stage Degenerative Myelopathy. They are also used as a rehab aid after spinal surgery.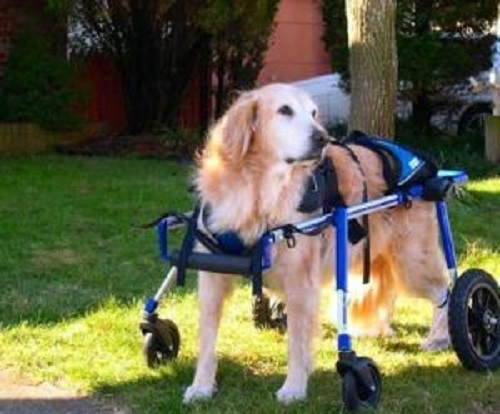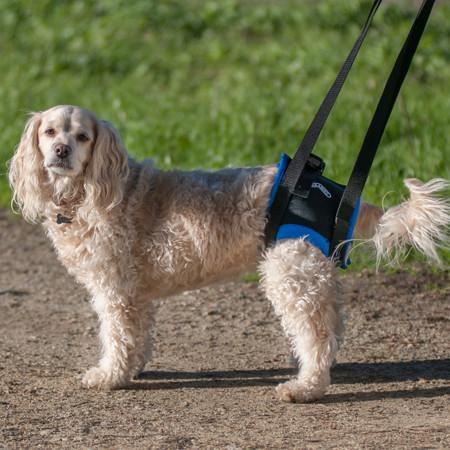 My favorite harnesses for disabled dogs.
Take this test first
If you're confused as to which dog wheelchair best suits your dog, try this little test.
1. Can your dog walk comfortably using their front legs if you manually support their rear legs? You can use a towel as a sling under their lower belly for support.
2. Can your dog scoot or drag themselves across the floor using their front paws?
If the answer is yes to both questions, your dog is probably a candidate for a rear support wheelchair. If not, another design might be more appropriate.
Of course, you'll want to confirm this with the professional companies listed below and with your veterinarian.
The five top-rated dog wheelchair companies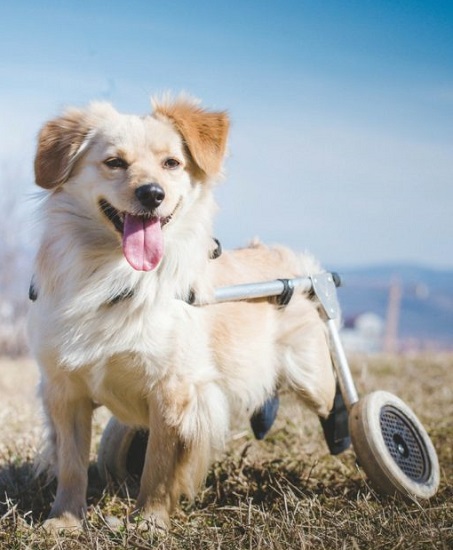 Walkin' Pets by HandicappedPets.com offers a complete line of carts called Walkin' Wheels. This popular dog wheelchair is lightweight, balanced, reliable and moderately priced. It's also the only fully adjustable dog wheelchair that expands in length, width and height. It's helpful if your dog is still growing.
Owners can select from a mini wheelchair that fits teacup breeds or sizes that fit small, medium and large size pets. The company also offers carts for hard to fit dogs like Corgi's and Dachshunds.
HandicappedPets.com also manufactures custom carts for dogs that weigh less than 6lbs or more than 170lbs. You can find Walkin' Wheels on their website or on Amazon.
Eddie's Wheels is owned by Eddie and Leslie Grinnell. This dedicated team has been building custom dog carts for nearly 30 years. Their goal is to customize a wheelchair that meets the needs of each pet's individual disability. Ed, who is a mechanical engineer, designs his sturdy carts for on and off-road play so pets can enjoy a good quality life. The company has won awards for their design.
Leslie Grinnell said the key to the success of Eddie's Wheels lies in the saddle. It's padded and designed to match the angle of your dog's pelvis.

Eddie's Wheels
In addition, Eddie's Wheels is known for their variable axle carts that enable owners to change the balance of the wheelchair to compensate for increasing weakness in a dog's mobility.
Two additional benefits
An unintentional benefit of the Eddie's Wheels design is that some dog breeds with short legs are able to lie down while they're in the cart. This is a big bonus. Eddie's Wheels is a favorite among many pet owners. Their custom wheelchairs are built in rear wheel, front wheel and full support designs.
And if you're looking for a used set of wheels, Eddie's Wheels posts a monthly list of available carts on their website. They also house a few wheelchairs that have been donated back to them. If one is available in the size you need, the company will refurbish it for a small fee and ship it to you.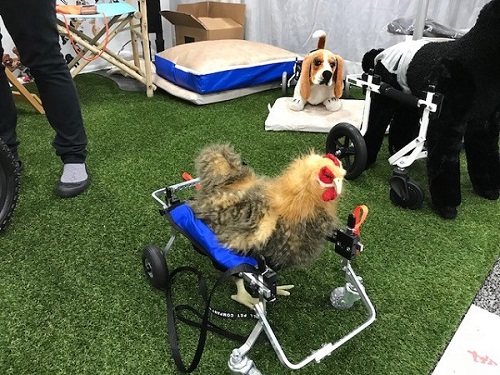 K9 Carts is the first manufacturer of dog wheelchairs in the U.S. Their design was created in 1961 by orthopedic veterinary surgeon, Dr. Parkes, after he saw a need for dog wheelchairs in his practice. The company is run by Barbara Parkes who's been in the dog wheelchair business for 40 years. Each K9 cart is custom built individually to meet the needs of a pet's disability.
They build rear support and full support carts that are lightweight, durable and biomechanically correct.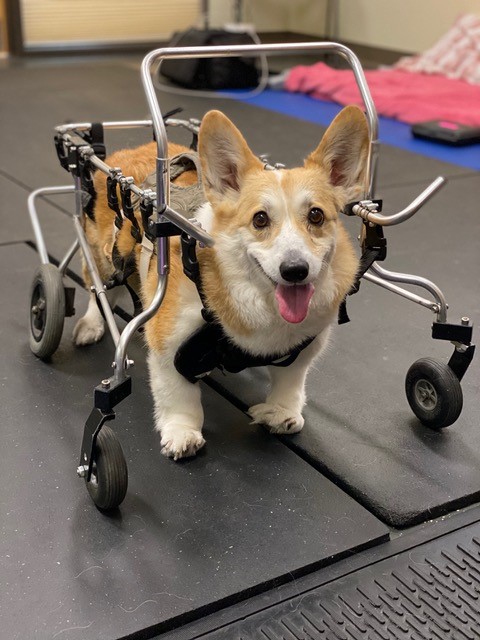 Doggon' Wheels is a small company that has a long history of meeting the needs of disabled pets. The original owners, husband-and-wife team Chad and Lori, started building canine wheels in 1994 after their dog Benny was hit by a car. They realized some of the wheelchairs on the market were not ideal for long term use and rehabilitation. So, the couple worked with the veterinary community to build a quality product. Today their wheelchairs are used at major veterinary teaching hospitals and professionals in canine rehabilitation. In 2021, Doggon' Wheels was purchased by canine physical therapist, Jenny Moe who intends to continue the company's quality and goals.
All Doggon' Wheels are custom made and come in rear support carts, quad (full) support and front support models.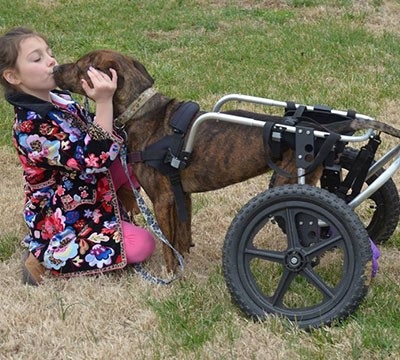 Ruff Rollin' was started by husband-and-wife team, Jason and Sierra Christofferson in 2009. Jason had more than 20 years' experience building and managing a dog wheelchair company. When he saw a way to improve on the conventional design, he decided to open his own business.
Ruff Rollin' hand builds durable, lightweight, custom carts that fit your dog's medical needs, weight and activity level. The frame of the wheelchair has a lifetime warranty if it breaks from normal wear and tear.
The company prides itself in building the most perfectly fit wheelchair for each animal and especially for small and teacup breeds. Jason believes the number one reason a dog won't move in their cart, is a poor fit. So, Ruff Rollin' has a follow up session to make small adjustments to every wheelchair.
Ruff Rollin builds rear support, front support and full support wheelchairs.
Other well-made carts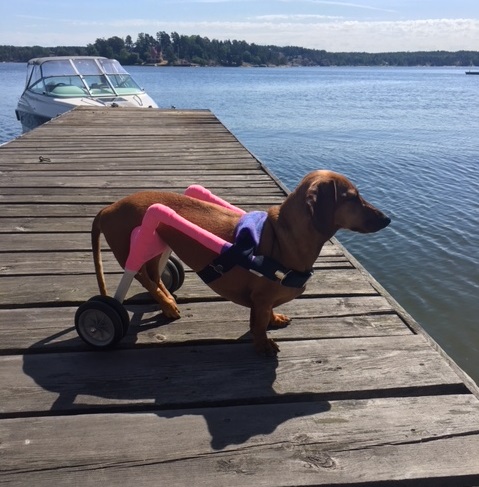 Dogs To Go is a budget friendly company founded by Larry and Laurie Miller. Laurie is a licensed veterinary technician who started building dog wheelchairs with her pipefitter husband more than 20 years ago.
The couple builds custom rear support and full support wheelchairs made from PVC for dogs and rabbits. Their carts accommodate pets up to 50 lbs. Dogs To Go are sturdy wheelchairs built for comfort and easy maneuvering. Each cart comes with a lifetime warranty.
Huggie Cart is a company I learned about from a pet owner of a disabled dog. They make adjustable dog wheelchairs at an affordable price. The company's been building carts since 2009 and has lots of positive reviews from customers. Their carts are made of lightweight aluminum and alloy and come in sizes to accommodate 3lbs dogs to 99 lbs. They also have carts for dogs with wide frames, short legs and more. This company requires a little more work on your end to properly size your dog, but they make up for it in the price of the cart.
Dog wheelchairs made outside the USA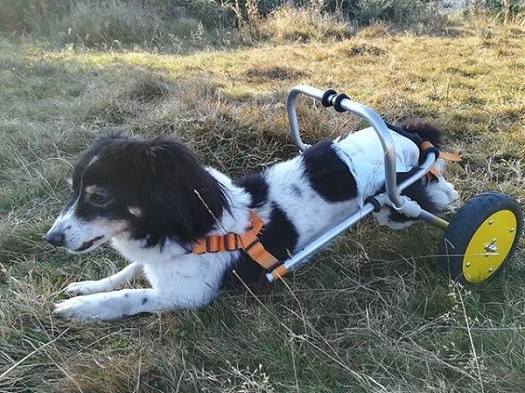 Modullo Dog is a dog wheelchair company based in Europe. The company's founder, Andrei Stoica, has been offering his unique design for more than six years. With several paralyzed dogs of his own, Andrei developed a strong, lightweight cart that's comfortable for your dog on all terrains. Modullo prides itself on being safe, durable, easy to put-on and simple to adjust. And the cart is built with special springs so dogs can lie down to rest and get up again without a struggle. Modullo Dog Wheelchairs can be ordered through the company Facebook page.
Doggy Supporter is the newest cart to the marketplace. It was developed by Pika Corporation and a veterinarian consultant to help the aging canine population in Japan. The company offers a rear support cart. Pet owners can order a Doggy Support wheelchair at Pet's Advance by Pica Corp.
Dog Quality is a Canadian based company that's been helping senior dogs since 2011. They make a variety of products from dog strollers to ramps. The owner, Ann-Marie Fleming is working on a new dog wheelchair design with the British Columbia Institute of Technology (BCIT). The cart is made for aging dogs who don't have enough strength to maneuver a regular dog wheelchair. Fleming hopes to release the cart soon to pet owners.
Assistance with special needs
With all of the dog wheelchair choices available some dogs require additional accessories to make their wheeling experience enjoyable.
Boxers on Wheels offers a custom saddle for dogs with hind leg amputations. Mellie's Hammock keeps dogs comfortable and safe in their cart. The saddle was designed for Melody, a Boxer born with Spina bifida.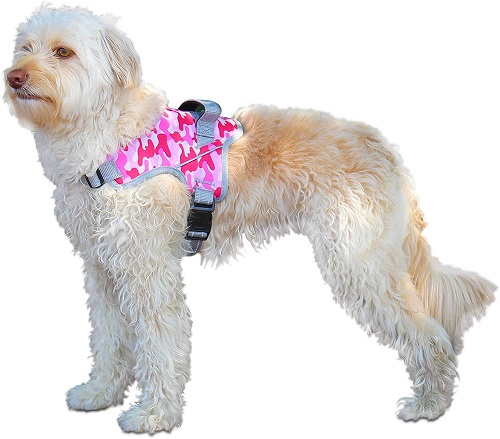 The Warrior Harness from Walkin' Pets is a comfy front harness that attaches to a Walkin' Wheels cart. It offers extra comfort for dogs who are sensitive to the standard neck collar on the wheelchair.
Allow for adjustment time
Dog wheelchairs are amazing, but don't be discouraged if your pup doesn't immediately take off running. When I strapped my dog into her wheelchair for the first time, she immediately tipped the cart on its side.
"Walking with wheels takes practice. A good tip is to go for short walks on a flat surface until your dog builds up confidence."

Sharon Seltzer Dog Wheelchair LIFE
A second important point is that dog wheelchairs are best used for exercise and playtime or when your pup goes for a walk. They aren't designed to be worn 24 hours a day. Dogs can't sit down to rest in them. And because you're dealing with a dog that has special medical needs, giving them ample time to rest is important.
Pet parents should also be aware of safety issues when your dog is in their wheelchair. There have been tragic accidents. Please take time to read about Dog Wheelchair Safety.
A final note
When your family no longer needs the wheelchair please consider donating it to another handicapped dog. There are wonderful nonprofit groups who loan carts to pet families in need.
Here are few:
Gunnar's Wheels – FB page
Red Flyer – FB page
Hailey's Wheels for Life – FB page
Wheeling Superheroes – Instagram
Interested in learning more? Take a peek at our new eBook about choosing the right dog wheelchair / and wheelchair safety. Click here: eBook