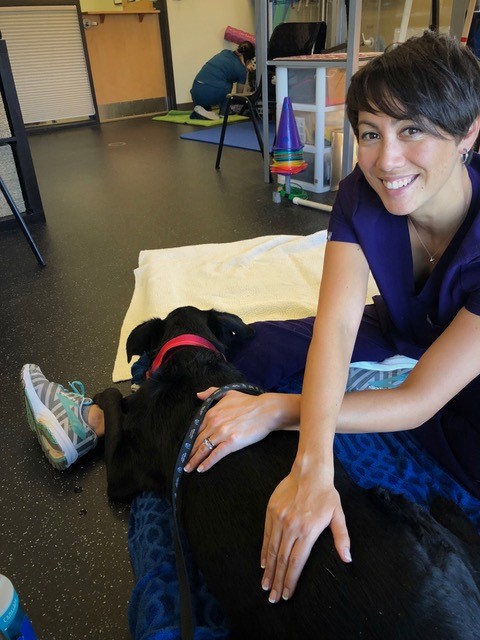 To say that Dr. Jenny Moe has had an interesting career, is an understatement. She went from a 7-year career as a pediatric physical therapist (PT), to a myofascial release specialist to owner of Doggon' Wheels, one of the most highly regarded dog wheelchair companies.
I had the opportunity to interview Dr. Moe about her rehab practice, Moe Love Myofascial Release in San Francisco and her plans for Doggon' Wheels.
It was one of the most interesting interviews I've done. Dr. Moe is a walking library of information about the mechanics of a dog's body. Her knowledge and enthusiasm for helping pets with mobility problems is inspiring.
An example of her passion, is the instruction sheet of exercises she put together for our readers and the video she created, demonstrating a mobility technique called Tail Traction. You can find both at the end of this story.
Dr. Moe started the interview with an explanation about her transition from a child physical therapist, to working with dogs. She said there a lot of similarities treating children in wheelchairs and leg braces and helping canines who can't walk. Her background was perfect for educating pet owners and assisting animals who were transitioning to life in a cart.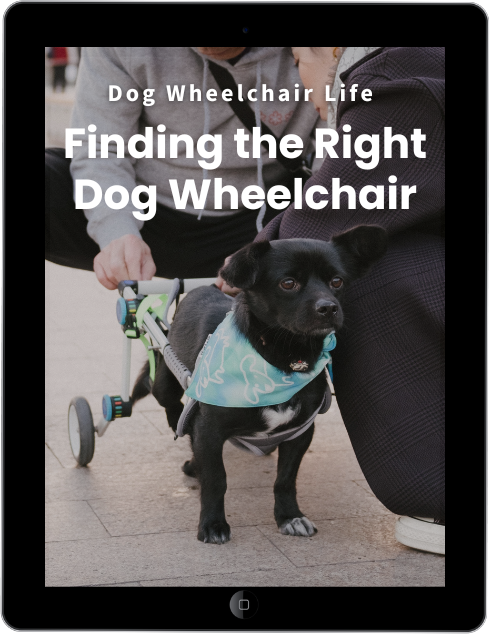 eBook
Find The Right Dog Wheelchair For Your Pet
Your dog has a mobility problem, and you want to buy a wheelchair. But do you know what kind of cart will work best for your dog's individual needs? After a decade of teaching pet owners how to make the right choice, I put the information into an eBook!
How Dr. Moe found her way to myofascial release therapy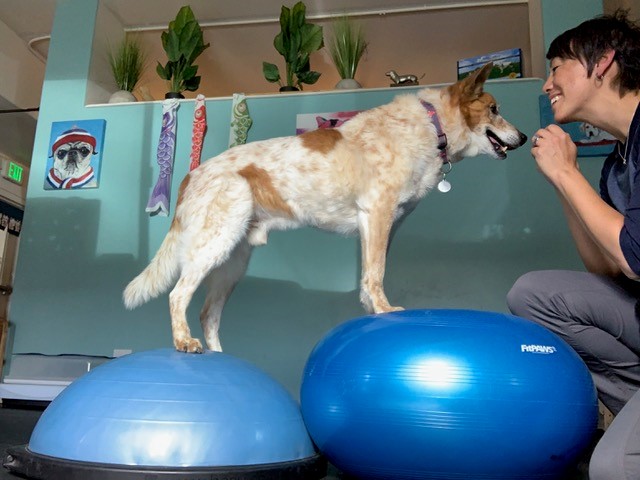 Dr. Moe's first job in animal rehab was a case of serendipity. She responded to an ad for a physical therapist at a animal specialty center, even though she wasn't sure about looking for a position in the veterinary field. The results changed the course of her career.
She was offered the job, when during the interview, she began treating a canine patient at the center. Later, Dr. Moe became a Certified Canine Rehabilitation Therapist and following that she opened an animal PT business in Lake Tahoe.
Working at the specialty center is where Dr. Moe was introduced to Doggon' Wheels. She was so impressed with the progress her wheelchair patients made, she became a fan of the company.
Her experiences as a canine PT then led to opening Moe Love Myofascial Release, an in-home animal bodywork company.
This is a unique type of rehab that uses hand pressure, stretching and gentle manipulation to improve mobility and reduce pain.
Myofascial release refers to the muscles or "myo," and the connective tissue that surrounds the muscles which is called "fascia."
Myofascial pain can occur if the muscles and connective tissue become dehydrated or if there's restricted movement due to a trauma or a strained muscle. Stretching the tissue allows the area to heal while reducing discomfort and improving mobility.
"The therapist applies gentle sustained pressure into the fascial system through compression, traction or moving a body part against gravity, which creates an electric current. The current allows for rehydration of the system and return of energy flow."

Dr. Jenny Moe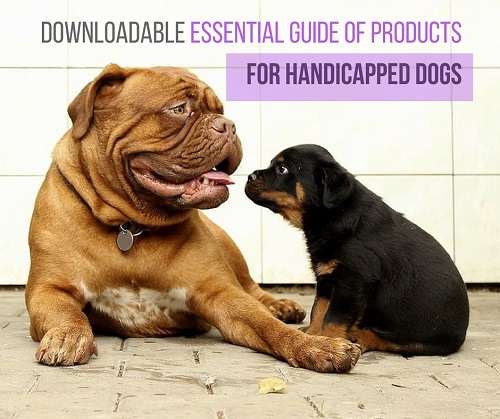 Get the Essential Guide
The Essential Guide of Products for Handicapped Dogs e-book is a labor of love for me. I wrote it to answer your most pressing questions about where to find the best products for your wheelchair dog. You'll find products you didn't know existed and each will improve your dog's quality of life. Print a copy and keep it by your side.
Features that drew Dr. Moe to Doggon' Wheels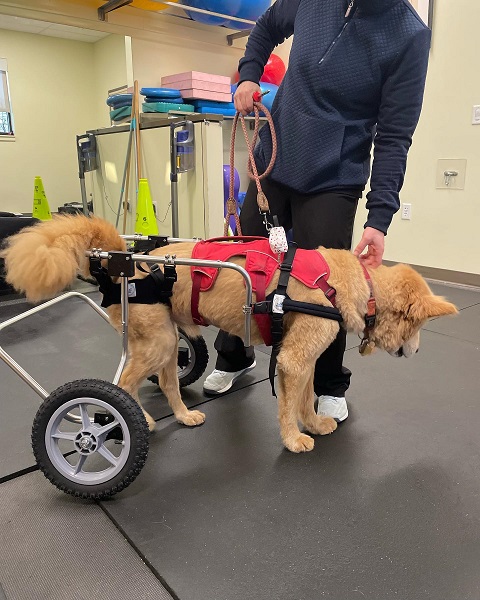 Doggon' Wheels started in 1994. The owners wanted to build a cart that met the needs of the veterinary rehab community. When the company launched, it quickly became a favorite at major veterinary teaching hospitals.
Dr. Moe said each dog wheelchair company has its own features and there isn't one style that's right for every dog. She was drawn to Doggon' Wheels because their saddle is designed with more flexibility than some of the other brands.
A flexible saddle was a good fit for her patients who could still walk. These were generally dogs with arthritis and canines with the early stages of Degenerative Myelopathy or Intervertebral Disc Disease (IVDD).
Dr. Moe explained that a flexible saddle is a good choice for any dog who doesn't have complete paralysis and for pets who look like they might regain some or all of their mobility.
The concept of a flexible saddle is that it allows for lateral or side-to-side movement which in-turn helps dogs walk with a more normal pattern. It also assists in regaining partial or full range of motion.
When Dr. Moe heard that Doggon' Wheels was about to close their doors, she and her engineer husband Ron, decided to continue the company's legacy by buying it. They moved the headquarters to San Francisco, but continue to build the same quality quad and rear wheel carts as the founders.
The couple did however decide on a new goal for the company. They intend to make Doggon' Wheels available to more individual dogs.
How to you know when a dog is ready for a cart?
It's Dr. Moe's opinion that many dogs should use a wheelchair sooner than they typically do. You don't have to wait until your dog can't walk.
For instance, a dog can benefit from a wheelchair if they're stumbling or knuckling their paws or if they aren't walking as far or are stiff and sore after an outing. A cart that's used just for walks and hikes can ease some or all of these symptoms.
Early intervention is valuable for pets with neurologic diseases too. Dogs with Degenerative Myelopathy stay strong and preserve their body when a cart is introduced early.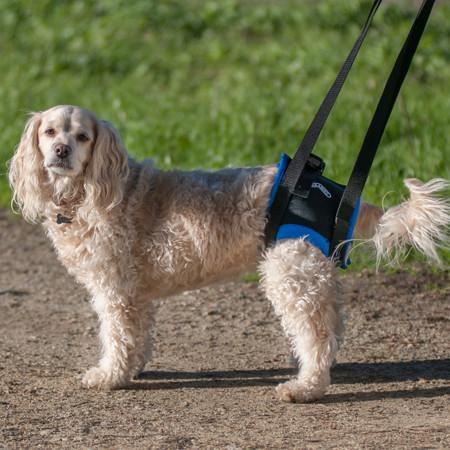 My favorite harnesses for disabled dogs.
Is there an ideal number of hours a dog should stay in a wheelchair?
Dr. Moe answered this question by stating that dog wheelchairs are assistive devices. They help a dog adapt to a limitation, but carts can't fully replace mobility.
Pet owners should assess their dog's overall health to determine the amount of time to spend in a wheelchair.
Canines that are low to the ground, like Corgis and Dachshunds, can be in a cart longer than other pets. That's because dogs with short legs are able to lie down in a wheelchair. Large dogs and older pets need to be removed so they can rest. Dr. Moe said that a couple of hours in a wheelchair, at a time, is a good rule to follow.
Dr. Moe's physical therapy and myofascial release exercises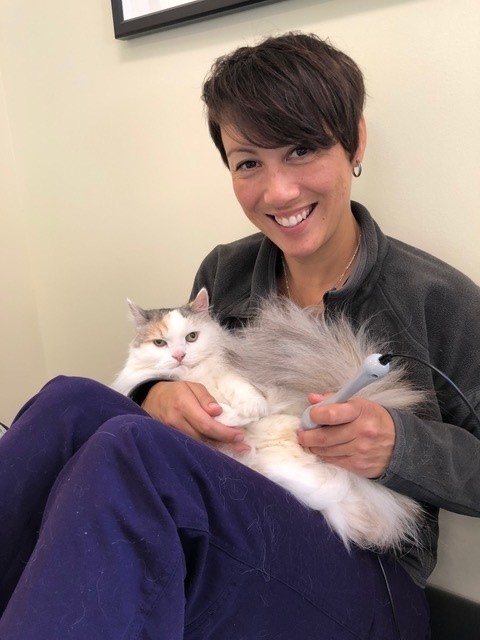 Please be sure to check with your dog's veterinarian before starting any of the exercises below.
Dr. Moe recommends starting each session with an exercise called Cookie Stretches.
Cookie stretches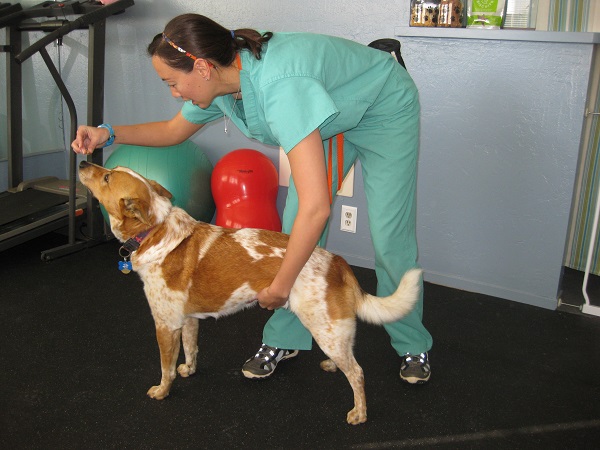 Cookie stretches can be done 5 times per side, 3 times a day. If your dog cannot stand, use a supported stand that's demonstrated in the picture above.
Cookies up – Have your dog reach above his head (look up) to get a treat. This will help to increase extension in the spine and weight bearing on the pelvic limbs, especially in dogs with IVDD.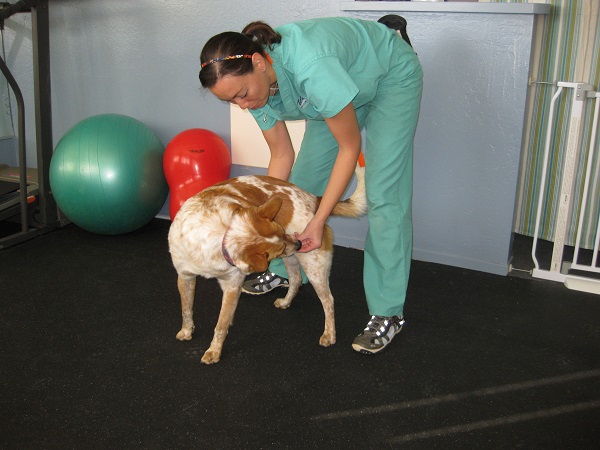 Cookies at the hip – Have your dog take a treat from the hip area. You may need to place a hand on the other shoulder to prevent him from circling to get the treat. This is best done in standing. Repeat on the opposite side. This activity encourages rotation and side bending through the entire spine and strengthens the obliques.
Tailwork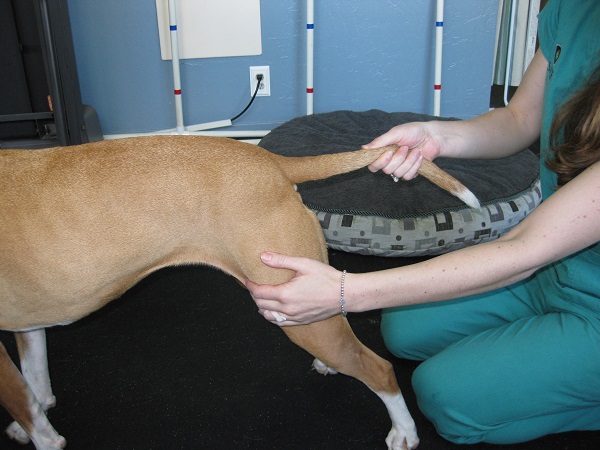 Rub firmly down the length of your dog's tail. This will stimulate movement which will strengthen the muscles of his tail and also helps with overflow to stimulate weight bearing through the pelvic limbs. Combine this with any standing activities.
Tail traction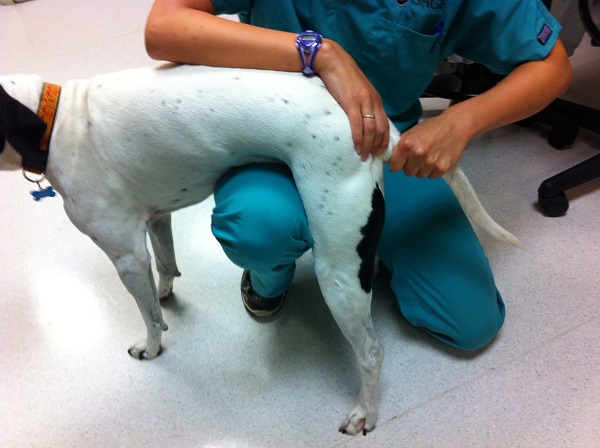 This is best to do when your dog is in a relaxed state. S/he can be lying down on either side, or standing to perform traction. Use one hand to stabilize the pelvis above the tail, and the other hand will grasp the base of the tail. Very gently pull to take out the slack in the tissues – stop when you feel slight resistance and hold for 5 minutes.
You may feel a slight give – take up the slack and hold at the next "barrier". This will help to create space between the vertebrae in the lower spine and relieve pressure on the intervertebral discs. See the video below for more details.
Withdrawls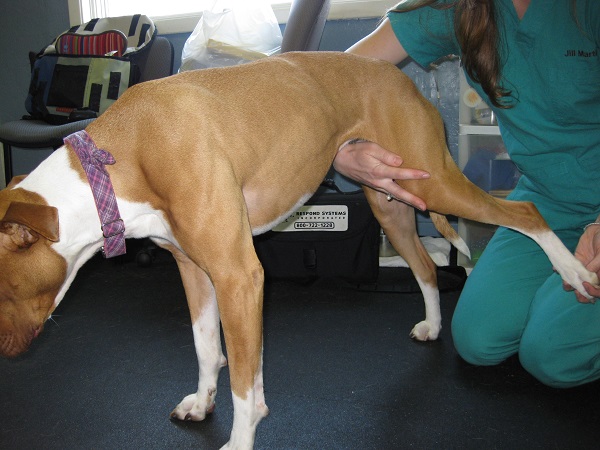 While your dog lies on her side, extend her hind leg back and rub/pinch the webbing between her toes. Make sure you use the pads of your fingers – it should be annoying, but not painful.
This will cue her to pull her leg up and away from you – follow her leg up and compress her leg into flexion through the bottom of her foot. The activity elicits a reflex but also works to maintain strength in your dog's hip, knee, and ankle flexors. Repeat 10 times, 3 times per day (each side).
You can also do this in a standing position to replicate an exaggerated step. Support her at the waist and bring her leg back into extension – pinch between the toes and follow through with the step.
Patterning in standing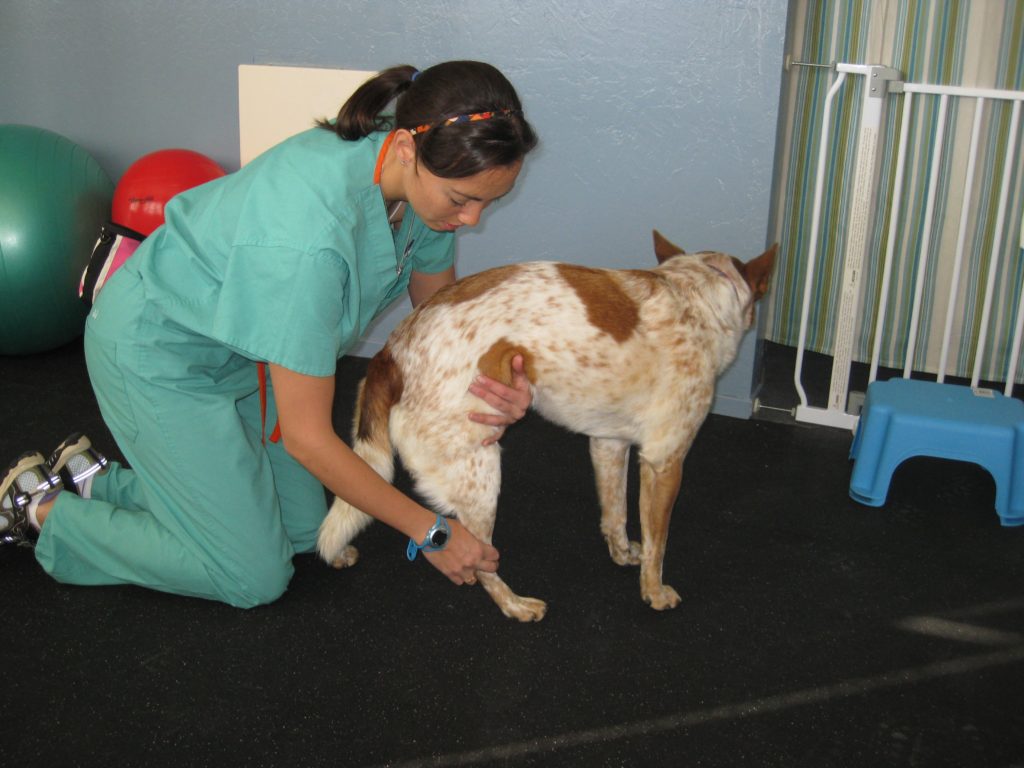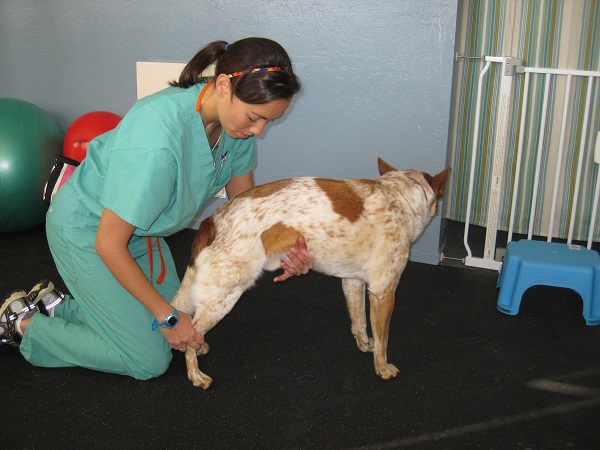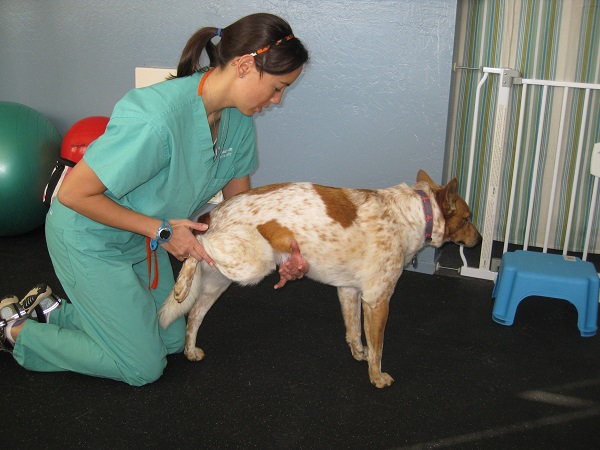 Position your dog in a regular standing position with light support for balance with your arm under the waist. Slide the hind foot backwards until s/he lifts it – help them place it just in front of the hip (where s/he would normally place it).
Gently push down as you slide the foot back – this provides important sensory input through the pads in order to remind your pet where the feet are in space. Repeat this 10 times. This will help the dog place the feet appropriately, not out to the side or crossed, when s/he walks. Repeat on the other side. Please do this exercise 2-3 times per day, especially before walks.
Tail traction video
Want to read more?
9 Dog Physical Therapy Exercises To Do At-Home
Our new eBook