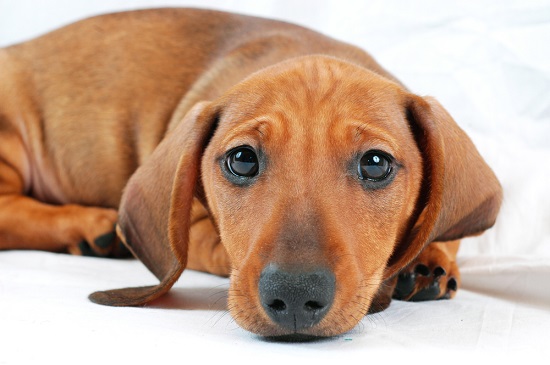 Wheelchairs for dogs are a godsend for disabled pets, but several years ago I learned the price tag makes them out of reach for many families. Frustrated pet owners would contact me to see if I knew of an organization that would donate a free dog wheelchair. It led me to research the problem and what I found was amazing.
There are lots of generous nonprofit groups whose mission is to get paralyzed dogs into donated carts when their families can't afford one.
The list below includes all of these organizations and their requirements to apply. Some of the groups buy new wheels for paraplegic pets while others offer refurbished carts or loaners. When you find one that fits your needs, click on the highlighted link. It'll take you to the group's application page or where you can leave a message.
And if you're in need of financial help to pay for veterinary care, here's my list of groups that assist with this problem too.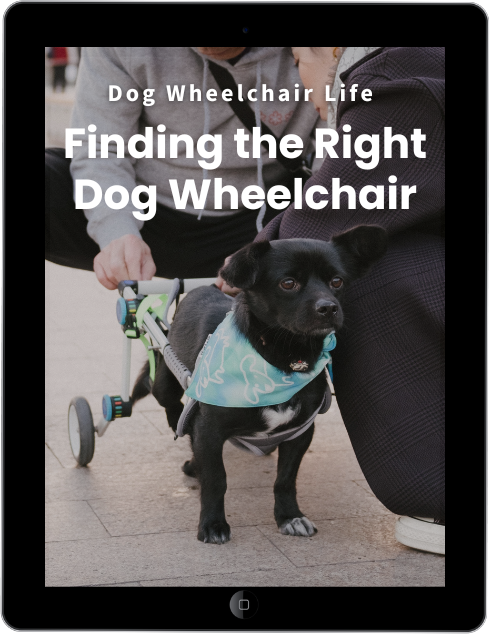 eBook
Find The Right Dog Wheelchair For Your Pet
Your dog has a mobility problem, and you want to buy a wheelchair. But do you know what kind of cart will work best for your dog's individual needs? After a decade of teaching pet owners how to make the right choice, I put the information into an eBook!
Why carts can be pricey
Dog wheelchairs are complicated devices and a lot of details go into building each one. The leading manufacturers use durable, but lightweight materials that won't strain a paralyzed dog's back. And many carts are custom-made to accommodate the physical disability of an individual animal. While this attention to detail is commended, it also drives up the price.
Click here to read 3 easy ways to put a dog into a wheelchair.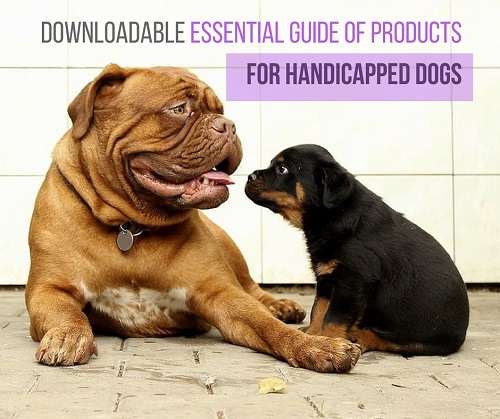 Get the Essential Guide
The Essential Guide of Products for Handicapped Dogs e-book is a labor of love for me. I wrote it to answer your most pressing questions about where to find the best products for your wheelchair dog. You'll find products you didn't know existed and each will improve your dog's quality of life. Print a copy and keep it by your side.
Organizations that donate dog wheelchairs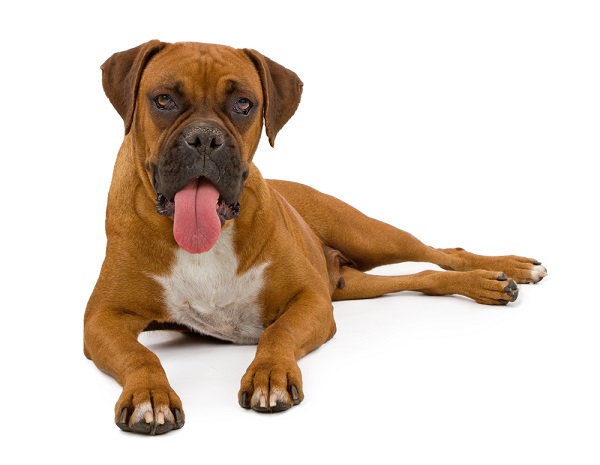 The groups who offer free donated carts, for the most part, are made up of animal lovers who have or once had a paralyzed dog in their life. They understand the obstacles pet families face and have taken it upon themselves to help.
Here are the groups:
Gunnar was a treasured pet who became paralyzed after truck ran into him. When his owners, Jason and Stephanie Parker, were hit with the cost of Gunnar's veterinary bills and the price of a dog wheelchair, they started a GoFundMe page to help pay the expenses. The Parker's were surprised by the generous outpouring of donations they received. When Gunnar was back on his feet, the couple decided to start another GoFundMe page to buy wheelchairs for other handicapped dogs. During its first year, Gunnar's Wheels handed 40 carts to paraplegic dogs. Every year since, the organization has supplied Walkin' Wheels carts for dogs around the world.
This is a loaner program to individuals and rescue groups. Animals use a cart free of charge until it's not longer needed. The wheelchair is then sent back to Gunnar's Wheels.
Applications can be made by leaving a message on Gunnar's Wheels Facebook Page or GoFundMe Page. Gunnar's Wheels has the largest and most active wheelchair program.
This special group is based in Australia, but they grant wheelchairs everywhere to individuals and rescue groups. Their vision is, "To encourage an alternative to euthanasia and to prolong the life of an otherwise healthy dog." Hailey's Wheels works with Walkin' Wheels dog carts. The group is named in honor of a little Westie named Hailey who became paralyzed at the age of 12. Hailey contracted a parasitic disease of the spinal column called Neosporosis. She continued to enjoy life with her family until she lost her battle with the disease. Pet parents can apply for a wheelchair here: Hailey's Wheels for Life.
Joey is a dog whose rear legs were intentionally amputated when he was 6 weeks old. He was rescued and adopted to a loving family who decided to use Joey's experience to help handicapped dogs in need. Joey's P.A.W. is the only organization that funds custom prosthetics for dogs with amputation as well as dog wheelchairs. Pet families can apply for assistance by leaving detailed information on Joey's P.A.W. Contact Us page. Applicants hear back in 24 hours.
Mango is an adorable Cairn terrier who was found on the side of a road with a broken back. The paralyzed pup won the heart of disabled Army veteran Judy Walter when she read how Mango became the first handicapped dog in a program that visited veterans in the hospital. Judy adopted Mango and started a Facebook page to mark her accomplishments. One of Mango's followers contacted Judy about getting a wheelchair for her own paralyzed dog. Judy asked her followers for help and before she knew it there was enough money for several carts. The informal program has continued to grow. Mango on a Mission purchases new carts for dogs. There is an application available at the bottom of their website: Mango's Freedom Wheels. Or contact Judy on the Mango on a Mission Facebook page.
This nonprofit organization specializes in helping Corgis and Corgi mixes. They started their cart program because Corgi's are one of the breeds prone to developing Degenerative Myelopathy. Their dog wheelchairs are loaned. Pet owners must agree to return the cart, at their own expense, when their Corgi no longer needs it. There's also a refundable $50 deposit required and $35 in shipping charges. Applications can be completed at: CorgiAid.
This group started out raising funds for Pugs in need of a cart, but they now donate new wheelchairs to every breed. Cynthia Peraza is the founder and she's a dynamo at raising money for carts via Instagram online auctions. You can contact High Rollers Club HRC by messaging them on Instagram.
A dog wheelchair loan program sponsored by Finding the Cure for DM Foundation. The nonprofit group used to loan carts in the US and the UK, but they currently only offer the program in the United Kingdom to families on a fixed income. Wheels to Help Me' also loans harnesses and boots for disabled dogs. Wheelchairs are donated by individuals who no longer need them, so availability varies. Recipients pay a flat fee to cover shipping. And once their dog isn't able to use the wheelchair, pet owners are asked to return it. You can apply for a cart by clicking this link: Cure4DM.org or email [email protected].
Click here to read about how to keep your dog safe in their wheelchair. Accidents are on the rise.
Founded in 2020 by two pet owners as a memorial to their paralyzed dog named Guinness, this is the newest group that donates dog wheelchairs. Their goal is to keep pets and their families together during difficult times by providing financial assistance for emergency veterinary bills, pet food assistance and mobility carts for disabled dogs. Click here for their application page to receive a donated wheelchair. Applications must be fully completed to be considered for a cart. Click to read more: The Guinness Dunn Foundation.
A nonprofit started by Michael Blott whose career is based in the chiropractic care of humans. After a visit to a shelter, Michael began building custom dog wheelchairs for pet families. PetAbility specializes in carts for dogs who weigh 15lbs. or less. Each wheelchair is constructed with the proper biomechanics to fit your specific dog. The best way to contact the organization is with a direct message on the PetAbility their website.
Named after a Corgi named Bandit, this nonprofit offers two types of assistance. Bandit's Medical Fund provides urgent medical care for sick dogs and KC's Kruisers (also named for a Corgi) equips qualified pups with gently used wheelchairs, harnesses and other mobility supplies. Carts are provided to dog in U.S., at this time. Apply online at Bandit's K9 Care or via their FB page.
While they started as a group for Boxers, this charity has a wheelchair loaner program for disabled dogs of all breeds. The group, which was started, by Denise Stewart has placed 2,000 free dog wheelchairs with pet families. Their only request is that when a dog no longer needs a cart, it goes to another dog on the group's list. To apply for a cart email [email protected] or contact them through their FB page.
This wonderful nonprofit organization primarily assists dogs in need of medical tests and treatments, but they also have a small wheelchair donation program. You can apply for a assistance by emailing: Wild Hearts Sponsorship.
This is a young group that started in 2021 after the founder personally experienced the cost and time in caring for a special needs dog named Wishbone. To help other pet owners, the foundation donates dog wheelchairs and offers temporary financial aid for medical procedures, at-home care and rehabilitation. Apply for services here: Application
Peppa's Place is named in honor of dog who became paralyzed one day after chasing a ball in the garden. Her family spent months trying to figure out how to help her. Then, once Peppa received a wheelchair, she regained her independence to run free. Located in the UK, Peppa's Place helps other pets by loaning them wheelchairs and offering advice. Contact Peppa's Place through their Facebook page or website.
Winston's Wheels and Pumpkin's Wheelie Good Friends are two charities based in the UK that loan dog wheelchairs and other supplies. Each can be contacted through their Facebook page: Winston's Wheels and Pumpkin's Wheelie Good Friends.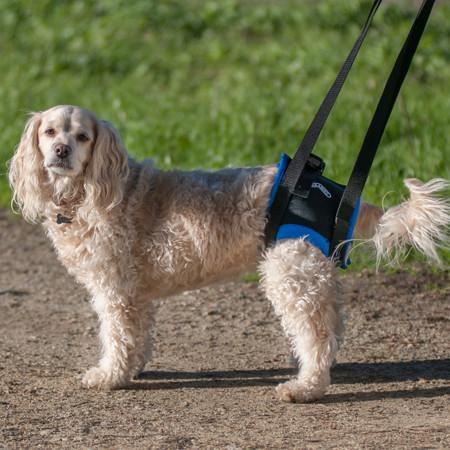 My favorite harnesses for disabled dogs.
Dog wheelchair manufacturers that donate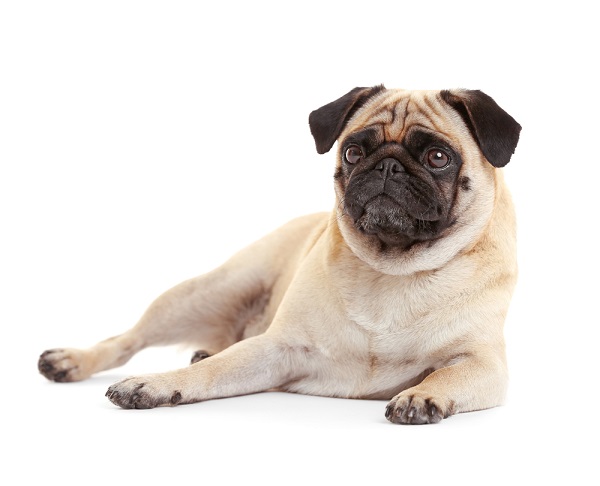 Many of the retail dog wheelchair companies have programs to assist pets in need. Some are unofficial and don't advertise unless a pet owner asks, but they do have carts for donation on hand.
Handicapped Pet Foundation
HandicappedPets.com, the manufacturers of Walkin' Wheels started a Foundation that donates carts. Applications can be completed at: Handicapped Pet Foundation.
Eddie's Wheels Donation Program
This is an unofficial program that Eddie's Wheels is happy to explain. When people donate a cart back to them, Eddie's Wheels holds onto it for dogs with financial needs. If you contact them be prepared to take specific measurements of your dog. Eddie's Wheels will then do their best to match your pet's size to a cart in their inventory. The people at Eddie's Wheels are perfectionists so they won't release a cart unless it works seamlessly for your dog's height, weight and medical condition. That might mean waiting for the right cart to become available. Eddie's Wheels will then refurbish the wheelchair for a nominal fee and donate it the family, rescue group and even veterinary practices. Owners are also asked to pay for shipping.
Doggon' Wheels
Similar to the program mentioned above, Doggon' Wheels is a dog wheelchair manufacturer that also has an unofficial program. They donate carts that have been returned by pet owners who no longer have a use for them. Doggon' Wheels refurbishes the wheelchairs and then donates them to pet families in need. To apply for a cart contact the company through the Doggon' Wheels website.
K9 Carts Donation Program
The first dog wheelchair company in the USA, K9 Carts, has a small program of donated carts that are sent to help rescue groups worldwide.
If you know of another resource that donates dog wheelchairs, please leave their name in the comment section. I always happy to add to this list.
Want more information?