When the plummeting winter temperatures hit, pet parents know it's time to pull out the winter dog coats and dog snowsuits. These cute and cozy jackets for dogs are a great way to make walks, bathroom breaks, and outdoor playtime fun when it's cold outside.
If you're trying to find the best dog coats and snowsuits for your wheelchair dog, I've got 6 top-rated products to share.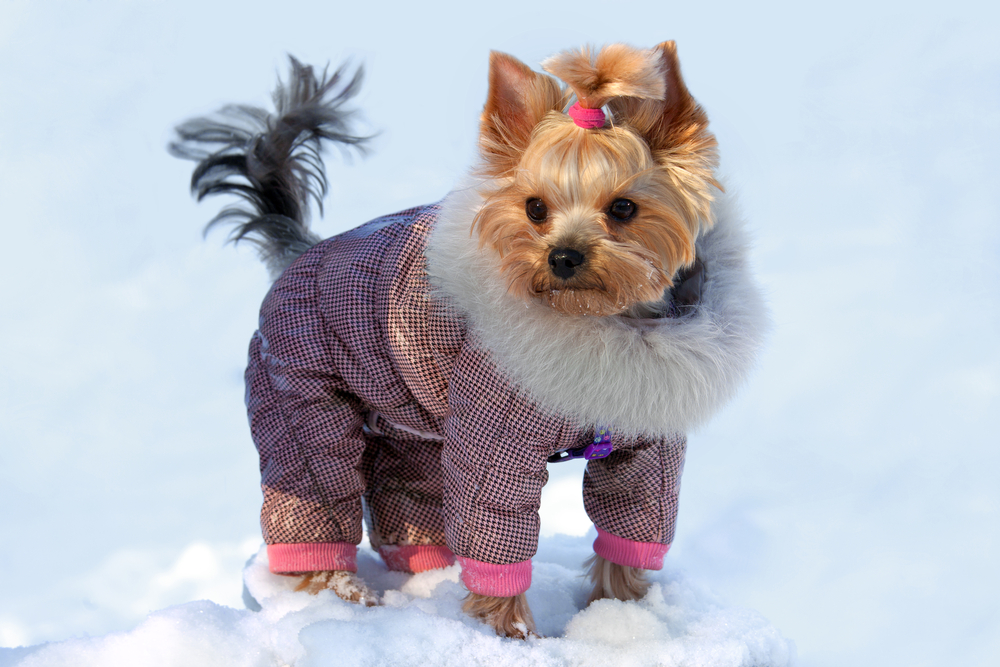 Note: As an Amazon Associate some of the links in this article are affiliate links.
Finding the right outerwear for a dog who walks with wheels is a bit trickier than an able-bodied pooch, but very doable. The most important thing to look for is: the right size and style of the snowsuit so your dog can walk comfortably in their wheelchair.
Another important concern for paraplegic pets is to make sure their paws are covered while they're outdoors. Paralyzed dogs don't have feelings in their limbs. They won't realize when their extremities get dangerously cold. Their paralysis makes it easy to develop frostbite.
Cold weather health risks
The ASPCA says that cold winter weather can be as hard on our dogs as it is on us. Even dogs with thick fur or an undercoat are susceptible to developing hypothermia and frostbite if they aren't protected.
Hypothermia – Hypothermia is a life-threatening condition that happens when a dog or even a human is exposed to extremely cold weather for a period of time. It causes their body temperature to drop and their heart rate to slow down. The condition can eventually cause death if the body doesn't receive heat.

Frostbite – Frostbite is an injury to the skin and underlying tissue when an animal has been in the cold too long. The condition can permanently damage the skin, muscles, and bones. It can also lead to amputation of the injured area.
The ASPCA recommends that pet owners' towel-dry their dog's body, legs and paws after coming in from outside and that paw balm be applied to the pads for added protection.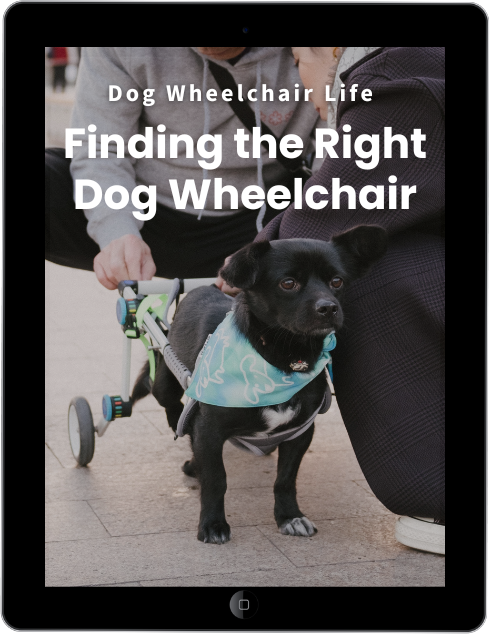 eBook
Find The Right Dog Wheelchair For Your Pet
Your dog has a mobility problem, and you want to buy a wheelchair. But do you know what kind of cart will work best for your dog's individual needs? After a decade of teaching pet owners how to make the right choice, I put the information into an eBook!
Choose a dog coat based on your pet's lifestyle
Before you buy a jacket for your dog, it's a good idea to consider these 3 questions:
How well does your dog stay warm without a winter coat?

How active is your dog when he plays outdoors?

Do you live in a cold, wet, or windy climate?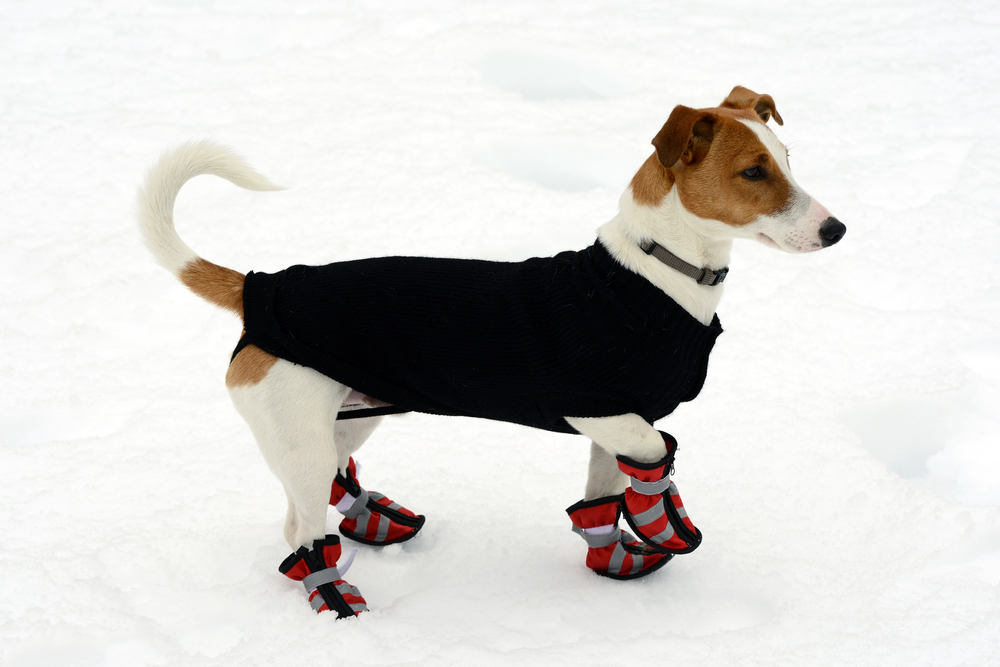 Features to look for in a dog coat
Just like winter coats for humans, jackets for dogs have lots of features to choose from. Here's a list for you to review:
Extreme Weather Snowsuits
How to ensure the proper fit
It's important that your dog's outerwear fits well and is comfortable. That means it doesn't restrict their movement or vision, in any way. You'll also want to be sure your pup is able to walk in their wheelchair while wearing their new jacket and that you've added warm dog boots for protection.
Most coat manufacturers will ask you to measure your dog to ensure a proper fit. That entails using a tape measure to size your dog from the neck to the tail and a taking second measurement around the thickest part of their torso.
My picks for the best winter dog coats and dog snowsuits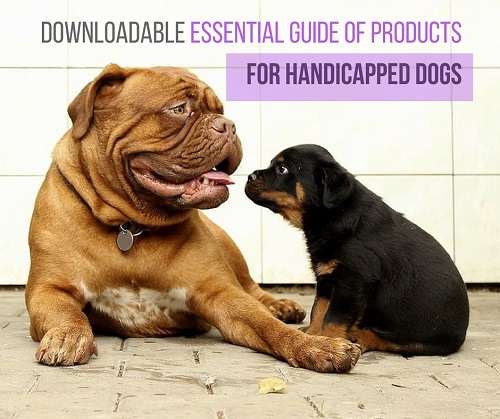 Get the Essential Guide
The Essential Guide of Products for Handicapped Dogs e-book is a labor of love for me. I wrote it to answer your most pressing questions about where to find the best products for your wheelchair dog. You'll find products you didn't know existed and each will improve your dog's quality of life. Print a copy and keep it by your side.
Waterproof & Windproof Coat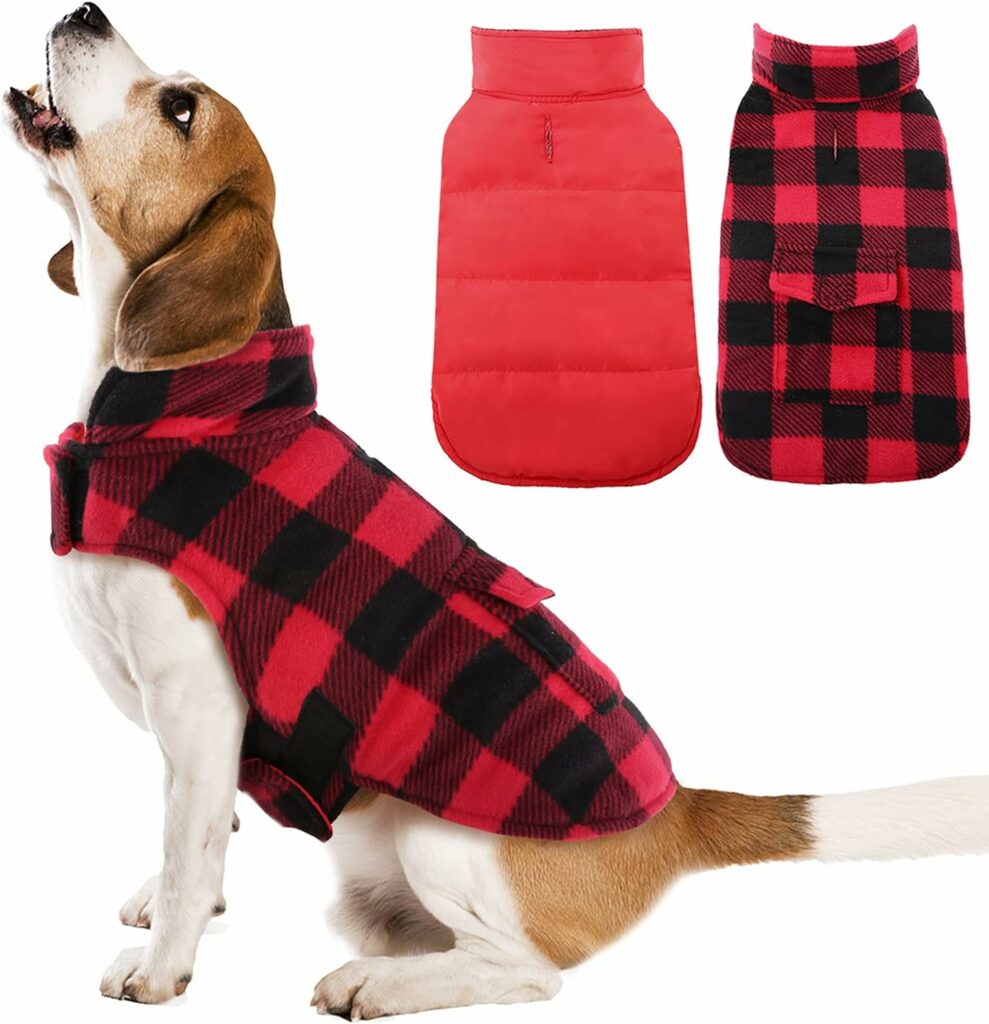 Kuoser Dog Jacket
With more than 50,000 sales, the Kuoser Dog Coat is the most popular waterproof, windproof dog jacket on Amazon.
Features:
Affordable
Dual purpose – Waterproof on the plain side of the coat, cozy windproof snow jacket on the plaid side
Comes in lots of colors
Variety of sizes to fit small, medium, and large dogs.
Insulated Dog Coat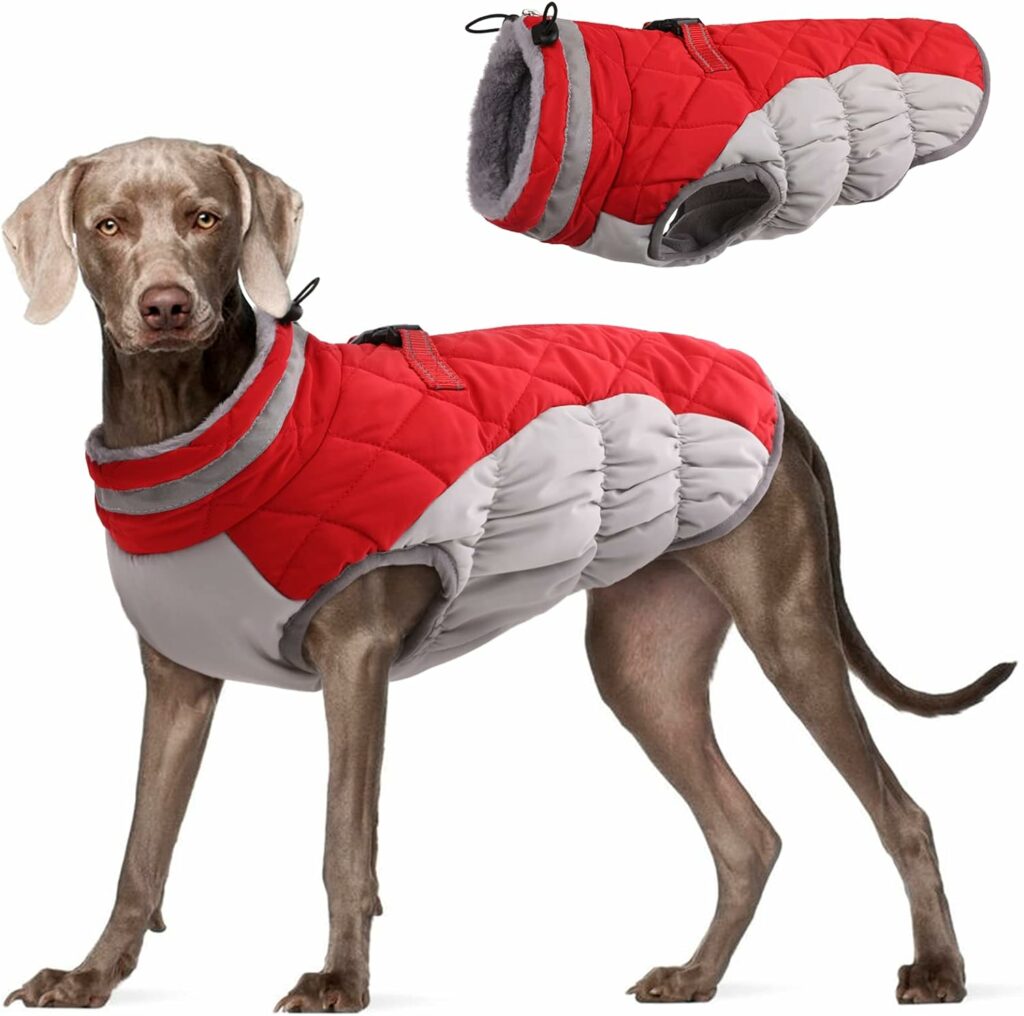 Fuamey Dog Coat
Fuamey Dog Coat is known for its good insulation to keep your pup warm. The winter jacket bundles your dog from the neck with faux fur to the tail and around the belly.
Features:
Comes in bright, easy-to-see colors in sizes from XS to XXXL
Made to be snow and wind-resistant
Has a reflective stripe for additional visibility
Zipper along the back for easy wearing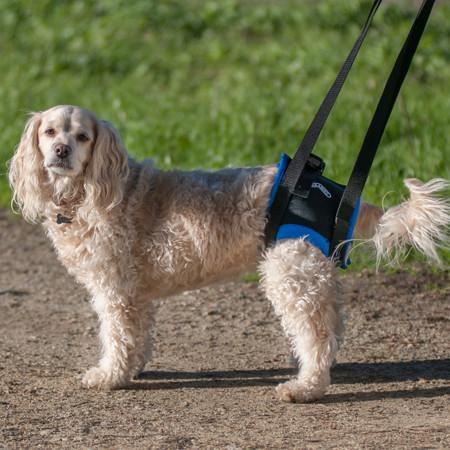 My favorite harnesses for disabled dogs.
Fleece Lined Dog Winter Jacket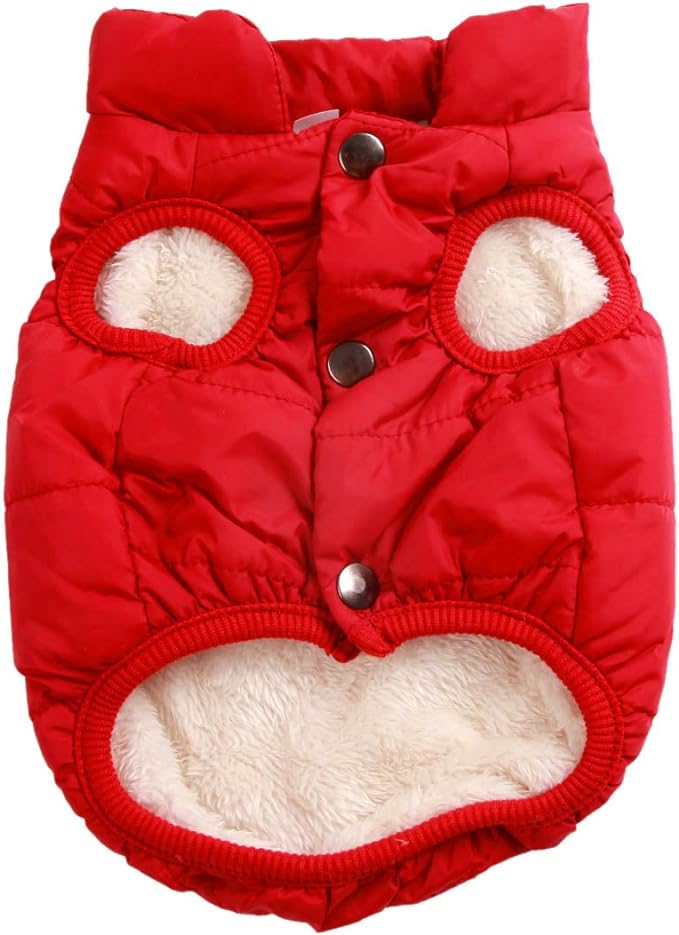 JoyDaog 2 Layer Fleece Lined Dog Coat
With more than 13,000 pet parents on Amazon recommending this detail-oriented dog coat, the JoyDaog 2 Layer Fleece Lined Dog Coat is a great option!
Features:
Super warm fleece lined for the winter
Elastic edges around the arms and torso to keep snow and the cold away from your dog's skin
Easy to put on and off with metal snaps
Comes in 4 colors and sizes from XS to XXX-Large
Reasonably priced
Full Coverage Dog Snowsuit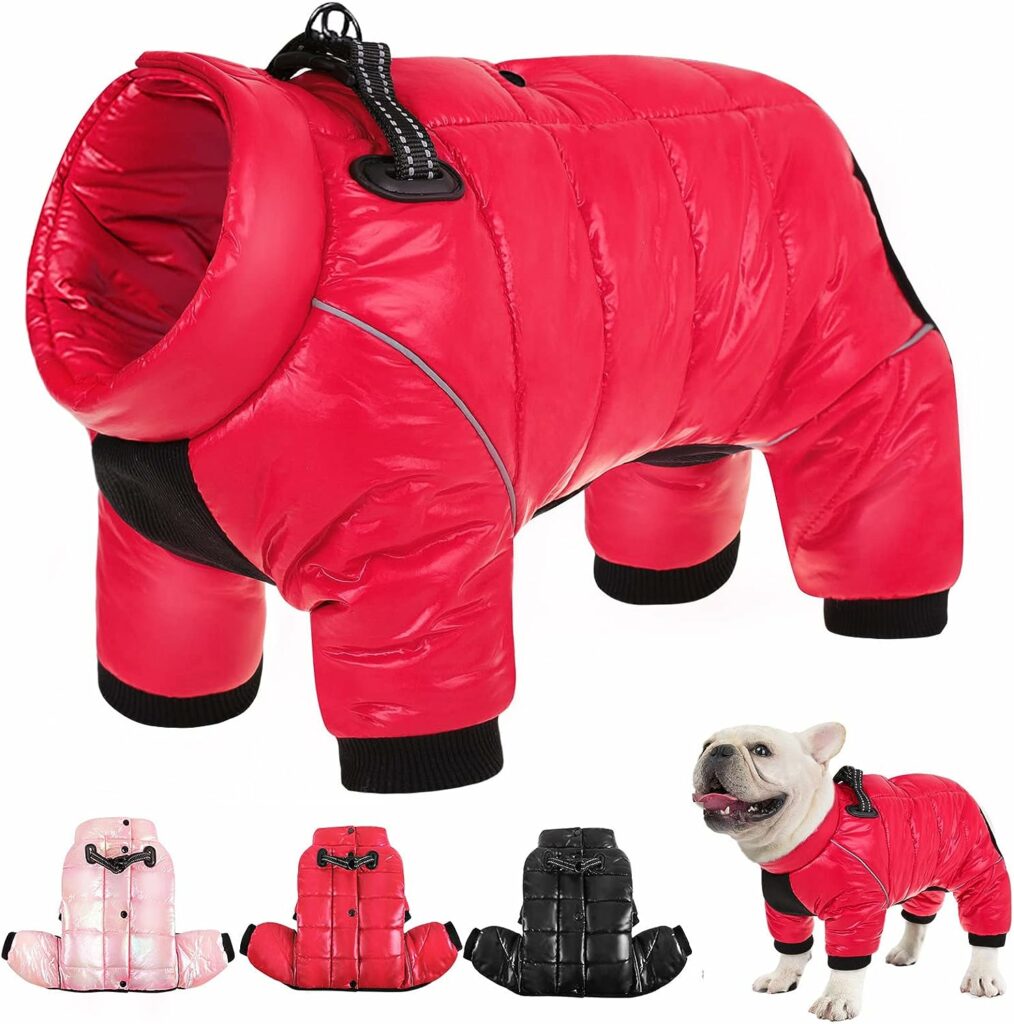 Aofitee Full Body Dog Snowsuit
Hundreds of pet parents of small and medium dogs have purchased this adorable Aofitee Full Body Dog Snowsuit full-body snowsuit for extreme winter weather.
Features:
Made to protect your dog from snow, wind, and rain
Adorable puffer jacket design
Comes in 5 sizes and 3 colors
Specially designed for small to medium-sized dogs
Protects a dog's neck, chest, torso, and all four legs
Zips on and off for easy use
Best Extreme Weather Dog Snowsuit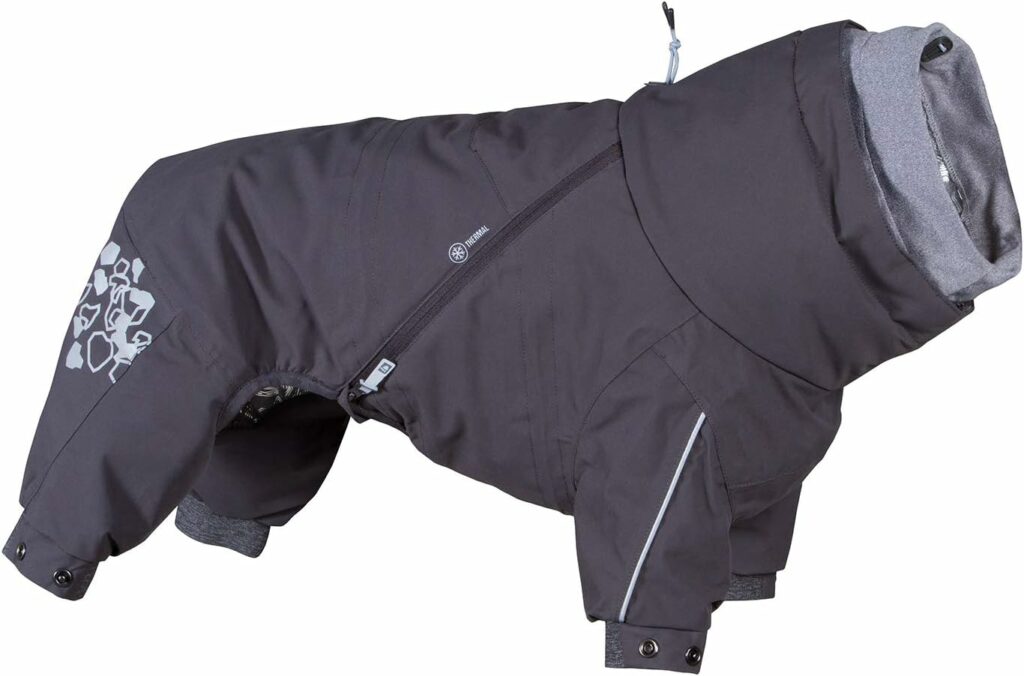 Hurtta Extreme Snowsuit
This Hurtta Extreme Snowsuit is designed for very cold conditions and for dogs who get chilled easily.
Features:
The snowsuit insulates a dog's neck, back, abdomen, chest and legs
Designed with a foil liner that helps with a dog's circulation.
Made from soft, high-quality materials
The high hood protects from the wind and snow
The design makes it easy for a dog to move around in the suit
Has reflectors on the suit for visibility in the snow
Best Overall Dog Winter Coat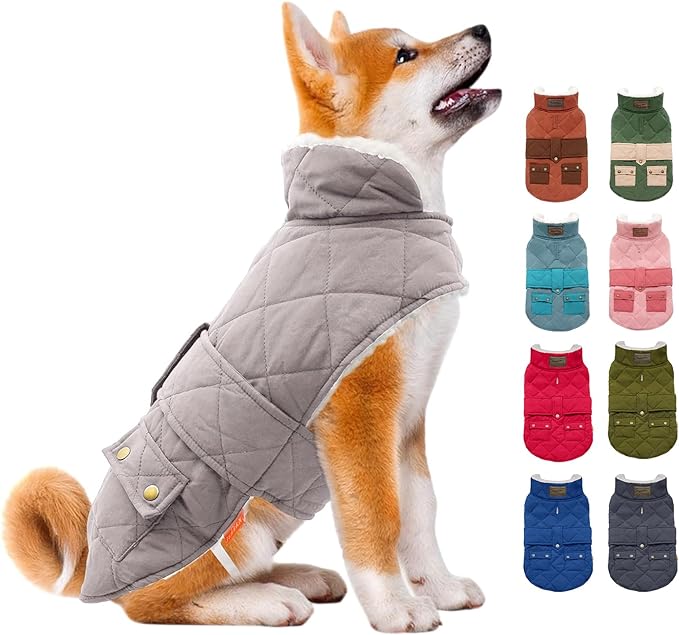 KYEESE Dog Coat
With most of the popular "asked about" features included, the KYEESE Dog Coat ranks as the best overall winter jacket for our pups.
Features:
Cute design and details that fits a dog from the neck to the tail
Well-insulated and waterproof
Comes in a variety of sizes and colors
Fleece lined
Easy on-and-off access
Velcro design for quick adjustments to the size of the neck and chest
My favorite dog boots
There are too many dog boots in the marketplace to count, but I've been a fan of two of them for a long, long time. Walkaboots and JAWZ boots are both made by Walkabout Harnesses and I love both of them.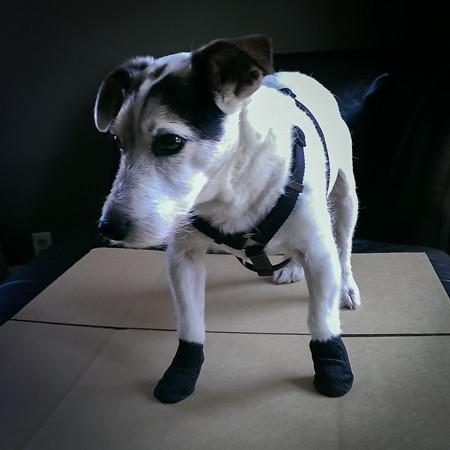 JAWZ Traction Booties
JAWZ Traction Booties are soft and comfortable dog shoes for indoors. They provide a strong grip so your dog won't slip and fall on slick surfaces in your home, but they're comfy enough for your pup to wear all day.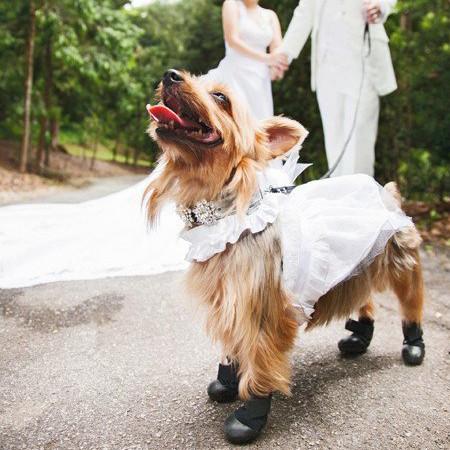 Walkaboots
Walkaboots are a great dog shoe for outdoors because it provides comfort, traction, and durability. They won't slip off your dog's paws either.
Read more about handling winter weather and paralyzed dogs.