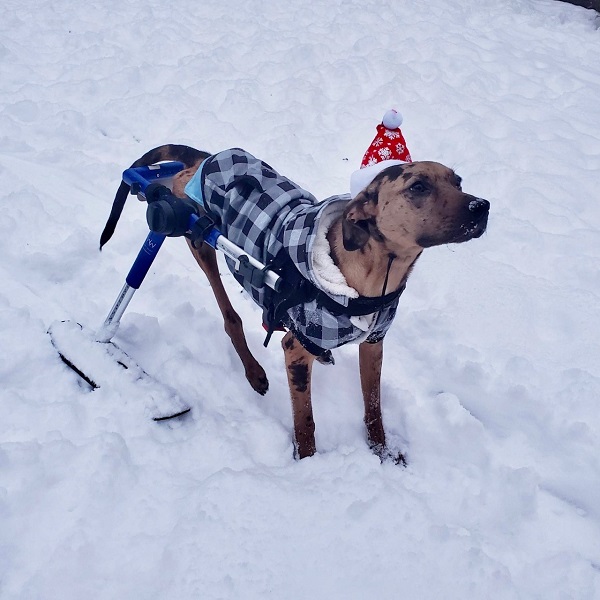 Dogs love to be outdoors whether they're able-bodied or if they get around on wheels. It's good for their health and their happiness. The Walkin' Pets dog wheelchair ski attachment allows them to be as active as they want, even when snow and ice covers the ground.
Leo, pictured above, has been using the skis since he was a puppy. A birth defect caused Leo's rear limbs to fuse together and stick out straight. It left the dog paralyzed from his hips down. Most of the year, the young dog has no trouble playing and chasing after his canine housemates with the help of a wheelchair. But in upstate New York where Leo's family lives and where they get around 200 inches of snow each year, his pet mom Robin worried about how he would get around in the winter.
She was concerned the wheels on his cart would get stuck in the heavy snow or that his wheelchair could flip over and Leo might get hurt.
The ski attachment solved their problem. It allows Leo to glide over the snow, rather than through it. Now he can keep up with his buddies all year long.
Note: This post contains affiliate links. Please see my disclosure policy for details.
How the dog wheelchair ski attachment works
The ski attachment is compatible with all Walkin' Wheels rear support dog wheelchairs. It's designed to provide traction and stability so dogs with mobility problems can continue their daily hikes and walks, no matter what the weather brings.
Many products for disabled pets don't operate well over snow and ice. The problem forces animals to stay indoors when the weather turns cold.
"Leo loves to run, but he doesn't have any feeling in his feet. I was afraid he might develop frostbite using his wheelchair in the snow. The skis keep his back paws above the snow, so he can play outside longer, even in deep snow."

Robin Axton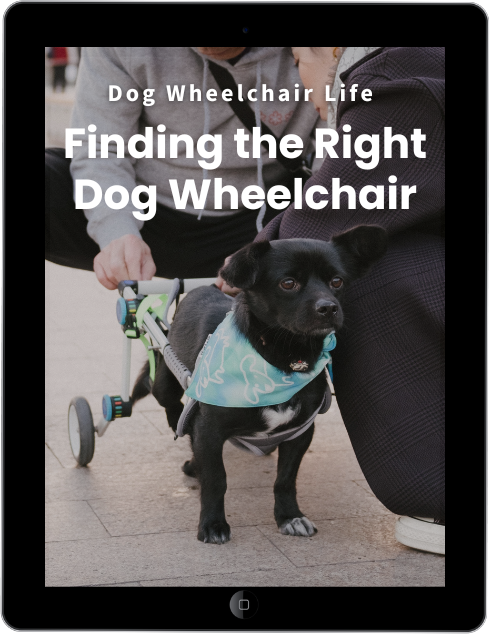 eBook
Find The Right Dog Wheelchair For Your Pet
Your dog has a mobility problem, and you want to buy a wheelchair. But do you know what kind of cart will work best for your dog's individual needs? After a decade of teaching pet owners how to make the right choice, I put the information into an eBook!
Installation and sizing
The attachment is easy to install. Pet owners simply push the buttons on the frame to remove the wheels and strut and then snap the skis into place. The process takes less than 5 minutes.
Many pet owners leave the skis in place for the winter, but they're easy to change out if your dog needs to use their cart indoors. Removing the skis and swapping them for the wheels and strut is quick. Robin compares it to adjusting the length on a pair of crutches.
Walkin' Pets also made it simple to select the right size ski attachment. A handy online conversion chart is available to walk you through the process. Or you can simply choose the compatible size based on your dog's current Walkin' Wheels cart.
Getting your dog used to the ski attachment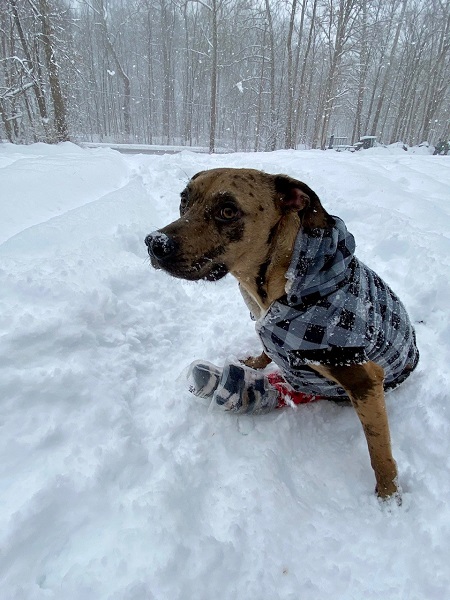 Robin shared that Leo was a little nervous about using the skis, the first time he wore them. She said the experience was similar to his first time in a cart. It took a few minutes to build up his confidence.
"Then Leo realized he could move through the thick snow without getting stuck and he took off running."
Robin has a couple of tips for pet owners who are considering the attachment. "Don't be intimidated. If your dog can use a wheelchair, they can use the skis. Just bring a towel on your walk so you can wipe down the skis when you're done. They'll be covered in snow."
Another family's story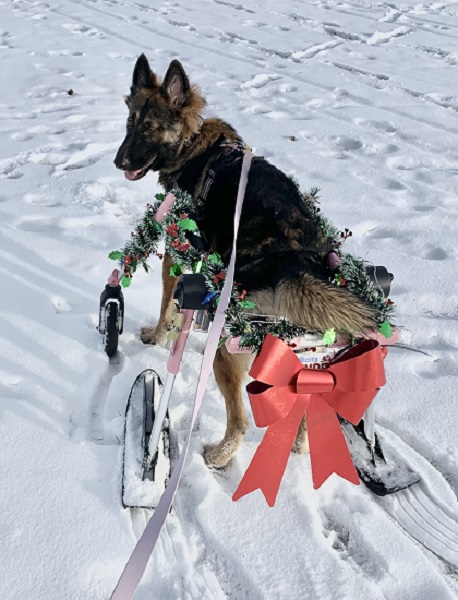 Like Leo, Timber is a fan of the Walkin' Pets dog wheelchair ski attachment too. The German shepherd was born with Cerebellar Hypoplasia, a neurologic condition that effects balance and coordination.
She was adopted by Christina Powell and her family after they learned the dog was living in deplorable conditions. Christina, who is a physiotherapist in Calgary realized immediately that Timber would need help with her quad cart during the winter.
A quad or full support dog wheelchair has two wheels in the front of the cart and two in back. They're used by dogs who need support for all four limbs when they walk.
"The quad cart handles 80% of the snowfall Timber walks over, but we get really dense snow sometimes and the front wheels got stuck. I called Walkin' Wheels and they recommended we replace the back wheels with the ski attachment and it was an immediate game-changer."

Christina Powell
Timber was able to bolt down a small hill with less friction and her ability to navigate her surroundings is tenfold.
Christina said the skis glide well over sidewalks, roads and even over rocks.
Want to learn more?
Click Here: Walkin' Pets ski attachment
Cerebellar Hypoplasia in Dogs: Managing This Brain Disease