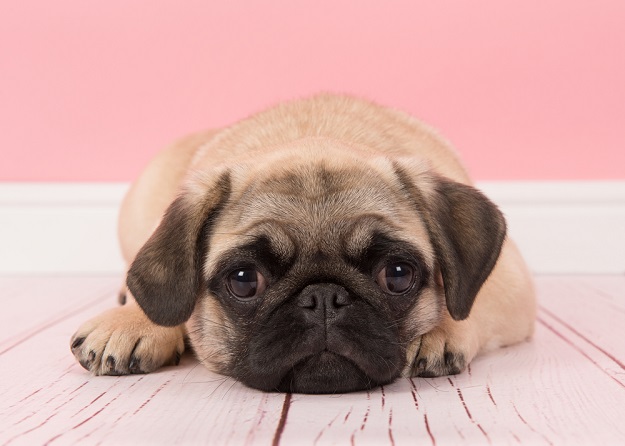 If you haven't heard of a dog drag bag, you've been missing out on a nearly perfect indoor dog wheelchair alternative. The device allows pets who are paralyzed or have other mobility problems, to move freely around the house without the fear of scraping or injuring their hind legs.
Too many pups hurt their back legs when they scoot on the hard surfaces in your home.
In addition, a drag bag or scoot bag, as it's also called, works wonders for incontinent, diaper wearing dogs. It keeps them clean and dry and prevents accidents from happening on your floors.
In my opinion, drag bags rank a close second to dog wheelchairs in improving a disabled dog or cat's quality of life. Pet parents also like them because they're cute, comfortable and inexpensive.
Note: Some of the links in this article are Amazon affiliate links where I earn from qualifying purchases. Read our policy.
How a drag bag works
A drag bag is easy to use. It looks a lot like a soft, waterproof pillowcase. Pet parents place their dog into the bag by sliding the back legs through the open end of the pillowcase. The drag bag covers a dog's body from the tip of their paws and up to the chest.
The device stays in place with an elastic waist and a neck or chest harness, depending on the brand. Many drag bags also have a mesh vent for good air circulation to the skin.
When a dog is paralyzed, due to Intervertebral Disc Disease (IVDD), an amputation or a trauma, they lose the ability to feel or control their hind legs. Many of these dogs are young and otherwise healthy animals, that have lots of energy and want to be on the go.
When they're given the opportunity, these pups scoot all over the house or yard dragging their hind legs behind them. They pull themselves over the hard floors in your home, the rough surfaces outside and up and down the stairs.
The constant activity causes the skin on the back legs and paws to develop cuts, abrasions, rug burns and scrapes. A drag bag acts as a protective barrier between the dog's legs and the ground. It glides smoothly over your floors, the grass and even over ice and snow.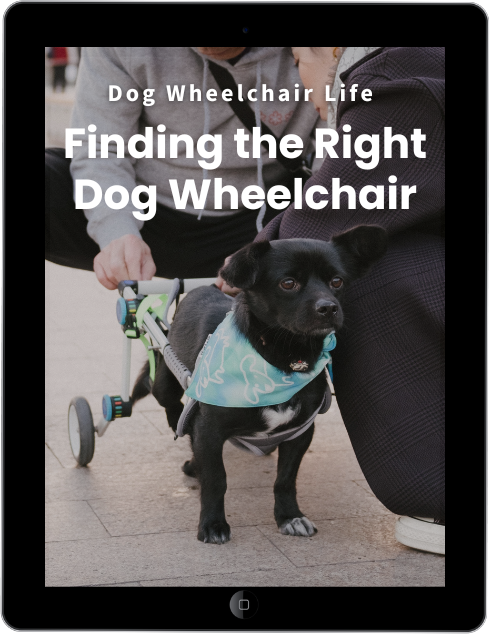 eBook
Find The Right Dog Wheelchair For Your Pet
Your dog has a mobility problem, and you want to buy a wheelchair. But do you know what kind of cart will work best for your dog's individual needs? After a decade of teaching pet owners how to make the right choice, I put the information into an eBook!
The benefits of a dog drag bag
Here's what pet owners like best:
Maintains cleanliness: Dragging limbs can accumulate dirt, urine or fecal matter, which can increase the risk of infections. A drag bag prevents your dog's legs from touching the the ground. This helps maintain good hygiene for your pet. Drag bags can also be worn at night to keep your pup's bedding clean.
Enables independence: By using a drag bag, a dog can move around independently. The bag makes it easy for your pet to explore their surroundings, participate in activities, and maintain a sense of freedom.
Reduces the risk of pressure sores: Paralyzed dogs are prone to developing pressure sores due to their inactivity and lying in one position for a long period of time. By using a drag bag, the pressure is distributed more evenly. This can lower the risk of developing pressure sores.
Allows for periods of rest: The design of a dog drag bag enables a paralyzed dog to lie down comfortably and rest when they get tired. This simple ability is a much-needed feature that isn't provided in other types of mobility devices, such as a wheelchair.
Easy to clean: Dog drag bags are machine washable and air dry quickly. They may be worn with a diaper or without.
Some of my favorite brands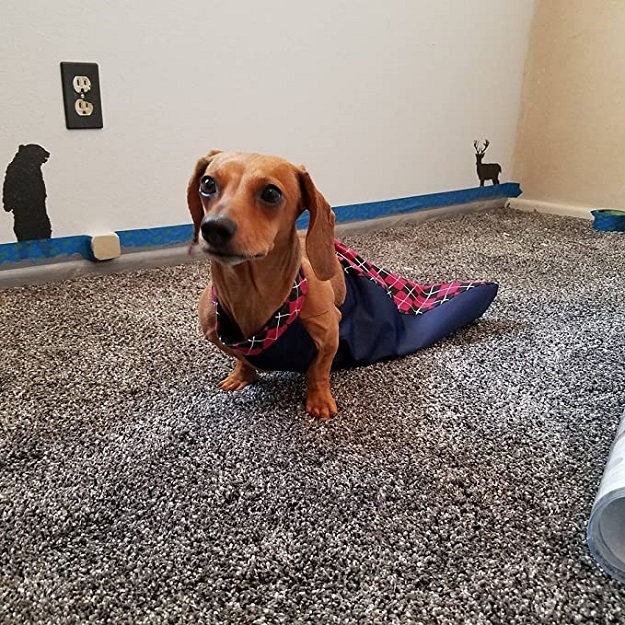 You can find drag bags for dogs at online pet supply retailers and through dog wheelchair companies like Walkin' Pets and K9Carts. One of my favorite dog diaper companies, Barkertime, also has a line of drag bags with fun prints, and you can find independent retailers on Etsy who handmake beautiful dog drag bags.
Want to read more?