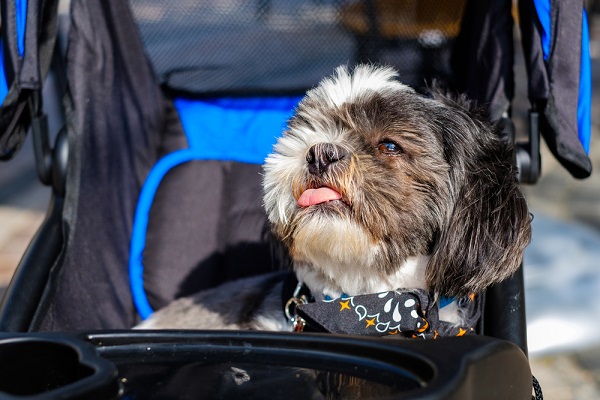 This is an important story. It's about pet strollers vs. dog wheelchairs and which is the best choice for a paralyzed animal. Most of us have learned that when a dog has a mobility problem, the answer is to get them into a cart as soon as possible.
We've been taught that's how life should be. A wheelchair gives a dog their independence and it provides them with the exercise they need to maintain their overall health.
Pushing a stroller, on the other hand, seems like the exact opposite of what we should do and for many pet owners transitioning to a stroller is a sign of failure.
I think this belief comes from a secret we tell ourselves. We say that if our dog is able to roll around in a cart, they are doing well, even if they can't walk.
Unfortunately, life doesn't work this way. Many dogs never adjust to a wheelchair and others reach a point when they don't have the strength or balance to use their cart. That's what happened to my dog, Sophie.
I don't want any pet owner to feel badly if a stroller becomes the best choice for your pet. Taking your pup for a ride through your neighborhood in a stroller has the same bonding experience as when you walk with them in a wheelchair.
It's important to remember that every case of paralysis is unique. Our goal as pet parents is to assist our dogs as much or as little as they need.
Note: This post contains some Amazon affiliate links. Please see my disclosure policy for details.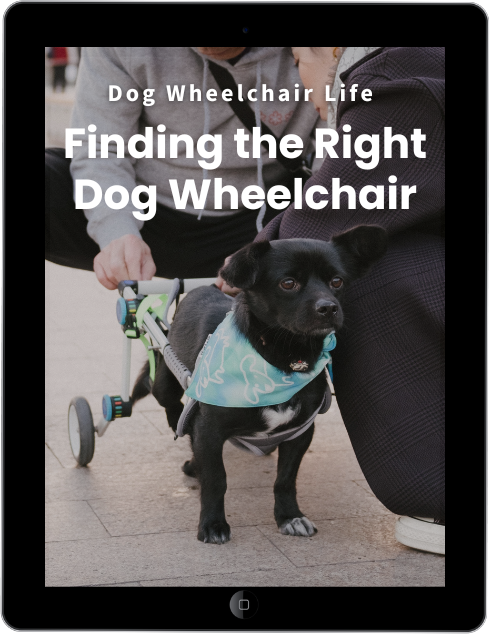 eBook
Find The Right Dog Wheelchair For Your Pet
Your dog has a mobility problem, and you want to buy a wheelchair. But do you know what kind of cart will work best for your dog's individual needs? After a decade of teaching pet owners how to make the right choice, I put the information into an eBook!
Luke's family opted for a pet stroller vs. a dog wheelchair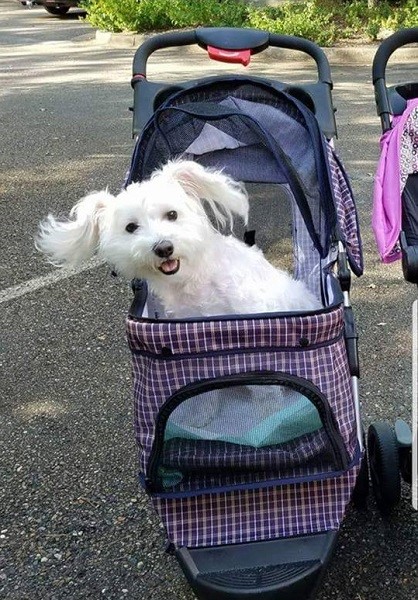 Luke became paralyzed after being hit by a car. The Terrier/Schnauzer mix nearly lost his life due to internal bleeding, swelling on his brain and severe damage to his spine. And to make matters even more complicated, Luke's pet mom Patricia was pregnant at the time of the accident. The veterinarian told the family their dog would never lead a normal life, but they weren't ready gave up on him. They wanted to give him a chance.
Luke is a member of our family and we couldn't put him down."

Patricia
So, when Luke was healthy enough to come home, Patricia went to work learning everything about taking care of a paralyzed dog. That included buying her boy a wheelchair.
Unfortunately, the dog had trouble using his cart. He had lost a lot of weight after the accident and had trouble getting his strength back. The wheelchair was too much for him to maneuver.
Patricia turned in the cart for a pet stroller. She knew her dog loved being outdoors before his accident and she was determined to give that joy back to him.
The stroller gave Luke a new lease on life. He couldn't wait for his daily ride.
Patricia said it's easy to spot the family on their walk because they're the only ones pushing two strollers. You see, Patricia gave birth to a baby girl during Luke's recovery.
"My toddler loves Luke and is very compassionate towards him," said Patricia. "She even helps change his puppy pads."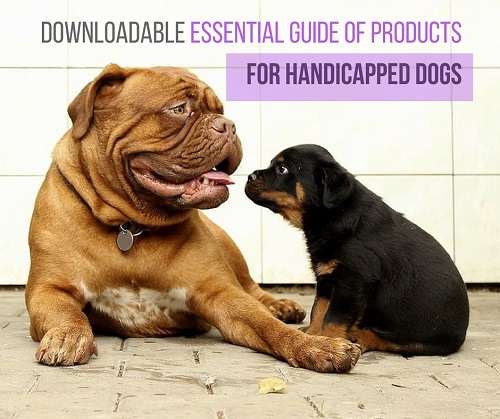 Get the Essential Guide
The Essential Guide of Products for Handicapped Dogs e-book is a labor of love for me. I wrote it to answer your most pressing questions about where to find the best products for your wheelchair dog. You'll find products you didn't know existed and each will improve your dog's quality of life. Print a copy and keep it by your side.
Sophie's transition to a pet stroller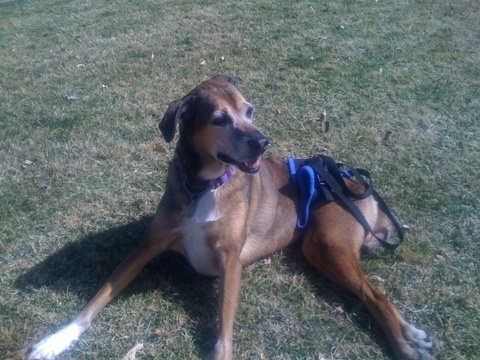 My girl Sophie had a progressive form of paralysis. Although we never had a confirmed diagnosis, her symptoms followed those of Degenerative Myelopathy. DM is an incurable disease of the spinal cord that strips away the protective coating (myelin) which allows the brain and limbs to communicate. It first causes paralysis in the rear legs and then moves to the front limbs and organs.
It took Sophie about six months to become completely paralyzed in her hind limbs. During that time my husband and I bought her a dog wheelchair. She used her cart for several years, but honestly, she was never a fan. I contribute that to the fact she was 10-years-old when she first became sick. By the time she was 13, Sophie was unable to use her cart.
The paralysis had started to attack her front legs and the muscles in her belly had become weak. It made it difficult to hold herself up in the wheelchair, let alone walk with it.
That's when I started to research other options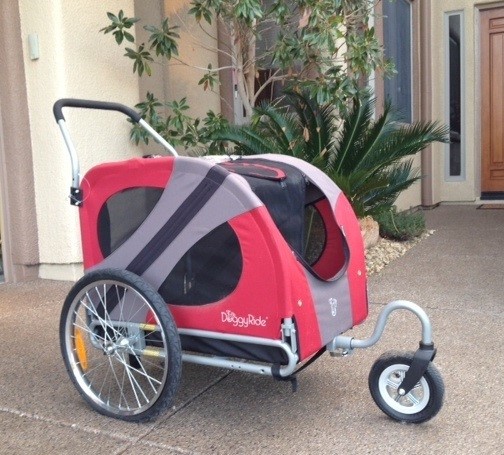 The majority of strollers seemed to be made for small and medium-sized dogs and Sophie weighed 50-55lbs. So, the search for the right stroller took a while. Then one day, while I was attending a community event for dogs, I saw a large disabled canine being pushed in fully enclosed trailer.
The owner explained that the trailer was built to be attached to the back of a bicycle so pet owners could take a dog for a ride. She had adapted it by attaching a front wheel and a handlebar.
The woman gave me the name of the company to see if a bicycle cart could be adapted for Sophie. It completely changed our lives.
I immediately bought one and it was a godsend for Sophie. She could safely and comfortably sit inside the trailer while we pushed her around the neighborhood.
After that day, I realized a pet stroller was the best choice for my dog's needs. Sophie rode in her trailer every day until her disease progressed and she couldn't sit up on her own.
She would happily hang her head out the front of the cart so she could see the sights and enjoy the smells of our neighborhood. It was a small victory to make my paralyzed pup feel like a normal dog.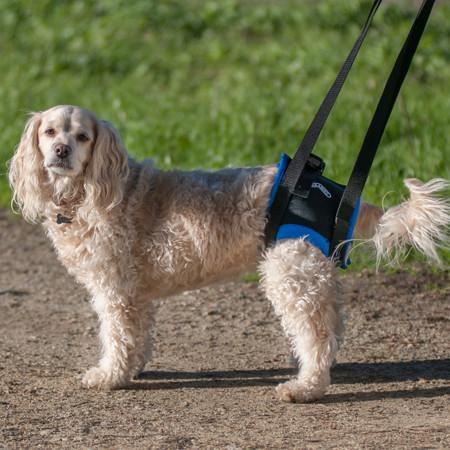 My favorite harnesses for disabled dogs.
Pet stroller choices
Strollers come in 3 basic models: Three-wheels, Four-wheels and Trailers
Three-wheels are great for city walking
Four-wheels maneuver well for hiking trails as well as city walks
Trailers work well for large dogs and pets who need to lie down during a stroll.
Dog Trailers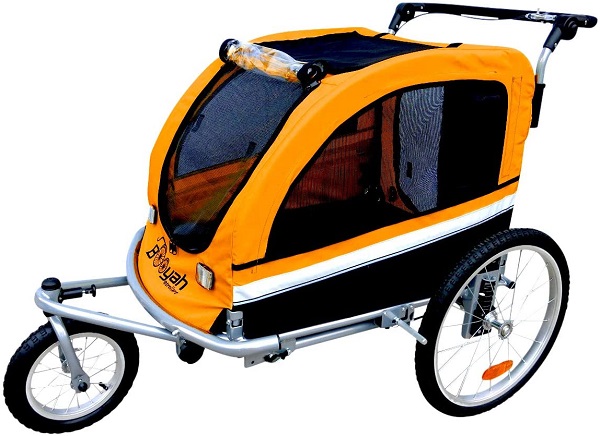 The Booyah company makes lightweight and durable two-in-one jogging/trailers and bike strollers for dogs of all sizes. Their models provide comfort and safety with shock absorbers while making it easy to place a dog inside. You can see all of the models by clicking here.
Features:
Removable clear plastic cover for front door to protect your pet from weather
Converse between trailer and jogger easily, no tools required
Mesh zippered front and back door for quick and easy loading/unloading
Large 20″ rear wheels are great for the trail, sidewalk and short grass
Large space for pet to stay and go in and out
Pet Gear
Pet Gear makes a a popular medium-priced, three-wheel stroller. It comes in a variety of sizes and features. There's a zipper less entry to easily get a disabled dog in and out, plus it has a one-hand folding mechanism for storage.
Features:
* Easy-locking No-Zip entry; no struggling with zippers.
* Bolster Pad and weather cover included.
* Panoramic view window with a 3 position canopy.
* 12 " Air Ride tires.
HPZ Pet Rover
This premium stroller is a well-known company that makes heavy duty dog and cat strollers. Each stroller features four wheels for good maneuverability on all terrains. Strollers feature a travel carriage with a convertible compartment, a zipper less entry for easy access, reversible handlebars and pump-free rubber tires. You can see all of the models by clicking here.
Features
* One-hand folding
* Human-grade suspension for a smooth ride
* 360-rotation
* Rear braking system
* Strong construction for all-terrain rides
* Extra storage
Want to read more about paralyzed pets?
Degenerative Myelopathy in Dogs: What Pet Owners Should Know