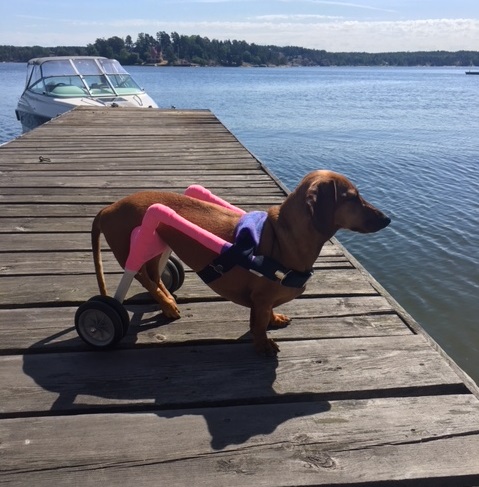 What if I told you there's a budget friendly dog wheelchair that costs about half of your weekly grocery bill? And what if that cart was designed by a veterinary professional, who custom-builds each one and offers a lifetime warranty? Would you be impressed? I was impressed and excited when I discovered Dogs to Go.
This family owned company produces quality-made carts that gives pet owners an affordable option to get their dogs mobile again. The gap they fill is extremely important for pet families on a tight budget.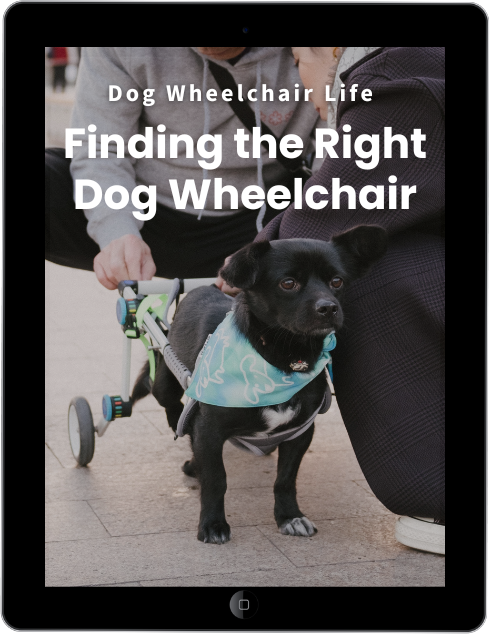 eBook
Find The Right Dog Wheelchair For Your Pet
Your dog has a mobility problem, and you want to buy a wheelchair. But do you know what kind of cart will work best for your dog's individual needs? After a decade of teaching pet owners how to make the right choice, I put the information into an eBook!
Meet the founders of Dogs to Go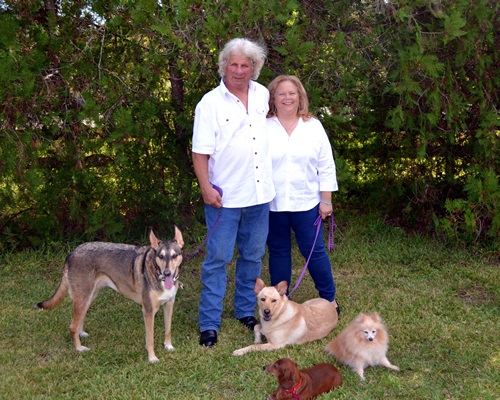 Dog wheelchairs changed the world for disabled pets. Before mobility carts were popular, paralyzed dogs were routinely euthanized because they couldn't walk. Thankfully that isn't the case anymore.
Today everyone knows about wheelchairs for dogs and it's the first item they want to buy for their newly diagnosed pet. Unfortunately, many families have to opt out, once they hear the price. That's what happened to Laurie and Larry Miller, the founders of Dogs to Go.
Laurie Miller, RVT is a licensed veterinary technician who started building dog wheelchairs with her professional pipefitter husband Larry, more than 20 years ago. Laurie worked in a veterinary surgical center and saw firsthand how dog wheelchairs transformed the lives of paralyzed animals.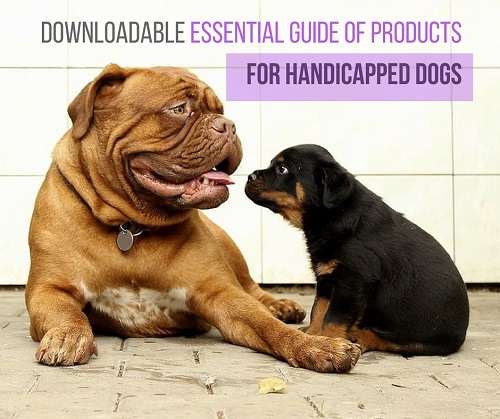 Get the Essential Guide
The Essential Guide of Products for Handicapped Dogs e-book is a labor of love for me. I wrote it to answer your most pressing questions about where to find the best products for your wheelchair dog. You'll find products you didn't know existed and each will improve your dog's quality of life. Print a copy and keep it by your side.
Penny's story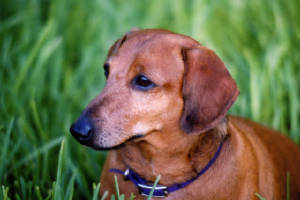 Then their own little Dachshund named Penny, ruptured a disc when she was 3 years-old. Penny had emergency surgery on her spine, but her prognosis was questionable about whether she would walk again.
Three weeks into Penny's recovery, the Millers knew they needed to find a wheelchair for their pup.
Laurie said, "The cost of a new wheelchair was out of our price range and there weren't any finance programs available at the time. Our vet recommended that Penny be euthanized."
The Millers were devastated, but didn't give up.
Larry decided to build a cart for Penny. After a lot of trial and error, he came up with a simple design. Laurie used her veterinary experience to make sure the fit was right for Penny's body and disability.
The cart helped Penny immensely. She was able to run and play while she recovered and did physical therapy exercises with Laurie. Eventually the little Dachshund was able to walk on her own.
Since that time the couple has used their wheelchair building skills for two other family dogs. Mary, a Schnauzer, used her cart after suffering a FCE (Fibrocartilaginous Embolism). She was in her wheelchair for ten years.
And today the Millers are "failed foster parents" to a little dog who became paralyzed after a traumatic injury.
Click to read: Common Sense Tips To Keep Dogs Safe In Their Wheelchairs
How the budget friendly dog wheelchair is made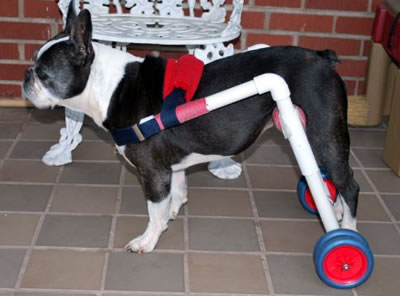 After the initial experience with Penny, Laurie made the pledge to help other families who couldn't afford a dog wheelchair. Her goal was to close the gap between expensive and reasonably priced carts.
She began by fine-tuning the design of their carts. They had to be anatomically correct for dogs. Laurie attended special training at Texas A&M in dog rehabilitation to make sure the fit of each wheelchair was perfect. Her design was also approved by the veterinarians in the surgical center where she worked. In fact, Dogs to Go carts were used for years by patients at the center.
Today the company offers two designs. Their full suspension model is for dogs with rear leg paralysis. It has a unique feature where the rear feet rest on the bottom of the cart, so they don't scrape on the ground.
The second design is made for dogs who need partial support. It's beneficial for canines with arthritis or a degenerative spine disease that require light assistance while they walk.
Every dog wheelchair is individually built from PVC for dogs weighing 10lbs to 50lbs. Dogs to Go uses PVC because it's lightweight and extremely durable. Then they're fitted with pneumatic wheels so they can go over rough terrain.
Wheelchairs range in price from $70 – $85, plus shipping.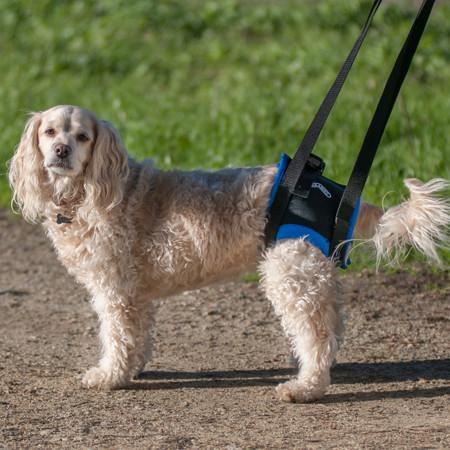 My favorite harnesses for disabled dogs.
The full suspension cart and the partial support wheelchair are:
Strong and safe
Lightweight
Built for comfort
Easy for dogs to maneuver
Use pneumatic (gas filled) wheels for all-terrain outings
Have a lifetime warranty with free repair or replacement
Ship overseas
Serving other animals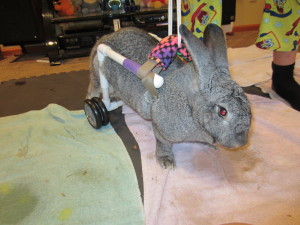 In addition to helping canines, Dogs to Go carts have been built for other animals, including lots of rabbits. Laurie learned that rabbits are prone to arthritis, hind end injuries and a parasitic infection called E. Cuniculi that causes paralysis.
The first rabbit the company helped was named Ethel and she lived in England. Ethel became paralyzed due to E. Cuniculi and she loved her wheelchair. She drew a lot of attention when she went out in public and became a big celebrity.
Education and support
When I talked with Laurie, it felt like I found a kindred spirit. Her mission isn't just about wheelchairs, it's also about working to educate owners of newly disabled pets. She answers questions and offers counseling to pet owners as they adjust to life with a dog in a cart.
She also shares her knowledge in a manual titled, Caring For A Disabled Pet, that can be purchased on her website.
To date, more than 10,000 dogs have been helped by Dogs to Go wheelchairs.