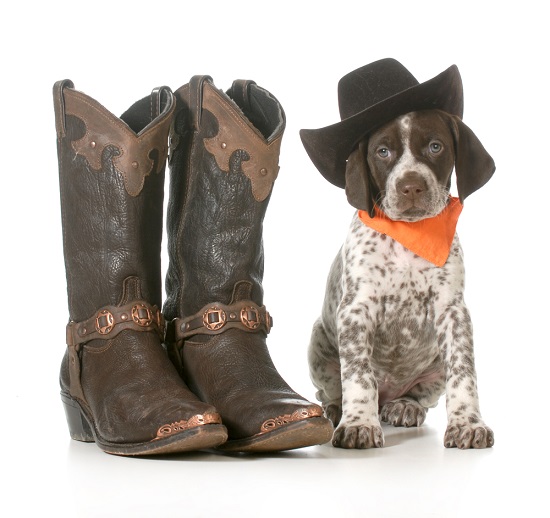 I get asked a lot of questions about taking care of a dog with mobility problems, but how to pick the best dog boots, isn't one of them. In fact, no one ever asks that question even though the answer can greatly improve an animal's life.
There are hundreds of dog boots and paw protection products on the market. It's important to know which features can help a dog who needs a little assistance with walking and the type of boot needed for a dog with severe mobility concerns.
In my opinion, finding the right paw protection is as important as the dog wheelchair you choose.
Note: This story contains affiliate links. Read more in our disclosure.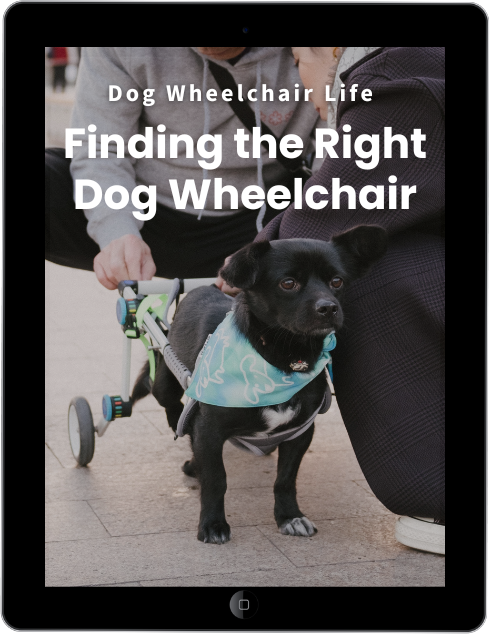 eBook
Find The Right Dog Wheelchair For Your Pet
Your dog has a mobility problem, and you want to buy a wheelchair. But do you know what kind of cart will work best for your dog's individual needs? After a decade of teaching pet owners how to make the right choice, I put the information into an eBook!
Common medical conditions
These are the leading canine health problems that benefit from quality dog boots:
Arthritis
Spine diseases such as Intervertebral Disc Disease (IVDD)
Injuries to the spine
Neurological conditions such as Degenerative Myelopathy (DM) and FCE stroke.
Orthopedic problems of the hip and knees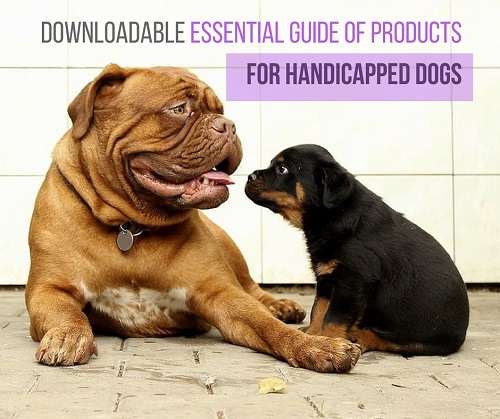 Get the Essential Guide
The Essential Guide of Products for Handicapped Dogs e-book is a labor of love for me. I wrote it to answer your most pressing questions about where to find the best products for your wheelchair dog. You'll find products you didn't know existed and each will improve your dog's quality of life. Print a copy and keep it by your side.
Features to help you choose the best dog boot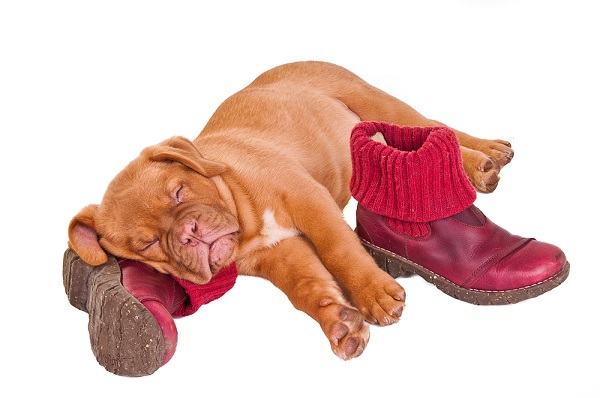 Provides traction – Senior dogs and canines with arthritis can suffer slips and falls from walking on slick surfaces or getting up from the floor. Mobility devices that provide traction work well for them.
Supports hind end weakness – Medical conditions like IVDD, DM and strokes cause dogs to have weakness in their rear paws. Lightweight boots that have a firm sole and fit snuggly over a dog's paw are features that ease this problem.
Stops knuckling – Dogs with neurological conditions like DM lose sensations in their paws. Many knuckle them under and walk on the top of the paw rather than on the pad. This causes scrapes and sores. Look for a boot that corrects the position of the paw.
Protects dragging paws – As dogs become paralyzed, the paws on their back legs get dragged over outdoor and indoor surfaces. It causes painful cuts and injuries. Dog boots that supply a sole on both the bottom and top of the shoe provide maximum protection.
Full body protection – Dogs who are completely paralyzed may want to transition to a product that shields the entire lower half of their body. These mobility devices called, drag bags or scoot bags are sacks that look like a small pillowcase. Dog's slip into them for protection from their paws and limbs and all the way up to their chest. Drag bags provide a complete barrier around a dog.
Favorite dog boot brands and paw protection products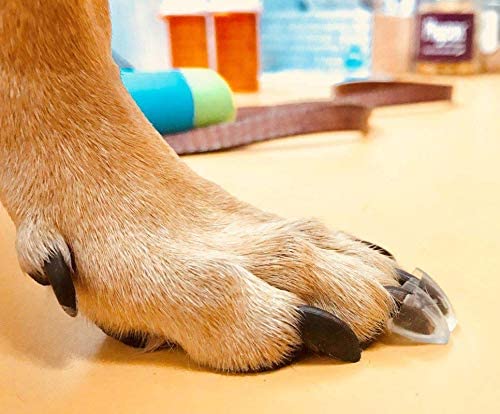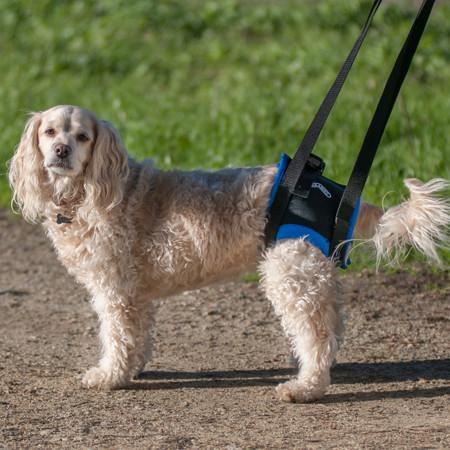 My favorite harnesses for disabled dogs.
Dr. McHenry's Dog Toe Treads
Rather than a dog boot, Toe Treads are ingenious little nail covers that fit over a dog's toes. They enable senior pets and dogs with arthritis to get the traction needed to get up off the ground without a struggle and to walk on slick surfaces without falling. Toe Treads are made for indoor and outdoor use and stay on a dog's nails for weeks.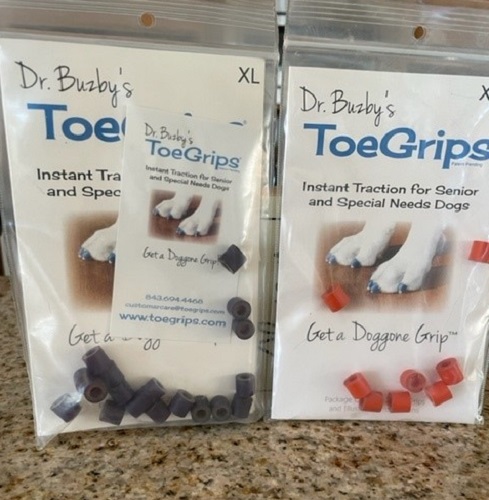 Dr. Buzby's ToeGrips®
ToeGrips® is another brand of nail covers that I used for my dog Cody's arthritis. Instead of nail covers, ToeGrips is a brightly colored band that slips over each individual nail to provide maximum traction. Once applied, the bands are made to stay in place for 1-3 months.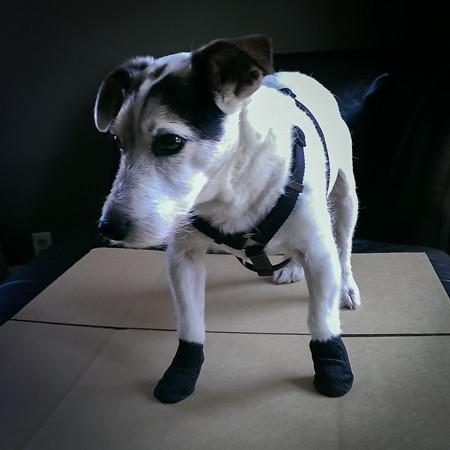 Walkabout Harnesses™
JAWZ traction booties are soft, comfortable, lightweight boots made for indoor use. They provide a strong grip on floors and slippery surface floors for dogs with arthritis and weakness in their rear legs. They're also a good choice for dogs recovering from orthopedic surgery. And like all of the products from Walkabout Harnesses, the JAWZ bootie is clinically tested.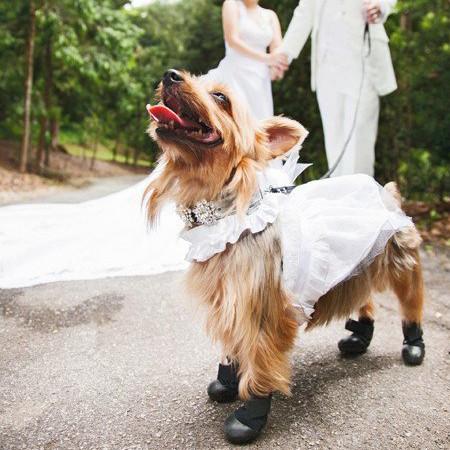 Walkaboots™ from Walkabout Harnesses is made for outdoor use. This is a sturdy, but lightweight boot that fits a dog's paws like a glove. It enables pups with hind end to walk securely without scraping or cutting their paws. Walkaboots also come with a "double sole" for added protection. That means there's a rubber sole on the bottom of the boot and a second one sewn onto the top of the boot. It's a great asset for dogs who knuckle or drag their paws.
Toe'sUP Walkaboot is the newest paw protection device from Walkabout Harnesses. The boot prevents the paw from knuckling by keeping it in a natural walking position and gently lifting the toes. It allows dogs with neurological conditions, to walk longer.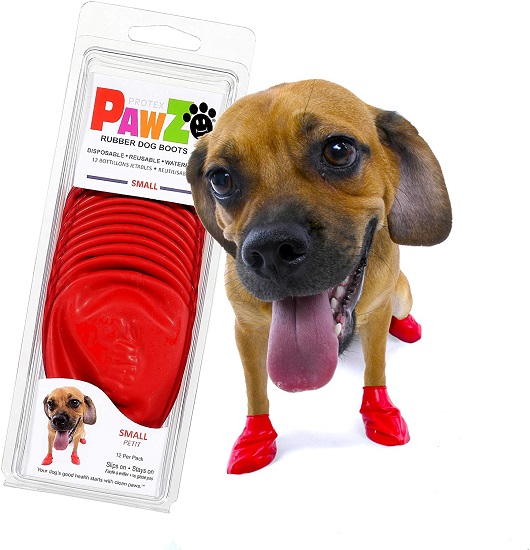 PawZ Rubber Dog Boots
PawZ is well-known for their economical and disposable traction boots. They provide good "friction" for arthritic dogs that prevents them from slipping and falling. The rubber boots are easy to apply and comfortable for walking. PawZ boots come in pack of 12, so they can be tossed out after a few wearing's.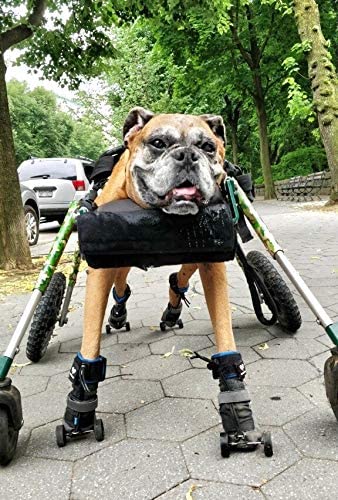 Roller Skate with Maximus
This one-of-a-kind mobility product supports hind end weakness in a unique way. They are dog boots that sit on top of dog sized roller skates. The boots protect a dog's paws and limbs during a daily walk or when a dog is in a wheelchair. Maximus skates have a become popular way to stop dogs from injuring their legs while they walk, play and exercise. Pet owners also like the skates for their wheelchair dogs because they keep the paws in a natural position rather than having them tethered in a cart.
Walkin' Pets®
While Walkin' Pets makes a line of boots, it's their drag bags that really stand out. The Walkin'® Drag Bag keeps dogs comfortable and safe wherever they go. It surrounds their back legs with a protective barrier so they can scoot all over the house with ease. Paralyzed dogs are prone to injuring themselves on hard floors, steps and even on rough carpet. The drag bag eliminates this problem.
DIY paw protection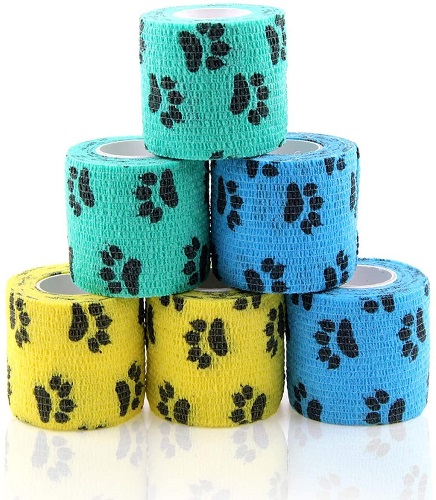 For pet parents who want an economical DIY solution to protect their dog's paws elastic veterinary bandage tape is a good option. The tape comes in an array of fun colors and prints and all that's needed to use it is a pair of scissors. Wrap your dog's paw and limbs in the tape to protect them and when the area is covered, cut off the extra material. Veterinary tape is made to stick to fur and will stay in place for hours. Simply unravel the tape to remove it.
Want more product ideas?
Dog Ramps: The Best Choices for Indoor and Outdoor Use