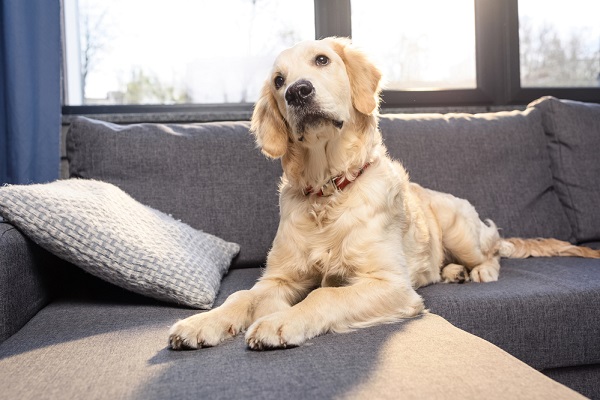 I hate to admit it, but until recently I didn't pay much attention to dog ramps. All of my dogs have been large breeds that didn't need help getting on and off high places. Then I interviewed, Dr. Richard Young, a leading veterinary neurologist, who explained that 40-60% of dogs who've had spine surgery, reinjure their backs.
He said the injuries happen while these dogs are doing normal daily activities, like jumping off the sofa or hopping out of the car. The impact from jumping can have a lasting effect on small dogs, seniors, dogs with arthritis and amputations or pups with mobility problems.
Dr. Young recommended that pet owners include a dog ramp in the daily life of their susceptible pups.
Note: Some of the links below are affiliate links. Read our policy.
Dog ramp basics
You probably already know most of this, but it's worth repeating the basic concepts about dog ramps.
First, there are three types of ramps; one for indoor use, another for outdoors and a third for small elevation changes. Indoor ramps are used by dogs to climb on and off sofas, beds and other furniture. The ramps are short, lightweight and are often designed to complement the furniture in your home.
Outdoor ramps are built to help a dog climb in and out of a car, truck or van. They can be quite long, depending on how high a dog has to climb, and they're made of sturdy, durable materials.
Transition ramps assist pets take one or two steps to change elevations, like walking over the threshold of a door or stepping down onto a backyard patio. They even help dogs maneuver inside the house when rooms are a few steps higher or lower from each other.
All dog ramps are made to protect a dog. They eliminate stress that's placed on the spine and joints when a dog jumps on or off an elevation higher than themselves.
Ramps also have a psychological element. They help pets with mobility problems, maintain their independence. Instead of waiting to be lifted, a dog is able to walk on a ramp to get wherever they want to go, on their own. It encourages self-confidence and builds their morale.
Ramps are beneficial to the wellbeing of pet owners too. They prevent injuries and achy backs to people who spend a good part of their day bending down to lift their dog.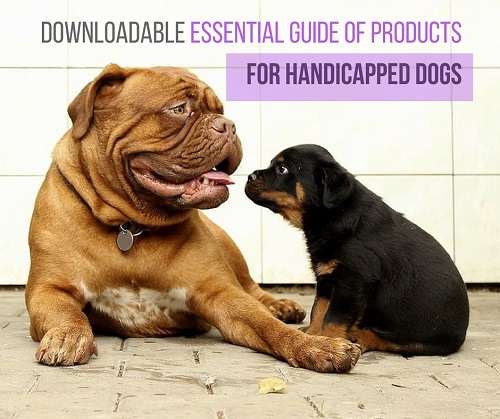 Get the Essential Guide
The Essential Guide of Products for Handicapped Dogs e-book is a labor of love for me. I wrote it to answer your most pressing questions about where to find the best products for your wheelchair dog. You'll find products you didn't know existed and each will improve your dog's quality of life. Print a copy and keep it by your side.
What to consider before you make a purchase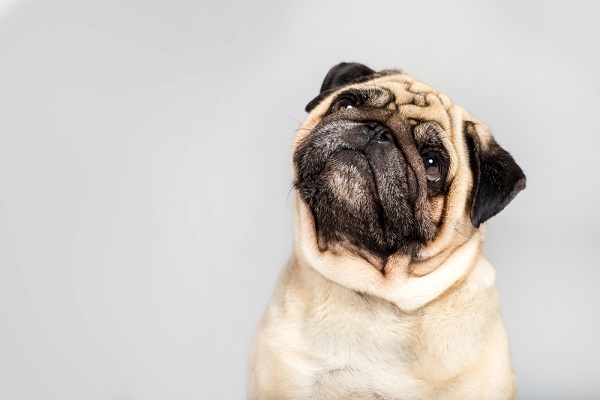 Ramps come in a variety of materials from lightweight aluminum to heavy-duty plastic or wood. Don't let the material fool you, because each serves a purpose. An aluminum ramp might be the best choice if you plan on pulling it in and out of the car a lot. A wood ramp could be a good pick for indoor use. Many of them fold up and can be stored under a bed or sofa. Others are designed to look like a piece of furniture that blends with your décor.
Whichever ramp you choose be sure it has a high-traction surface so your dog can't slip while walking on it. Check that it has non-skid feet that lock into place or rubber grips on the feet. The goal is to have a surface that stabilizes your dog's body when walking up and down. You don't want it to slip out from under your dog or to be wobbly when they're on it.
Dog ramps should also be suitable for your pet's size and weight and it needs to be wide enough for your pup to walk comfortably.
If your dog has problems with balance, look for a ramp that has side rails so they can't fall off.
Be sure the ramp is long enough for your needs. A dog with mobility problems should never climb a slope of more than 18-degrees. (Picture a driveway with a slight incline.) That means you might need to purchase a longer than average ramp so the slope isn't too steep. People generally encounter this situation when they're hooking a ramp to a tall vehicle like a truck or SUV.
More tips to consider
Think about yourself when you buy a ramp. You'll want one that's the right length and weight for you to install and store. Check to see if it comes with handles. This will make carrying and storing it much easier. You'll be frustrated if the ramp works well for your dog, but it's too heavy for you.
Learn how the ramp folds after using it. This will help you determine how it will be stored. Some ramps fold in half while others stack into itself like a telescope. Telescopic ramps are generally more expensive, but they have more features and adjustment capabilities. Then there are ramps that are one-piece and don't fold at all. If you're leaning toward this type, make sure it's lightweight.
One last consideration is to decide how often you need the ramp. It will help you from buying one that's too expensive for your needs.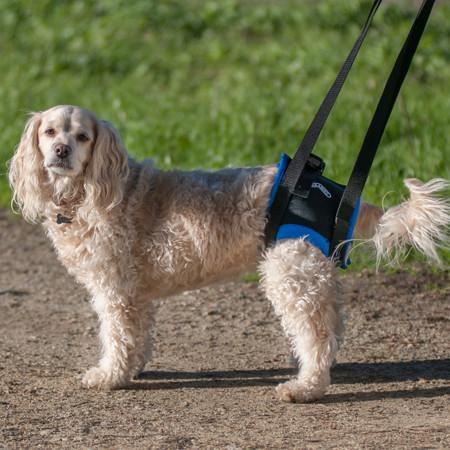 My favorite harnesses for disabled dogs.
Here are a few indoor and outdoor dog ramps I like
PawRamp from Alpha Paw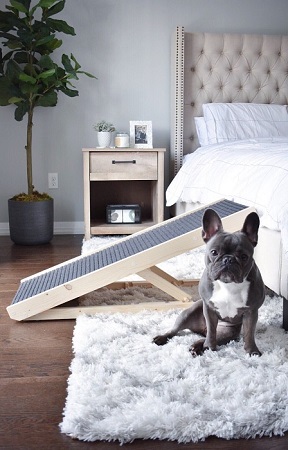 The PawRamp, from Alpha Paw® is a popular vet approved indoor ramp to prevent back and joint injuries. The lightweight, foldable ramp comes fully assembled. It has an adjustable height to help a dog safely walk up and down the sofa or a bed.
Extra features like ridged carpet on top and non-slip rubber grips on the bottom, give PawRamp added protection from slips and falls. It comes in 3 colors to go with every décor. More than 300K ramps have been sold.
Alpha Paw also offers the DachRamp™ which is made to assist Dachshunds, puppies and senior pets up to 80 pounds.
PetSafe Cozy Up Bed Ramp
The Cozy Up got great reviews from pet owners. It's made of furniture quality wood that comes in white or cherry. The ramp is durable enough to hold a dog up to 120lbs and is lined with high traction carpet to prevent slipping or falls. PetSafe has been building ramps for 30 years.
Chasing Tails Dog Ramp
This dog ramp is fully adjustable so it can reach any piece of furniture or bed and then fold flat for easy storage. It has just the right amount of grip and softness to prevent slips and protect your dog's paws. Chasing Tails dog ramp also has side rails for safety. It's made from furniture grade wood that's designed to blend with every living space.
Outdoor dog ramps
Alpha Paw Car Ramp for Dogs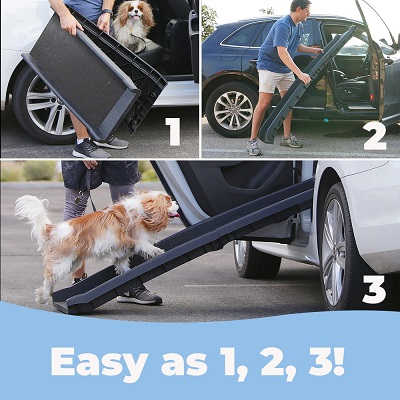 Car Ramp for Dogs from Alpha Paw provides easy access and a non-slip surface to help pets safely get in and out of a car, van or SUV. This ramp is highly rated by pet owners. It's lightweight, folds in half for quick storage and can hold dogs up to 200 lbs.
Gen7Pets Natural-Step Ramp
The Gen7 is topped with "artificial turf" which is the perfect high traction surface that won't scratch a dog's paws. It has a security grip so it won't slip off your vehicle and it can hold a dog up to 200lbs. The ramp is extremely lightweight at only 10lbs and folds in half for easy handling and storage.
Pet Gear Stramp
The Pet Gear Stramp is a stair and ramp combo that can be used indoors and outside. It's a great option for small dogs who just need a little boost. The ramp has rubber grips to keep it secure to the ground and it's lightweight so you can easily move it from the car into the house. The Stramp is also extra wide for safety.
PetSafe Extra Long Telescoping Dog Ramp
This best selling ramp from PetSafe is perfect for truck riding dogs. The telescope allows pet owners to lower the slope a dog walks on while providing good traction and an extra wide frame. It also has rails on each side for safety. The ramp holds dogs weighing up to 300lbs, but is only 18lbs to carry.
EZ-Access Transition Ramp
EZ-Access is a sturdy aluminum ramp that makes a home safer by creating a smooth transition through doorways. It's easy to install and comes in heights that range from 1 inch to 5 inches.
Training your dog for ramp walking
Just like people, every dog has a different temperament. That means your pet might look at the new ramp and walk right onto it. But for many dogs it takes time and patience until they learn to love their ramp.
If that's your situation, begin teaching them about a ramp with a slow introduction. Start by allowing your pet to sniff the ramp and get a good look at it while it's lying flat on the ground.
Then use a combination of tasty treats and a leash to slowly guide your pup onto it.
Once they've gained some confidence, add a gradual incline to the ramp until it's at the level you need.
These steps might have to be broken down into several practice sessions, especially if your dog is fearful.
When to start using a ramp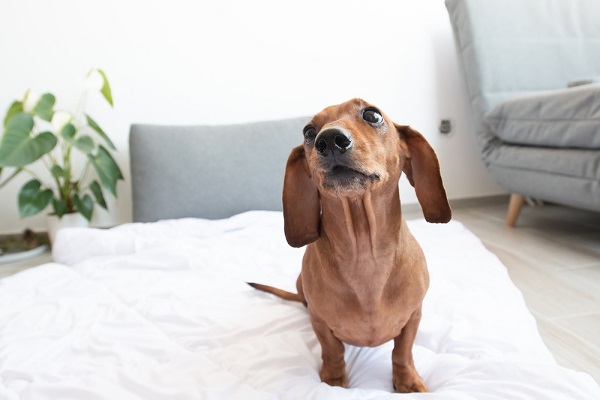 The ideal time to introduce your dog to a ramp is as soon as a mobility problem begins. Keep an eye on your dog when they get up from the floor or go for walks. If you notice weakness in their back legs, a slower-than-normal gait or stiffness; it's probably time to start 'ramping up' your home.
If possible, don't wait until your dog has a severe mobility problem before introducing a ramp.
A word about dog stairs/steps
Many pet owners prefer to use portable dog stairs instead of a ramp and it's a product I like too. If you haven't seen them, they look like a mini staircase with two or three steps for a dog to climb.
Pet owners like dog stairs, because they're easy to use and they don't take up too much space. Stairs are also extremely lightweight, and like some of the indoor ramps, you can find dog steps that blend with your décor.
But, before you offer this solution to your dog, take into consideration how steady your pet is on their feet. Dogs who are shaky or have poor balance on all four paws, might have a problem lifting a paw off the ground to climb a step. It can throw off their center of gravity and cause a dog to fall off the stairs. If possible, try to test portable steps with your dog before introducing them at home.
Here are a few of my favorite dog stairs
Topmart Foam Dog Ramp/Steps
Topmart makes a 3 tier foam dog ramp/step combo that's great for small dogs with mobility problems. The steps are extra wide and made of non-slip high density foam. The gentle slope of these steps makes it easy for a dog navigate.
Pawland 2-in-1 Portable Folding Stairs and Ramp
Pawland makes a great quality combo pet ramp that easily converts to steps for small dogs. It's covered in soft, non-slip, easy to clean carpet that's designed to complement many interiors. These stairs are simple to assemble, sturdy and can hold up to 80lbs.