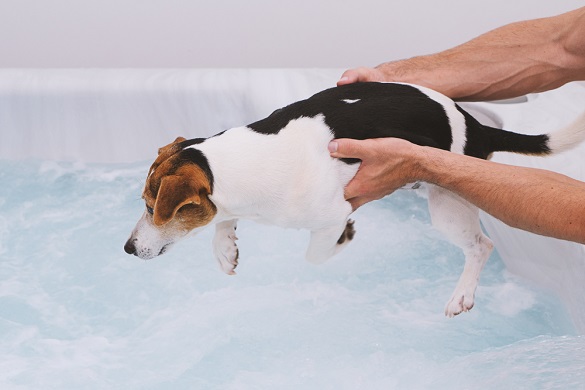 When the first canine water therapy clinic opened in my city, I knew I had to schedule a tour. Hydrotherapy for dogs is quickly becoming one of the most popular and important physical therapy treatments for pets.
I contacted Kathy Carr, who owns Canine Bodywork & Aquatics in NV, and she invited me to follow one of her canine patients through a rehab session.
Before I share my experience, I want to explain why this therapy is so important.
Note: This post contains affiliate links. Read our policy here.
What is canine hydrotherapy?
Water therapy for dogs is a relatively new form of physical therapy. It helps canines recover faster after an orthopedic surgery and it slows the effects of degenerative conditions like arthritis, Degenerative Myelopathy and other spine problems.
It uses the buoyancy and resistance of warm water along with a scientific principle called "hydrostatic pressure," to get dogs moving.
Hydrostatic pressure is a fascinating piece of science, especially if you have a dog with hind end weakness or paralysis. It creates a pressure or "gravity" in the water when a pool is filled to a certain level and warmed to a specific temperature.
Hydrostatic pressure increases a dog's balance as they walk on a treadmill and it enables many paralyzed dogs to stand on their own in a swimming pool.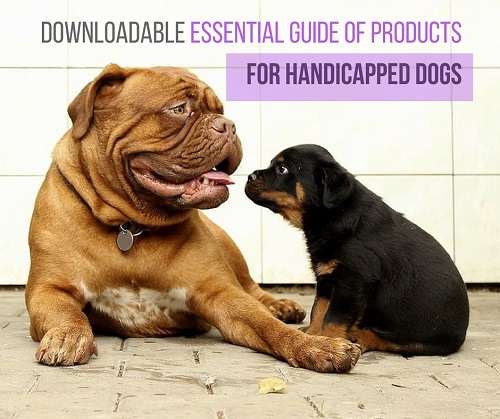 Get the Essential Guide
The Essential Guide of Products for Handicapped Dogs e-book is a labor of love for me. I wrote it to answer your most pressing questions about where to find the best products for your wheelchair dog. You'll find products you didn't know existed and each will improve your dog's quality of life. Print a copy and keep it by your side.
The two most popular forms of hydrotherapy are:
Underwater treadmills – Dogs walk on a treadmill which is encased in a glass chamber that's filled with water. The depth of the water and the speed of the treadmill are individually prescribed for each patient's disability.
Swimming pools – Dogs swim with a therapist in a specialized pool that's heated to 85-90 degrees. Jets line the sides and are used to soothe a patient with a water massage or challenge them as they physically improve.
Water therapy is used to treat these common ailments:
Intervertebral Disc Disease (IVDD) in the lower (lumbar) spine
Degenerative spine problems
Hip and elbow dysplasia
Arthritis – to increase joint range of motion
Post-surgical patients after orthopedic repairs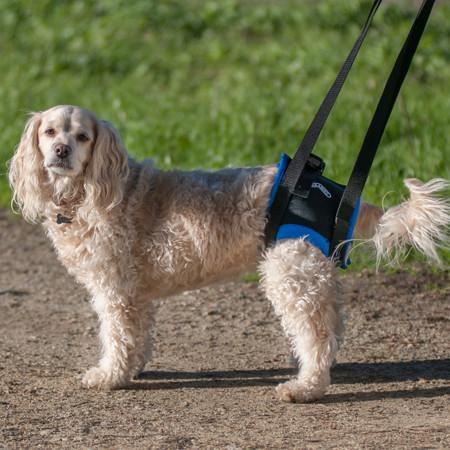 My favorite harnesses for disabled dogs.
It's also used to:
Decrease pain and swelling
Improve muscle strength and stamina
Increase flexibility
Teach a puppy how to swim
Warning: Hydrotherapy is not recommended for dogs with IVDD (Intervertebral Disc Disease) in the neck or other spine conditions of the neck or if Wobbler's Disease has been diagnosed.
My visit to the clinic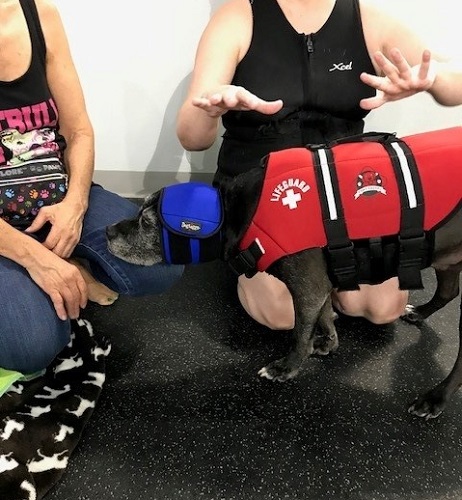 My goal for the day was to tour the clinic and observe Nala, one of Kathy's favorite patients, during her hydrotherapy treatment.
When I arrived, Kathy took me to her office what led her to become a canine water therapist. She started as a Veterinary Assistant and then became a Small Animal Massage Practitioner. She then became interested in hydrotherapy and became a member of the Association of Canine Water Therapy.
All of this makes her extremely qualified to work with dogs in the water.
The tour
Next, we toured the facility. There was a treatment room downstairs for massages and as we walked up a ramp, there was huge indoor swimming pool that measured 8ft. by 20ft. and 4.5ft deep.
The pool was kept at 90 degrees to reduce inflammation and pain and to release toxins from each patient's body. There was also a UV light system to keep the water clean. Kathy explained that pool chemicals are not allowed.
Then she pointed to the jets, like you see in a hot tub, that were along the sides of the pool. Kathy said this was an essential component of water therapy. The jets were set to a soothing low speed for Nala, who is a senior dog. They give her a relaxing massage while she exercises.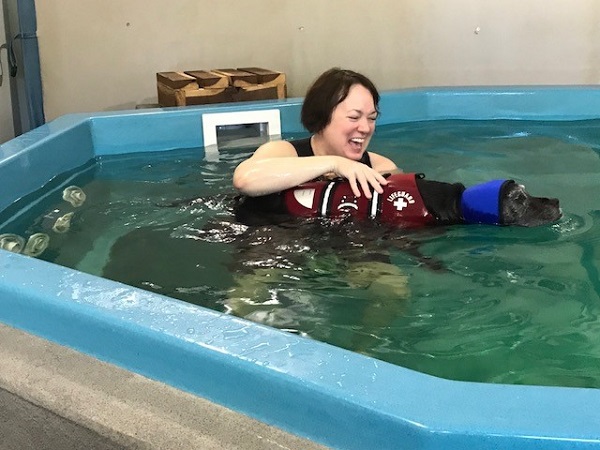 Nala loved the feel of the jets and leaned into them whenever she got near the edge of the pool.
Kathy explained that she sets the jets to a more forceful speed for other patients. Swimming against the higher jet flow helps dogs build muscle and gives them a cardio workout.
She told me about an energetic young Pitbull who swims with the jets at full speed. It was a great way for him to spend his energy instead of causing mischief at home.
Some of the patients are healthy and use the pool to increase their level of fitness.
Nala and her pet mom Ann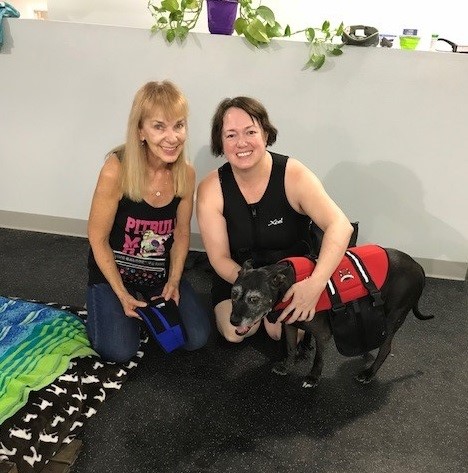 Ann brings 11-year-old Nala to rehab once a week. Several years ago, she had TPLO surgery to stabilize her knee. Hydrotherapy helped after the surgery and Nala continued to come for treatments to maintain her overall fitness.
Before getting into the water Kathy dressed Nala in a dog lifejacket. Then she added a headband to keep water out of the dog's ears. Later in the session, the lifejacket was removed so Nala could swim on her own, although Kathy kept her arms under her belly the whole time.
Kathy walked Nala to the first step of the pool and gently led her into the water. She explained she never rushes a dog into the water. Nala has been seeing Kathy for nearly a year so she floated away from the step without any hesitation.
Hydrotherapy exercises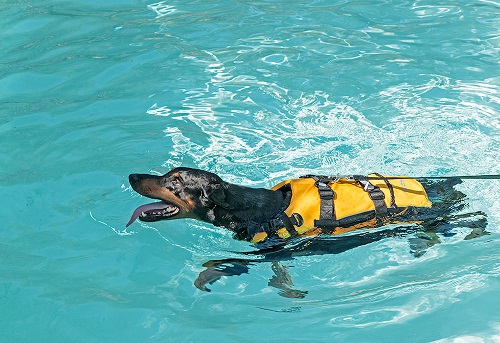 Kathy supported Nala's torso with her arms and walked the dog back and forth in the pool. She pointed out she was checking Nala's body for any tight muscles. The first few minutes in the pool were strictly to access the patient. Today, Nala's chest and upper spine were tight and less flexible.
Kathy massaged the tight muscles as she continued to glide Nala through the water. Eventually they became more flexible and it was time to start the workout.
I was also told to watch the dog's hind legs. Even with Kathy holding her, Nala was kicking her back legs to swim.
Kathy said a 5-minute swim was equivalent to a 5-mile run on land.
Later when the lifejacket was removed, I learned that it was the equivalent of Nala doing a plank exercise on land. It worked her core. And when Nala used her tail to swim, she was getting even more exercise. This all happened while Nala was being supported in Kathy's arms.
Next they addressed some problems with physical therapy. Nala's hips were tight, so Kathy worked the area to release the hip flexors.
An interesting phenomenon
Periodically as Nala swam in the pool, I noticed that Kathy gently rubbed the tip of the dog's tail. It's a technique called "Twiddling." When you gently roll the tip of the tail between your fingers, it can stimulate nerves in the hind end that promote walking. Because Nala is a senior pup who has some mobility issues, Kathy uses this exercise at every session.
Twiddling is easy to do and can be done at any time, whether you're in the water or at home hanging out with your pup. It's a rehab routine pet owners can easily start with their own dog.
Bonding time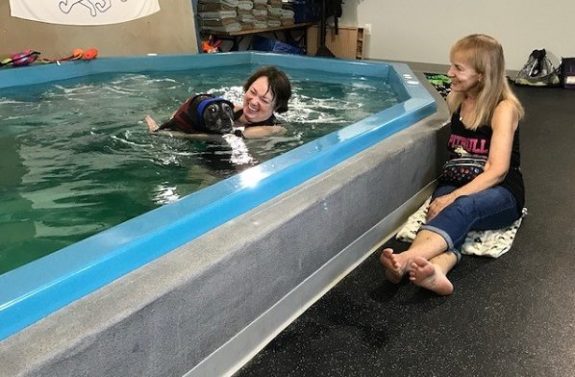 Kathy explained another important aspect of water therapy. It's a great bonding experience for the pup and their owner.
Ann sat by the side of the swimming pool throughout Nala's one-hour session. She was her dog's constant cheerleader.
Finally, it was time to step back onto land. Kathy helped Nala onto a mat with a big fluffy towel. She explained how the therapy continued while she dried off Nala's fur. It was an opportunity to give a therapeutic massage and rub essential oils into Nala's skin.
DIY dog hydrotherapy at home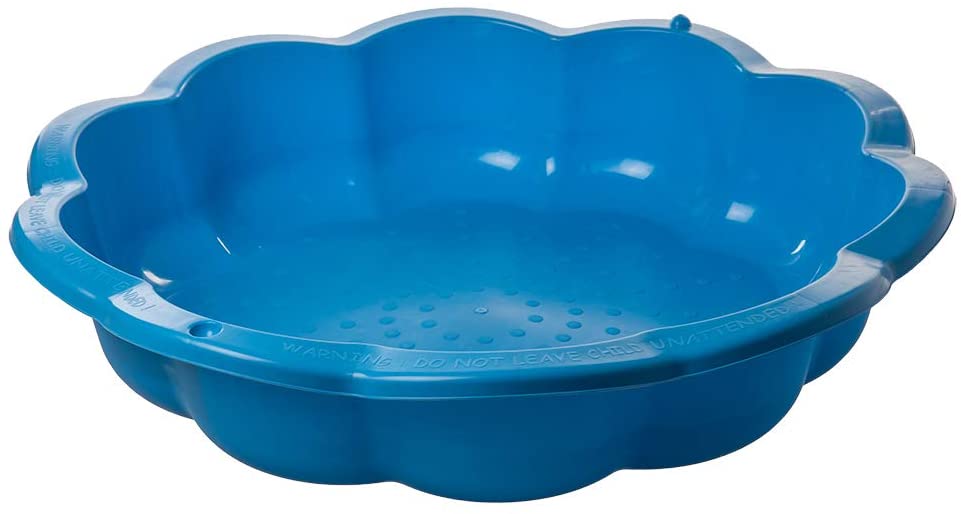 A warning: If you decide to do water therapy at home, make safety your first priority. Never leave your dog alone in or near the water. This is especially important if they can't stand. Accidental drownings have happened.
That said, if you choose to do therapy at home here's what you need:
Create a warm body of water that's 90 degrees and shoulder height for your dog while standing. This is the best way to create buoyancy.
A horse trough or a child's swimming pool can be used for a big dog.
A bathtub can be used for a small dog.
Place your dog into the water while you hold them at all times. Take their favorite toy to get them used to it.
Support your dog's torso as they move through the water. Twiddle their tail to stimulate the nerves and check to see if they kick their hind legs.
Take your dog to the edge of the pool often, so they can stand and relax. You don't want to overdo the exercises.
Start with short 5-minute sessions, once or twice a week. Build up the length of the treatment slowly, and only if your dog tolerates it.
Dry your dog off with a big fluffy towel and give a gentle massage.
Want more information about canine rehab?
9 Dog Physical Therapy Exercises You Can Do At Home
How A Dog Chiropractor Can Improve Your Pet's Mobility
Meet one of our sponsors.