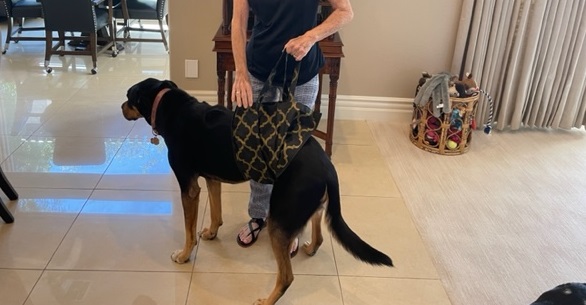 "My back is killing me from lifting the dog." Frustrated pet owners of paralyzed dogs email me often about the strain their backs suffer from carrying a pet that can't walk. If moving your dog from room to room is stressing your spine, I have two easy to make dog slings your back will love.
Each dog sling can be made in less than 5 minutes, from supplies you have in your home.
Support slings and harnesses are a necessity for dogs with mobility problems. They enable pet owners to safely walk their dog, help them climb stairs and go for bathroom breaks. They're also designed to prevent injuries to your back while performing these activities.
Note: Some of the links in this article are affiliate links. As an Amazon Associate, I earn from qualifying purchases.
It surprises me to learn that many pet parents aren't aware of this type of product. An easy-to-use sling can be a lifesaver.
Both commercially made and DIY dog slings use a medical technique called "sling walking" to assist a pet move around when they can't stand or walk.
Veterinary hospitals routinely use sling walking because it places an animal in an upright and natural position. It also encourages animals who are recovering from surgery or an injury, to move on their own.
Later in this article we'll discuss commercially made slings and harnesses, but first let's talk about two easy to make dog slings. To get started, all you need is a large fluffy towel, a canvas shopping bag and a pair of scissors.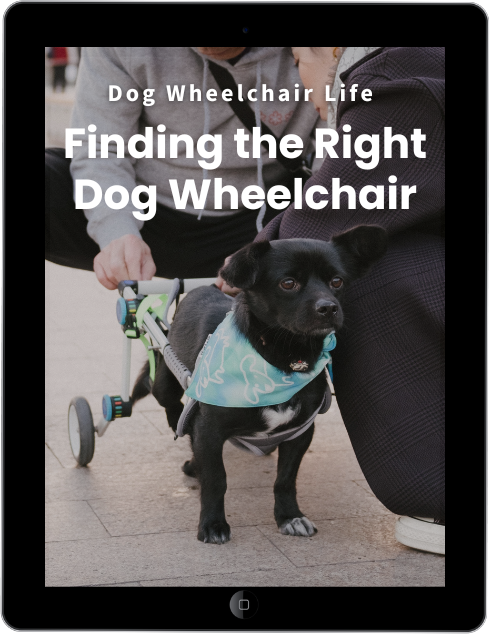 eBook
Find The Right Dog Wheelchair For Your Pet
Your dog has a mobility problem, and you want to buy a wheelchair. But do you know what kind of cart will work best for your dog's individual needs? After a decade of teaching pet owners how to make the right choice, I put the information into an eBook!
How to turn a towel into the perfect dog sling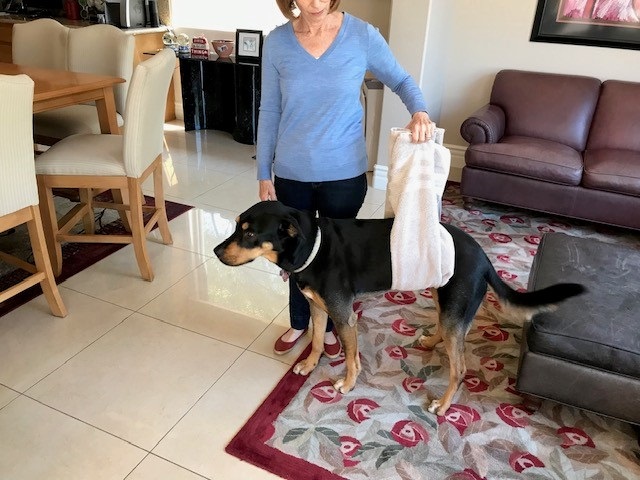 The only item you need for this dog sling is a sturdy towel and your dog
.
Place the towel on a table or on the floor and fold it in half, lengthwise. This will make the towel narrower, but not shorter.
While your dog is lying down, place the middle of the towel in front of the dog's belly. Let each end of the towel lay flat.
Wrap the towel around your pet's lower belly. Keep the middle of the towel under the stomach with each end sticking out from either side of your pup.
Use the ends of the towel as a handle and gently lift the dog by pulling upward with the towel.
Stop pulling up when your dog is in a standing position. Hold onto the towel handles to help the dog get balanced.
Once secure, keep the towel in place and slowly walk with your pet. Control the speed by gently tugging on the towel or lifting the dog's hind end with the towel.
Sling walking with a towel is a great tool for dogs with paralysis and other mobility problems. It provides support and balance without straining or injuring the pet owner's back. A towel is easy to use and easy to carry with you. I keep a clean beach towel in my car at all times. It goes next to our first aid kit and the extra leash I keep on hand.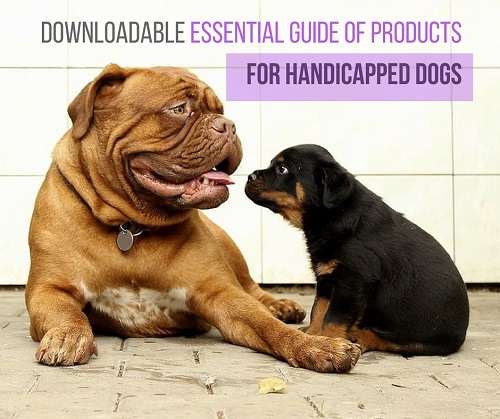 Get the Essential Guide
The Essential Guide of Products for Handicapped Dogs e-book is a labor of love for me. I wrote it to answer your most pressing questions about where to find the best products for your wheelchair dog. You'll find products you didn't know existed and each will improve your dog's quality of life. Print a copy and keep it by your side.
The cloth or canvas shopping bag sling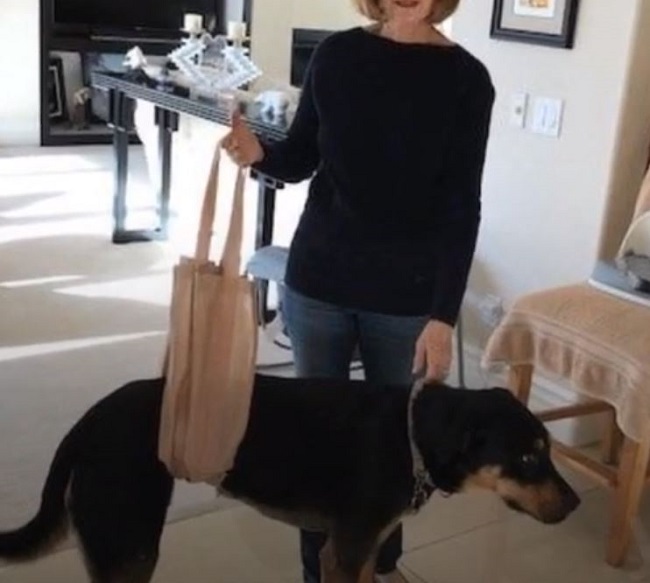 I love this dog sling because it's made with an everyday cloth or canvas tote or shopping bag. It's an item you probably have tucked away in your pantry or closet.
To make a cloth or canvas shopping bag sling, all you need is a sharp pair of scissors and the bag. The dog sling wraps comfortably around your dog's belly when you're done.
(The only tricky part is to be sure you choose a bag that's strong enough to hold your pet. The sturdiness of shopping bags varies.)
Here's how to make this easy dog sling
Open the tote and stand it up on a table. You should be able to see all four sides: the front and back panels and both side panels.
With your scissors, cut out each side panel. Cut down one side of the panel, across the bottom (do not remove the base of the tote) and cut up on the other side of the panel. Repeat the process for the second side.
You will have two rectangles when you are done and one long continuous sling with handles. Throw away the two rectangles. Keep the sling.
Slide the sling under your dog's lower belly. Pull on the handles and gently lift your pet to a standing position. Use the handles to assist the dog with walking.
The sling can be folded in half, lengthwise, to make it narrower for small dogs.
Keep the harness clean with routine washing or replace it regularly with a new cloth or canvas tote.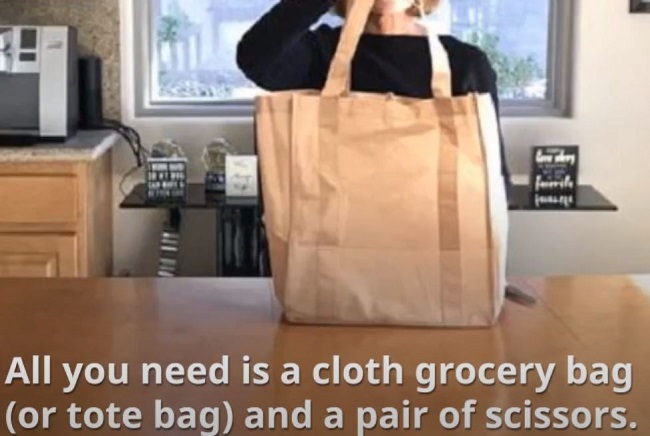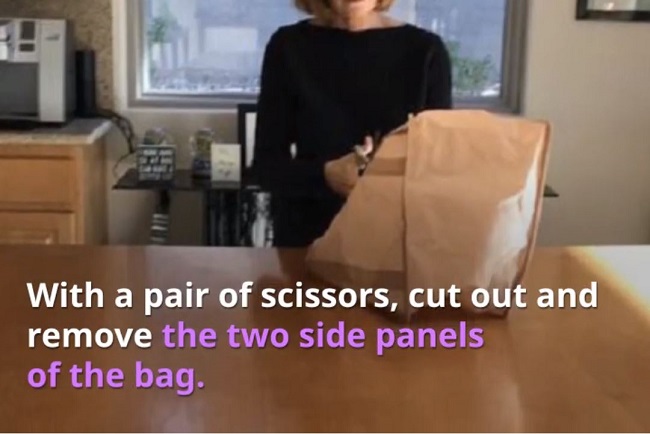 5 types of commercial dog slings
Rear end or hind end lifting harness – This sling fits like a pair of doggie shorts. It's designed to gently lift and move a dog without dragging their paws on the ground. It's a good fit for dogs with hind end paralysis and hind end weakness.
Support sling – This dog sling fits around the mid-section. It provides support for dogs who need a bit of assistance when walking, climbing stairs and getting in and out of a car. Support slings are great for pets with arthritis and for those recovering from spine surgery.
Full body harness – A full body sling supports the front and back end of a dog. Generally, it consists of two slings that fit together: one sling supports a dog's front limbs and a second sling supports the hind end. The full body harness works well for lifting pups with end stage paralysis.
Amputee harness – Specifically made for dogs who have lost a limb, the amputee harness supports and dog's torso.
Back brace – Not actually a harness, the back brace wraps around a dog's torso to give full support. It's most often used for dogs with recurring Intervertebral Disc Disease (IVDD).
Want to read more? How to Choose the Right Support Harness for Your Paralyzed Dog