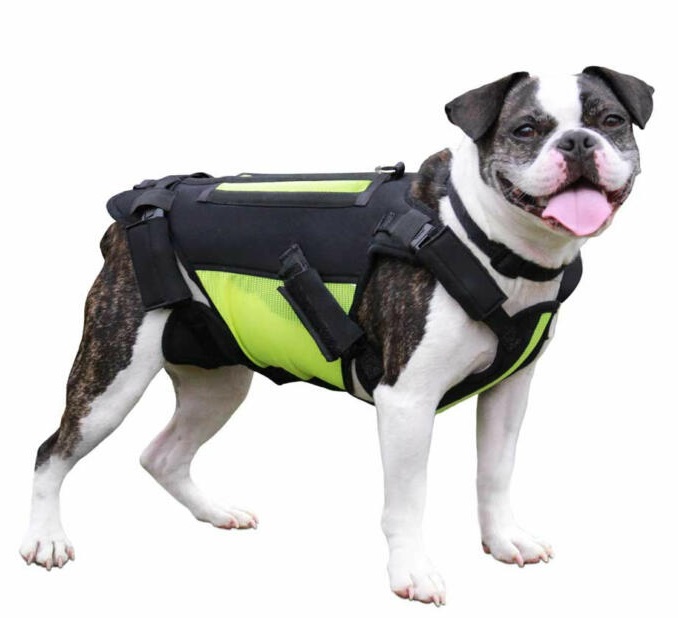 Thanks to movies, commercials and social media most people know how dog wheelchairs help pets with mobility problems. On the other hand, surprisingly few pet owners are aware of the health benefits a dog back brace can provide.
Back braces for dogs are a great option when your pet is recovering from spine surgery, a ruptured disc or a back injury.
I first learned about these braces from Lisa Luckenbach, the founder of WiggleLess braces. Lisa started her company to solve a problem for her two Dachshunds, June and Henry. Both dogs suffered from Intervertebral Disc Disease (IVDD), a condition where the disc material in the spine, ages prematurely.
June started having symptoms of IVDD when she was only two years old. A disc in her spine ruptured while she was playing, and she was rushed to a veterinary hospital.
At the hospital she was given medicine for inflammation and pain. The veterinarian also recommended that June be on crate rest for a month.
Although it was hard to keep the young, high-energy dog quiet for 4 weeks, Lisa and June got through the ordeal.
Unfortunately, soon after June was released from crate rest, she reinjured her back.
This time Lisa took matters into her own hands. She grabbed a brace that had been given to her by a chiropractor and drove to a local seamstress. The seamstress modified the brace to around June's torso.
The results were excellent. The revised brace prevented June from twisting her spine but allowed her to play. Both June and her mom were very happy.
Note: Every dog is unique so please talk with your pet's veterinarian before using a canine back brace. Some of the links in this article are Amazon affiliate links where I earn from qualifying purchases. Read our policy.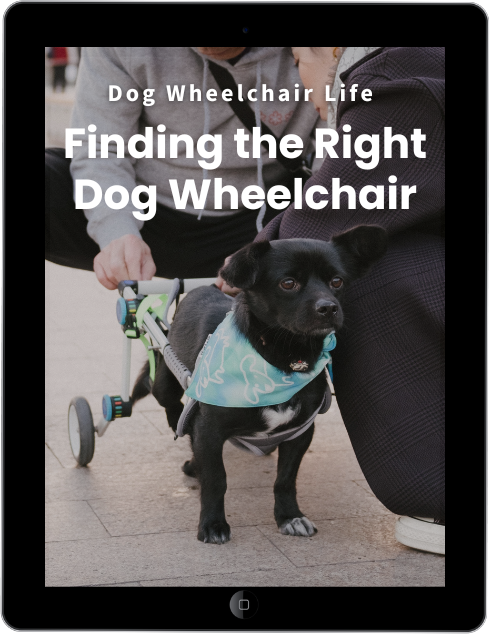 eBook
Find The Right Dog Wheelchair For Your Pet
Your dog has a mobility problem, and you want to buy a wheelchair. But do you know what kind of cart will work best for your dog's individual needs? After a decade of teaching pet owners how to make the right choice, I put the information into an eBook!
The health benefits a dog back brace offers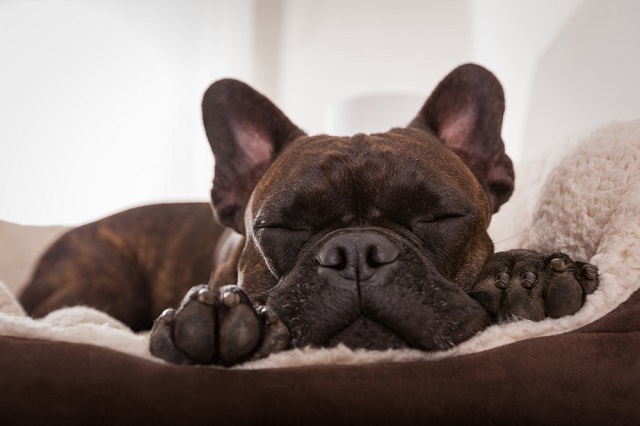 Support and Stability: One of the main benefits of a back brace is the support and stability it provides to a dog's spine. It immobilizes an injured area, giving it time to heal.
Pain Relief: Back braces alleviate pain by limiting movement of the spine. This is particularly important for dogs with discomfort or pain following surgery or an injury.
Promotes Healing: By reducing excessive movement, a back brace promotes faster healing in a pet. It allows the tissues around the spine to heal quicker and without risking re-injury.
Improved Mobility: A well-designed back brace allows your dog to maintain a certain level of mobility. This enables a dog to walk, stand, and perform daily activities without putting too much strain on their spine.
Prevents Complications: Immobilizing the spine can prevent complications such as muscle atrophy or joint problems. These can happen due to inactivity during the healing process.
Reduced Risk of Further Injury: Dogs aren't aware of their limitations and can engage in activities that could make their condition worse. A back brace can act as a protective shield that prevents the risk of further injury and excessive movement.
Comfort and Security: Many dogs find that wearing a brace provides a feeling of security and support. This can reduce anxiety and stress during the recovery period.
Customization: Back braces are often customizable to fit the specific needs and anatomy of your dog.
Long-Term Benefits: In some cases, dogs with chronic spine problems benefit from wearing a back brace as a long-term solution. It can manage ongoing pain and improve the quality of life.
Non-Invasive Alternative: Using a back brace can be a non-invasive alternative to additional surgeries or aggressive treatments.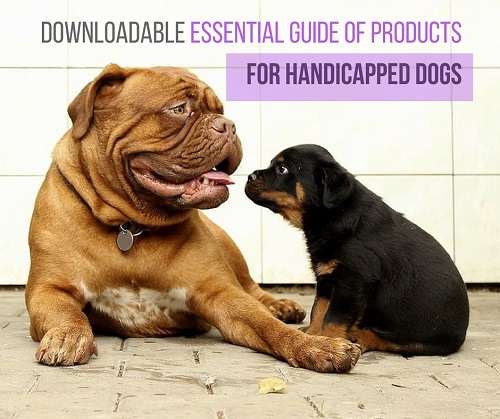 Get the Essential Guide
The Essential Guide of Products for Handicapped Dogs e-book is a labor of love for me. I wrote it to answer your most pressing questions about where to find the best products for your wheelchair dog. You'll find products you didn't know existed and each will improve your dog's quality of life. Print a copy and keep it by your side.
3 Favorite back braces for dogs
Walkin' vertebraVe
From Walkin' Pets, this protective brace combines comfort and support for pups with spinal arthritis, back injuries and IVDD. There are sizes to fit all dog shapes. Walkin' vertebraVe is made with a two-tier system that stabilizes a dog's spine and the surrounding muscles.
The brace relieves pressure and reduces back pain while allowing a dog to stay mobile. In addition, the vertebraVe is adjustable so you can change the level of support as a dog heals.
This back brace is made of breathable mesh and can be worn comfortably, all day long. Click to learn more.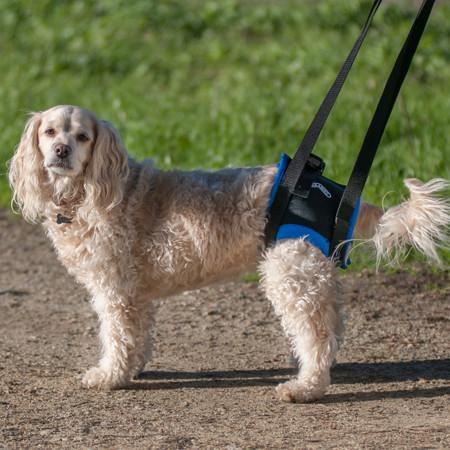 My favorite harnesses for disabled dogs.
L'il Back Bracer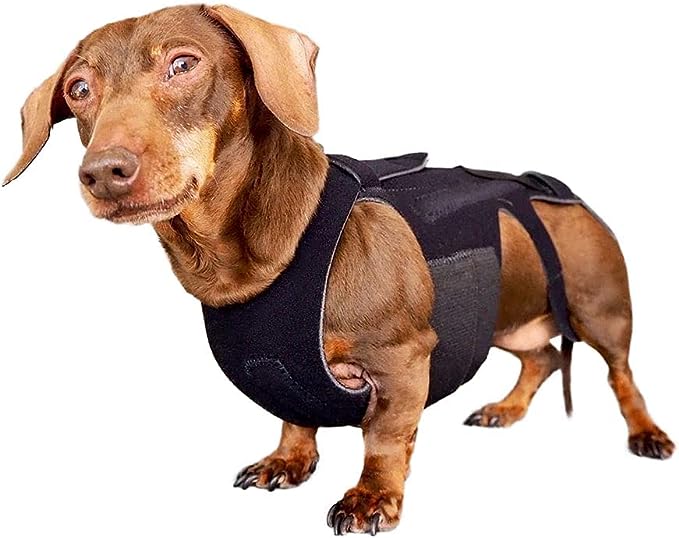 Li'l Back Bracer is the only back brace for dogs that has a patented design for IVDD and back pain. The brace is recommended for both the treatment and prevention of IVDD. The design also stabilizes the back from above and below the spine.
L'il Bracer is made from medical grade fabric to provide safety and comfort. Click to learn more about this dog brace.
WiggleLess
WiggleLess is built to stabilize a dog's spine without pinching the nerves and causing further pain. The design protects your dog's back without limiting their ability to play. Made in the USA, each WiggleLess brace is constructed from durable, lightweight and breathable materials.
WiggleLess is recommended for dogs with IVDD and Degenerative Myelopathy. Click here to read more.
Want to read more?
The Dog Wheelchair Shop – Click here