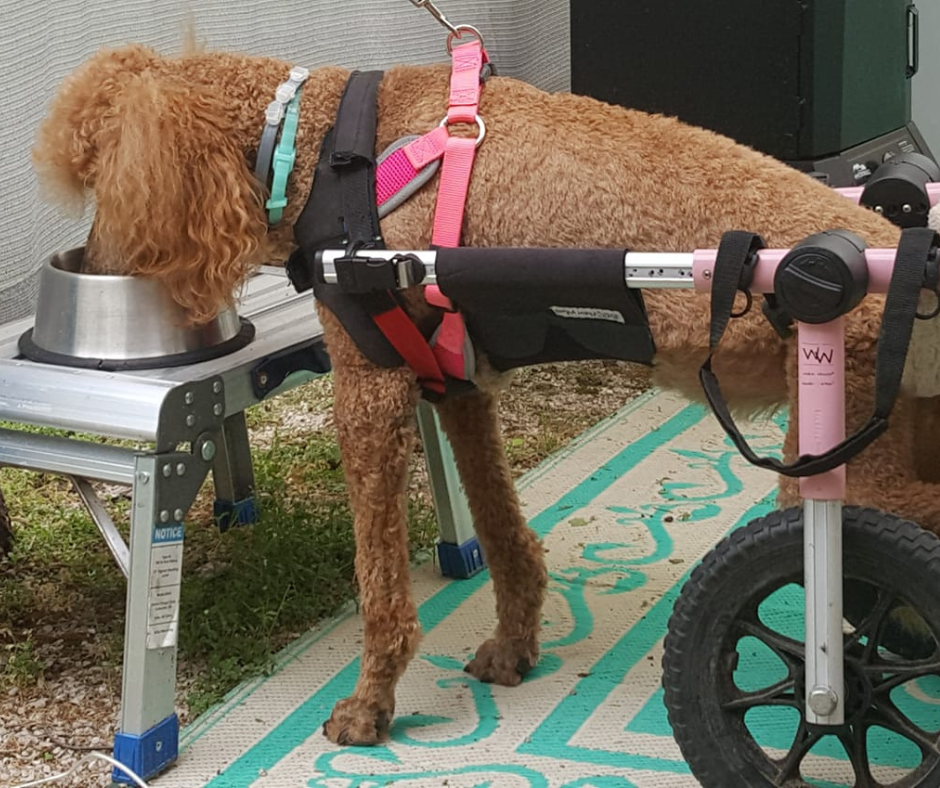 Do you use an elevated dog bowl? They're a popular type of food and water bowl that's raised off the ground, instead of resting on the floor. Raised bowls aren't recommended for every dog, but they can be particularly beneficial for pets with balance and mobility problems.
I started using an elevated dog bowl after my Beagle hurt her neck. Olivia was in a lot of pain and couldn't lower her neck to eat from her regular dish. After a quick Internet search I found a raised food and water bowl set that was tall enough for Olivia to eat and drink comfortably.
Thankfully, Olivia made a full recovery. I liked the raised feeder so much that I bought a second set for Bailey, my Rottweiler mix. Both girls have been using them ever since.
Elevated bowls are advertised as a healthier way for pets to eat. Their increased height places a dog or cat's body in a more natural and comfortable position to enjoy a meal.
Raised bowls also improve life for pets with mobility problems. The feeders reduce head and neck pain in dogs with arthritis and they prevent animals with joint and spine problems from straining their back when they bend down to eat.
In addition, raised bowls are a valuable tool for dogs in wheelchairs. They let paralyzed pups eat while comfortably standing in their cart. There's no need to lie your pet on the ground to have a meal.
On the flip side, there are some disadvantages to elevated bowls. They can cause dogs with certain body shapes to be more susceptible to a serious condition called bloat.
Here are the pros and cons to feeding your dog from a raised bowl and the features elevated feeders should have.
Note: Some of the links in this article are Amazon affiliate links where I earn from qualifying purchases. Read our policy. Talk with your dog's veterinarian before purchasing an elevated dog bowl.
Features all elevated dog bowls should have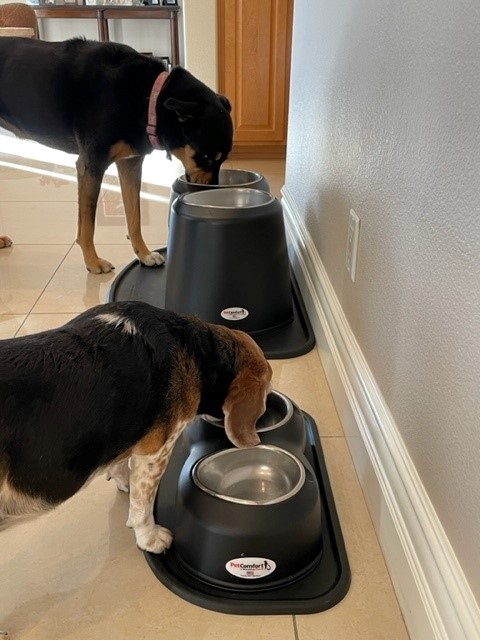 All raised feeders should be made from sturdy materials that won't flip over on your dog. Make sure your bowl has an anti-slip base and is made from BPA free plastic or stainless steel. These materials are healthier for your pet and they're easy to clean with warm soapy water.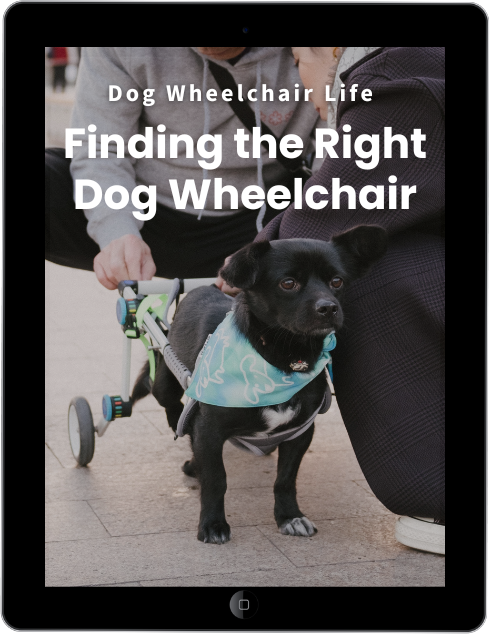 eBook
Find The Right Dog Wheelchair For Your Pet
Your dog has a mobility problem, and you want to buy a wheelchair. But do you know what kind of cart will work best for your dog's individual needs? After a decade of teaching pet owners how to make the right choice, I put the information into an eBook!
The benefits of eating at the right height
Eating from a raised bowl can make a world of difference for your pet. For instance, senior dogs and canines with arthritis struggle to eat from a bowl that's placed on the ground. Bending over to reach the food causes these dogs to hunch their neck, bend down too far, or slide a leg backwards to maintain their balance. The situation can cause your pet to fall or it can worsen the symptoms of their medical condition.
The problem not only applies to arthritic and elderly dogs, but to pets with hind-end weakness, hip dysplasia, cruciate ligament injuries and other mobility issues.
Many paralyzed dogs lie on the ground to eat. While this might look like a comfortable position, it can potentially cause indigestion as the dog's bodyweight pushes up against the food entering the stomach. It also places the dog's neck in an unnatural position.
A raised bowl allows a paralyzed dog to eat while standing upright in their wheelchair.
How to calculate the right height
According to DailyPuppy the optimal height of a raised bowl allows your pet to eat comfortably without lowering the neck or stretching the neck up. Talk with your vet about this because calculating the right height can depend on your dog's diagnosis.
Here's a formula to help you calculate the estimated height. Place your dog in a standing position and measure your dog from the ground to the top of the shoulders. Then subtract 5 – 6 inches. This should be the height where your pet can eat comfortably without stretching up or bending down.
DIY Feeders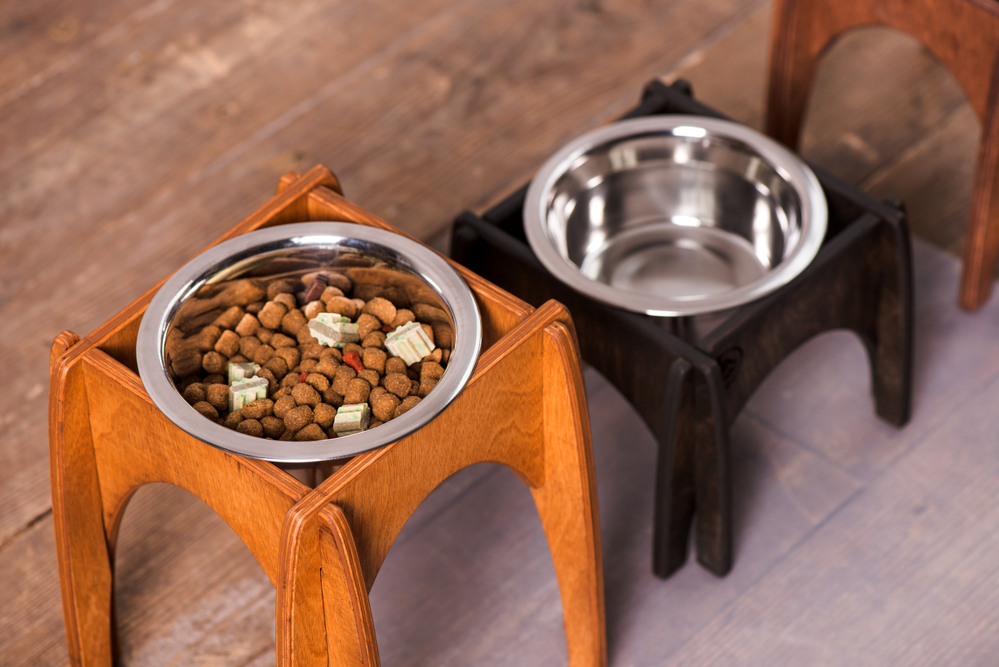 You don't have to spend a lot of money on an elevated dog bowl. One can be easily assembled by placing your dog's current feeder on a sturdy hard surface like a wooden box or a small table. Use the formula from above and place the food bowl at that level. It also helps to lay a non-skid mat on top of the surface so the bowl stays in place.
The risk of using an elevated dog bowl
There can be a health risk to using a raised bowl if you have one of the deep-chested dog breeds.
These breeds include:
German Shepherd
Great Dane
Weimaraner
Basset Hound
Greyhound
Doberman Pinscher
Irish Setter
Old English Sheepdog
Akita
St. Bernard
Standard Poodle
Deep chested dogs and any dog with a sensitive stomach are at risk for developing Gastric Bloat (GD) and Gastric Dilation & Volvulus (GVD) when they eat from an elevated food or water bowl.
GD causes a dog's stomach to painfully fill with gas. Dogs with GVD develop a gassy stomach that twists and cuts off blood flow to the area. Both conditions are considered to be life-threatening medical emergencies.
Dogs with GD and GVD show signs of a bloated stomach, pacing and restlessness, rapid breathing and unsuccessful vomiting. Many dogs also whine in pain.
If your dog has a sensitive stomach or is a deep-chested breed, do not introduce an elevated food or water bowl.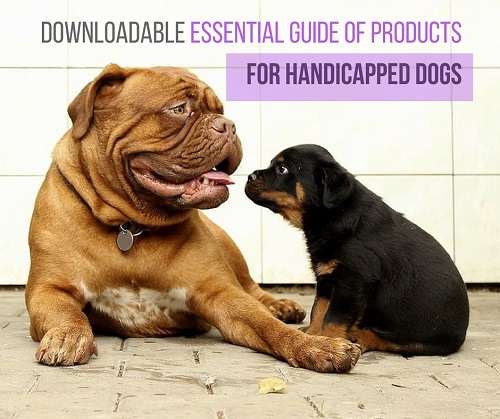 Get the Essential Guide
The Essential Guide of Products for Handicapped Dogs e-book is a labor of love for me. I wrote it to answer your most pressing questions about where to find the best products for your wheelchair dog. You'll find products you didn't know existed and each will improve your dog's quality of life. Print a copy and keep it by your side.
9 Best Elevated Dog Bowls
My Personal Favorite
This is the elevated food and water bowl system I use for Olivia and Bailey. Olivia uses the 4-inch-high set and Bailey uses the 10-inch.
Features I like
The WeatherTech® Feeding System is easy to assemble, sturdy and easy to clean.
Made in the USA from NSF Certified 100% non-toxic plastic.
The sloped design catches food and water in the tray and not on your floor.
The bowls are made from dishwasher safe stainless steel.
Comes in lots of sizes that range from 1.5 inches tall to 14 inches.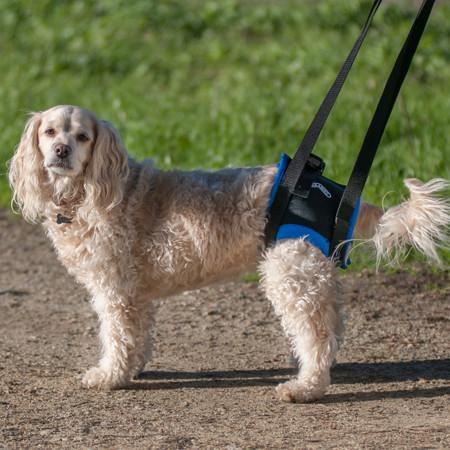 My favorite harnesses for disabled dogs.
Best Designed Elevated Bowl
Features I like
Beautiful design that will enhance any home
Made from natural bamboo
Comes in two sizes
Stainless steel bowls that are easy to clean
Sleek, stable and sturdy
Best Modern Set
Features I like
Made from corrosion resistant Anodized Aluminum
Color infused so it will not chip
Two sizes – for small dog and for a large dog
Award winning design – Top 10 Best New Products
Two stainless steel bowls
No assembly required
Best Budget Bowl
Features I like
Made real water-resistant bamboo
Reasonable price
Easy to clean
Stable anti-skid legs
Premium stainless steel bowls dishwasher safe
Comes in 3 sizes – 4", 7" and 10"
Best Adjustable Food Bowl
Features I like
Has 4 adjustable heights – great for dog still growing
Develops a healthy eating posture
Two stainless steel bowls
Anti-slip silicone mat at the bottom of each leg
Lifetime warranty
Best Bowl for Small Dogs
Features I like
Modern design with warm finish
Durable wooden frame
Eco-friendly non-toxic black powder water resistant coating
2 Stainless steel bowls
Economical
Best Bowl for Large Dogs
Features I like
Fun design with cutout paw prints
Adjusts up to 20" in height for large and giant breed dogs
Sturdy and durable stainless steel
Allows tall dog to drink and eat in comfort
Stainless steel bowls.
Lifetime warranty
Best for Travel
Features I like
Compact and easy to use single elevated dog bowl
Wide base for stability and non-slip legs
Folding legs for compact storage
100% non-toxic, food grade silicone bowl.
Dishwater safe
Best Elevated Dog Bowl Stand
Features I like
Anti-slip feeder stand with non-skid rubber feet
Keeps your own food and water bowls organized.
Accommodate two dog or cat 8" bowls
Sits 7" tall
Easy to assemble
Easy to clean