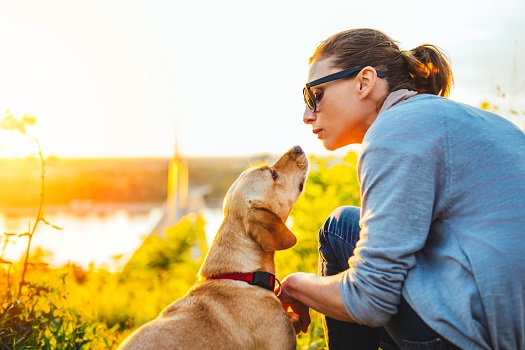 Did you know that most of the products and medical care your handicapped dog benefits from today, didn't exist a few years ago? It's true. Back at the turn of the century (I love saying that), in the year 2000, canines with paralysis were routinely euthanized and veterinarians were taught that a wheelchair would make a dog lazy. Thankfully all of that has changed and today we have lots of treatments and rehab products for disabled dogs.
Many of these products were invented by average pet owners. My favorites came from three amazing pet moms, who each, came across a problem and took it upon themselves to fix it.
One made mobility safer for dogs with back pain, another improved the benefit dogs get from their wheelchairs and the third started a movement that's saved the lives of countless dogs with IVDD (Intervertebral Disc Disease).
Note: This post contains some affiliate links for which I earn a small income if you click and purchase something on the links. Please see my disclosure policy for details.
How a little harness made life safer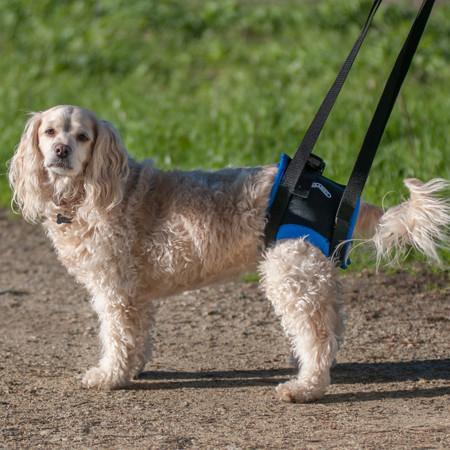 Cathy Erwin is a pet mom and one of the first canine physical therapists in the U.S. She's also the founder of Walkabout Harnesses, which is my all-time favorite product for dogs with mobility problems.
Cathy's original Back End Harness is a celebrated support harness that's helped millions of dogs worldwide, including my dog Sophie. It fits on your dog's hind end like a pair of short pants to help you safely and easily lift and move a paralyzed dog when they're not in their wheelchair.
Many dogs, like Sophie who had a progressive neurologic condition, can't scoot around on their own. The Back End Harness was the only way I could lift her 50lb. body into an upright position, without hurting my back.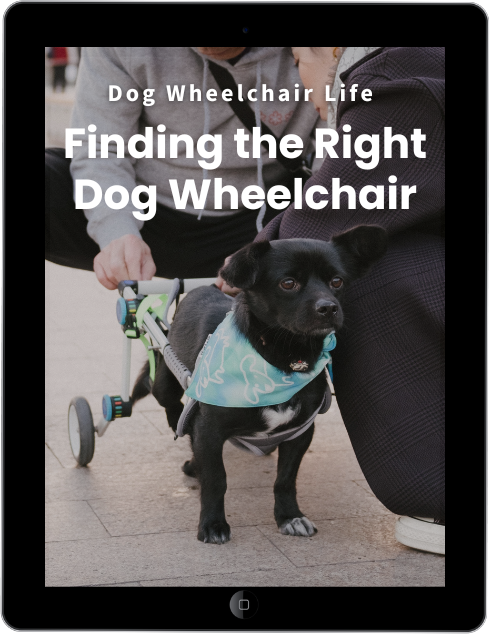 eBook
Find The Right Dog Wheelchair For Your Pet
Your dog has a mobility problem, and you want to buy a wheelchair. But do you know what kind of cart will work best for your dog's individual needs? After a decade of teaching pet owners how to make the right choice, I put the information into an eBook!
The first Walkabout Harness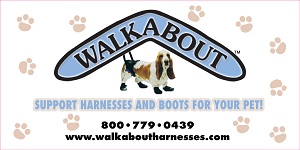 Cathy got the idea for the harness soon after she finished her PT training and began working with surgical patients at a veterinary hospital in Northern California. She remembered how several studies proved that "mobility was restored to patients sooner" when dogs used a walking aid during rehabilitation.
She took that information and pieced together the first Walkabout support harness.
Then she submitted the device for testing by major veterinary facilities. Ultimately the harness was endorsed by the American College of Veterinary Surgeons, the Canine Rehabilitation Certification program at the University of Tennessee and other teaching universities.
Today Walkabout Harnesses makes a variety of harnesses, leg braces and boots for senior and disabled dogs. They help dogs with arthritis, hip dysplasia, Degenerative Myelopathy, IVDD and spine injuries.
"I remember a time when euthanasia was the first recommendation made by veterinarians when a dog came in with back pain," said Cathy. Today it's the last recommendation on the list. The harness gave everyone a safe way to lift an animal in pain."
How an idea created a movement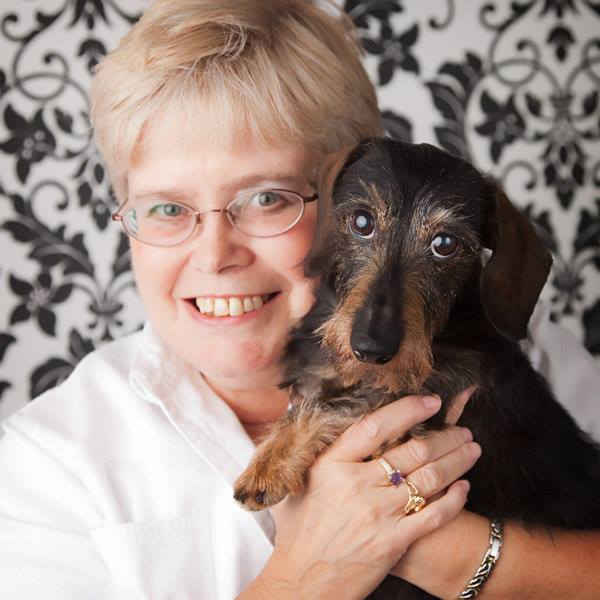 Linda Stowe is my hero. She started Dodgerslist, a website that's become one of the leading authorities on treating dogs with Intervertebral Disc Disease (IVDD).
Linda's passion has led to changes in the veterinary protocol for treating IVDD patients. Her idea has saved innumerable lives.
Linda's journey began in 2002, when she was just a regular pet mom to two Dachshunds. She liked learning about the breed so she joined an online chat group that was popular at the time.
One day a story was posted about a Dachshund named Dodger. The dog was diagnosed with IVDD which is a disease of the spinal cord that causes the discs to harden prematurely and rupture. The painful condition can have many neurologic complications, including paralysis and incontinence.
When Dodger's disc ruptured, he was brought to see a veterinarian who euthanized him that same day. Surgery and euthanasia were the two standard options at the time for IVDD dogs.
Dodger's story touched Linda to her soul. She immediately went to work to learn as much as she could about the disease. Her research led to the conclusion that there was a third treatment option veterinarians were missing.
The conservative approach
Linda called it the conservative approach. It included strict crate rest to allow a dog's spine to heal, steroid therapy for inflammation and pain management. Linda was sure this treatment would result in a good outcome for many IVDD dogs.
With this knowledge in hand, Linda developed literature and an education campaign for veterinarians and veterinary neurologists. Her single goal was to save the lives of innocent dogs.
It took time, but with determination, Linda was instrumental in changing the standard treatment practices for IVDD. Today the conservative approach is used widely throughout the USA and in many countries around the world.
Roller skates for paralyzed dogs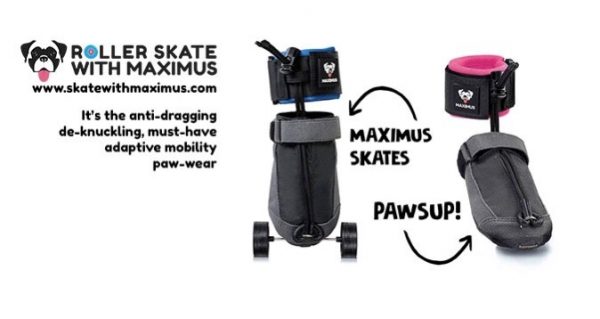 Hanna Jung is one of the most creative pet moms I know. When her dog, Maximus, developed weakness in his hind legs, due to Degenerative Myelopathy
she didn't want to restrain his legs in the stirrups of his wheelchair while there was some mobility and strength in them.
Instead, she invented roller skates for Maximus. They protected his dragging back paws while giving them the exercise they needed.
Today Roller Skate With Maximus is the new "must-have" adaptive mobility device for dogs with hind end weakness.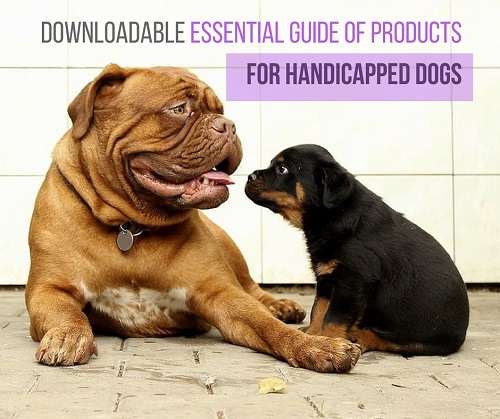 Get the Essential Guide
The Essential Guide of Products for Handicapped Dogs e-book is a labor of love for me. I wrote it to answer your most pressing questions about where to find the best products for your wheelchair dog. You'll find products you didn't know existed and each will improve your dog's quality of life. Print a copy and keep it by your side.
Pet owners like them because:
They protect your dog's paws.
The skates keep your pup's legs in a natural standing position.
The back and forth gliding of the skates provides exercise to the legs.
The design of the skate decreases knuckling of the paws.
Vibration of the wheels stimulates the nerves.
Hanna and Maximus' story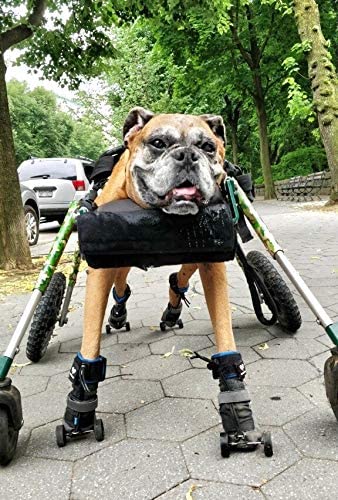 Maximus came into Hanna's life when he was just 10-weeks-old. He was her first dog and the love of her life.
When he turned 10-years-old, and was being treated for a brain tumor, Maximus began to show signs of weakness in his right hind leg. It twisted when he walked. Radiation eliminated the tumor, but the weakness in both of his rear legs got worse.
Maximus was diagnosed with Degenerative Myelopathy (DM), a progressive neurological disease that's common in Boxers. DM strikes dogs between the ages of 8-14. It first attacks the hind legs, causing paralysis, and then progresses to the front limbs and then the respiratory system.
Eight months after being diagnosed, Maximus got his first wheelchair, which he adored. Hanna took him in it to all of his favorite hiking spots with his canine buddies and for long walks in New York City.
After a while Hanna noticed that when Maximus had his legs in the stirrups of the cart, he often lost his balance. She elected to buy him boots instead. Unfortunately, they caused Maximus to drag his legs. He tore up every pair of boots she bought.
That's when the idea of adding wheels came to her. At first, she bought roller skates that were made for dolls and later she moved to more sturdy skates for toddlers. Ultimately Hanna made her own dog skates.
Maximus wore them until he passed away in August, 2019, but the product his pet mom invented has gone on to help tens of thousands of dogs.
Gidget's Britches
Monica Smith's life is centered around the education and prevention of canine Spina bifida (SB). The condition is caused by a birth defect that prevents one or more of a dog's vertebrae from fully closing. Victims are incontinent, have hind end weakness and paralysis. She's particularly concerned about English bulldogs, a breed that's experienced an increase in the birth defect, due to genetics and breeding practices.
To combat the problem, Monica offers education through the Canine Spina Bifida Warrior website and she works with rescue groups to find homes for dogs with the condition.
Monica also created a diaper cover called Gidget's Britches. She was inspired by an English bulldog puppy named Gidget who she adopted after the dog was returned to a breeder due to incontinence and advanced kidney disease. Monica designed the fun diaper covers to keep Gidget dry while she wore her diaper. Gidget passed away when she was 10-months-old.
Today you can find Monica's adorable diaper covers at Gidget's Britches on Etsy. She also gives complimentary covers that she personally makes to rescue groups.
Many dogs with Spina bifida are euthanized, so one of Monica's major goals is to bring awareness to rescue groups and breeders that victims can live a quality life. She also educates people firsthand with her two SB English bulldogs, Buster and Frank.
Learn more about treatments and rehab products for disabled dogs:
Intervertebral Disc Disease: Understanding the Condition
Degenerative Myelopathy: What Pet Owners Should Know