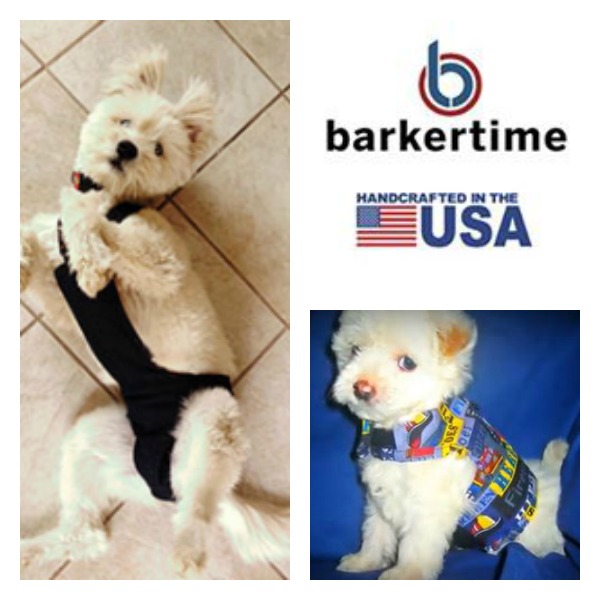 How do I keep a dog diaper in place? This is one of two questions I get asked most often by pet owners with an incontinent animal. The second question is, "How do I prevent poop from leaking out of a diaper?"
If these are concerns that have added hours of frustration to your life, I've got you covered. Barkertime®, which is one of my favorite companies, makes "escape-proof" dog diaper overalls. The overalls are designed to keep poop inside a diaper where it belongs and stop a diaper from shifting out of place or falling off.
I've been a fan of Barkertime since they opened their doors in 2015 with the goal of making top-of-the-line products for incontinent pets that are bright and cheerful. Six years later I'm still talking about the company because of their commitment to improve the lives of dogs and cats with leaky bladders and bowels.
Note: Dog Wheelchair LIFE is Barkertime affiliate. It's a company whose goals I support. Please see my disclosure policy.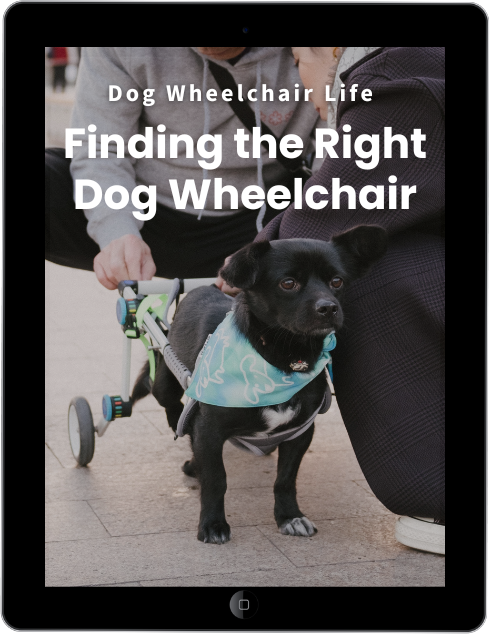 eBook
Find The Right Dog Wheelchair For Your Pet
Your dog has a mobility problem, and you want to buy a wheelchair. But do you know what kind of cart will work best for your dog's individual needs? After a decade of teaching pet owners how to make the right choice, I put the information into an eBook!
An anxious pet owner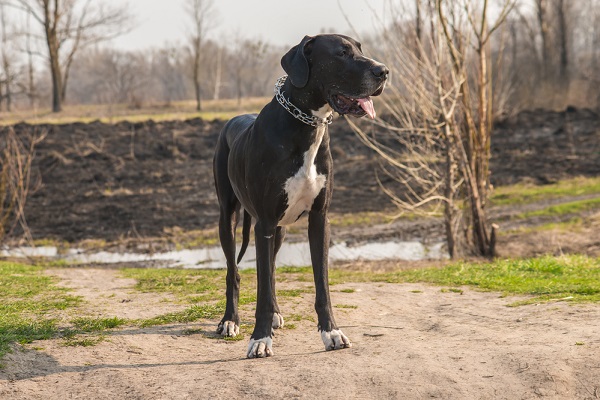 Recently a pet owner wrote to say she was at her wits end about her dog's bowel incontinence. She was an experienced pet owner who fosters giant dog breeds.
Shelly explained that her oldest Great Dane had lost the use of his hind legs. Their vet thought it had to do with the dog's advanced age. He recommended they take Ty home and make him as comfortable as possible.
Shelly and her husband built a special raised bed so Ty could get in and out on his own and they turned a utility wagon on their ranch into a mobility cart. The couple made great strides to take good care of the Great Dane, with one exception.
They couldn't stop him from leaking fecal material during the night. Every night he would roll out of his diaper and there would be a mess to clean in the morning. Shelly and her husband were exhausted from giving the 135lb. dog a shower every morning.
We talked about the methods she could use to regulate Ty's bowel movements like putting him on a strict eating schedule and we discussed ways to prepare his body to defecate like applying an ice cube to the area.
Shelly said she had tried most of these techniques. What she really wanted was a device that would keep Ty in his diaper while he slept.
I recommended the escape-proof overalls and it was exactly what she had in mind. She wanted a garment that securely and comfortably stopped a diaper from falling off her dog.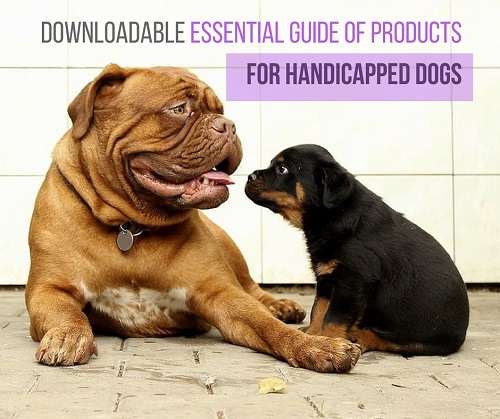 Get the Essential Guide
The Essential Guide of Products for Handicapped Dogs e-book is a labor of love for me. I wrote it to answer your most pressing questions about where to find the best products for your wheelchair dog. You'll find products you didn't know existed and each will improve your dog's quality of life. Print a copy and keep it by your side.
How escape-proof overalls keep a dog diaper in place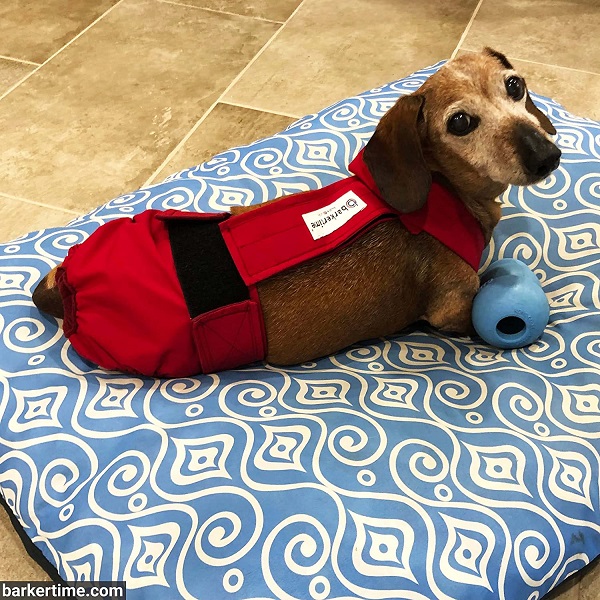 Barkertime designed their overalls for pets who wiggle out of every other type of diaper wraps. It's how they got their name, escape-proof.
The overalls are designed as a fully adjustable body suit that fits from a dog's bottom all the way up to their neck. It has fitted elastic legs and a Velcro waistband to keep a diaper from shifting, falling off or leaking fluid.
Then an additional Velcro strip runs the length up a dog's spine and belly until it attaches around the neck. It securely locks a diaper in place, until you remove it.
The outer layers of the overalls are made from super absorbent materials that soak up to 10 times their weight in fluid. And the waterproof inner layers wick away moisture to keep a dog dry and comfortable.
Escape-proof overalls are designed for both male and female dogs and cats. They also adjust for unique body shapes and sizes. The overalls can be adjusted to fit the long torso of a dachshund and the round shape of an English bulldog.
Pet owners use a disposable diaper or pad inside the overalls to keep a dog dry and then toss the diaper out when it gets soiled. Then when it's time to clean the overalls, just toss them in the washer.
The one caveat you should know about is the purchase price. These overalls are Barkertime's premiere product, designed to give pet owners "complete peace of mind." The price point starts at $97.99 when they're not on sale.
The good news is that you only need one set of overalls at a time.
Peejama®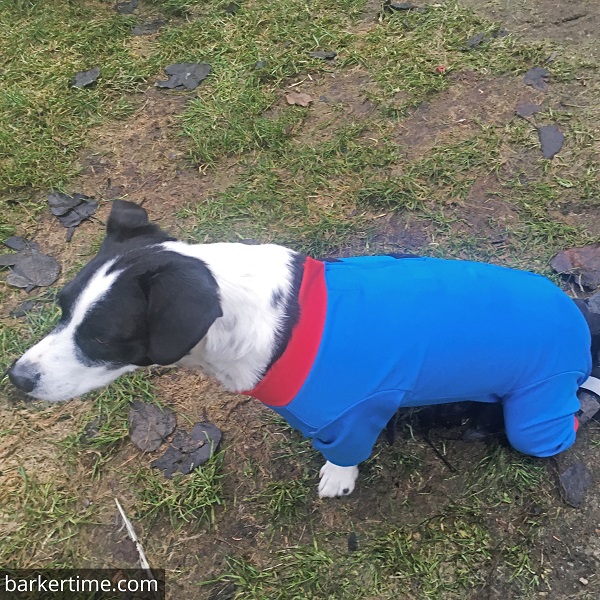 If your pup doesn't act like Houdini when they're wearing a diaper, Barkertime offers another diaper keeper called Peejama®. This is a lightweight one-piece designer apparel that comfortably holds a diaper in place. Peejamas are easy to put on, allow a dog to move freely and they're washable.
And like the overalls, Peejamas are designed and handmade at Barkertime's California headquarters. The price for these PJs is about half the cost of the overalls.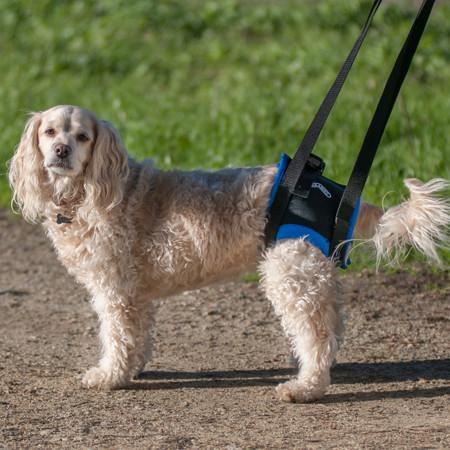 My favorite harnesses for disabled dogs.
The Barkertime story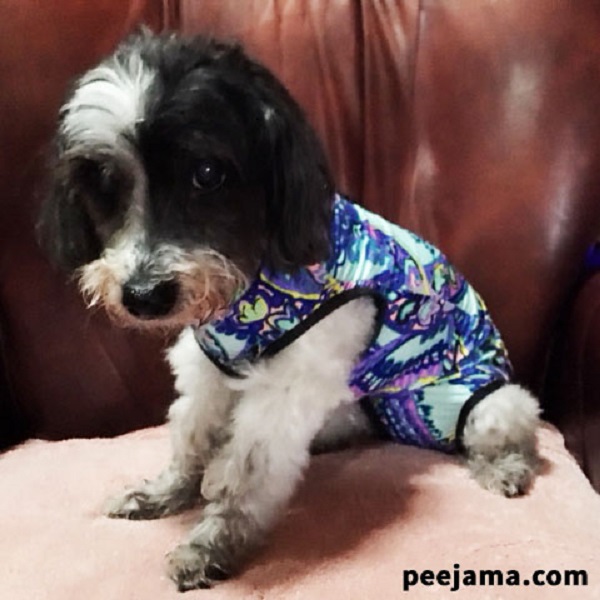 Like many of the companies who make specialty products for disabled animals, the owners of Barkertime started their company after having a dog who was incontinent. They weren't satisfied with the diaper products available, so they decided to design something better.
Today they pride themselves on handcrafting fashionable and functional apparel for pets all over the world. From belly bands and washable diapers to diaper suspenders and drag bags, each product is made with the highest quality materials and fashion forward patterns.
Over the years, the company has expanded their line to include every imaginable product for incontinent dogs and cats.
These include:
Washable dog/cat diapers
Drag bags
Peejama® – Onesie bodysuit
Belly bands and female pull-ups
Washable crate covers and mats
Cat clothing
Dog shirts, dresses and vests
E-collars
Diaper suspenders
And more…..
Want to know more about incontinent pets?
Techniques to Manage Bowel Incontinence