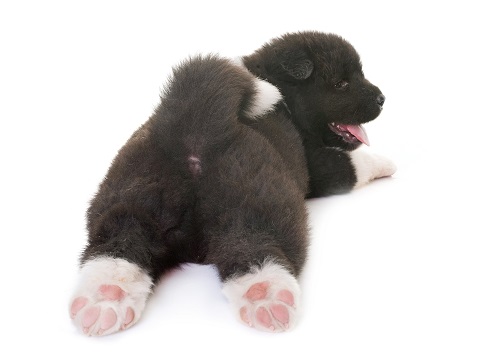 Taking care of a handicapped dog is wildly rewarding and incredibly messy. It requires pet parents to handle every kind of body fluid imaginable. One of the least glamorous, but essential duties, is managing bowel incontinence in dogs.
Bowel or fecal incontinence happens when a dog loses part or all of the control over emptying their bowels. The diagnosis goes hand-in-hand with paralyzed dogs. In fact, the majority of pets who have paralysis in their back legs also have some level of both fecal and urinary incontinence.
For most dogs and their families, this isn't a big problem. The pet owner simply scoops up the poop when and where it happens.
Other dogs need assistance to prepare their body to eliminate. It's a situation that can be very stressful for both the pet and the owner. If this problem is happening in your family, take comfort in the fact that there are a wide range of techniques you can use to help your pet.
Note: This post contains affiliate links. Read our policy.
Why paralyzed dogs develop fecal incontinence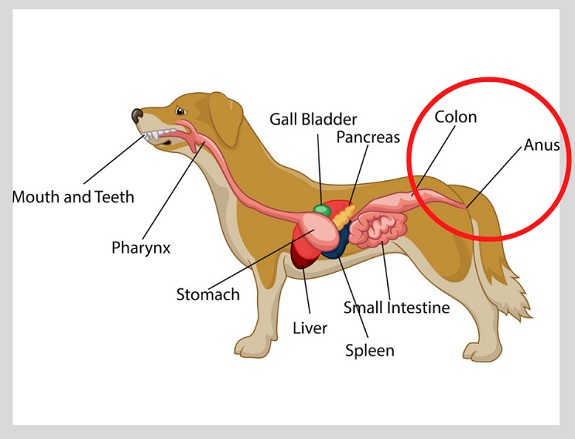 Paralysis and other neurologic conditions cut off communication between the nerves that control the bowels and the brain. Dogs can't feel or control the muscles around the rectum so they drop small amounts of poop without realizing it. This typically happens while they're sleeping, playing or walking.
If this is your situation, there are a few changes you can make to improve life. Putting your dog in a diaper can prevent accidents from happening around the house and feeding a healthy diet can keep stools firm. You'll want to talk with your vet about getting the right amount of fiber and water in your dog's diet before making any changes.
Other dogs have a hard time moving and emptying their bowels. Their level of communication between the brain and the muscles is more severe than the dogs described above. Many times, this is a result of the location of their spine injury.
These are the dogs who benefit from conditioning and expressing the area.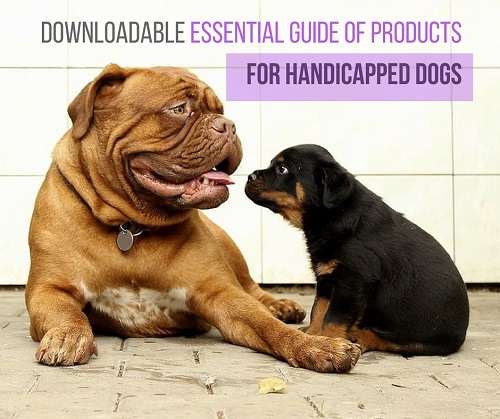 Get the Essential Guide
The Essential Guide of Products for Handicapped Dogs e-book is a labor of love for me. I wrote it to answer your most pressing questions about where to find the best products for your wheelchair dog. You'll find products you didn't know existed and each will improve your dog's quality of life. Print a copy and keep it by your side.
Techniques that manage bowel incontinent dogs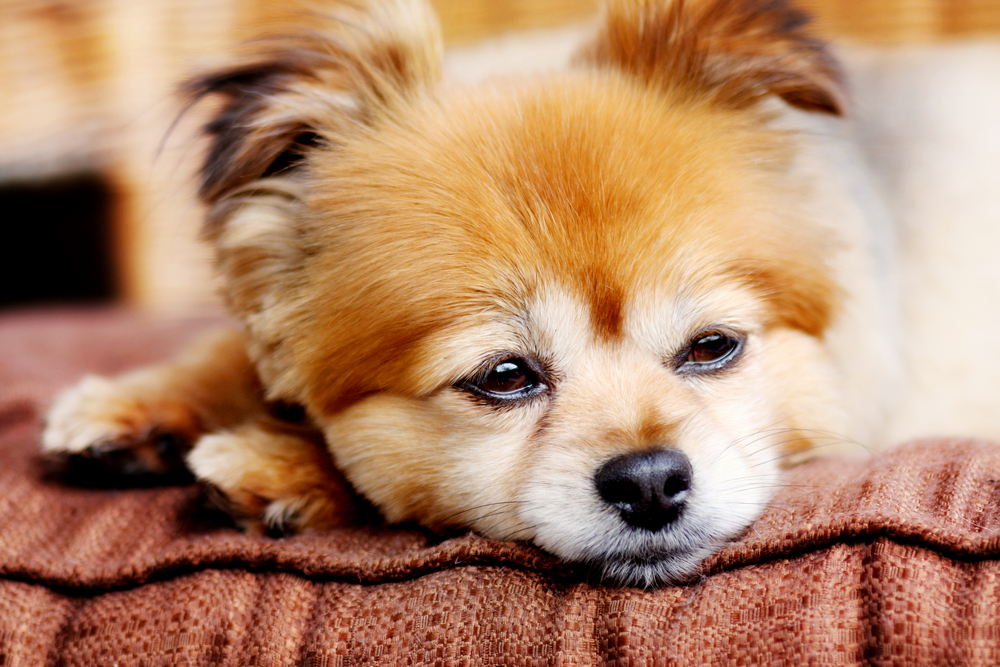 Be sure to discuss these management tools with your dog's vet before using them.
The practice of helping a dog empty their bowels sounds intimidating, but don't let that worry you. It's something a mother cat does when her kittens are born and what every animal rescue group does when a litter of newborn kittens arrives at their doorstep. These are "tried and true" techniques.
Ways to encourage the body
The goal is for your dog to have a bowel movement once or twice a day. I personally think you're doing a good job if they poop one time a day, but you'll soon know what works best for your pet.
The first step is to touch the skin around your dog's anus with you hand. If you feel a solid mass, it's time to begin. Many times this happens about 30 minutes after your dog has eaten.
Another point to keep in mind is that you're trying to encourage the body to do what comes naturally. These are gentle techniques to condition the body and should never be used too excess.
Use one or two of the suggestions listed below. Do not use all of them at one time. These techniques are meant to help you discover which of the remedies works best for your dog. And please wear disposable gloves at all times.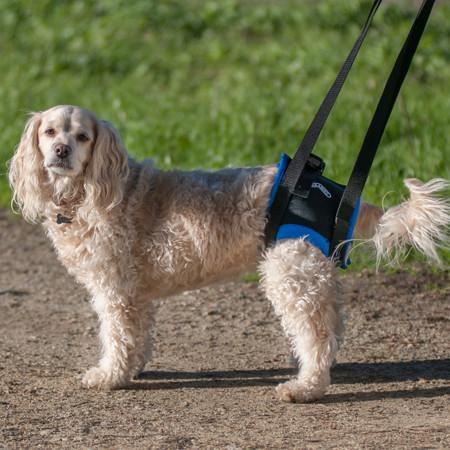 My favorite harnesses for disabled dogs.
Techniques that prepare your dog's body:
Fill a spray bottle with warm water and gently squirt around the anus.
Apply a warm washcloth on the area or use a baby wipe.
Dip a Q-Tip into a small amount of Vaseline or other brand of petroleum jelly and rub it over the anus. Some pet parents use a latex finger cot to dip into the jelly instead of a Q-Tip.
Rub an ice cube over the anus.
Pinch or pump the tail. This technique is especially helpful for dogs with corkscrew or docked tails.
Three unorthodox methods
These techniques prepare your dog's body for a bowel movement in slightly unconventional ways. The suggestions come from real-life pet owners with incontinent dogs.
The first pet owner/veterinarian taught her dog to "speak" on command. She accidently discovered that when her dog barks, it stimulates a bowel movement, if the fecal material is ready to release. Now she times his movements and each evening, about 30-45 minutes after dinner, she tells the pup to bark.
The second method is similar to the barking technique in that it causes a dog to get excited and move around. This pet mom explained that her small dog loves to hop and jump so she taught him to, "hop like a bunny", when he's ready to move his bowels.
The third pet mom realized her dog wasn't happy about lying down to have his bowels expressed, so she designed a way for him to squat. She took a plastic tote and balanced the pooch on it so that he was in a more natural position. It works like a charm.
These unorthodox methods are a reminder that manually expressing a dog's bowels isn't an exact science. It's a creative endeavor between you and your pet.
The steps to manually express a dog's bowels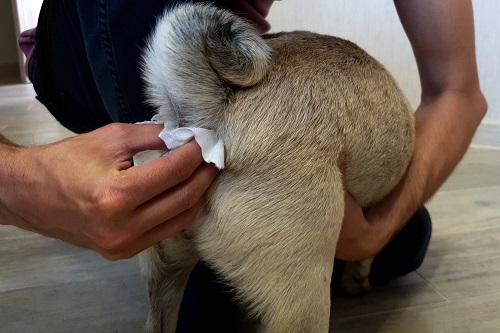 Be sure to place your dog on a pee pad or waterproof dog blanket before starting this part of the procedure.
Once you've encouraged the body, hopefully you'll notice the anus pushing up on your pet's body. When this happens, you're ready to express the bowels.
How to begin:
Start by gently squeezing the anus between your thumb and forefinger.
Pull upward.
If the body is ready, the stool will start to show.
Place your dog on the pee pad or waterproof blanket or hold them over the toilet.
Squeeze the anus a few times.
The stool should exit the body.
A backup technique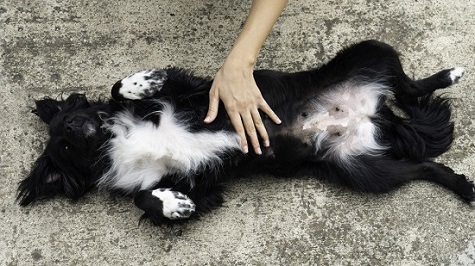 If your dog wasn't able to have a bowel movement, lie your pup down on their back and rapidly rub their left side for several minutes. Handicappedpets.com recommends this technique because it causes the anus to open. You can also follow up by rubbing behind the back legs and in a downward motion on the middle of the belly.
Once you see the stool evacuating, you can gently pull it out. If it breaks off, the anus will still be in a good open position to push out the remaining material.
Diet and schedule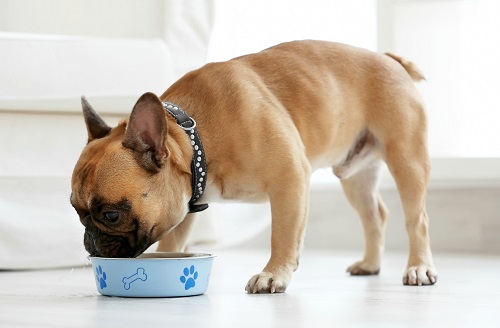 It's important to keep your dog on a strict meal schedule with a high-quality diet. The schedule will allow you to become familiar with how long it takes your dog to digest meals. You'll know when their body is ready to empty itself. A high-quality diet helps by moving food through the digestive tract more efficiently.
Ask your vet for recommendations about the best diet for your pup. Talk about adding easy to digest food like pureed pumpkin or cottage cheese or if high fiber food like carrots or frozen green beans would help.
Some veterinarians like to add white rice and chicken to a diet or prescribe prescription food. These products reduce the number of stools made by the body and allow the bowels to rest between meals.
Another extremely important aspect of your dog's diet is to keep them well hydrated. Make sure your pup drinks plenty of water to maintain a steady movement in the bowels.
Medication
If your dog continues to have trouble emptying their bowels, talk with your veterinarian about adding a medication. Opiate drugs are sometimes prescribed to increase contractions in the bowels and help push out stools.
These drugs are a bit tricky and aren't typically prescribed for dogs because of their side effects. Opiates can cause constipation. In addition, they should never be used for a dog with an infection, liver disease or a respiratory condition. Think of them as a last resort effort.
Want to learn more about dog incontinence? Read: Learning How to Express Your Incontinent Dog's Bladder