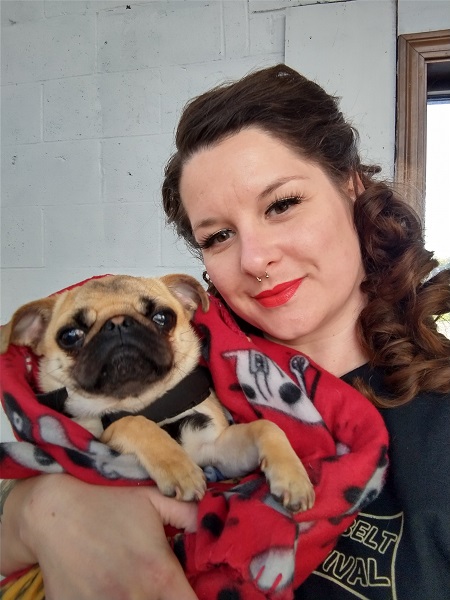 Veterinary technician, Suzi Langer, had never heard the term Kyphosis and Kyphoscoliosis in dogs, before a local breeder walked into the Ohio animal clinic where she worked. The woman wanted a health certificate for a Pug puppy she was selling.
Suzi and the veterinarians at the clinic knew immediately there was something seriously wrong with the dog. There was a large hump on his spine and his two front legs were deformed.
The vets talked with the woman about doing x-rays and other tests to determine the extent of his deformity. She wasn't interested and the conversation soon became heated. The woman even threatened to take the puppy home and drown him.
Before she could walk out the clinic door, Suzi approached the woman about surrendering the pug. She agreed, if Suzi took custody of the puppy, personally.
That evening little Maxwell came home with his new pet mom.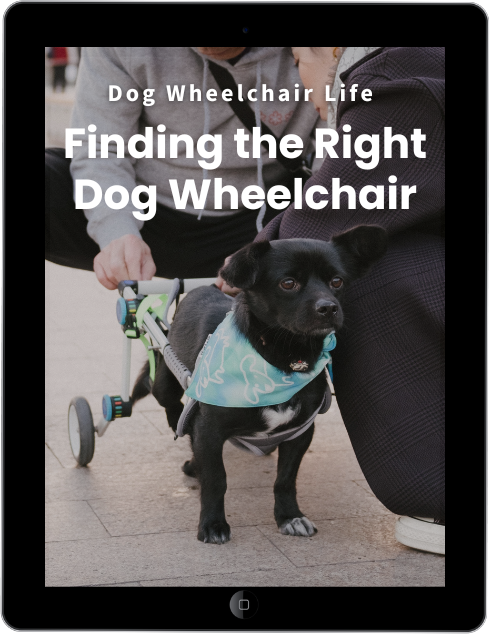 eBook
Find The Right Dog Wheelchair For Your Pet
Your dog has a mobility problem, and you want to buy a wheelchair. But do you know what kind of cart will work best for your dog's individual needs? After a decade of teaching pet owners how to make the right choice, I put the information into an eBook!
Kyphosis and Kyphoscoliosis in dogs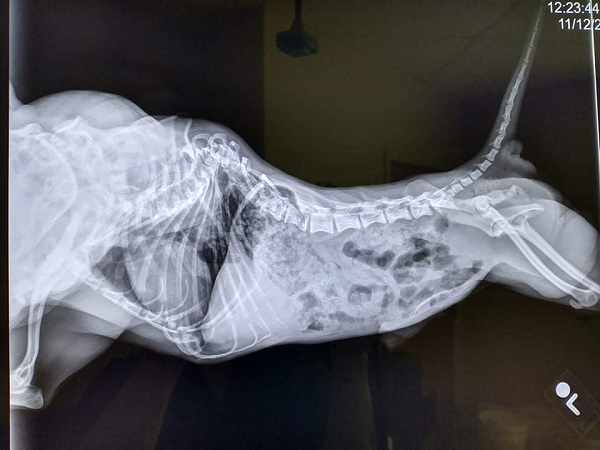 Kyphosis and kyphoscoliosis are deformities in the upper (thoracic) portion of the spine that cause it to curve and twist. They're a relatively common problem along with another deformity called Scoliosis.
Scoliosis is the most common curvature of the spine in both humans and dogs. It happens when the vertebra, take a detour from being stacked on top of each other in a straight column, and veer out to the side.
The malformation can appear as a single curve to the left or right of the spinal column or it can look the letter "S" with curves going in both directions.
Kyphosis and kyphoscoliosis goes in the opposite direction. The S curve pushes up, instead of to the side. The spine stacks on itself, causing a hump or hunchback appearance in the upper back.
For most dogs, the scoliosis S curve and the spine stacking of kyphosis are considered to be "incidental findings" that do not interfere with a dog's mobility. But in brachycephalic (short-head) dog breeds with curly, corkscrew tails, kyphosis and scoliosis can cause major health problems.
The breeding techniques used to achieve the cute curly tail of a Pug like Maxwell also effect the healthy growth of the spine. It can cause curvature deformities and another abnormality called Hemivertebrae, which causes the left and right halves of the spine to grow unevenly.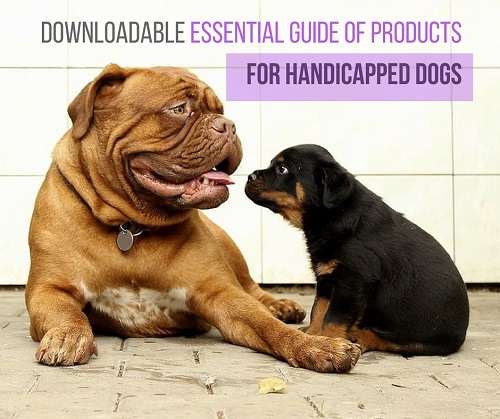 Get the Essential Guide
The Essential Guide of Products for Handicapped Dogs e-book is a labor of love for me. I wrote it to answer your most pressing questions about where to find the best products for your wheelchair dog. You'll find products you didn't know existed and each will improve your dog's quality of life. Print a copy and keep it by your side.
Here are the dog breeds prone to the problem:
French bulldogs
Pugs
English bulldogs
Boston terriers
Boxers
Shih tzus
Lhasa apsos
Pekingese
Health concerns associated with Kyphosis and Kyphoscoliosis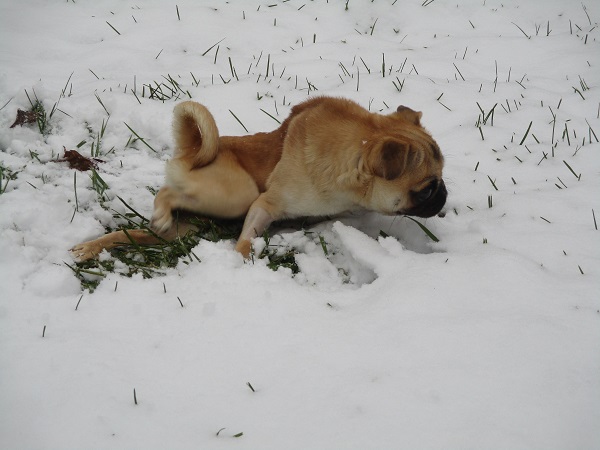 Like Maxwell, dogs with kyphosis and scoliosis can have a range of mobility problems. Much of it depends on the severity of the curvature.
A study completed in 2018 looked at the possibility of a curve causing other problems in a dog's spine like Intervertebral Disc Disease (IVDD). This is a common condition in brachycephalic dogs. It causes the disc material in the spine to age prematurely, leaving dogs with mobility issues and paralysis.
The team of researchers examined the MRIs of French bulldogs who had undergone an imaging test for reasons other than a spine problem. The dogs who were diagnosed as having a kyphosis or scoliosis curve, were nearly twice as likely to also show signs of degenerative disc disease.
The findings could prove to be a predictor of which dogs will develop IVDD.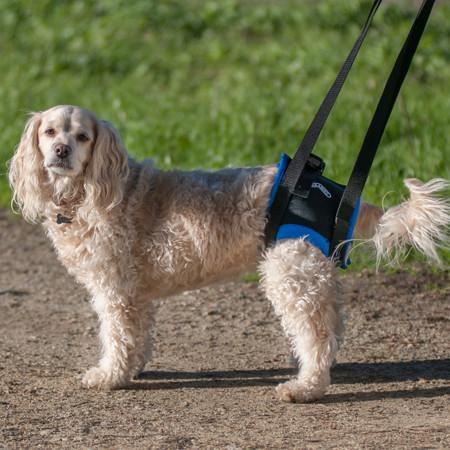 My favorite harnesses for disabled dogs.
Other health problems in dogs with a spinal curvature:
Compression of the spinal cord
Back pain
Weakness in the back legs
Paralysis
Incontinence
How Maxwell is doing
When Maxwell came home with Suzi that first night, she knew she was meant to be his pet mom. Her treasured Pug and soulmate had passed away the month before and Suzi marveled that Maxwell's breeder chose to bring him to the veterinary clinic where she worked.
"She could have gone anywhere to get a health certificate, but out of all the veterinary hospitals in Youngstown, Ohio, she chose my clinic."

Suzi Langer
Once Maxwell got settled, Suzi got busy
First on Suzi's agenda was a consultation with a veterinary neurologist. The exam confirmed what Suzi suspected: Maxwell had no use of his hind legs, his front legs were deformed and he was incontinent.
The neurologist also said that in her 20 years in practice, the curvature of Maxwell's spine and the deformities to his thoracic region were the most severe she had seen.
She explained to Suzi there were no surgical options available and she didn't have a roadmap for the dog's future. Her advice was to take Maxwell home and love him for as long as possible.
The diagnosis threw Suzi into action. She set up an appointment with a canine rehab specialist for a further assessment. Maxwell was placed on physical therapy treatments 3 times a week, hydrotherapy 2 times a week and weekly rounds of laser therapy and acupuncture.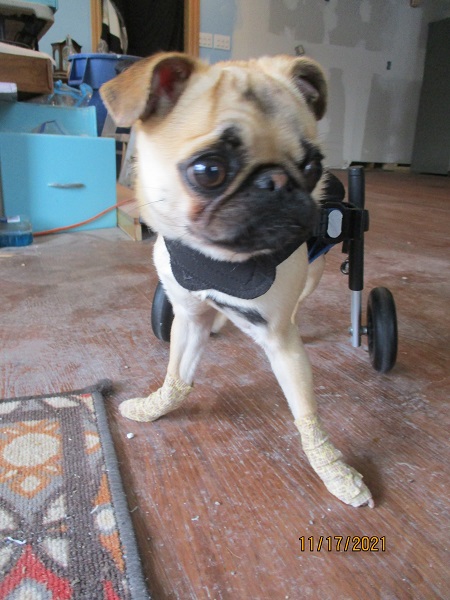 Today Maxwell is 11 months-old. There've been some improvements to his condition and a few setbacks. Thanks to rehab he can now curl and wag his tail. He can also pull himself up by his front legs and his knees. And he uses a dog wheelchair to get around.
Maxwell's also had a few health challenges during the year. He had an episode of bloat, where his stomach became twisted, and he had a pinched nerve that caused him to involuntarily kick his legs.
The puppy will soon have his stomach tacked up tight to prevent future cases of bloat and he might have to stay on a muscle relaxer for the nerve problem.
What the future holds
Suzi looks at her life with Maxwell as a gift. Her goal is to advocate for severely disabled dogs like him and to educate people about the love a disabled animal can give. She's proud of her fearless, ornery little puppy.
She's also pleased that Maxwell will soon undergo an MRI which will be used as an educational tool for veterinary neurologists. It will be his legacy.
Suzi said she's decided not to measure the years she and Maxwell have together. Instead, her goal is to make his life as "fruitful as possible."
Looking for more resources?
dogswithkyphosis.com – A support group for pet owners with kyphosis dog.
7 of the Most Common Spine Conditions in Dogs