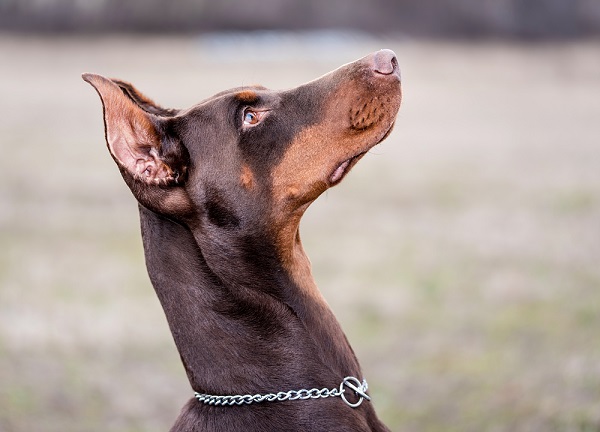 Have you ever wondered how a veterinarian makes a diagnosis when a dog's symptoms look like several different diseases? I got some insight into the process from a veterinary neurologist, when we discussed Discospondylitis and Immune-Mediated Polyarthritis (IMPA). These are two spine diseases that are common in dogs, but hard to diagnose.
Discospondylitis is an infection in the spine and IMPA is an autoimmune disease, but the symptoms for both conditions are nearly identical. It makes a diagnosis challenging.
And to make matters worse, the symptoms also mimic those of Intervertebral Disc Disease (IVDD), a disease that paralyzes nearly two percent of dogs.
In our conversation, Dr. Martin Young, with Bush Veterinary Neurology Service, shared a useful nugget of information to help me separate the diseases. He said it's what he does when conditions seem to overlap. He focuses on the subtle differences between the conditions. These can be easily overlooked, and when this happens, a dog can receive the wrong treatment.
This is true about discospondylitis and IMPA. The treatment for each, is vastly different.
Dr. Young shared that he uses a tool to make a good diagnosis. He recommended that pet owners use it too. His secret technique is to pay attention to the dog's age and breed. It goes a long way to making the proper diagnosis. I'll share an example later in the story.
What you should know about Discospondylitis/Diskospondylitis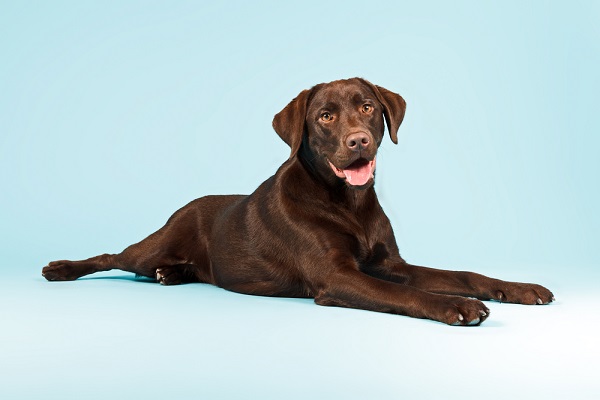 Discospondylitis or spondylitis, as it's also called, is an infection in the spine. It lodges itself in the discs, between the vertebrae. The disease can occur in one part of the spine or in multiple locations.
Without treatment, discospondylitis can turn into spinal meningitis or it can increase the pressure in a dog's spine so much that it causes a fracture. It can also cause paralysis.
The infection is carried through the bloodstream, but there are several ways it can enter the body. For instance, dogs with chronic infections like: a recurring urinary tract infection, a skin infection or a post-operative infection, are susceptible.
The disease can also begin after an animal bite, a puncture wound, or if a dog is taking steroids or chemotherapy.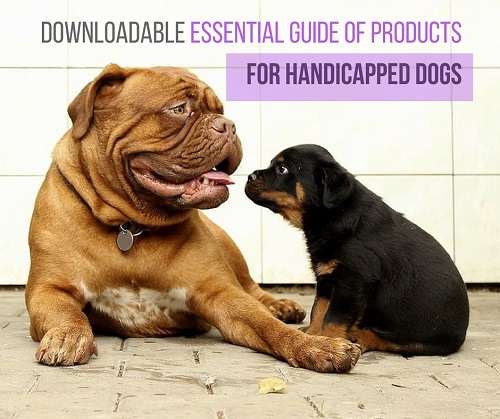 Get the Essential Guide
The Essential Guide of Products for Handicapped Dogs e-book is a labor of love for me. I wrote it to answer your most pressing questions about where to find the best products for your wheelchair dog. You'll find products you didn't know existed and each will improve your dog's quality of life. Print a copy and keep it by your side.
Here are the symptoms of discospondylitis:
Back pain
Muscle stiffness and weakness
Hind end weakness
Doesn't want to be touched
Fever
Loss of appetite
Paralysis in severe cases
Dog breeds prone to the condition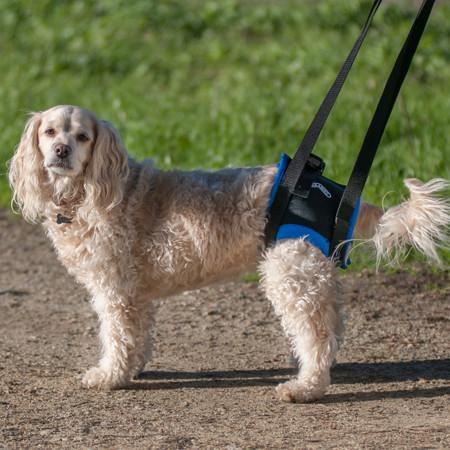 My favorite harnesses for disabled dogs.
Discospondylitis is seen more often in large-breed dogs like:
Boxers
Great Danes
German shepherds
Rottweilers
Doberman pinschers English bulldogs
Treatment for the disease
Dogs are treated with pain medicine and long-term antibiotics. The treatment lasts between 6-12 months. Resistant infections are sometimes treated with surgery to flush out bad bacteria or to relieve pressure on the spinal cord.
The good news is that most dogs with discospondylitis are able to regain their health.
Immune-Mediated Polyarthritis (IMPA)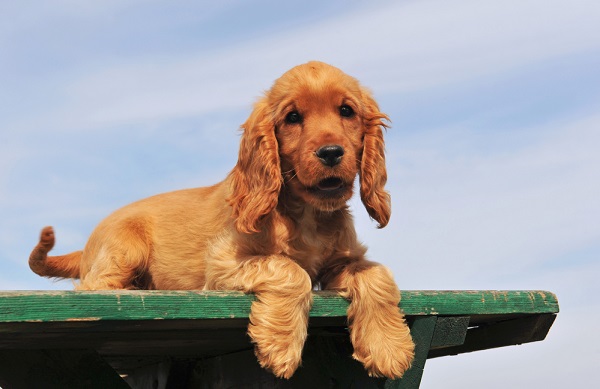 IMPA is an autoimmune disease that strikes young, small – medium sized dogs. The condition causes a dog's body to attack itself and in the case of IMPA, the lining of the joints is affected. The disease produces painful, swollen joints, throughout the body.
IMPA can flare up in a dog's limbs or the organs like the urinary tract. The condition can cause pneumonia, gum disease, inflammatory bowel disease, ulcerative colitis and other problems.
Dogs with the disease show signs of extreme stiffness when they walk. People who see it say, it looks like they're "walking on eggshells."
Researchers don't know why IMPA strikes certain dogs, but some believe it's triggered by the vaccinations a young dog receives. Others think it's due to an underlying infection or that Lyme Disease plays a role.
That said, the majority of dogs who develop IMPA, don't have any underlying health problem or triggers that start the disease.
Here are the symptoms of IMPA:
Back pain
Muscle stiffness
Difficulty standing and walking
Fever
Loss of appetite
Lethargy
Digestive problems
Enlarged lymph nodes
The treatment for IMPA
Treatment for IMPA involves using immunosuppressant drugs. They stop the body from attacking the joints. Typically, prednisone is prescribed.
The goal is to get a dog stabilized and then reduce the prednisone to the lowest level possible while still managing the symptoms. Dogs stay on the medication for a lifetime.
The facts Dr. Young considers in making a diagnosis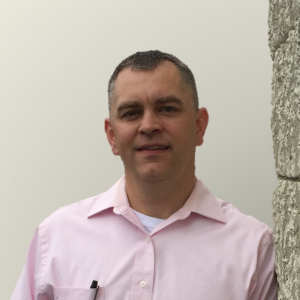 So now that you know about both diseases, Dr. Young offered this example of what he takes into consideration when a dog's symptoms overlaps with more than one condition.
He said, if a five-year-old Labrador retriever came to his office with back pain, weakness in his hind legs and loss of appetite, he might automatically assume the dog has a ruptured a disc that's probably due to IVDD.
And if the patient was a Dachshund, there's a 90 percent chance that diagnosis would be correct.
If the dog was a Cocker Spaniel, he would lean more to testing for IMPA.
But, because the dog is a five-year-old Lab, there's a 50 percent chance he has Discospondylitis; based on his age and breed.
That's why it's important to know all you can about canine spine diseases. It's the small subtle differences between each condition that can make the most impact on getting the right diagnosis.
A pet owner's experience
After this story initially posted, a pet owner wrote to say that her 3 month-old French bulldog went through a similar experience.
"My 3 month-old French bulldog was experiencing horrible back pain. One neurologist quoted $11k for back surgery. Thank goodness I got a second opinion. The second vet ran a blood test and found out my dog had discospondylitis. We were prescribed 3 months of antibiotics and my girl is alive and well. More folks need to know about this illness to save their lives and keep them from unneeded surgery."

Debra Munt