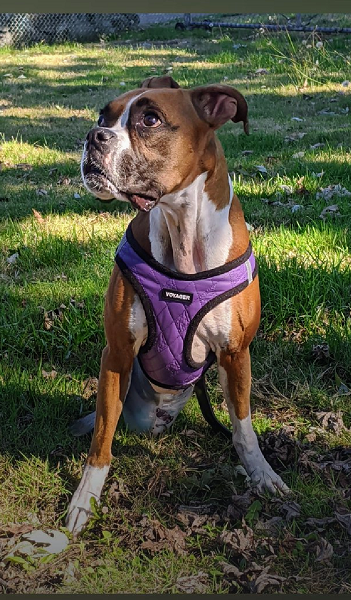 You never know when one event will change the direction of your life. That's what happened to a pet owner when she adopted a Spina bifida dog. Today Debbie Thompson and her boxer Melody (Mellie for short) are on a mission to let world to know that dogs with Spina bifida deserve a good life.
Spina bifida (SB) is a birth defect that prevents the spinal cord from fully closing. It can have a variety of symptoms, depending on how many of the vertebrae are open and exposed, but the most common side effects are incontinence, weak muscles and paralysis in a dog's hind legs.
If you haven't heard of Spina bifida in dogs before, you're not alone. The condition is often hidden from public view because many breeders believe puppies born with SB should be euthanized soon after they're born.
That's the fact that transformed Debbie's life as an animal lover and retired nurse to an advocate for dogs with Spina bifida. It spurred to her start Boxers on Wheels, a group whose motto is, "Mobilize, Don't Euthanize."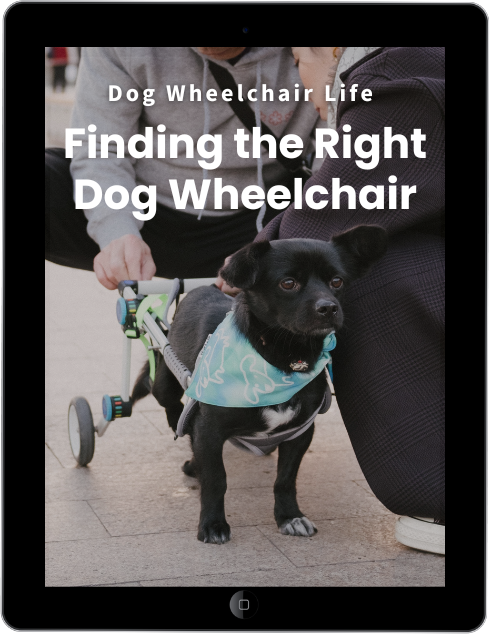 eBook
Find The Right Dog Wheelchair For Your Pet
Your dog has a mobility problem, and you want to buy a wheelchair. But do you know what kind of cart will work best for your dog's individual needs? After a decade of teaching pet owners how to make the right choice, I put the information into an eBook!
Debbie and Mellie's story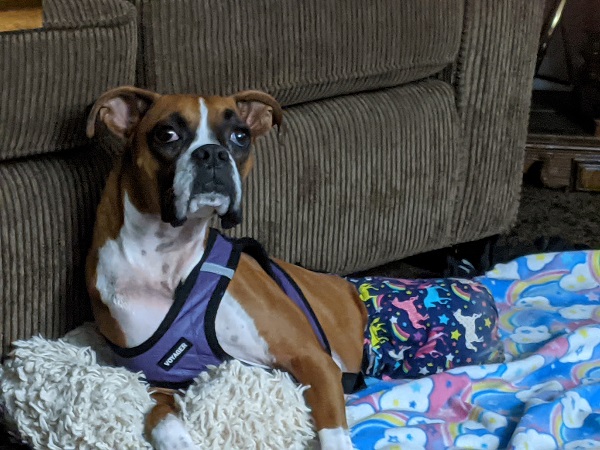 Mellie is one of lucky Spina bifida victims. Soon after she was born her breeder contacted a boxer rescue group in Washington state to see if they would take in a puppy who had little to no use of her rear legs. The group accepted Mellie into their program and thought she would do best in a foster home while they consulted with veterinary specialists.
They turned to Debbie for help because of her experience as a nurse. They knew her medical background would come in handy for Mellie's care.
When Debbie met the puppy, everyone realized her status as foster parent wouldn't last long. Debbie took one look at Mellie and fell in love. On January 28, 2018 Mellie became a permanent member of the Thompson family.
Over the next few weeks, Debbie got Mellie settled into her new home. She worked on healing the open wounds Mellie had on her legs from dragging them and she found the right diapers to help with her incontinence.
When the rescue group and Debbie heard back from the specialists, they were told the puppy had two problems. She was born with Spina bifida, but the paralysis in her back legs was due to a neurological disease. The veterinarians concluded there wasn't a treatment available to improve Mellie's medical condition. The damage had been done before she was even born. There were no surgeries sophisticated enough to fuse or fix the effected vertebrae.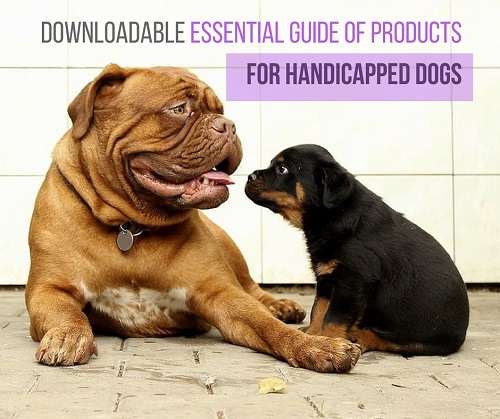 Get the Essential Guide
The Essential Guide of Products for Handicapped Dogs e-book is a labor of love for me. I wrote it to answer your most pressing questions about where to find the best products for your wheelchair dog. You'll find products you didn't know existed and each will improve your dog's quality of life. Print a copy and keep it by your side.
A wheelchair and an amputation
The news sent Debbie in another direction. She began to search for a dog wheelchair for Mellie. Her goal was to keep her as mobile as possible.
A nonprofit group called Gunnar's Wheels generously donated a wheelchair, but unfortunately it caused an unforeseen problem. The seat rubbed against the open site of Mellie's Spina bifida injury and created a lot of pain. Mellie was forced to stop using it.
To compensate for the cart Mellie began to move around by doing a handstand. She lifted her hind end in the air and walked by using her two front paws.
Another boxer with Spina bifida named Dunkin became famous for this walking technique, but Debbie's medical training told her it could be bad for Mellie's health in the future. She worried it might damage her bones. Debbie wanted to find a way for Mellie to use her wheelchair, instead.
The concern led to another exam with a veterinary specialist. The vet recommended that Mellie have a double amputation of her rear legs. It would prevent future sores on her limbs and it would enable her to comfortably use the wheelchair. Both the veterinarian and Debbie thought the surgery would improve Mellie's long-term quality of life.
May 14, 2018, Mellie had bilateral rear leg amputation.
"Mellie doesn't realize she has no legs," said Debbie. She is great in her cart and pain-free while using it. Some days she's in her wheelchair 5-6 hours while we visit children's hospitals, veteran centers and assisted living facilities. She's very social and loves meeting new people."

Debbie Thompson, Boxers On Wheels
Since that time, Debbie invented a specialized wheelchair saddle for pets with amputations. It adds additional comfort and holds their lower torso in place as they move.
Debbie also had a prosthetic made for Mellie which she wears when she isn't in her cart. The piece fits over the dog's lower torso and allows her to sit and balance herself like an able-bodied pup.
A typical day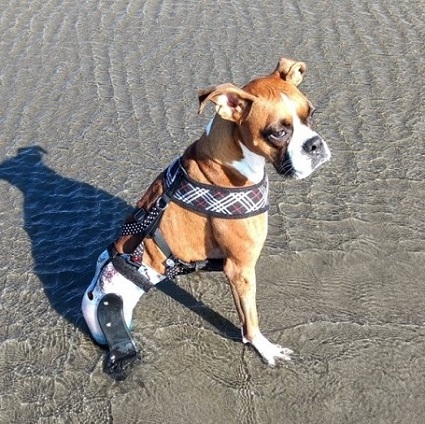 Debbie explained that her family doesn't focus on what Mellie can and can't do. Instead, they start each morning with a potty break and dressing Mellie in her diaper and suspenders. Then the boxer is off and running. She loves to play with the family's Shar Pei and three Standard Schnauzers who live on the property.
Debbie and her husband David take the dog on all sorts of daily errands. The couple live in a small town and Mellie is welcome wherever they go. Then in the evening Mellie and her family have playtime.
Life is pretty normal.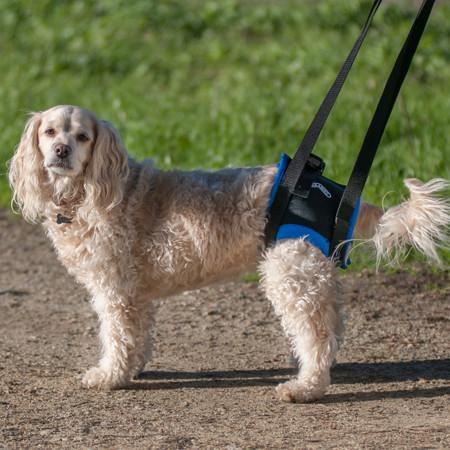 My favorite harnesses for disabled dogs.
Facts about Spina bifida dogs
Spina bifida is called an inherited disease because it happens in the womb before a dog is born. It causes one or more of the vertebrae in the lower half of the spine to only partially fuse together. This prevents the spinal column from closing over the spinal cord. Dogs with the condition have part or all of the affected vertebrae open and exposed.
The cause of SB isn't completely understood, but researchers think there's a strong genetic component linked to malnutrition in the mother dog during pregnancy.
Other risk factors that might play a role are: being exposed to environmental toxins during pregnancy and undue stress.
Puppies born with SB have problems walking, controlling their muscles and are usually incontinent. They can also have drainage from their spine. The good news is the condition doesn't get worse over time.
Breeds prone to Spina bifida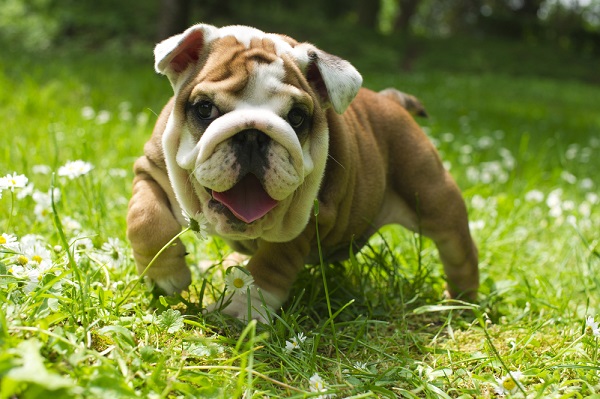 SB is seen in dogs and cats. A variety of dog breeds appear to be prone but the condition is most commonly seen in English bulldogs. Other breeds such as: French bulldogs and Boxers are also at-risk.
Treatment options
There are very few treatments available for Spina bifida. Unfortunately, it appears that once the damage is done to the spine, repairs are not reversible.
That said, several years ago researchers at UC Davis Veterinary Medical Teaching Hospital, were successful in treating a pair of English bulldog puppies with a combination of surgery and stem cells. And today mild cases of SB are treated with surgery to close the open portion of the spinal cord.
Boxers on Wheels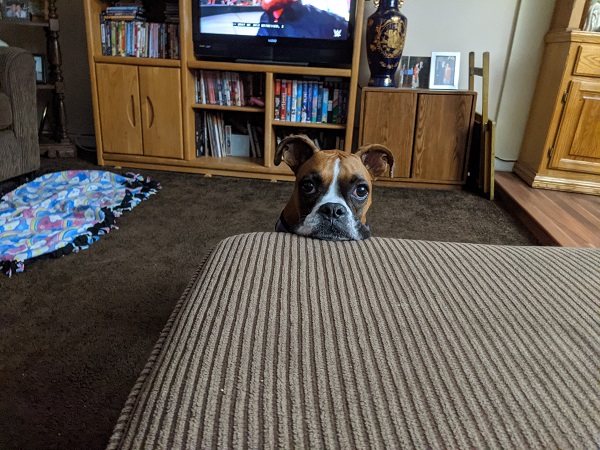 Because many breeders routinely euthanize SB puppies, Boxers on Wheels serves as an advocate for dogs. They educate people to mobilize a dog, rather than euthanize them. The group teaches pet owners about dog wheelchairs and Debbie's special wheelchair saddle for pets with amputations.
They also explain how a few simple changes to a home can accommodate the needs of a SB dog. Debbie recommends purchasing a ramp so your dog can join you on the couch. And she suggests using a support harness for easy lifting.
Mellie and I are showing how good life can be for these dogs by our example."

Debbie Thompson
Over the years Mellie has become a therapy dog. Together she and Debbie demonstrate that disabled Spina bifida dogs deserve a great life by visiting hospitals, senior centers and community events.
Another chapter to the story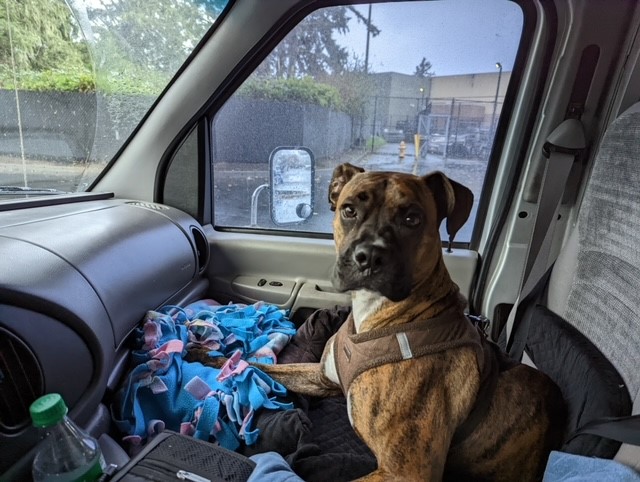 On 5/21/22, at the age of 5, Melody passed away from kidney failure. The position of the Spina bifida on her spine started to affect her bladder and kidney. She went into renal failure and passed away.
Debbie posted the news and vowed to continue the work she and Mellie had started with Boxers on Wheels. Her goal was to continue to help dogs with Spina bifida and double amputees.
But, as the saying from John Lennon goes, "Life is what happens when you're busy making other plans", a surprise set of circumstances took Debbie on another path.
She heard about another Boxer named Nala, a puppy who lost both of her hind legs after breaking her back. Nala was living with a foster family in Kentucky.
Debbie arranged to meet the puppy in South Dakota. She traveled from her home in Washington state and Nala's foster family drove from Kentucky.
On June 15, 2022 Debbie and her husband David adopted Nala. Together the family will continue to help disabled dogs.
Debbie says her new pup is full of surprises and the complete opposite of Melody.
Mellie was a princess; Nala is a tomboy. She loves to travel, which is great for us as we're on the road again."

Debbie Thompson
Nala turns 2-years-old in December. She will be fitted for a prosthetic, just like Mellie, in early January. We wish the Thompson family many happy and healthy years together.
Want to learn more?
7 Of The Most Common Spinal Cord Problems In Dogs
9 Physical Therapy Exercises To Do At Home With Your Dog
Note: Dog Wheelchair LIFE is an Amazon affiliate.