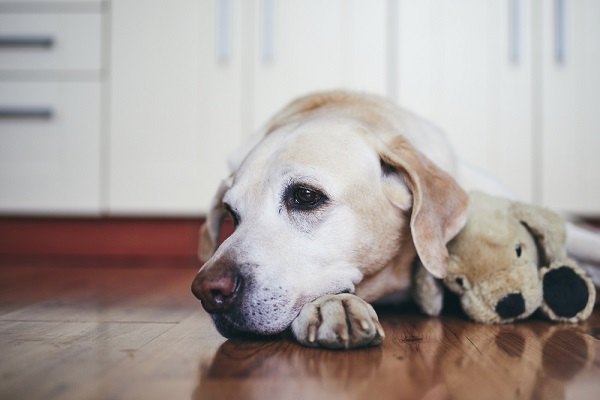 Spondylosis in dogs is a degenerative condition that affects the spine. It's produces small pointed bony growths, called osteophytes, that develop along the edges of a dog's vertebrae. These bony spurs can cause mobility problems.
The first warning signs of the disorder are often noticed by your vet during a routine exam. That's because, the majority of dogs with spondylosis deformans, as its officially called, don't have any outward symptoms.
Many veterinarians think spondylosis is part of a dog's natural aging process. Others believe there are hereditary factors and medical conditions that make some canines more vulnerable.
We'll discuss these theories and risk factors later in the article, but first let me explain the basics about spondylosis; how it's diagnosed and treated.
Facts about spondylosis in dogs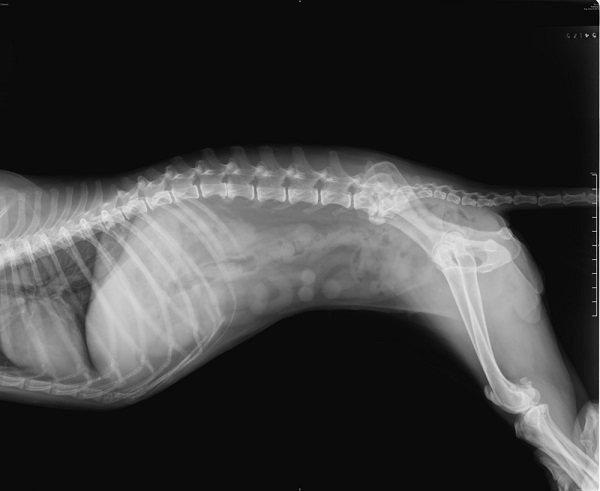 Spondylosis is a common disorder of the spine in older dogs. It's estimated that as many as 70% of dogs over the age of 9 have at least one bony spur.
The condition usually develops in the lower, lumbar region of the back where spurs form between the joints of the vertebrae. Some dogs have only one spur, while other dogs have a series of bony spurs that span across several vertebrae. These long segments can fuse together and are referred to as a bridge.
Veterinary researchers believe the bridges develop as nature's way to stabilize to a weakened portion of a dog's spine.
Spondylosis is found in every breed, but it's seen most often in large dogs. Boxers are the number one canine affected.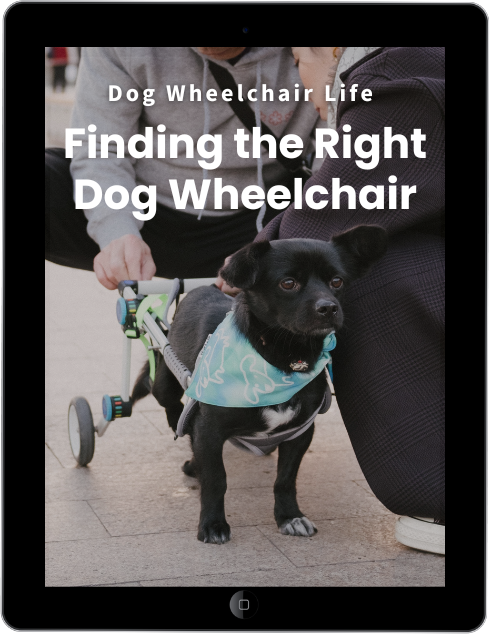 eBook
Find The Right Dog Wheelchair For Your Pet
Your dog has a mobility problem, and you want to buy a wheelchair. But do you know what kind of cart will work best for your dog's individual needs? After a decade of teaching pet owners how to make the right choice, I put the information into an eBook!
Risk factors for developing spondylosis
The exact risk factors of spondylosis aren't known, but there are several conditions that put a dog at greater risk for developing the disorder:
Wear and tear on the spine – Doing repetitive activities over time is believed to be the number one cause of spondylosis. That means doing even healthy activities every day like chasing a ball or taking a daily hike.
Previous fracture or trauma to the spine – Dogs who've injured or broken their spine have an increased risk of developing spondylosis.
Genetic predisposition – There appears to be a hereditary factor for developing spondylosis. A study reported by the National Library of Medicine looked at 353 Boxers from 24 randomly chosen sires. It found that 40.6% of both young and old Boxers had a higher-than-normal development of bony spurs due to spondylosis.
Previous case of IVDD – When a dog has Intervertebral Disc Disease (IVDD) the stress on the spine can cause changes in the alignment of the vertebrae. These changes can increase the risk of forming spondylosis.
Increased risk for dogs with Type II Intervertebral Disc Disease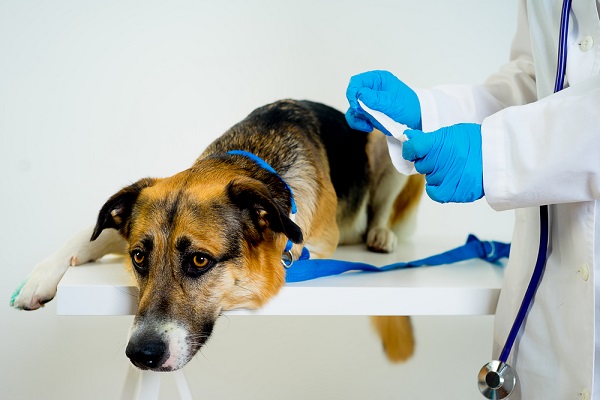 IVDD is a common condition in dogs that occurs when the jelly-like disc material between the vertebrae of the spine ages prematurely. It causes the discs to degenerate and rupture. The disease leaves dogs with mobility problems and paralysis.
There are two types of IVDD: Hansen Type I and Hansen Type II. Dogs with Type I disease are typically young and between the ages of 3-6 years old. Most are chondrodystrophic breeds like Dachshunds with short stubby legs and long backs.
On the other hand, dogs with Type II IVDD are older large breed dogs like German shepherds, Dobermans and Labrador retrievers.
A study that was done in 2000 examined the records of 172 dogs who were diagnosed with Type I and Type II IVDD.
The results showed that dogs with Type I disease didn't have a significant number of cases of spondylosis vs. the general population of canines.
However, researchers found that dogs with Type II IVDD had a high rate of spondylosis. The group had a larger number of areas on their spine with bony spurs and more severe changes than dogs with Type I disease.
"Dogs with IVDD had significantly fewer sites of involvement and lower grades of spondylosis deformans, compared with those in the non-IVDD group. When groups were adjusted for age and weight via multivariate linear regression, there were no differences in severity of osteophytosis or number of affected sites. Dogs with type II IVDD disk disease had higher numbers of affected sites and more severe changes, compared with dogs with type I disk herniation."

PubMed (nih.gov)
Symptoms of spondylosis in dogs
As I mentioned earlier, spondylosis doesn't typically cause any pain.
On occasion the bony spurs impinge on the spinal cord or nerves and dogs can show a variety of symptoms.
These include:
Stiffness in the back
A hunched back
Trouble walking, jumping and climbing stairs
Back and neck pain
How spondylosis is diagnosed and treated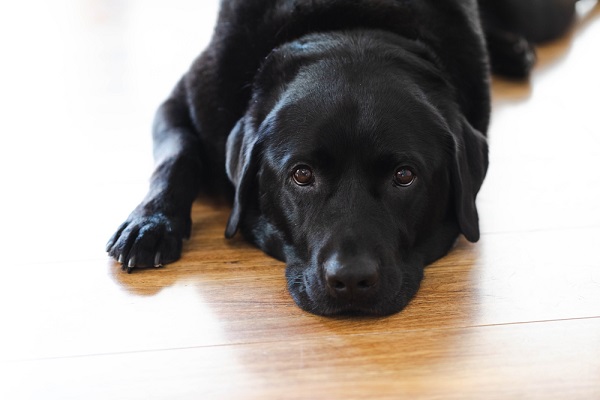 Spondylosis is usually diagnosed with an x-ray of the spine. Sometimes it's discovered when a dog is being examined for another condition.
The next step is to rule out other health problems with blood work and a urinalysis. Your vet might also order a CT scan or MRI, if it looks like the spurs are pushing on the spinal cord.
Treatment depends on the severity of the condition and how your dog is feeling. In mild cases, your dog's care may involve weight loss, exercise, and pain management. Non-steroid anti-inflammatory drugs (NSAIDs) are used most often. In severe cases, surgery may be necessary to remove a bony growth.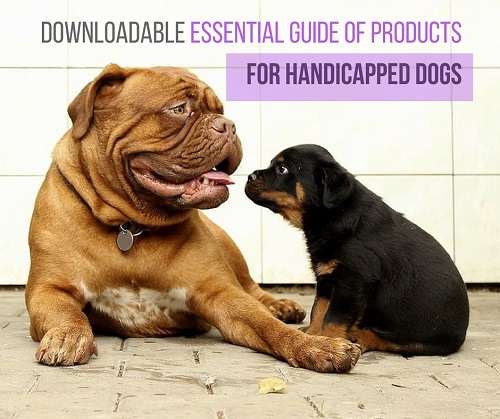 Get the Essential Guide
The Essential Guide of Products for Handicapped Dogs e-book is a labor of love for me. I wrote it to answer your most pressing questions about where to find the best products for your wheelchair dog. You'll find products you didn't know existed and each will improve your dog's quality of life. Print a copy and keep it by your side.
The takeaway
In conclusion, dogs with IVDD may be at increased risk for developing spondylosis due to the mechanical changes that happen in the spine as a result of their disc disease. Prevention and management should be implemented to minimize stress to the spine.
Want more information?
Intervertebral Disc Disease in Dogs: Understanding the Condition