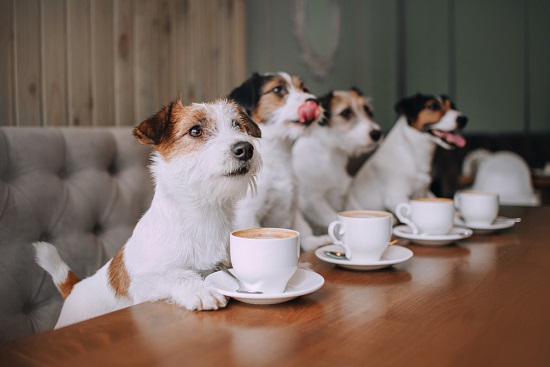 Dogs are good travel companions. According to a national survey 37 percent of us take our canines on road trips. But if you're putting plans on hold because of your pet's mobility problems, I promise you can still travel like a pro with a disabled dog.
Traveling by car with any dog requires preparation. There's food to pack, a water bowl to bring as well as their bed, leash and toys. Dogs with special needs only require a few extra items. The biggest tip to a successful road trip starts with a good plan.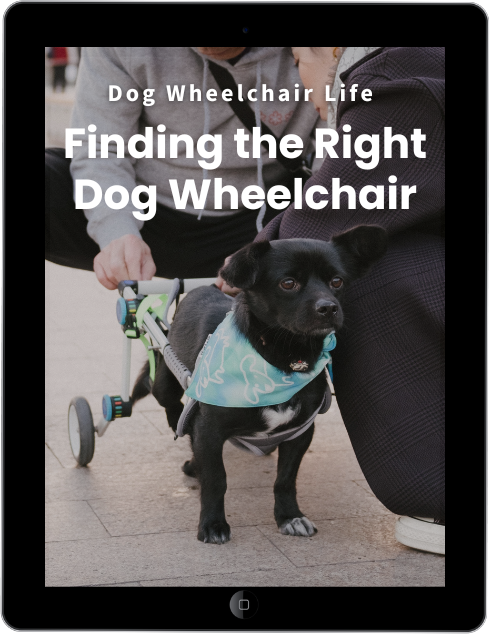 eBook
Find The Right Dog Wheelchair For Your Pet
Your dog has a mobility problem, and you want to buy a wheelchair. But do you know what kind of cart will work best for your dog's individual needs? After a decade of teaching pet owners how to make the right choice, I put the information into an eBook!
How to organize a strategic travel plan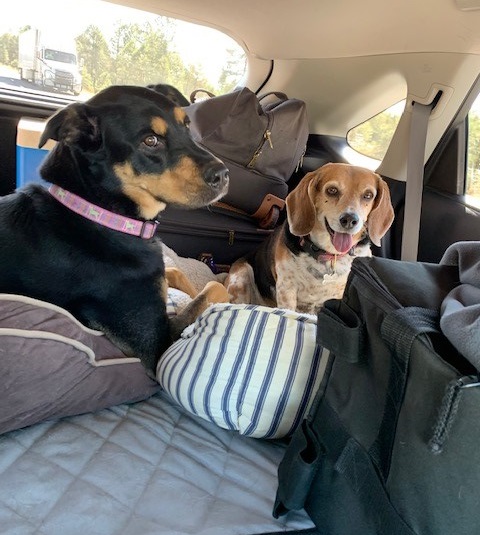 Dogs are smart. When my husband and I took Bailey and Olivia with us to Sedona, they knew they were being invited someplace special.
They stayed in their beds in the back of our SUV the entire trip. And when we arrived at the hotel, they strolled through the lobby like it was something they did every day. During the trip they went out for meals with us and shopped in local stores. They were happy just being with us.
Our road trip went smoothly because it started a long time before we got into the car.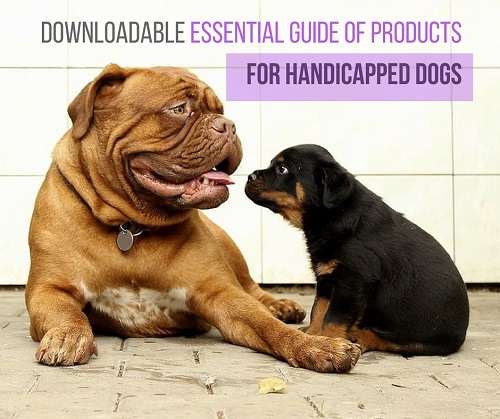 Get the Essential Guide
The Essential Guide of Products for Handicapped Dogs e-book is a labor of love for me. I wrote it to answer your most pressing questions about where to find the best products for your wheelchair dog. You'll find products you didn't know existed and each will improve your dog's quality of life. Print a copy and keep it by your side.
Here are tips for your travel plan
Check with your veterinarian to be sure your dog is healthy enough to travel.
Ask how many hours (or miles) you should ride each day.
Be sure your car is climate controlled for the area you are visiting.
Decide where your pet will sit in the vehicle and make sure it's a stable and secure area. You don't want your dog to get injured in case of an accident or hurt you.
Choose if they'll ride in a travel seat, kennel, bed or hammock and whether a safety belt is needed to keep them out of harms way.
Make sure you can reach your dog from the front seat, in case of an emergency.
Determine if you need to bring steps or a ramp to get your pet in and out of the car.
Map out places along the way where you can stop for breaks out of the vehicle. The fresh air is good for your pup and it'll give you time to express their bladder, change a doggie diaper, allow them relieve themselves. Scheduled breaks enable you to give your dog food and water as well.
Plan where you'll stay each night. Be sure the hotel, motel, campground or your best friend's home welcomes dogs.
Acclimate your dog before you leave the house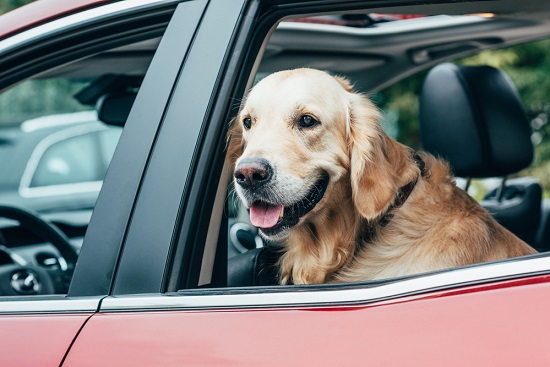 Some dogs need a bit more pre-planning for their road trip. This is especially true if they get car sick or are nervous riding around.
If this is the case, start with short trips around town so they learn that car rides are fun and relaxing. It will build their confidence and help them stay calm.
And if that doesn't help, talk with your veterinarian about medications you can give to help with nervousness or motion sickness. There are a number of treatments your vet can offer.
Another common problem dogs have when they travel is not wanting to relieve themselves in a new place. Dogs are creatures of habit. They like to pee in places they know, like their own home. This is a problem for Bailey, so we began training her to "go" in unfamiliar places as we walked around our neighborhood. Our vet recommended that we add special words, like "potty time" so she learned it was okay and even expected for her to relieve herself in a foreign area.
Using the facilities away from home still isn't Bailey's favorite part of a trip, but she's learned it's okay for her to go and we learned to look for an area with a lawn.
Click here to read about Pet Sitters For Special Needs Pets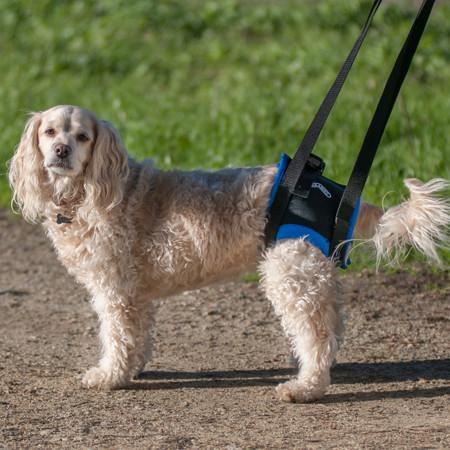 My favorite harnesses for disabled dogs.
Essentials to bring with you
Make sure you can easily reach all of the necessary items below.
Pack your dog's medications, diapers, pee pads and baby wipes.
Add a big fluffy towel for accidents.
Bring trash bags for dirty diapers.
Take your pet's wheelchair, stroller, support harness and paw protection, like booties.
Pack medical and vaccination records. Update vaccinations before you leave so your dog is protected for the area where you are visiting. For instance, dogs in my hometown of Las Vegas aren't protected against Lyme disease, fleas or heartworm. They're problems we don't deal with here, but I do protect them when we travel.
Be sure your dog is wearing an ID tag that includes your cell number.
Bring your dog's regular food, bottled water and bowls.
Pack your dog's bed and leash.
Take your pup's favorite toys.
Pack a pet first aid kit.
How experienced pet owners travel like a pro with a disabled dog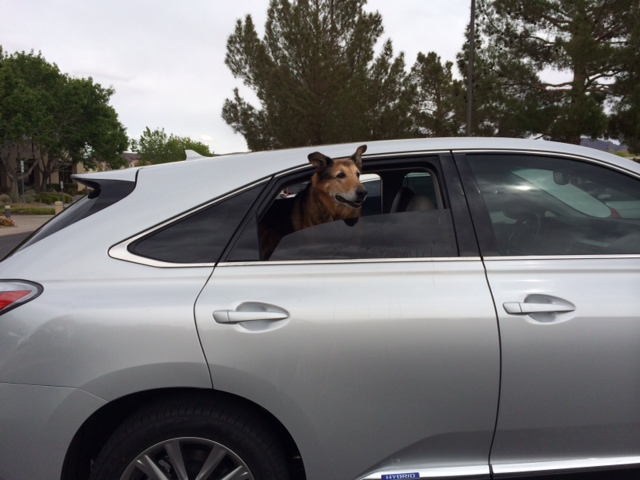 Here are first-hand tips from real-life pet parents from our Facebook page about their road trips.
Liz – I drove my pup to North Carolina from Connecticut for a clinical trial. It was his first time being in a car for more than an hour. He did great on the ride down there, but he barely slept the 10 hours coming home. He was so curious about everything going on outside. My dad traveled with us and sat with Pudge. I recommend traveling with a buddy. We stopped every couple of hours to let Pudge scoot around.
Marie – Bring bottled water. Sometimes the water along the way can carry different bacteria than your dog is used to. This can cause diarrhea.
Kelly – I drive and fly with my paralyzed Frenchie. Heat during the summer is our biggest issue. Be sure to have a cooling pad.
Lauren – My dog and I travel with a hammock, stroller, baby wipes and bottled water.
Carolyn – Our Weimaraner is hyper in the car so when we moved from Maryland to Colorado, we gave him a tranquilizer with his meals. We also stopped every 3 hours. Our dog sat in the backseat in his bed and did very well for our 1800-mile trip. We traveled for 3 1/2 days.
Tracey – I did a trip with Jake. He sat in a raised car seat so he could be secure while looking out the window. I put puppy pads on the seat to catch diaper leakage. I brought chew toys, treats and a backup leash. Baby wipes were a must to clean public bathrooms before lying Jake down for a diaper change. Also, bring zip lock bags for dirty diapers.
More tips from pet parents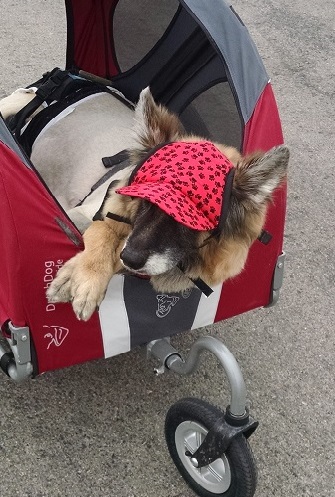 Lori– I drove from New York to Florida with my paralyzed girl and she did great. It was summer so I brought wee pads and expressed her on the grass at rest stops.
Kelly – Look at the route so you can plan ahead for bathroom breaks. Put a bag with supplies on the floor of the front seat so you can reach them easily.
Lily – I adopt elderly and medically compromised Great Danes. I pack a good orthopedic foam bed for the back of the car and secure the dog with a harness and seatbelt.
Shawna – I traveled from Boston to Las Vegas with my paraplegic pug Winston. We made sure he had a soft sided crate that gave him maximum space. I worried about him warm so we took Ziploc bags and filled them with ice. I also took a battery-operated fan and cooling mats that you place in the crate.
Mary – We take Bucky's pillows, blanket, toys, and washable incontinence pads. In addition, I also pack his stroller. When we arrive at a hotel, Bucky is often restless and curious about his new location. Since he can't walk very far even in his wheelchair, he goes right into his stroller to explore the hotel.
Shauna – Last year we took our girl who had recently been diagnosed with Degenerative Myelopathy from Michigan to North Carolina. She did great. This year we did a Lake Superior circle tour.
Doreen – Treat the road trip like a vacation. Plan fun stops and rest stops along the way.
Emmy – To calm my dog's stress, I diffuse lavender oil. Put a drop of oil on a wooden clothespin and affix it to the air vent. When you take a break, do a light, five-minute massage of his whole body. It relieves stiffness from sitting in the car. I also sing this, "We're having an adventure! You're going to smell so many new things!" That way my dog is excited about what's going on. Have fun!
Do you have a favorite travel tip?
If so, please share it in the comment section below and I'll be happy to include it in the list of tips.