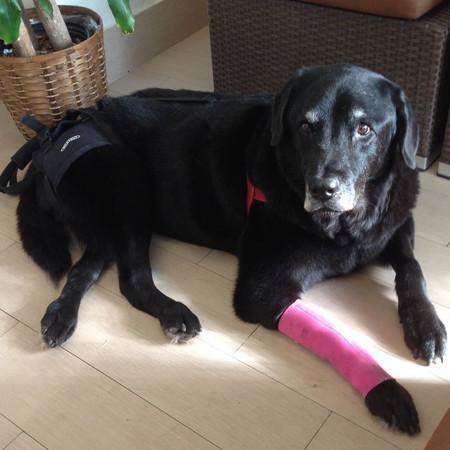 One of the best reasons for writing about disabled dogs is when I get to share a new idea that will help you in the daily care of your pup. That's what happened when I heard about the pretty pink legging pictured above. It's called a dog compression sleeve and it's making life safer for pets with mobility problems.
Typically, a compression sleeve is used to ease leg pain, but a group of pet owners with paralyzed dogs, thought otherwise. They repurposed canine compression sleeves to keep their pups from getting scrapes and wounds on their legs.
That's what I learned from Cathy Erwin, founder of Walkabout Harnesses. She said cuts and scrapes are a big problem for animals that can't walk. They drag their limbs over every kind of surface and end up injuring themselves.
Cathy was happy about this unintentional use of her product.
Note: This post contains affiliate links. Read our policy.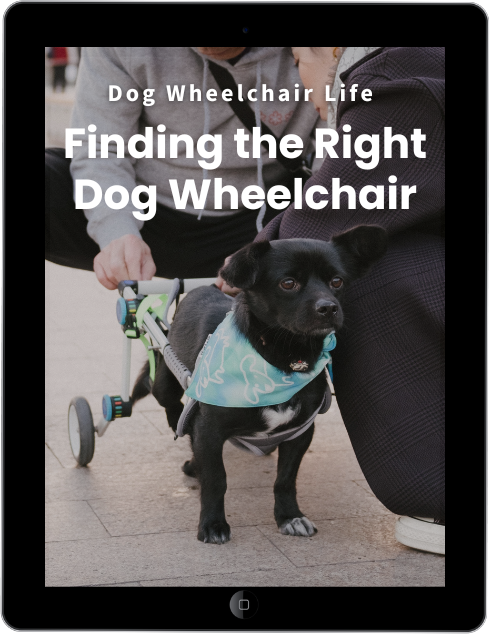 eBook
Find The Right Dog Wheelchair For Your Pet
Your dog has a mobility problem, and you want to buy a wheelchair. But do you know what kind of cart will work best for your dog's individual needs? After a decade of teaching pet owners how to make the right choice, I put the information into an eBook!
Why disabled dogs are prone to wounds
Dogs with mobility problems have two ways of getting around. They can use a dog wheelchair or stay mobile by scooting their bodies across the ground. While lots of pets love their wheels, most don't stay in them 24 hours a day. Instead, they like the freedom of dashing all over the house on their "bums."
Some dogs can race around fast, dragging their unprotected legs over uneven indoor floors and rough outdoor terrain. It causes cuts, scrapes and open wounds all over their limbs and feet.
And because paralyzed dogs can't feel any sensations in their legs, they don't realize when they've gotten hurt. The likelihood of doing damage to their legs is high. It's also one of the most common problems pet owners want to solve.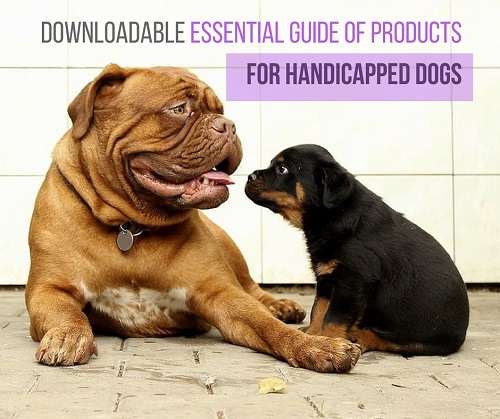 Get the Essential Guide
The Essential Guide of Products for Handicapped Dogs e-book is a labor of love for me. I wrote it to answer your most pressing questions about where to find the best products for your wheelchair dog. You'll find products you didn't know existed and each will improve your dog's quality of life. Print a copy and keep it by your side.
How dog compression sleeves prevent scrapes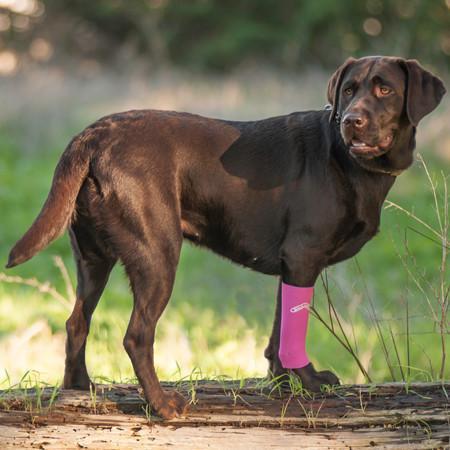 While the intended use for a compression sleeve is to provide support and stability to a dog with joint, tendon and ligament problems, the design is ideal for protecting the limbs too.
Here's how the sleeve helps:
It covers existing scratches and sores and allows them to heal.
They're made to fit properly on a dog's front or hind leg. (You don't have to cut, wrap or sew to reshape them for a dog's body.)
A dog compression sleeve doesn't interfere with your pet's natural movement.
They slip on easily and stay in place.
The sleeve adds stability while improving blood and oxygen flow to the muscles.
Compression sleeves are durable, washable and affordable.
Here's a video from Walkabout Harnesses about how to put on a compression sleeve.
Rehab professionals
Veterinarians and canine rehab professionals routinely add compression sleeves to their treatment process.
Here are a few of the ailments they help:
Leg Pain
Arthritis
Recovery after an injury or surgery
Muscle sprains
Swelling and inflammation
Soreness
Heal wounds and bedsores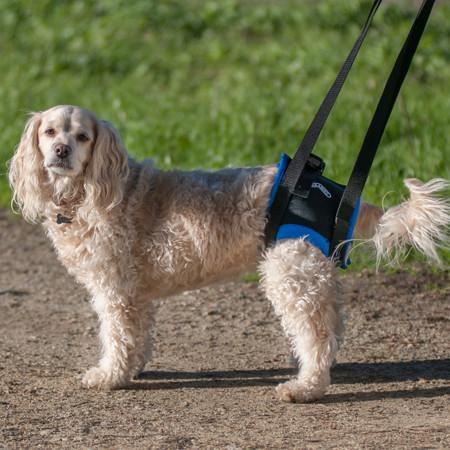 My favorite harnesses for disabled dogs.
How to get the perfect fit
It's important that a compression sleeve fits well. It won't be comfortable if it's too tight on your dog's leg and it won't provide protection if the fit is too loose.
Walkabout Harnesses offers detailed instructions and an easy to use graphic to help you choose the right size. Sleeves are available in extra-small to extra-large. They even make a long length for tall "leggy" dogs.
What about your dog's feet?
The one thing a compression sleeve doesn't do is cover a dog's paw. If your dog drags or knuckles their feet or has sores in that area, I highly recommend adding a boot.
Walkaboots™ and JAWZ Traction Booties are two of my favorites. Walkaboots are sturdy paw protection for the outdoors and JAWZ are comfortable booties that prevent slipping on slick surfaces inside your home.
"The compression sleeves work really well in conjunction with boots as they are like knee high socks," said Cathy.
About Walkabout Harnesses
If you're a regular reader of this blog, you know that I'm a huge fan of Walkabout Harnesses. Their original Back End Harness has helped millions of dogs worldwide and it was a lifesaver for my Sophie. We used for 5 years during her illness. Their rehab products are designed by Cathy Erwin, who is one of the first canine physical therapists in the U.S. and their products tested in a clinical setting.