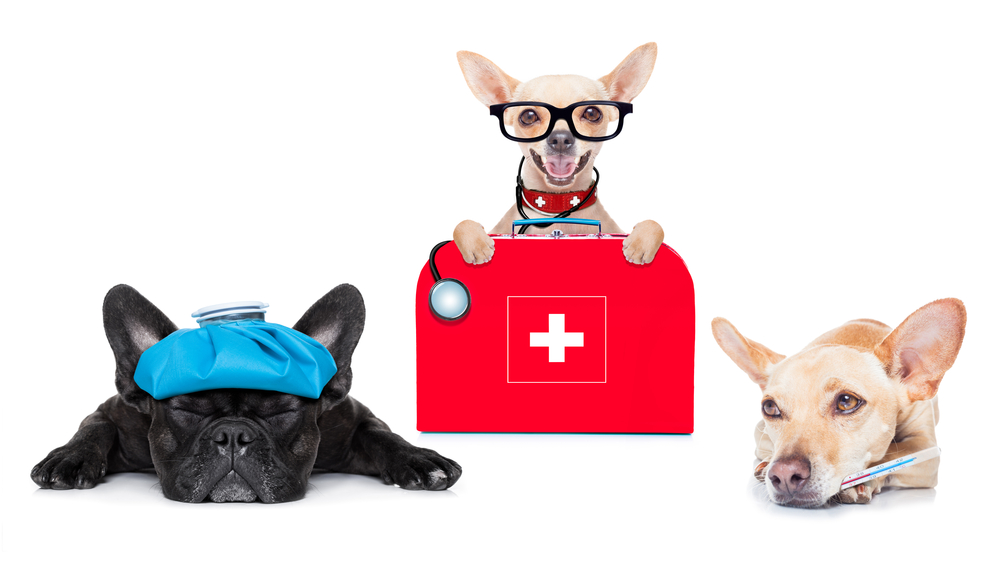 I have a confession to make about putting together a dog first aid kit for my two pups. It's something I always plan to do, but never complete. Every year, when I schedule our family summer vacation, I get my list of supplies together. Then, I never follow through.
This year is different. I'm buying a pre-packaged first aid kit for Bailey and Olivia. I made the decision after hearing a scary statistic. According to MetLife Insurance, one pet in the USA receives emergency medical care every 2.5 seconds.
Having a proper first aid kit will help me quickly respond to an emergency and give my dogs immediate care until we can get to a veterinarian.
I reviewed a lot of the ready-made kits on the market and discovered many are packed with the same supplies from my list. I'll only need to add a few extra items to meet my dogs' specific needs.
Note: Some of the links in this article are Amazon affiliate links where I earn from qualifying purchases. Read our policy.
The supplies your dog first aid kit should include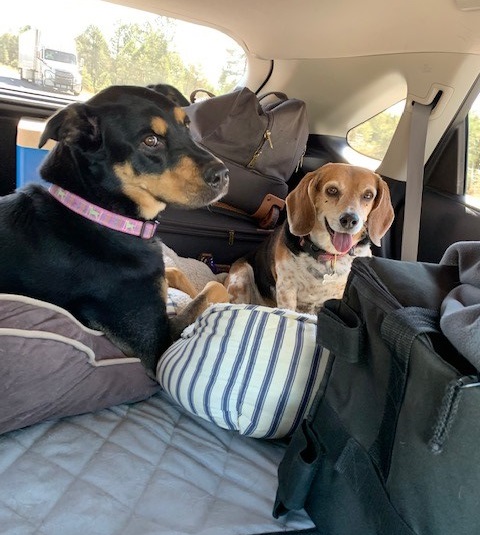 Ready-made kits are relatively inexpensive and come in a variety of sizes. Choose the one that best meets your dog's needs and has as many of the items from the list below, as possible. That way you won't have to buy a lot of extra supplies.
Remember, every pet owner's kit will look different, depending on the needs of your dog, your location and the activities you'll be doing.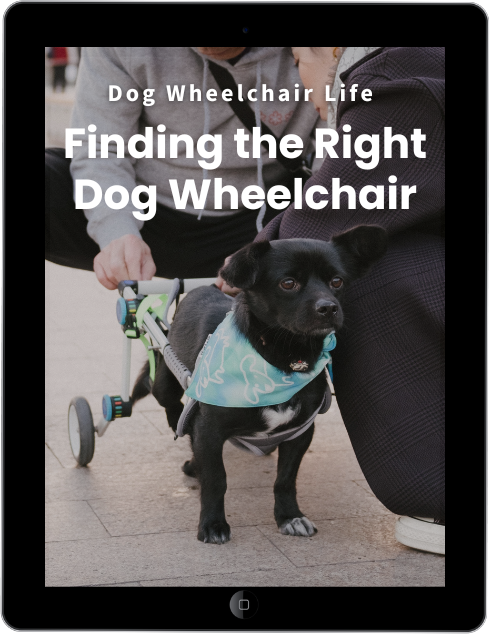 eBook
Find The Right Dog Wheelchair For Your Pet
Your dog has a mobility problem, and you want to buy a wheelchair. But do you know what kind of cart will work best for your dog's individual needs? After a decade of teaching pet owners how to make the right choice, I put the information into an eBook!
What every pre-packed first aid kit should have:
Make sure the kit is waterproof and in a bright color. This will help you quickly see the kit in an emergency and have confidence the supplies inside are dry and safe.
Have a quick reference canine first-aid manual
Include your veterinarian's contact information, the phone number for the local animal control and here's how to reach the national ASPCA Pet Poison Control (888) 426-4435.
Disposable gloves to protect your hands
Sterile gauze pads, rolls and swabs to clean and cover wounds
Non-stick bandages to protect wounds from infections
Self-adhesive bandages and Moleskin precut bandages
Medical tape
Alcohol wipes to clean a wound
Sting relief pads
Tourniquet to control bleeding
Unopened bottle of 3% hydrogen peroxide to induce vomiting – Call poison control for dosage before you administer to your dog if you suspect he's eaten something dangerous
Syringe or large dropper to give liquids or irrigate a wound
Saline eye solution to flush a dog's eye
Saline solution – to clean a wound
Benadryl® for an allergic reaction
Ice Pack/ Hot Pack
Scissors, tweezers and nail clippers
OTC antibiotic ointment – Keep this away from your dog's eyes and don't allow your dog to lick the ointment
Digital thermometer
Additional supplies to have:
Splints or foam-covered splint rolls for a broken bone or limb injury
Blood clotting powder – good for paw injuries
Soft muzzle if a dog becomes aggressive
Inflatable dog recovery collar
Puppy pads to lie a dog down on a clean surface
Clean towels of varying sizes – to wrap a wound, clean and dry a wound, act as a sling or stretcher
Flashlight
Foldable water bowl and bottled water
Pet carrier or stretcher – You can also use a large beach towel
Blanket
Hiking rope or spare leash
Special supplies for dogs with mobility problems
For paralyzed dogs in wheelchairs and those with other mobility concerns add to your kit these items:
Prescription medications
Lifting harness or canvas bag to use as an emergency sling
Protective boots for your pet's paws or a drag bag
Dog diapers or belly bands
Pet carrier – to put your dog in a secure location while you transport him
Talk with your vet about customizing the first aid kit for your specific dog
My favorite dog first aid kits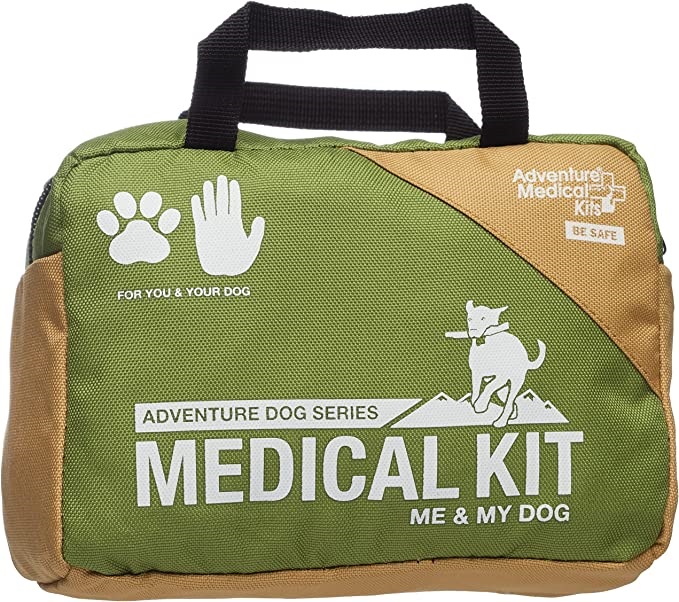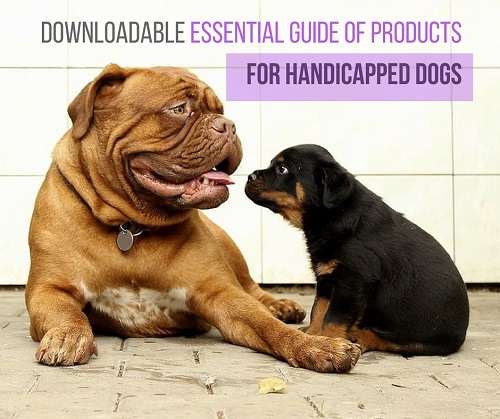 Get the Essential Guide
The Essential Guide of Products for Handicapped Dogs e-book is a labor of love for me. I wrote it to answer your most pressing questions about where to find the best products for your wheelchair dog. You'll find products you didn't know existed and each will improve your dog's quality of life. Print a copy and keep it by your side.
Key Features
This popular kit got high approval from customers because it's actually two first aid kits in one. It has human and canine first aid essentials and emergency handbooks. It's a great kit for day trips with your pup.
The kit also contains: Two resealable, waterproof bags to keep supplies fresh and easy to reach.
Emergency blanket is included to treat shock & hypothermia.
Cold pack to reduce swelling.
Irrigation syringe to clean wounds.
Tweezers, scissors, bandages, gauze, antibiotic cream, Benadryl and more.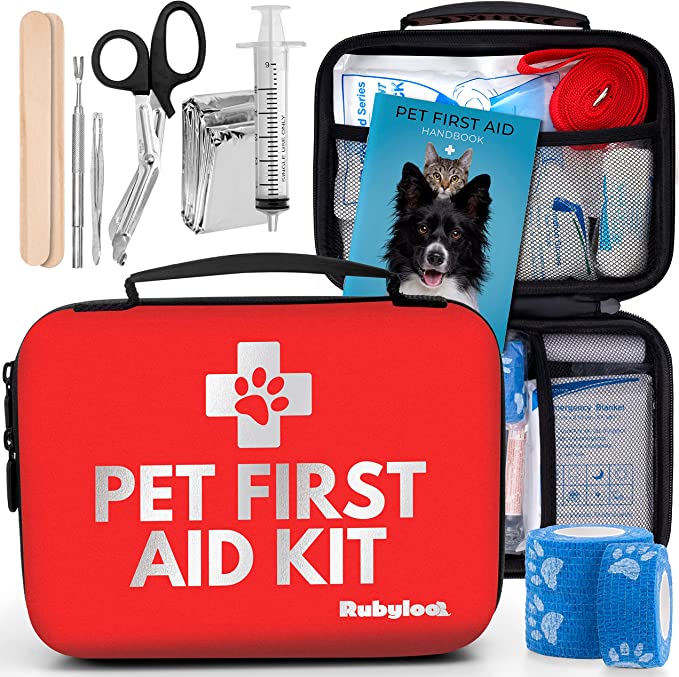 Vet approved animal first aid supplies and first aid handbook.
The kit is manufactured in a medical products facility.
Waterproof bag
Sterile gauze and antiseptic wipes
Scissors and tweezers
Eye and wound wash
Elastic bandages, extra leash
Cold pack and other supplies.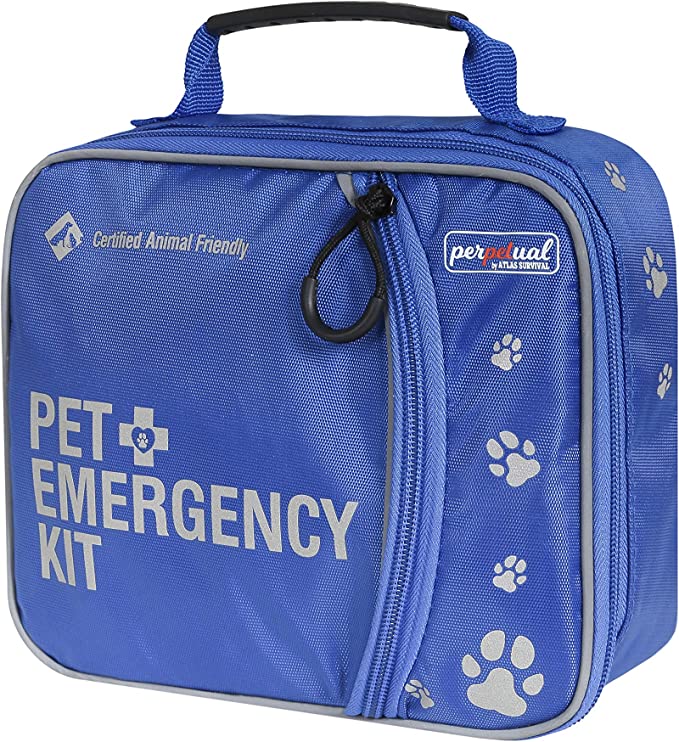 KEY FEATURES
45 tailored supplies for the emergency treatment of pets.
Vet wrap
Vet splints
Pet first aid booklet
Styptic powder to stop bleeding
Designed by pet owners for pet owners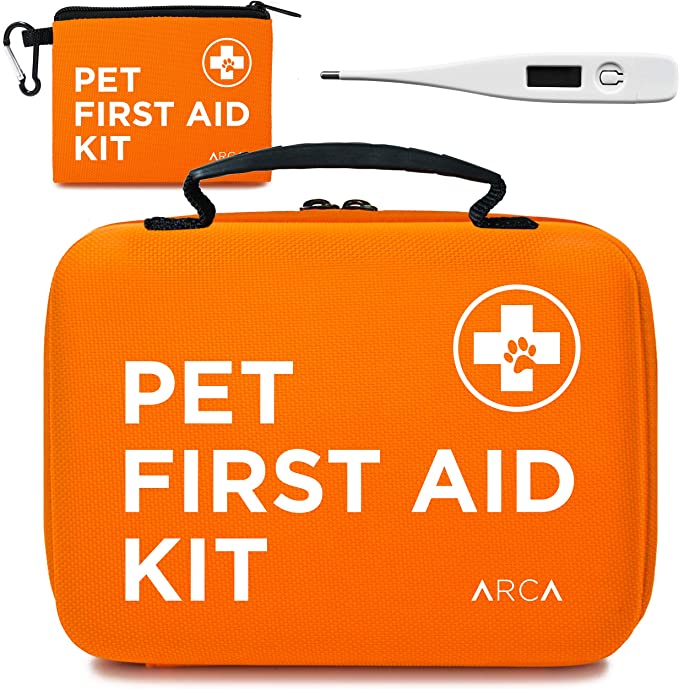 KEY FEATURES
Highly rated 100 piece first aid kit.
Bandages, pads and dressing.
Exam gloves, thermometer and cold pack.
Antiseptic wipes, tourniquet, collar, blanket and more.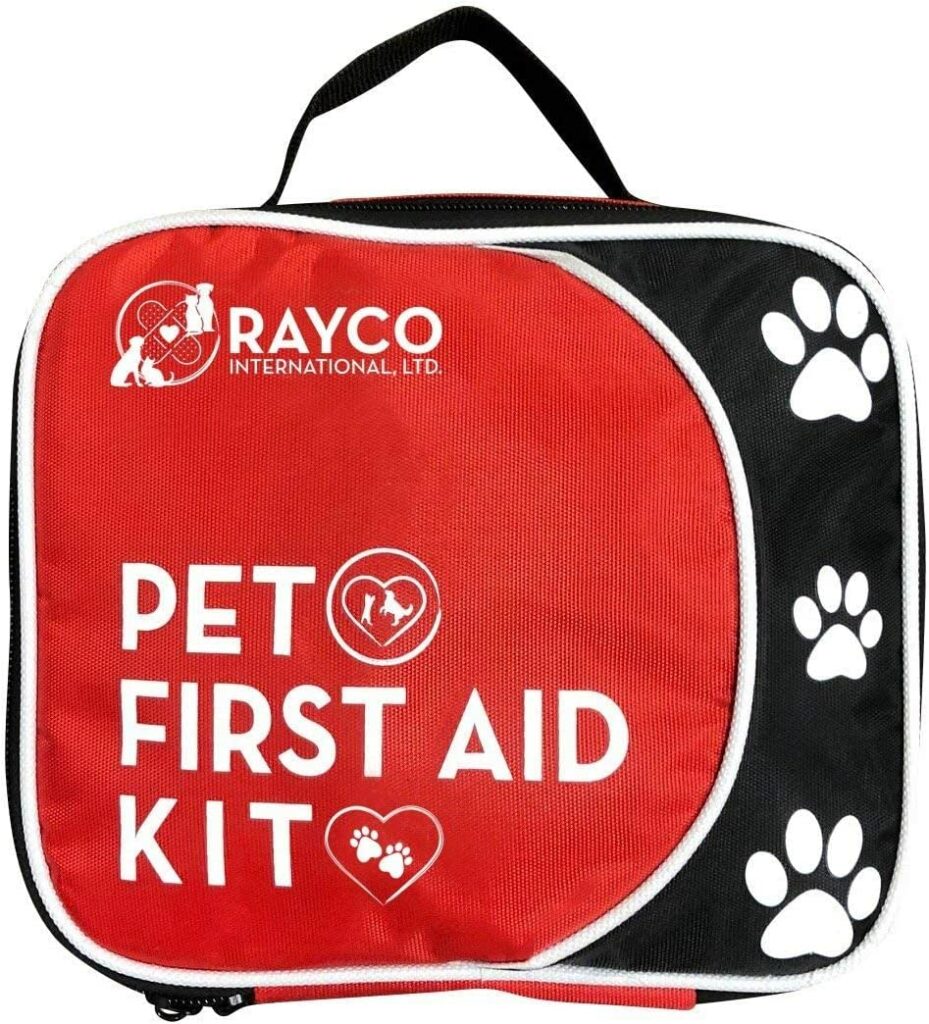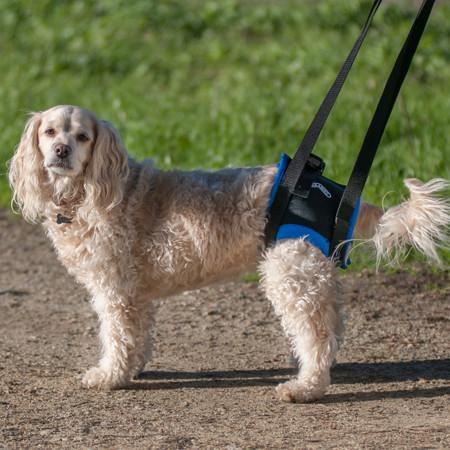 My favorite harnesses for disabled dogs.
KEY FEATURES
Highly rated, compact, waterproof dog first aid kit.
45 pieces of emergency supplies for your dog.
Dog collar, scissors, tweezers, blanket.
Ice pack, gauze, tape and bandages.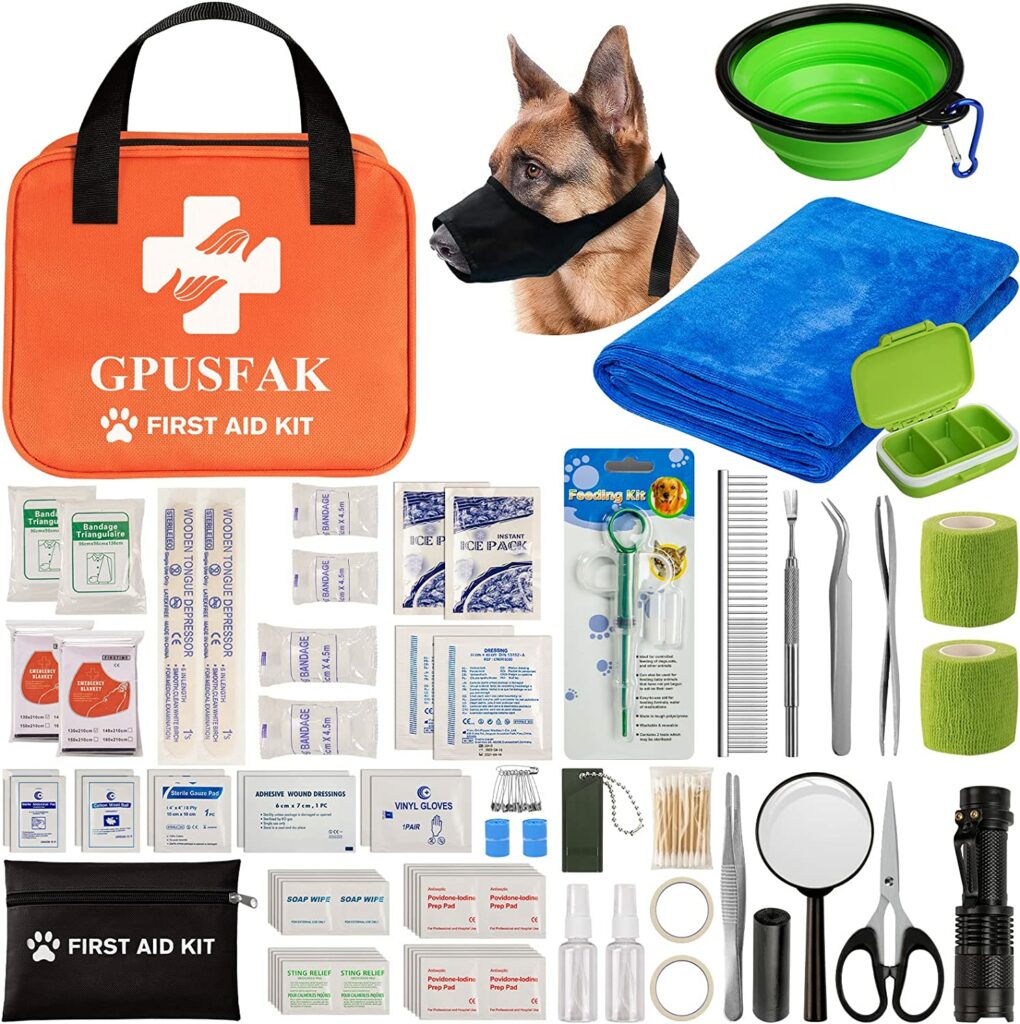 KEY FEATURES
Made from water resistant, nylon fabric that will last a long time.
The kit contains first aid supplies that include gloves, bandages, self-adhesive vet tape, tweezers, scissors, wound dressings and more.
There is also a pet pill feeder, foldable water bowl, magnifying glass, flashlight and whistle.
In addition, the first aid kit has a plush microfiber towel to keep your dog dry and warm and a soft muzzle to help a dog stay calm in an emergency.
The water-resistant kit is the right size for camping, hiking and road trips.
Want to read more?
How to Travel Like A Pro with A Disabled Dog
Our Amazon shop has handpicked supplies for wheelchair dogs.