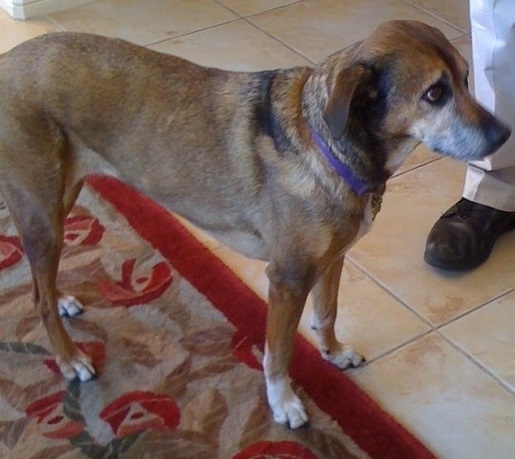 All of my dogs have come from rescue groups and city shelters. I never had one come down with Distemper until I adopted Sophie. In the U.S. canine distemper is usually seen in puppies that come from overcrowded rescues and not-so-reputable pet shops.
That's due to the fact that one of the first vaccinations young dogs receive is the "distemper shot."
Sophie fit the description perfectly for an at-risk dog. She was a stray who lived on her own for a period of time and then she was placed in a shelter with lots of other dogs.
Distemper symptoms are care
Canine distemper is related to the human measles virus. It's a highly contagious and deadly disease that's spread through body sections like coughing and urine. Within the first 24 hours is can spread to a dog's lungs and lymph nodes.
Distemper is a tricky disease that comes in waves. When one set of symptoms have passed, it can lie dormant in your dog's body for a long time. Then when you least suspect it, the next set of symptoms can appear.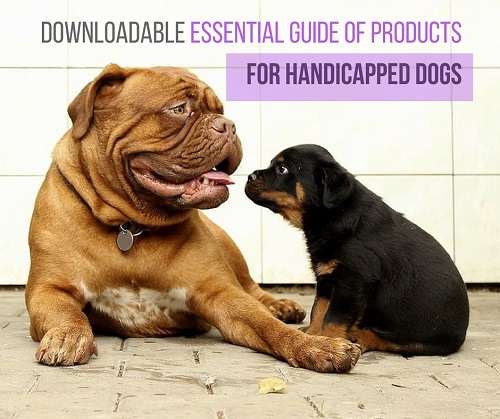 Get the Essential Guide
The Essential Guide of Products for Handicapped Dogs e-book is a labor of love for me. I wrote it to answer your most pressing questions about where to find the best products for your wheelchair dog. You'll find products you didn't know existed and each will improve your dog's quality of life. Print a copy and keep it by your side.
Sophie had all of the initial symptoms of Distemper:
Eye and nose discharge
Fever
Lack of appetite
Coughing
She also had some of the lingering, long lasting neurological problems:
Seizures
Tremors
Twitching
Balance issues
Weakness in the limbs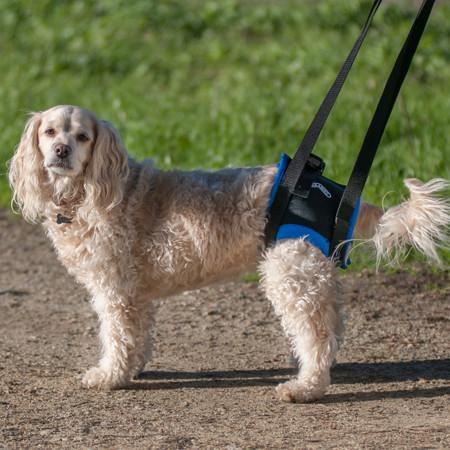 My favorite harnesses for disabled dogs.
Our experience with the virus
I knew we were in big trouble when Sophie couldn't keep down any food and a thick green fluid started to drip from her nose. An immediate call was made to our veterinarian.
I don't remember which tests the vet performed during his exam, but I know he said Sophie had a high fever and he suspected she had Distemper. He also said she was highly contagious. Working at a quick pace, he prescribed some medication and told me to call if Sophie got worse. He then shuffled us out of the clinic as fast as possible.
In hindsight, I don't believe he thought he'd see Sophie again…alive.
As we left the exam room two techs came in with mops and disinfectants. They began to wipe down every inch of the room, stripping it of my baby's contagious germs.
At home and isolated
Once we got back to the house, we isolated Sophie, which wasn't too hard because she was so exhausted. During the next two days she took her pills, tried to drink some water and attempted to hold down bites of food.
By day three she refused to do any of those things. I called the veterinary clinic and explained to the vet tech how Sophie had deteriorated. She told us to come in right away.
I'll never forget the expression on the veterinarian's face when he saw me sitting on the upholstered bench in his waiting room with Sophie in my arms. His face puffed up and turned bright red. Holding back his anger he said, "I told you she's highly contagious."
We walked out of the clinic.
Finding a new vet
Later that day we found ourselves in the safe hands of Laura Hokett DVM. Dr. Hokett was gentle with Sophie and with me. She had a separate entrance at her clinic for pets with contagious diseases and she wasn't outraged when our exam room had to be sterilized after the visit.
She didn't give up on Sophie, even though it took several attempts before we found the right combination of medications to stop the virus. We got to know Dr. Hokett very well during the 4 weeks that it took for Sophie to recover. She became our trusted veterinarian for many years until she moved away from Las Vegas.
The aftermath of Distemper
Many dogs who survive the initial Distemper virus go on to have a secondary stage that includes the neurological symptoms I mentioned earlier. Some of these include head shaking and tremors, balance problems and contractions of the muscles.
I bring this up because Sophie showed signs of minor neurological damage. During the rest of her life she had a head tremor. Sometimes it was worse than others.
At one point the tremor was strong enough that a pet sitter called to tell me she thought Sophie had a stroke.
Unfortunately, even our wonderful vet never made an exact diagnosis of what caused the shaking.
Ultimately no one will ever know whether this early illness served as a precursor to Sophie's later paralysis. In all reality, it probably didn't. Her condition progressed more like a disease called Degenerative Myelopathy, but that story is for a later time.
I also want to point out that our experience of adopting a sick dog from a shelter never deterred my family from saving a homeless animal. Each of the nine dogs and six cats we raised have either come from an animal rescue group, municipal shelter or were wandering on the street. I wouldn't have it any other way.