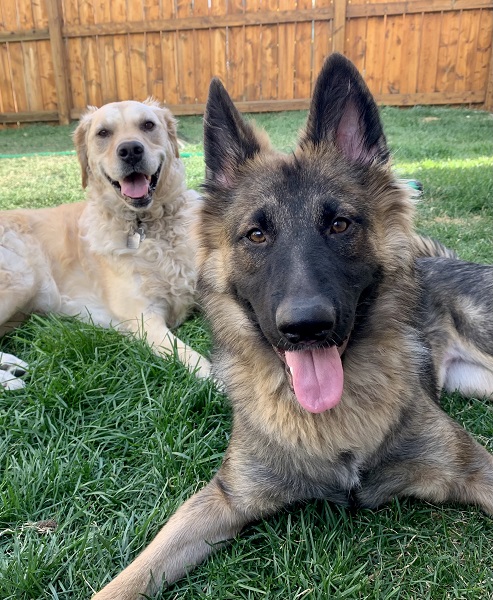 Have you ever started to fall in love with a dog you saw online, only to find out the pup lives hundreds of miles away, in another country? That's what happened to Christina Powell when she saw the photo of Timber, a female German shepherd mix who was born with a birth defect called Cerebellar Hypoplasia.
As a physiotherapist and pet mom to a special needs dog and two cats, Christina knew she could give Timber a good life. But the dog was in a California animal shelter and Christina was in Alberta, Canada which is more than 1,500 miles away.
When most people face this situation, they abandon the idea of adopting the pet. Christina learned it didn't have to be that way. An animal rescue group arranged a small army of volunteers to transport Timber to her new home. It's a solution for homeless animals that happens more often than you think.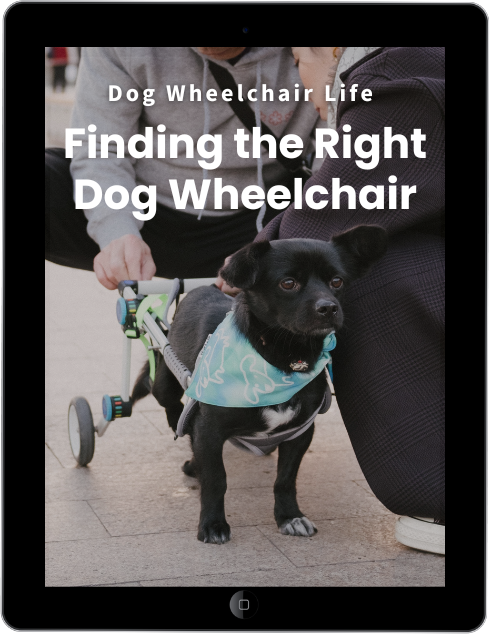 eBook
Find The Right Dog Wheelchair For Your Pet
Your dog has a mobility problem, and you want to buy a wheelchair. But do you know what kind of cart will work best for your dog's individual needs? After a decade of teaching pet owners how to make the right choice, I put the information into an eBook!
How Timber's story began
Timber was born with Cerebellar Hypoplasia (CH), a disorder where part of the brain, called the cerebellum, doesn't completely develop. The condition causes problems with balance and the coordination of fine motor skills. Puppies and kittens with the disorder sway their bodies when they walk and are unsteady on their feet.
It's believed CH happens when a pregnant dog is exposed to environmental toxins, receives poor nutrition or develops an infection.
We don't know the circumstances behind Timber's birth, but according to Christina, the first family who adopted her, kept her in a garage. The conditions were poor and the family ended up surrendering the puppy to the city shelter.
Timber did well at the shelter, but nobody came to adopt her. Finally, time ran out and she was placed on the euthanasia list. Timber had only one hour left before the euthanasia deadline, when a local animal group came to her rescue. P.R.O.U.D Rescue – Pet Rescue of Unwanted Dogs pulled the puppy from the shelter. They knew, that with a little work, Timber could find her a family to call own.
The group started their campaign to rehome the puppy by posting photos of her all over social media. That's where Christina got her first glimpse of the dog. She knew instantly that she could give Timber a good life.
The problem was how to get the dog from Fresno, California to Calgary.
P.R.O.U.D Rescue went into action. With contacts from rescue groups in cities along the route to Canada, they arranged for a band of volunteers to escort Timber.
They started the journey with a group of volunteers who flew with the puppy from California to Seattle. Then a second set of volunteers escorted her on a flight to Montana. From there, more animal lovers drove Timber from Montana to Calgary where they were met by Christina.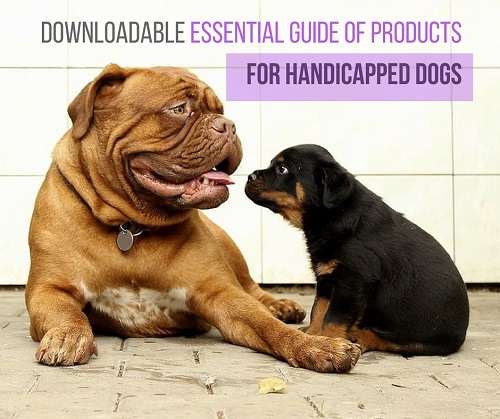 Get the Essential Guide
The Essential Guide of Products for Handicapped Dogs e-book is a labor of love for me. I wrote it to answer your most pressing questions about where to find the best products for your wheelchair dog. You'll find products you didn't know existed and each will improve your dog's quality of life. Print a copy and keep it by your side.
Timber's life today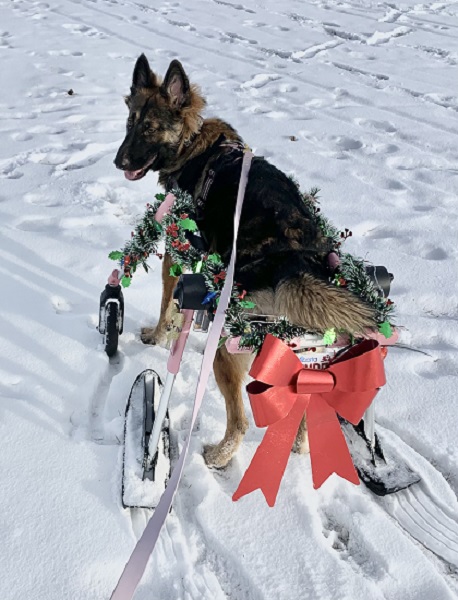 Timber was officially adopted by Christina in August, 2021. She has three housemates: Kona, who is a partial amputee, and two special needs cats.
Christina said she believes Timber experienced some type of trauma with another dog, so she decided to do a gradual introduction with Kona. When two dogs became friends, she did the same slow introduction with the cats. Today, all four housemates are great buddies.
"Timber's social skills are blooming. She's doing phenomenal as a family dog and thriving in her new life."

Christina Powell
Christina shared that Timber's come a long way since arriving in Calgary. The dog's learned to walk upstairs and how to get onto Christina's bed. Her CH is mild and there are only a few physical limitations. Her biggest problem is walking on uneven surfaces.
To improve her stability, Christina purchased a quad cart or full support dog wheelchair. This type of wheelchair has four wheels instead of two. It provides the additional support Timber needs when she walks and runs.
The subject of Timber's wheelchair is how I met Christina. I was researching a story about the Walkin' Wheels ski attachment for dog wheelchairs and Christina offered to share her experience. She bought the skis to keep Timber from getting stuck in the dense snow that Calgary sees every winter.
Christina explained that Timber loved the skis the minute they were attached to her cart. She enjoys the freedom they give her to glide over the snow, rather than plow through it.
Timber has adjusted well to every aspect of her new life. Her future is bright.
Her story is a lesson about the next time you fall in love with a dog you saw online. Don't rule out the possibility of that puppy or kitten joining your family, simply because they live far away. There's probably a rescue group who can escort them home.
An unexpected update
Timber's journey from the U.S. to her new home in Canada inspired the launch of a rescue group for disabled animals. The Special Needs Animal Rescue League (SNARL) opened its doors during the summer of 2022.
Their mission is to "provide a safe haven" for dogs and cats who have been overlooked due to their high-risk medical status. Animals are transported to Canada where they receive medical care and rehab. They live with foster families until they find the perfect forever home.
To date SNARL has placed more than 20 dogs and cats.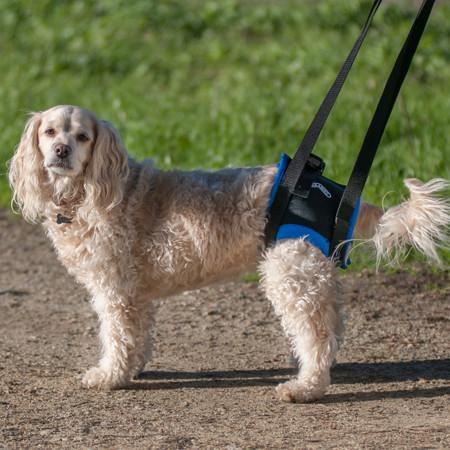 My favorite harnesses for disabled dogs.
Want to read more?
Follow Timber's life @timberandkona
Cerebellar Hypoplasia in Dogs: Managing This Brain Disease