The two questions pet owners of paralyzed dogs ask me most often, are: "How can I get a cart for my dog" and "Where can I sell or donate my used dog wheelchair?" The first question comes at the beginning of a dog's journey and sadly, the second is usually sent to me when the task of taking care of a pet has come to an end.
I'm always impressed with this request because, even though a pet owner is dealing with the loss of their dog, they want to make sure another animal is given the gift of mobility.
Well, I'm happy to tell you there are many supportive organizations where you can sell or donate a dog wheelchair you no longer need. This post breaks down each of these resources and how to contact them.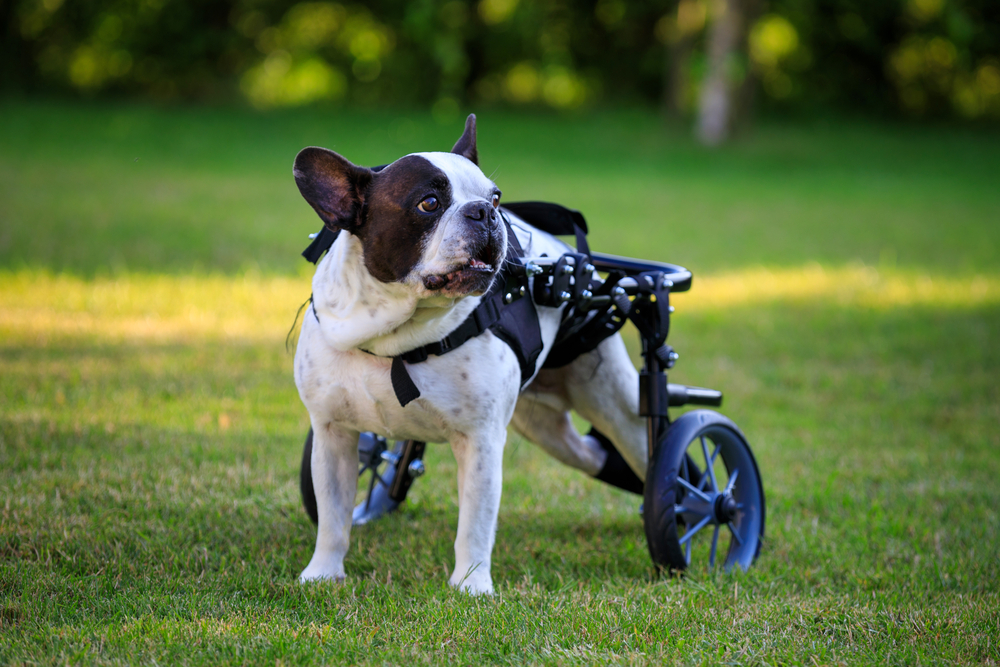 Where to donate a used dog wheelchair in your city
I highly recommend that you start locally to place your wheelchair. It'll save you money on shipping the cart to its next owner and you'll have the satisfaction in knowing that you helped a pet in the city where you live. I think you'll be surprised at how many local companies can benefit from your cart.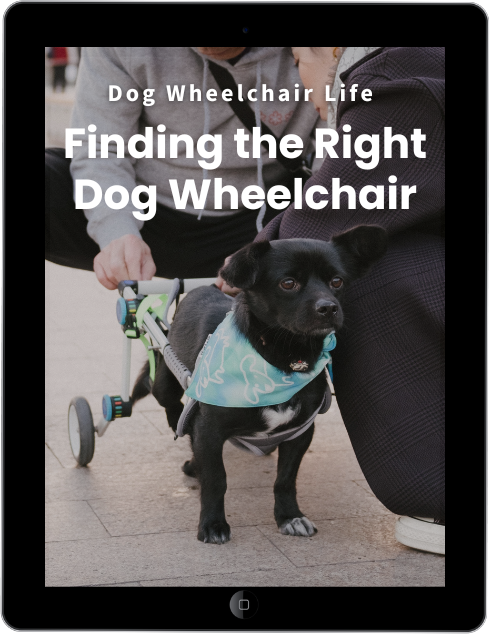 eBook
Find The Right Dog Wheelchair For Your Pet
Your dog has a mobility problem, and you want to buy a wheelchair. But do you know what kind of cart will work best for your dog's individual needs? After a decade of teaching pet owners how to make the right choice, I put the information into an eBook!
Start by contacting these agencies
Canine rehab, physical therapy, bodywork, and hydrotherapy companies.

Orthopedic or neurology veterinary clinics.

Hospice veterinary services or at-home pet nursing care.

Thrift stores in your city, especially shops that support local animal rescue groups.
Websites that sell used dog wheelchairs
There used to be more online sites where you can buy and sell gently used carts, but they've become less popular in the past couple of years. This might be due to the fact that selling a customized product online, like a wheelchair, is complicated.
One problem both buyers and sellers run into is the size and fit of the cart. It's hard to get an exact match for a new dog.
So, if you plan on selling your wheelchair online, be prepared for it to be returned because of the fit. In addition, a secondhand dog cart doesn't bring in as much revenue as it once did. There are so many wheelchairs in the marketplace, that the monetary value isn't what it used to be.
Here are two websites where you can list a used dog wheelchair
Wheelchair companies that accept donated carts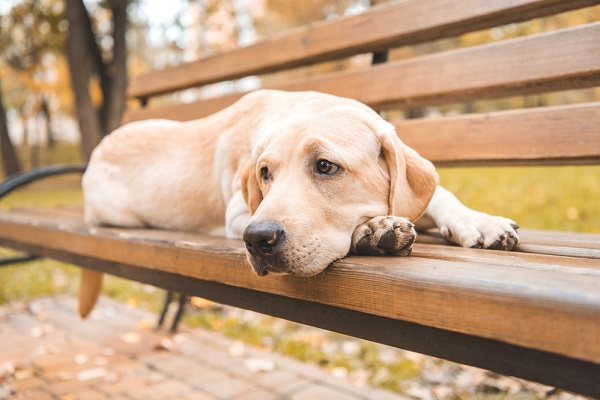 Three of the leading companies that build custom dog wheelchairs, accept used carts from former customers. Each program is small, but if you want to help a paralyzed dog whose family can't afford to buy a cart, these companies are here to help.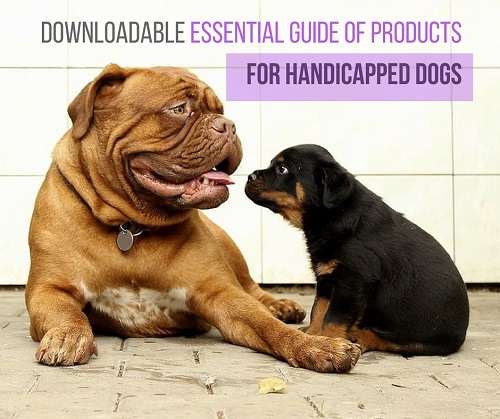 Get the Essential Guide
The Essential Guide of Products for Handicapped Dogs e-book is a labor of love for me. I wrote it to answer your most pressing questions about where to find the best products for your wheelchair dog. You'll find products you didn't know existed and each will improve your dog's quality of life. Print a copy and keep it by your side.
Eddie's Wheels donation program
This popular dog wheelchair company accepts a limited number of used carts for pups with financial needs. The gifted wheels are refurbished and donated to individual dogs, rescue groups and veterinary hospitals. Eddie's Wheels restores the used wheelchair and makes adjustments so that it fits the recipient pooch perfectly.
Doggon' Wheels
Like the program above, Doggon' Wheels also has an informal donation plan. The company repairs the wheelchairs to meet their high standards and donates them to pet families who need assistance.
K9 Carts donation program
K9 Carts is the first commercially made dog wheelchair in the USA. They have a program that allows people to donate their unwanted K9 Carts back to the company where they are then donated to rescue groups worldwide.
Nonprofit groups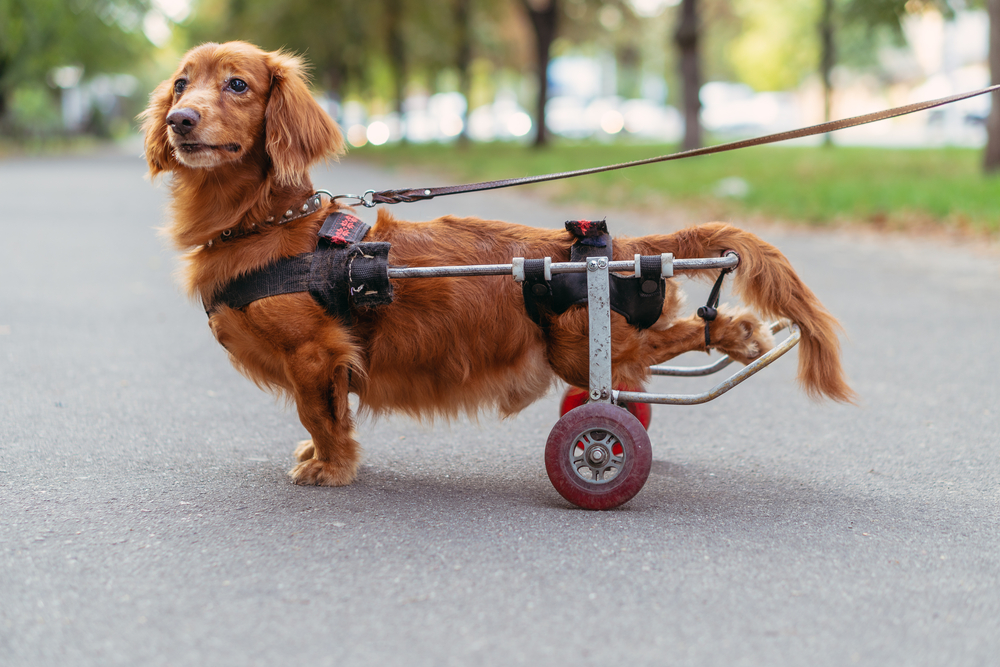 There are approximately 20 nonprofit groups in the U.S., Canada and the UK that offer free dog wheelchairs to pet families who can't afford to buy one. Most of these organizations deal exclusively with new carts and do not accept the donation of used wheels.
They do this for several reasons:
Wheelchair companies have made the price of their carts cost-effective for nonprofits.
Groups can have the company drop ship the new wheelchair directly to the recipient.
The charities don't need to keep a warehouse full of used carts and wheelchair parts.
For those reasons, there are only a handful of nonprofit groups that accept individual cart donations. I've listed them below, along with their donation policy.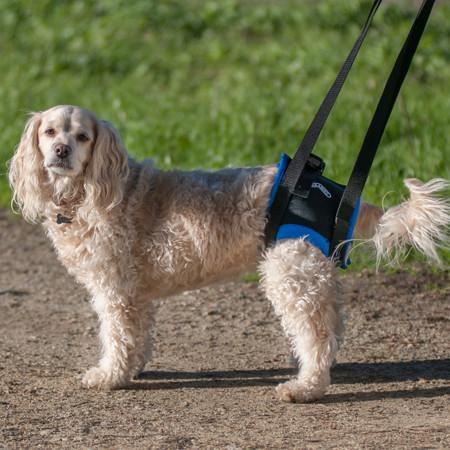 My favorite harnesses for disabled dogs.
Nonprofit programs where you can donate a dog wheelchair
Special Needs Pets Canada Product Buy Sell Swap or Donate
This unique group can be found on Facebook. It's a place where gently used items for special needs and senior pets can be sold, swapped or donated. The page makes it easy for pet owners to buy and sell products they no longer need.
Their policy requires that each listing have a price and a location for pick up or shipping. It also asks that the prices be listed in Canadian dollars, but you don't have to live in Canada to take part.
Gunnar's Wheels
Started by Jason and Stephanie Parker after their dog Gunnar was hit by a car, this popular program has been around for years. Their wheelchair loan program helps individual pets and rescue groups. Animals who receive a loaner cart can use it for free, for the remainder of their lives. Then Gunnar's Wheels asks that the wheelchair be returned for another paralyzed animal to use.
Gunnar's Wheels accepts donations of gently used Walkin' Wheels carts only. Donors are asked to pay for shipping. To get more details, contact the group through their Facebook page.
Wheels to Help Me'
This wheelchair program is sponsored by Finding the Cure for DM Foundation. The group loans used carts to dogs who live in the UK. They hope to expand the program to US dogs, someday. To donate your wheelchair, email the group at [email protected].
KC's Kruisers
KC's Kruisers was started by Tauni Beckmann, the founder of Shade Out DM, an advocacy group for dogs with Degenerative Myelopathy. The program offers used wheelchairs to dogs with DM and other paralyzing canine illnesses. Gently used dog carts can be donated to this program along with other mobility equipment.
Want to read more?