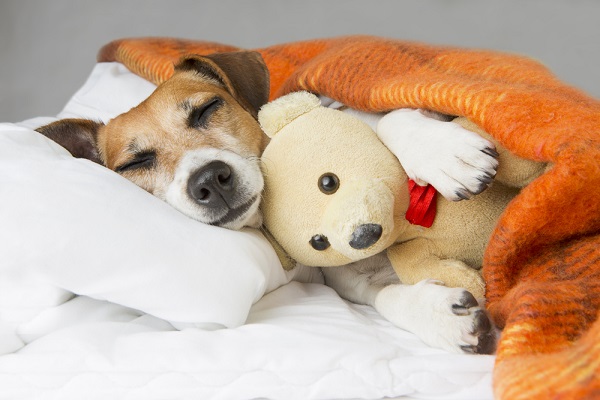 An exciting trend is taking place in the dog bed industry. Manufacturers are offering beds and bedding for incontinent pets. Today there are many choices of waterproof dog beds, blankets and liners that keep your pooch dry all night long.
It makes me happy that companies are addressing this need and recognizing that lots of dogs have a problem with incontinence.
One of the biggest sufferers are paralyzed dogs. I used to warn pet owners about the dreaded 2 a.m. showers they should expect to give their pup in the middle of the night. That's the most common time for urinary accidents. It's when your dog is in their bed, relaxed and in a deep state of sleep.
Some dogs have regular accidents while others have occasional mishaps. And it doesn't just happen to disabled canines. The causes of incontinence range from old age, to illnesses like Cushing's Disease, Hypothyroidism and Diabetes. And we all know about the accidents puppies have while they're learning to control their body.
But no matter what's causing the leakage and accidents, it's good to know there are great bedding solutions.
Note: This post has affiliate links. Read our policy.
The importance of an orthopedic mattress
Most waterproof dog beds also combine the support of an orthopedic mattress, but you'll be a smart pet parent if you make sure the bed you choose has both of these features.
Orthopedic mattresses are the optimal bed for a senior dog and pets with mobility problems. These beds evenly distribute a dog's weight while supporting the spine. Orthopedic beds take pressure off the joints which in turn improves blood flow and decreases undue stress that can lead to ulcers and bedsores.
Look for a bed made from medical-grade memory or egg crate foam and get the thickest mattress available. Or check out the newer orthopedic mattresses made from waterproof mesh. It'll go a long way to help your pup.
Read more about orthopedic beds here: Best Choice in Orthopedic Dog Beds for Senior Pets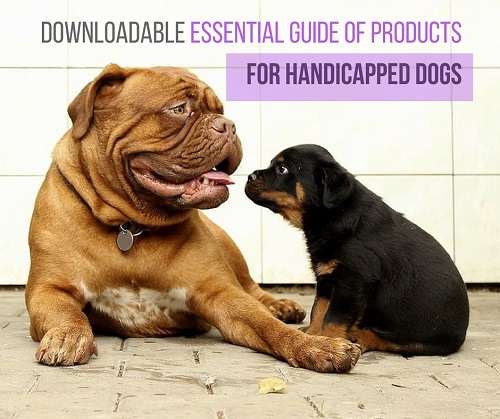 Get the Essential Guide
The Essential Guide of Products for Handicapped Dogs e-book is a labor of love for me. I wrote it to answer your most pressing questions about where to find the best products for your wheelchair dog. You'll find products you didn't know existed and each will improve your dog's quality of life. Print a copy and keep it by your side.
My waterproof dog bed recommendations
I've been writing about disabled dogs for a long time, so I have a few favorite beds to share. Each is a completely different design, but I like them all.
Komfy K9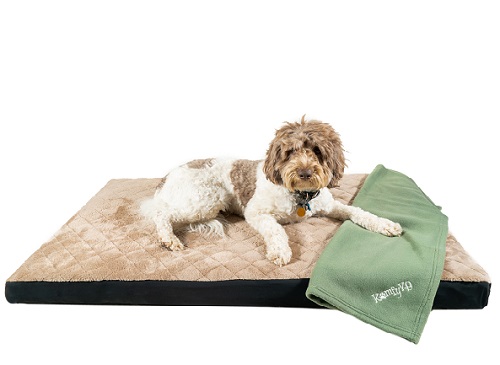 This company is well-known in the veterinary world for their self-inflating professional dog beds. Designed by vets and techs Komfy K9 has a waterproof cover with an inflatable air/foam mattress that relieves pressure points and reduces anxiety.
Their beds for home use have the same self-inflating mattress with the addition of a plush quilted waterproof cover to keep your dog cozy. If your dog has an accident, urine beads up on the cover which can then be cleaned up or removed and tossed in the washer. There are no snaps or zippers; the cover simply slips on over the mattress.
Komfy K9 also makes waterproof crate pads, if your dog sleeps or spends time in a crate.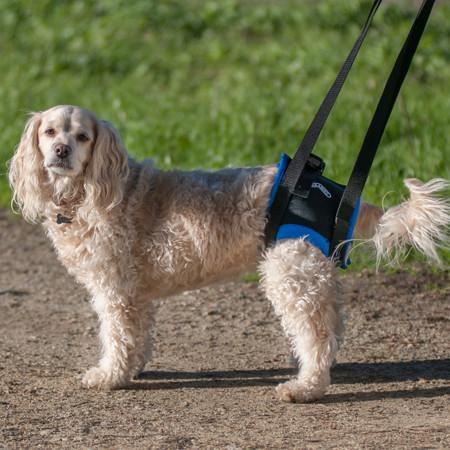 My favorite harnesses for disabled dogs.
K9 Ballistic
This popular company offers several styles of waterproof orthopedic beds. Each is made from CeriPUR-US® orthopedic foam and includes a waterproof liner (inside the mattress) to absorb urine and moisture. You can also choose a waterproof cover for your bed that comes in a variety of colors. All are machine washable and hung to dry.
Beds are offered in 3 styles: rectangle, round and bolster along with mattress pads and crate pads. K9 Ballistic makes 3 different kinds of mattresses, so be sure to choose one of their orthopedic styles.
Milliard
Great beds and great physical therapy products for dogs is Milliard's claim to fame. Their plush orthopedic mattresses come in anti-microbial egg crate foam and memory foam. Both keep a dog's spine in alignment. Milliard products are known for being long-lasting and moderately priced.
Both orthopedic beds can be ordered with a removable waterproof cover and a waterproof liner. The liner zips around the mattress and the cover fits over the liner. They make it easy to protect against accidents.
SleePee Time Bed
Handicappedpets.com offers a different type of waterproof orthopedic bed that works wonders for dogs with hind end weakness. The SleePee Time Bed is an elevated bed with a fiber mesh mattress that allows urine to flow through to a tray underneath. Soft fleece bolsters and a "cuddle" pillow keep a dog warm and comfy on all sides.
If there's an accident during the night, the mesh mattress can be cleaned with any non-abrasive household cleaner or sprayed with a hose. In addition, the mattress allows air to constantly circulate around your pup, protecting the skin against urine scald. The elevated level of the bed makes it easier for dogs with arthritis and orthopedic problems to get in and out.
Kuranda dog beds and K9 Ballistic also make great waterproof beds that are elevated and have a mesh orthopedic mattress. Both companies have been around for a long time and have high rankings customers.
Waterproof blankets and throws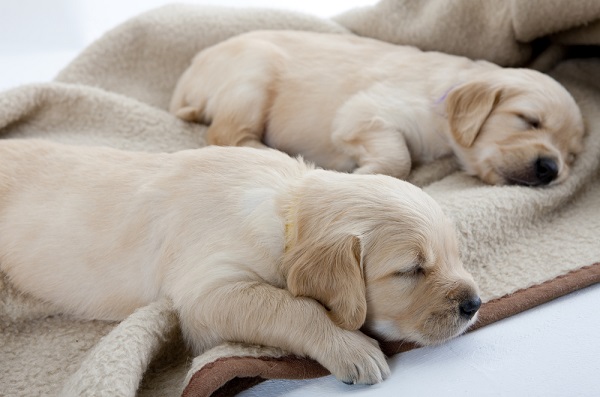 Companies have gone overboard with waterproof dog blankets. I guess they realize dogs don't just stay on the floor. The styles range from regular blankets to stylish throws that come lots of colors, fabrics and shapes. Some even come with bolters so your pup can rest their head.
Dog blankets can be used all over the place. Drape them over your sofa or take them in the car.
The one thing all of these blankets have in common is their ability to soak up urine and other liquids.
Pet Parents® has a new blanket called Pawtect™ that has a waterproof layer sewn inside. They offer a single layer of protection and their Pawtect Blanket Plus which has several layers of absorbency.
Callarome makes reversible waterproof blankets that traps liquid in the outer fabric and inside the lining. Blankets come in a variety of colors and sizes. Some are large enough to cover a king-size bed.
Mats and liners
Dog bed companies realize that some dogs sleep or spend part of the day in their crates, so most offer crate mats with absorbent inner linings and waterproof covers.
Paw.com has cute waterproof orthopedic crate mats called PupRug™. It's made with a memory foam mattress, water and odor materials resistant materials and a 10-year guarantee.
K9 Ballistics also has a waterproof crate pads for training, sleeping and travel. They're machine washable and come in a variety of sizes.
Big Barker has crate mats that repel liquid and are 4 inches thick. They're a great option for dogs with spine and orthopedic problems.
Liners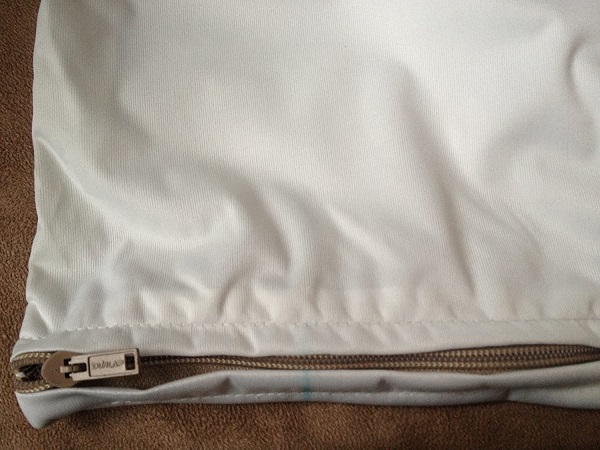 If you have a bed your dog loves, you don't have to be without protection. Many manufacturers offer waterproof liners that fit like a pillow case over a most mattresses.
Big Barker says their liner won't let "liquid or moisture penetrate" your dog's bed. They use the same material that's found in hospital bed liners.
PetFusion is another company that has waterproof liners that fit most dog beds.
DIY waterproofing solutions
These recommendations come from two real-life pet parents with incontinent dogs.
Jo M shared how she uses Gorilla Grip Slip Resistant Leak Proof Mattress Pad Protectors. They fit directly on a dog bed or blanket and absorb urine like a large pee pad.
Another pet mom shared that she uses waterproof baby crib sheets to protect her dog's favorite bed. She slips them over the bed and washes them when needed.
Want to read more about dog beds?
Check out: Best Choice in Orthopedic Dog Beds