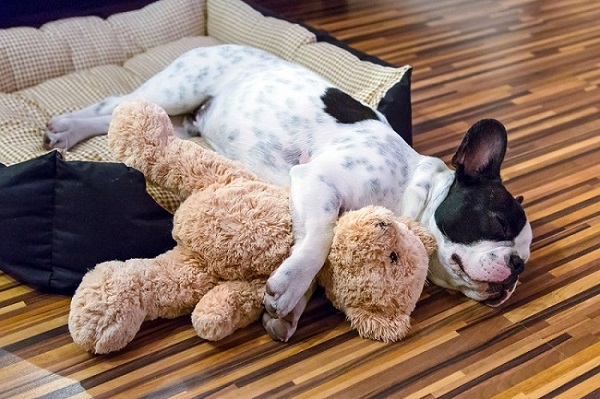 Have you shopped for a dog bed lately? The experience is overwhelming. I've raised 9 dogs and consider myself to be an experienced pet mom, but I was confused about buying a new mattress. There are so many brands and styles. If you're in the same boat, there's one thing I know for sure, the best choice are orthopedic dog beds.
This is especially true if you have a senior, arthritic or disabled pooch.
The key is to learn how to sift through the dog bed lingo so you can pick the right mattress for your pet's stage of life.
Note: This post has affiliate links. Read my policy here.
Why an orthopedic dog bed is the best choice
Like humans, a quality mattress can prevent joint stiffness in your pup. It also reduces the risk of developing pressure sores and boosts overall health by providing a good night's sleep.
Wendy C. Brooks, DVM, DipABVP is an advocate of orthopedic dog beds for older dogs and those with mobility problems. In an article for VeterinaryPartner.com Dr. Brooks said,
"An orthopedic bed is a crucial investment…. These beds are designed to protect pressure points…."

Veterinary Partner
Dr. Brooks went on to explain that painful pressure sores (decubitus ulcers) and bulging sores called hygromas develop when a dog can't change positions easily. Some dog beds restrict movement because they're too soft or too deep.
Orthopedic mattresses help a dog move easily in their bed. They take pressure off the joints and improve blood flow to the body. They're designed to support a dog's spine and joints without adding undue pressure and while gently molding to their shape.
They do this by using materials made from two variations of quality foam: medical-grade egg crate foam and thick memory foam.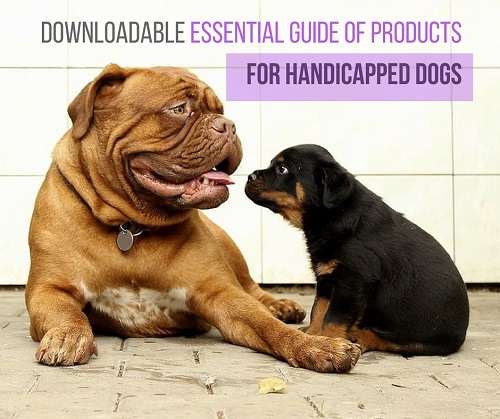 Get the Essential Guide
The Essential Guide of Products for Handicapped Dogs e-book is a labor of love for me. I wrote it to answer your most pressing questions about where to find the best products for your wheelchair dog. You'll find products you didn't know existed and each will improve your dog's quality of life. Print a copy and keep it by your side.
Dog beds made from egg crate foam
Egg crate mattresses have high peaks and low dips that makes them look like the inside of an egg carton. They work by evenly distributing a dog's weight over the top of each peak which reduces pressure to bony areas like the spine and hips.
Mattresses made of egg crate foam are also known for keeping a dog's body temperature cool and comfortable.
Memory foam dog beds
Orthopedic mattresses made from memory foam relieve pressure points the opposite way. Instead of resting on top of the mattress, memory foam contours and hugs a dog's body.
The mattress is made of dense foam with tiny open cells. When a dog lies on it, air moves from one cell to another providing just enough support to embrace the body. And even though a pooch is being hugged by the mattress, it's easy for them to move and change positions.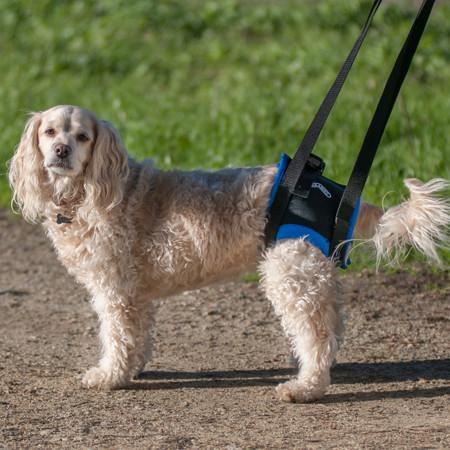 My favorite harnesses for disabled dogs.
How to test the quality of a dog bed
Here are the must have features. Not all orthopedic beds are the same.
The bed should be made of medical-grade memory foam or egg crate foam. Choose the thickest mattress available.
The cover should be removable and washable.
The cover should be made from anti-bacterial fabric.
Be sure to choose a bed with a non-slip bottom.
Pick the shape that best fits your dog's physical condition – A flat rectangular shape is great for dogs who like to stretch while they sleep. Beds with bolsters add protection for dogs with mobility or balance problems.
Beware of beds that could cause problems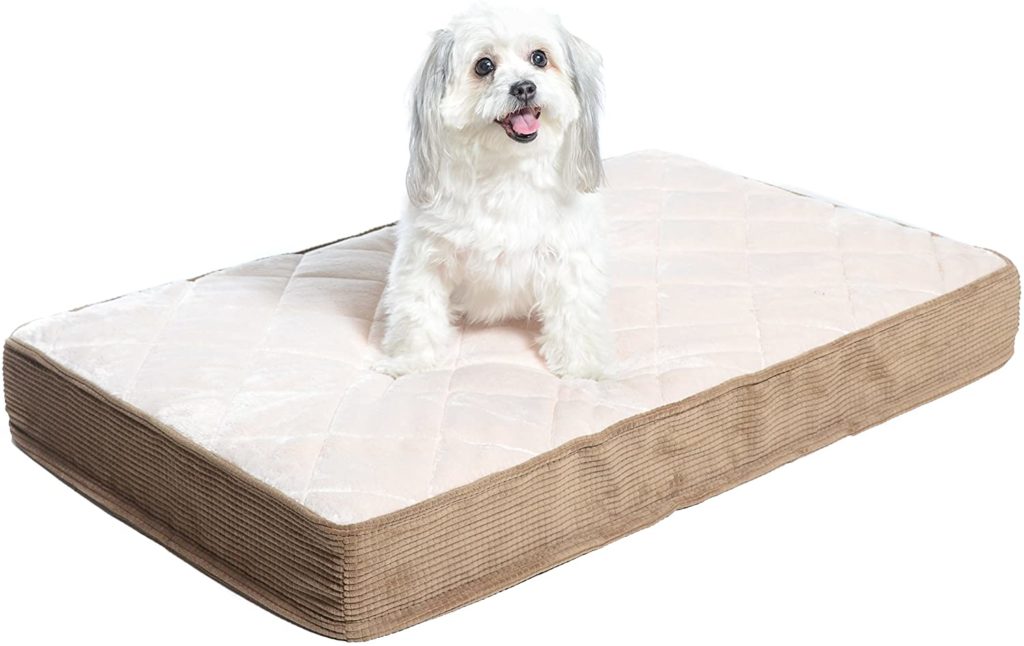 The words "orthopedic mattress" are misused often so beware of claims. A quality bed should never be made of chunks of foam or small particles. These beds become lumpy and can add extra pressure to a dog's joints.
In addition, you should never be able to completely flatten a well-made orthopedic bed. You can test this by pushing your hand down on the mattress. If you feel the ground below, look for another option. This type of bed won't support your dog's body evenly.
Orthopedic beds can aid a variety of health problems
Here are the most common conditions:
Arthritis
IVDD – Intervertebral Disc Disease
Hip dysplasia
Muscle loss due to old age
Recovery from orthopedic surgeries
Neurologic conditions and paralysis
Fractures
Sprains
Six of my favorite dog beds
Milliard Quilted Padded Orthopedic Dog Bed With Egg Crate Foam
This bed is made from durable egg crate luxe foam for great support and comfort. It has a thick pillowtop layer for added comfort.
The Dog's Bed Orthopedic Dog Bed
Made from premium memory foam, the mattress is designed for dogs of all sizes who suffer from arthritis, hip or elbow dysplasia and mobility problems. It also provides orthopedic support for dogs after surgery.
JOYELF Orthopedic Dog Bed with Memory Foam and Bolsters
Made with a solid memory foam base, this bed has bolters that protect your dog's neck and hugs their body. It has a non-slip bottom and is washable.
This high quality therapeutic dog bed is lavender infused to calm your pup. Made of memory foam, it provides support for dogs of all ages with arthritis and other joint or bone problems.
Big Barker Orthopedic Beds for Large Dogs
Big Barker specializes in beds for big dogs. Each is made with a durable orthopedic mattress that's 7 inches thick and offers a 10 year warranty against flattening. Big Barker also ran a clinical study that showed dogs using their mattress showed less pain and more flexibility after 28 days.
Elevated dog bed
While this bed doesn't have an orthopedic mattress, it's a cot worth knowing if you have a disabled dog. The raised legs make it a good option for dogs who have trouble getting in and out of a typical pet bed. The mesh, breathable mattress is made to support a dog's body and it has no-slip feet for safety.