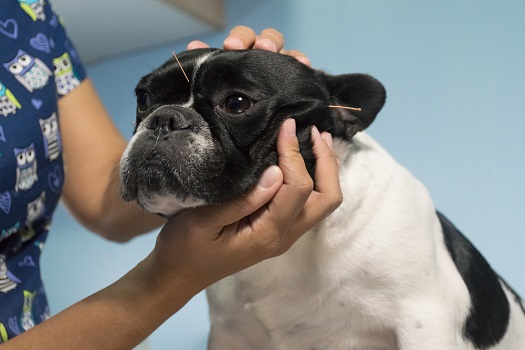 Are you familiar with acupuncture for dogs? It's a painless, alternative therapy used by holistic and conventional veterinarians to treat a variety of health problems.
Acupuncture was a therapy I explored during the first six months of my dog, Sophie's, spine disease. In our case, it was beneficial in slowing down the progression of her hind end weakness.
If you're wondering if this treatment is right for your pet, this article will help you evaluate the benefits.
What is acupuncture for dogs?
Canine acupuncture is one of three therapies in Traditional Chinese Veterinary Medicine (TCVM). The other two are: acupressure and the use of Chinese herbs, but acupuncture is the most common.
The philosophy behind it says that illnesses are caused by an imbalance of energy in the body. Acupuncture restores that balance by releasing chemicals in the muscles, spinal cord, and brain. Blood flow increases, muscles relax and pain is reduced.
In plain English, acupuncture gives your dog's body a boost to heal itself.
The American Academy of Veterinary Acupuncture (AAVA) says, "Needling certain spots of the body regulate the flow of "Chi" (energy), which flows through and nourishes the tissues and organs."
Treatment involves placing small gauge needles under the skin, in specific target areas where the nerves and blood vessels come together.
Acupuncture is safe, pain free and has little to no side effects.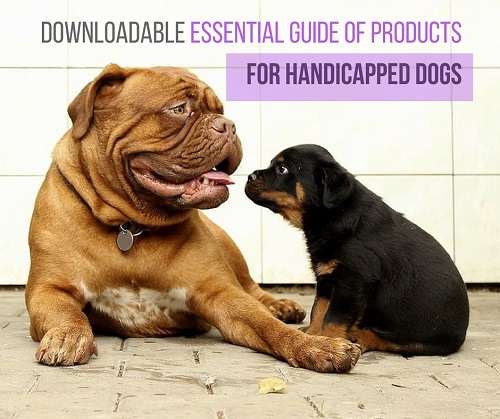 Get the Essential Guide
The Essential Guide of Products for Handicapped Dogs e-book is a labor of love for me. I wrote it to answer your most pressing questions about where to find the best products for your wheelchair dog. You'll find products you didn't know existed and each will improve your dog's quality of life. Print a copy and keep it by your side.
Here's what happened at Sophie's first appointment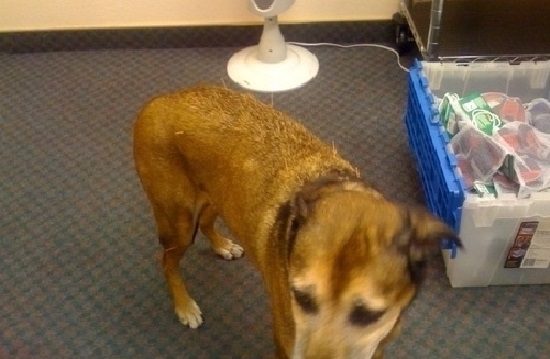 Our experience began with a thorough physical exam and an interview about Sophie's condition. My dog had begun slipping and falling down when she walked on slick surfaces. The vet listened intently and then determined she was a good candidate for acupuncture. We started treatment that day.
The veterinarian inserted needles from the tip of Sophie's nose to end of her spine. She didn't seem to mind the process and didn't show any signs of pain. I don't think Sophie realized the needles were there.
Next, the vet twisted each needle and then left Sophie and me in the room to relax. We hung out about 30 minutes, until it was time to remove the needles. Sophie was comfortable and took turns exploring the exam room and napping.
The vet gently pulled out each needle and we drove home. Sophie didn't experience any side effects during the week and we even thought she seemed a bit more sure-footed.
Conditions that benefit from acupuncture
Veterinarians use acupuncture to treat more than hind end weakness. There are many conditions that benefit from the therapy. Here are the most common:
Neurological problems – Paralysis, Epilepsy and stroke
Nerve pain – Intervertebral Disc Disease (IVDD), bugling or herniated discs, spinal cord tumors and neck pain.
Syringomyelia – A progressive condition in the brain of Cavalier King Charles Spaniels.
Joint pain – Arthritis and degenerative joint disease, pain from hip dysplasia
Urinary disorders – Incontinence, cystitis and urine retention
Gastrointestinal conditions – Colitis, chronic diarrhea and vomiting
Systemic conditions – Chronic skin inflammation, allergies and lick granulomas
Trauma – After surgery or being hit by a car
Metabolic disease – Cushing's disease, thyroid problems and kidney failure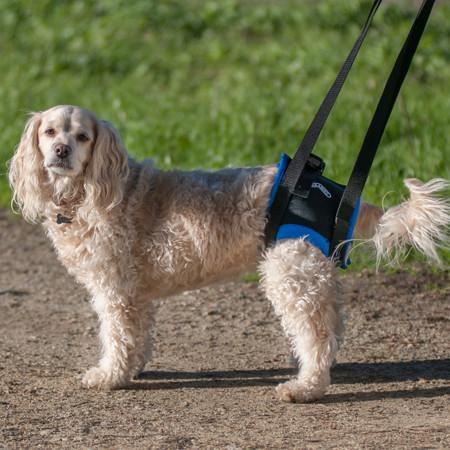 My favorite harnesses for disabled dogs.
Acupressure and Electro-Acupuncture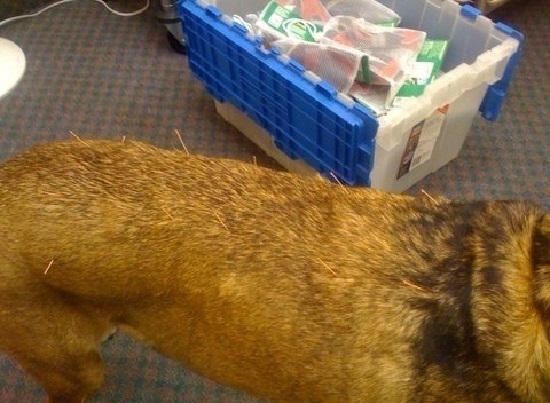 Acupressure is another therapy of TCVM. It's performed by applying pressure to trigger points in the body rather than using needles. The aim is to clear the body of blockages. Some vets use acupressure along with acupuncture.
Electro-acupuncture is a relatively new treatment. It uses low levels of electricity to enhance acupuncture therapy. One end of very thin wires is connected to each acupuncture needle and the other end is hooked to a control device. A small electrical current is passed from the device, through the wire, to the needle.
The goal of the procedure is to restore nerve function. Anecdotal reports have pointed to cases of paralyzed dogs regaining some or all of the mobility after receiving treatments. It's a therapy to discuss with your vet.
Make sure your vet is certified
If you decide that acupuncture for your dog is the way to go, be sure the veterinarian you choose is licensed with the American Academy of Veterinary Acupuncture. This professional organization provides credentials for veterinarians who want to add Traditional Chinese medicine into their practice.
The AAVA website will also help you find a qualified veterinarian in your area. Just click on the Find A Veterinary Acupuncturist link.
Want to read more about treatments for paralyzed dogs?
How a Chiropractor Can Improve Your Dog's Mobility
Laser Therapy for Dogs: A Painless Treatment for Canine Spine Problems