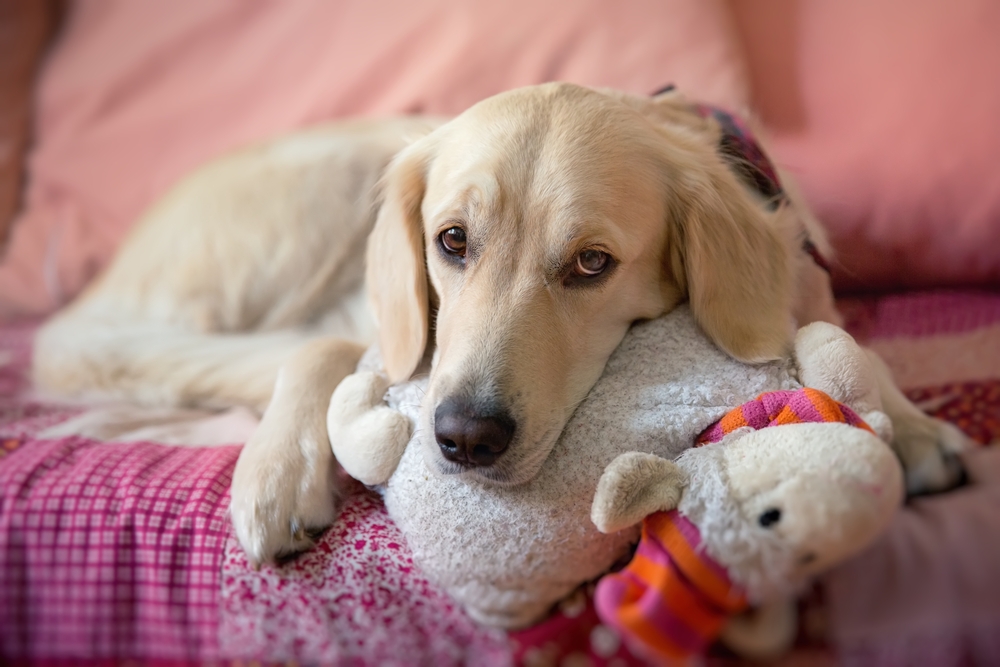 The first time I heard about phantom pain in dogs was in an online support group for pet owners. My dog Sophie was suspected of having Degenerative Myelopathy, and I had joined the group to learn how to manage her symptoms.
During one of our meetings, a pet mom described how she came home and found her German shepherd lying on the floor with her hind legs raw and bleeding. The dog had been chewing and biting her paws all day. The poor pet owner was devastated, but the leader of the group explained how the shepherd must be experiencing phantom pain or "neuropathic pain" in her limbs.
She said phantom pain is relatively common in dogs who've had an amputation, a spinal cord injury or a disease like Degenerative Myelopathy that affects the nervous system. She also told us that neuropathic pain probably happens to dogs as often as it does to humans, but it's hard to diagnose because pets can't tell us what they're feeling.
Note: Every case of phantom pain is unique so please talk with your veterinarian before trying any of the treatments in this post. This post may contain affiliate links. Read our policy.
Why dogs develop neuropathic pain/phantom pain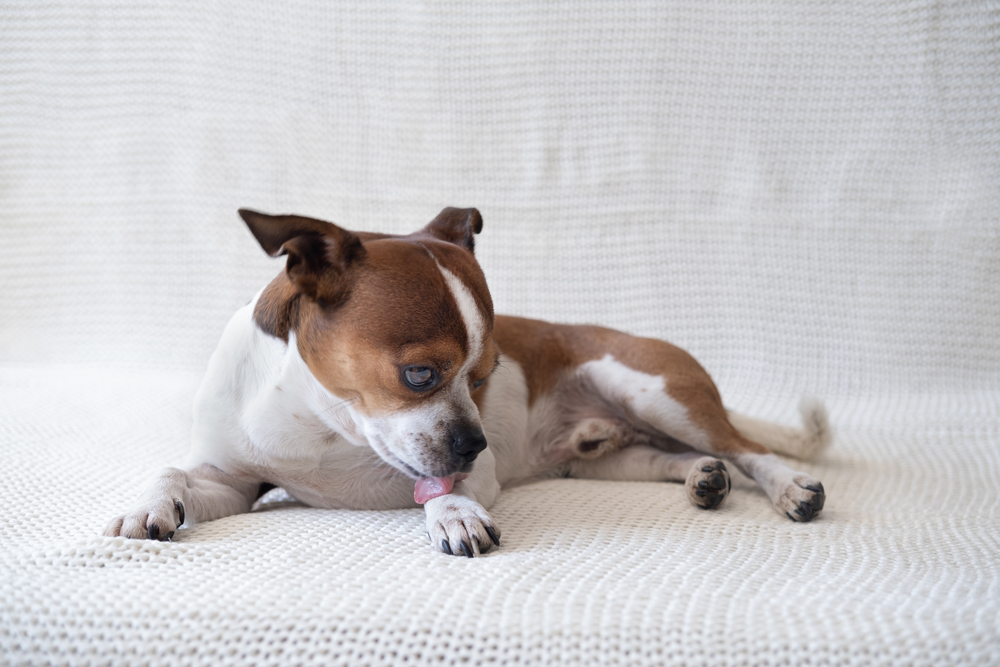 Phantom pain happens when the nervous system is damaged through disease or trauma. It's the body's way of trying to regenerate the injured nerves.
When humans experience neuropathic pain, they describe it as an itch, an electrical shock, an ache or a cramp.
Dogs, on the other hand, act out their feelings. They show signs of discomfort these ways:
Chewing on the painful limb
Continuously scratching an area
Whimpering or crying out
Developing a twitch in the skin
Being restless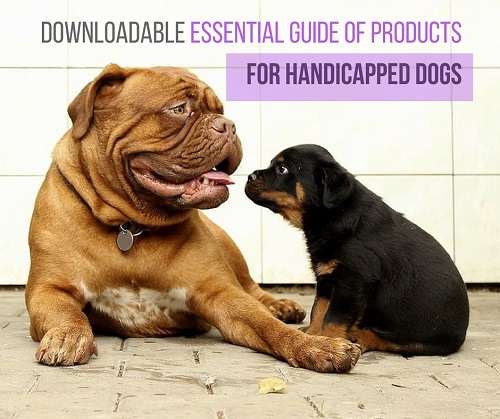 Get the Essential Guide
The Essential Guide of Products for Handicapped Dogs e-book is a labor of love for me. I wrote it to answer your most pressing questions about where to find the best products for your wheelchair dog. You'll find products you didn't know existed and each will improve your dog's quality of life. Print a copy and keep it by your side.
Two examples of phantom pain
A common example of phantom pain in a dog is the "scratching in the air" motion King Charles Cavalier Spaniels do when they have Syringomyelia. This neurologic condition is often seen in Cavaliers because of the unique shape and small size of their skull. The problem causes fluid that normally flows easily from the brain into the spinal cord, to build up. The condition can be painful.
One of the first symptoms dogs with the disorder show, is a repetitive scratching movement. Their leg doesn't touch the body, but instead scratches at the air.
Dogs with the Syringomyelia can develop an array of health problems that range from deafness and blindness to tremors, seizures and paralysis.
Another example of neuropathic pain is seen after an amputation. Animals lick the skin around the missing limb, yelp or develop muscle spasms at the surgical site.
Dr. Marco Rosati, Assistant Professor at the Institute for Veterinary Pathology in Munich conducted a clinical study to see how often dogs with an amputated leg had these symptoms. He developed a questionnaire and asked hundreds of pet owners from the Tripawd Community to take part.
Pet owners who completed the survey, reported that 53% of dogs showed signs of pain more than one month after surgery. And about half of those canines still had symptoms of neuropathic pain up to six months after their amputation.
How phantom pain is diagnosed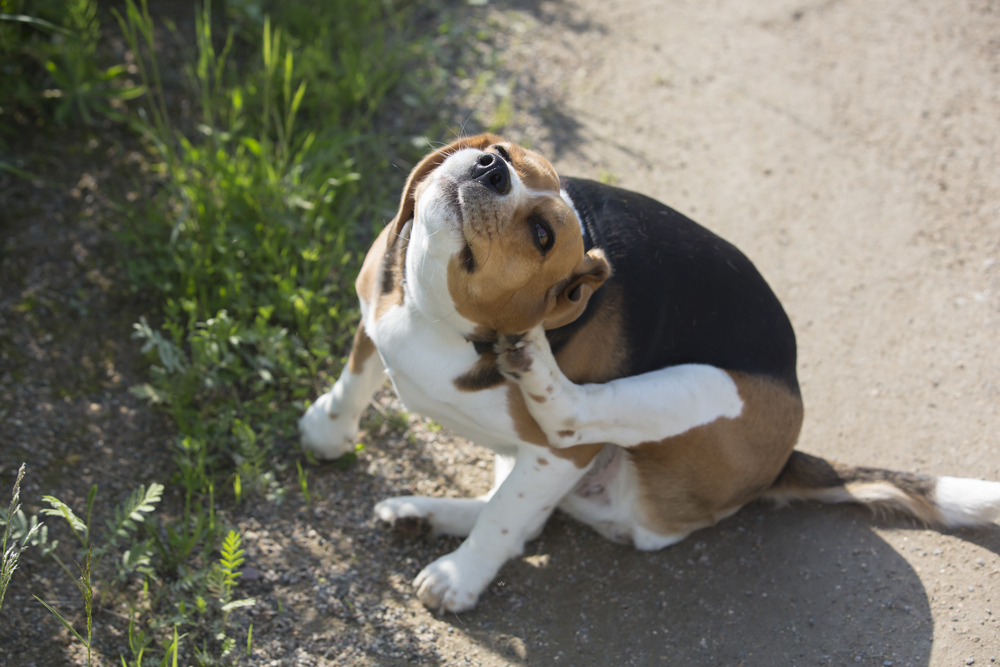 Like many neurologic conditions, phantom pain is diagnosed by ruling out other health problems. Dogs undergo a complete neurologic exam that confirms or eliminates ailments such as bone cancer, spinal cord tumors and diabetes.
Once that's done, pain medications like Gabapentin, Amantadine or Amitriptyline are often prescribed or veterinarians use a mixture of NSAIDS and pain relievers. These include: Rimadyl in combination with medications like Carprofen.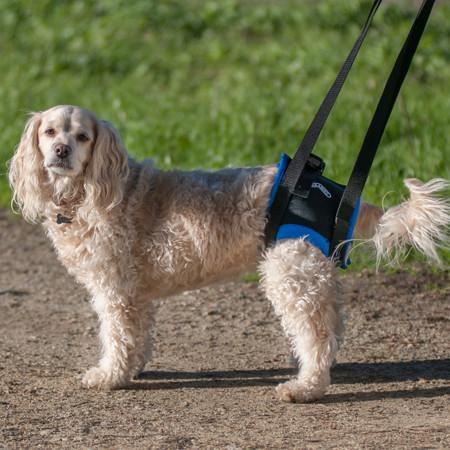 My favorite harnesses for disabled dogs.
Other treatments to relieve phantom pain
In addition to medicine, veterinary professionals have been successful in reducing phantom pain with other forms of therapy.
Massage
Massage is commonly used to ease neuropathic pain in people so it didn't take long for canine rehab therapists to try it out on their patients. The therapists found that massage soothes painful nerve endings and it reduces the amount of pain signals sent to the brain. Dogs who receive massage therapy were also less anxious and able to relax more.
Reducing Electro Magnetic Frequencies (EMF)
Studies have shown that Electro Magnetic Frequencies (EMF) irritate nerve endings and delay healing. EMFs are everywhere in our lives and in our homes. They're in devices like our smart phones, appliances and wireless networks, so it makes sense to lower their influence on an animal's health.
To accomplish this task, the Farabloc company has created a pain relief dog blanket. It's a cozy blanket made with metal mesh that scientifically blocks EMFs. In addition, the blanket increases circulation and decreases swelling.
TENS (Transcutaneous Electrical Nerve Stimulation
This therapy is nearly the opposite of the EMF treatment discussed above. A handheld TENS unit uses a safe and small electrical current to disrupt a dog's pain before the signals reach the brain. TENS uses a weak, mixed frequency electrical pulse to contract and releases muscles. It reduces symptoms associated with neuropathic pain.
Physical therapy
PT is considered to be one of the most effective methods for relieving neuropathic pain. Physical therapists use gentle hands-on movements, such as range-of-motion exercises to relieve the sensations dogs experience with phantom pain.
Read more about this subject:
Syringomyelia in Dogs Targets Specific Breeds
Degenerative Myelopathy: What Pet Owners Should Know