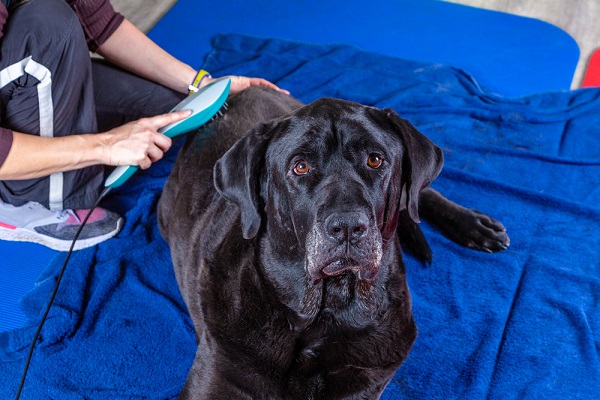 Have you heard about at-home light therapy for dogs? It's a treatment that uses LED (light-emitting diodes) and LLLT (low level light therapy) to relieve pain and inflammation naturally, while helping a dog heal. The treatment is painless, non-invasive and it's done in your own home.
I first learned about light therapy at a pet expo, when I met the people who make LumaSoothe®, one of the leading LED medical devices. I have to admit that I didn't know much about the technology and it's taken a couple of years for me to catch up.
Disclosure: Some of the links in this post are affiliate links. That means I may earn a small commission from qualifying purchases.
Disclaimer: I am not a veterinarian. Please talk with your vet before using any of these products on your pet.
Once I read studies on the subject, I realized that Laser Therapy, which is a treatment I've used for my own dogs, harnesses the same power of light to heal. In fact, the energy that creates laser light is on the spectrum of light waves that produces LED and LLLT.
The studies also explained how NASA, the University of California San Diego and the American Animal Hospital Association have all conducted clinical trials on light therapy. Each trial found the treatment to be an effective tool to stimulate the healing process.
All of this made me a believer that at-home light therapy is a safe and viable treatment for pets. It's a great option if you're on a budget or if you don't have access to cold laser treatments. It also gives you control over how often and when you administer treatments to your pet.
The science behind light therapy for dogs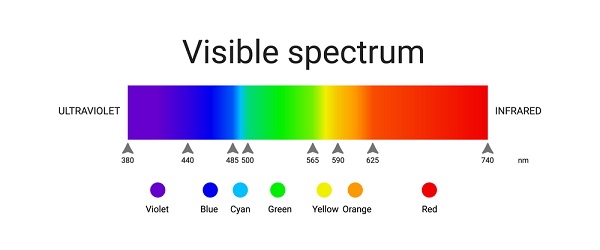 The process of light therapy uses red-light, infrared light and laser light to heal. It does this by increasing the circulation of blood flow to an injured area and lowering the level of inflammation.
"Biologists have found that cells exposed to near-infrared light from LEDs, which is energy just outside the visible range, grow 150 to 200 percent faster than cells not stimulated by such light. The light arrays increase energy inside cells that speed up the healing process. In the first stage of the study, use of LEDs resulted in significant relief to pediatric bone-marrow transplant patients."

NASA 2003
Light waves are on a spectrum of energy that goes from ultraviolet on one end to red and infrared light waves at the other end. Between are combinations of the two.
Ultraviolet waves are short and cool. Red wavelengths are long and give off heat.
Wavelengths are built so they pull together (in-sync) or they spread apart. In-sync waves, work as a team and move at the same time. When science harnesses these red and infrared waves, they become Laser Light.
Waves that spread out and look more like the beam of a flashlight, produce Low Level Light Therapy (LLLT) and LED (light-emitting diodes) Light Therapy.
Each of these forms of red light have medical benefits. They're able to penetrate into the skin, tissues and muscles to promote healing. Laser lights focus on a small area and dive deep into the body. LED and LLLT lights cover larger surfaces, with a shallower penetration into the skin.
Red light heals by releasing nitric oxide into the body. The chemical relaxes and opens the arteries which in-turn triggers an increase in blood flow, lessens inflammation and fast-tracks the growth of healthy new cells and tissue.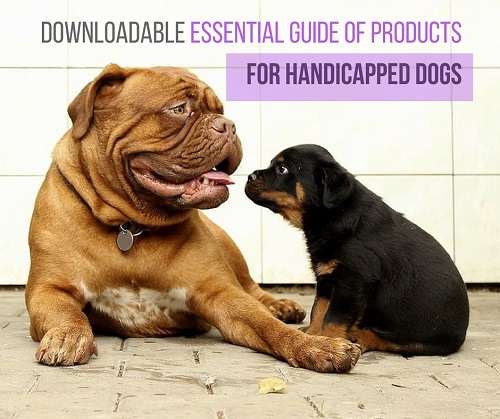 Get the Essential Guide
The Essential Guide of Products for Handicapped Dogs e-book is a labor of love for me. I wrote it to answer your most pressing questions about where to find the best products for your wheelchair dog. You'll find products you didn't know existed and each will improve your dog's quality of life. Print a copy and keep it by your side.
Is at-home light therapy right for my dog?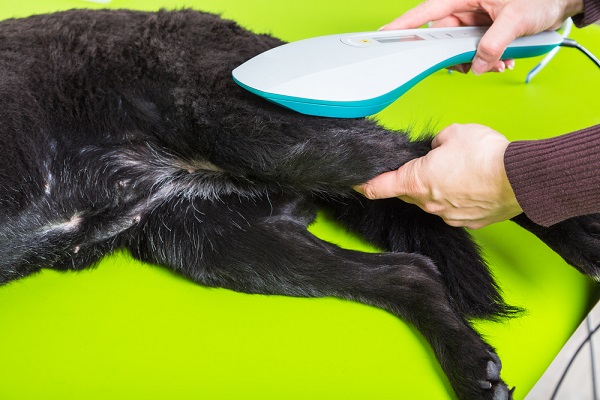 Light therapy benefits dogs with a range of medical conditions. Pet owners like it because the devices are easy to use and their dogs aren't afraid of the treatment. Many pups fall asleep during a session.
Red light is used to treat:
Arthritis
Hip dysplasia
Surgical wounds
Back pain
TPLO surgery (knee repair)
Wounds
Sprains
Soft tissue injuries
Inflammation
Heal infections
Skin conditions like Eczema
Products for home use
Be sure to discuss these products with your veterinarian before starting treatment on your pet.
Here are some of the top-rated devices
LumaSoothe is an easy-to-use LED device that enables pet owners to administer treatments that last up to 15 minutes. The unit comes with two modules. One that treats deep tissue health problems and a second unit that works on surface wounds.
The deep tissue module relieves pain from arthritis, hip dysplasia, back pain, knee pain and joint and muscle pain. The infrared light penetrates about 30-40mm, which makes it effective for bones, joints and deep muscles.
The surface unit soothes pet skin conditions, skin infections and promotes healing in post-surgical wounds. It penetrates tissue to a depth of 8-10mm which is beneficial for attacking harmful bacteria.
LumaSoothe is easy to use. Pet owners place the head of the module lightly on an injured area and then press the start button. The device turns off automatically.
This hand-held, rechargeable device provides pre-programmed treatments for pets. That way pet owners are giving the prescribed dose of light therapy for a specific ailment.
It's a simple process of placing the unit on the affected area and holding it in place for a timed 30 second treatment. Then the device is moved to another part of the injury for another timed treatment.
Photizo is used to heal pets, relieve pain and reduce inflammation for post-op patients. It also works well for arthritis, tendonitis, muscle injuries and more.
The device is safe for small and large companion animals as well as horses and livestock.
The B-Cure Laser Vet Device uses "soft-laser light therapy" to treat pets at home. Similar to laser therapy received in your vet's office, B-Cure alleviates pain, and accelerates healing by releasing chemicals in the body that increase blood flow.
It's the only soft laser treatment that has proven to be safe in a double-blind study. B-Cure is used by pet owners and veterinarians.
The unit is used for 6 minutes, twice a day on an injury or painful area. A green laser safely stimulates healing for nerve pain, infected wounds, chronic ear infections, arthritis, hot spots and other problems.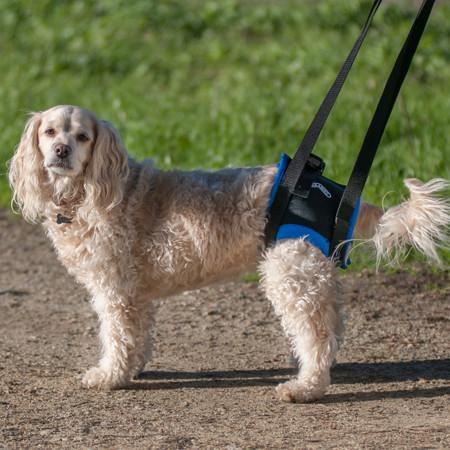 My favorite harnesses for disabled dogs.
Want to read more?