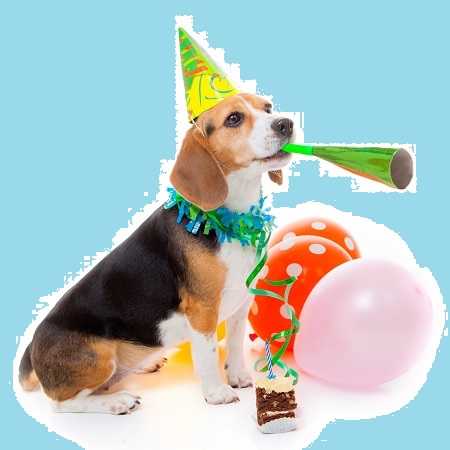 I've been making big changes for the paralyzed pet community while the world has been sheltering in place due to Covid-19. And now I'm ready to share the exciting news. We're rolling out a brand-new website with in-depth stories and a fabulous kickoff giveaway to celebrate.
Everything on the site's been designed to better serve the needs of pet owners with a disabled dog. I hope you like it!
Here are the details and how to enter our best giveaway ever.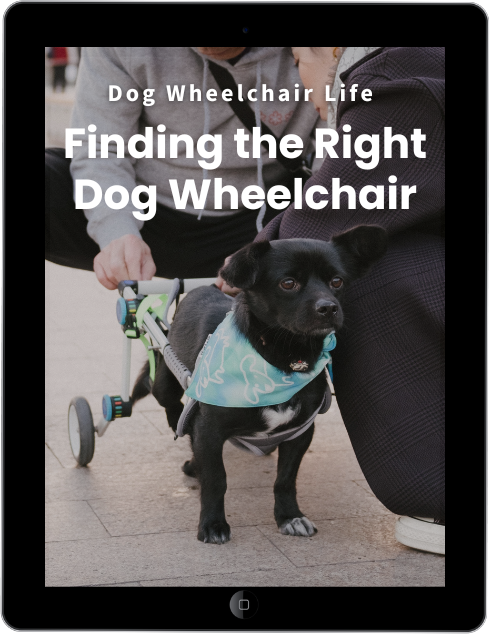 eBook
Find The Right Dog Wheelchair For Your Pet
Your dog has a mobility problem, and you want to buy a wheelchair. But do you know what kind of cart will work best for your dog's individual needs? After a decade of teaching pet owners how to make the right choice, I put the information into an eBook!
Drum roll please!
Dog Wheelchair LIFE is the name of the new site and the mission is to teach pet families how to care for their paralyzed dog. It's my personal goal to help you become a confident, expert caretaker in as short a time as possible.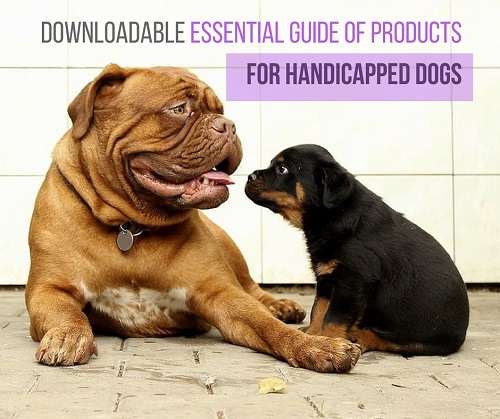 Get the Essential Guide
The Essential Guide of Products for Handicapped Dogs e-book is a labor of love for me. I wrote it to answer your most pressing questions about where to find the best products for your wheelchair dog. You'll find products you didn't know existed and each will improve your dog's quality of life. Print a copy and keep it by your side.
Here's how it works:
Blog posts are organized by your dog's medical condition so you can find information fast.
We have stories just for dogs with IVDD (Intervertebral Disc Disease), Degenerative Myelopathy and other spine disorders. There are even articles with practical tips about daily care.
Stories are in-depth and comprehensive. That way your questions are answered in one article instead of many.
There are also Free Guides with downloadable materials so you can stay organized about dog's health care needs. And we'll be adding to this page on a regular basis.
How to sign up
Dog Wheelchair LIFE is an ongoing project, so don't worry if you don't see your favorite post just yet. All of our old stories are being evaluated and updated. Once they're done we'll email them to you in our newsletter, as usual. There's no need to sign up again.
If you're new to our community, it's easy and free to register for our bi-monthly newsletter. Just look for the box that says, "Join Our Newsletter."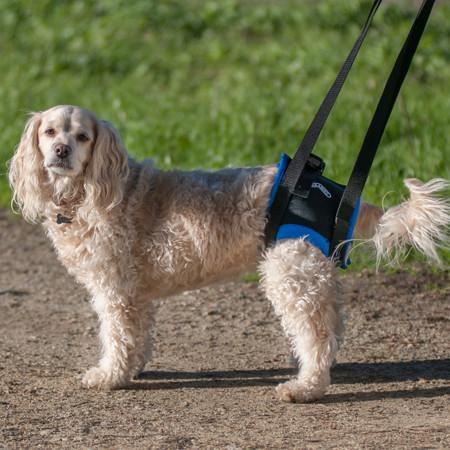 My favorite harnesses for disabled dogs.
Our Fabulous Kickoff Giveaway
When I decided to start Dog Wheelchair LIFE, two of my favorite people in the paralyzed pet world offered to make the launch special. Cathy Erwin, founder of Walkabout Harnesses, and Hanna Jung from Roller Skate with Maximus agreed to host a kickoff giveaway with their life-changing products for disabled dogs. Here's a list of the prizes.
Walkabout Harnesses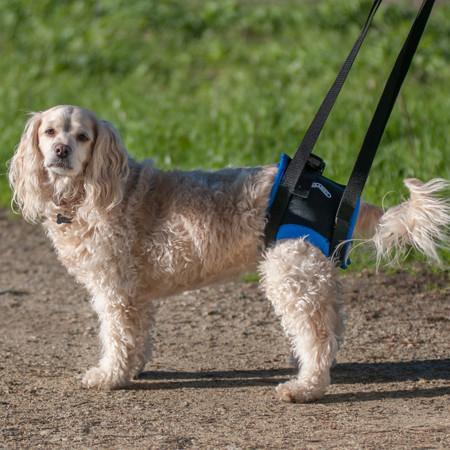 Two lucky winners will receive the Original Walkabout Back End Harness™ and a pair of Walkaboots™ for their pups.
This harness was by Sophie and my side every day during the 5 years she was paralyzed. It's been clinically tested and recommended by veterinary specialists for more than 30 years.
Walkaboots are used by veterinary hospitals worldwide. The boots fit like a glove and protect your dog's paws from scraping on the ground.
Roller Skate with Maximus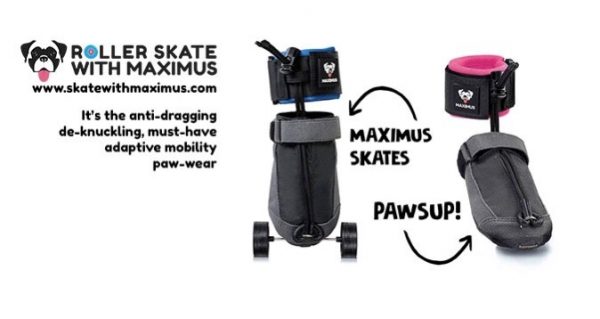 One lucky pup will win a pair of these innovative canine roller skates. Hanna developed the skates for her Boxer, Maximus, who had Degenerative Myelopathy. Maximus didn't like his legs in the stirrups of his dog wheelchair so Hanna came up a product that's become a "must-have" adaptive mobility device.
The skates keep a dog's legs in their natural walking position and provide exercise for their legs. Maximus skates can be used for leashing walking a dog with hind end weakness and for dogs in carts.
Another winner will receive the latest product from Skate with Maximus. It's the new Paws Up boot for dogs who knuckle their feet, limp or have an unsteady gait.
Other prizes
Our fabulous giveaway will also include: A Walkie Belt® utility belt, travel pet water bowls and t-shirts.
How To Enter The Giveaway
Leave a comment about why your dog would like to win The Original Walkabout Harness and Walkaboots, roller skates from Skate with Maximus or PawsUp. (You must live in the contiguous United States to enter.)
Entries will be accepted through Tuesday June 16, 2020 at 5pm Eastern time. Winners will be notified through the email address you leave in the comment. (So, watch out for my reply to say your dog is a winner.)
Good luck to everyone!
Dog Wheelchair LIFE
I hope you like the new website. I'd love to hear your thoughts about the design or if you have a question about your dog, you'd like to see answered in a future article.
And I want to send a big thank you to all of our readers who've spent the past 6 years with Lessons From A Paralyzed Dog. It's been a labor of love.
Dog Wheelchair Life – https://dogwheelchairlife.com