How do I take care of my paralyzed dog while I'm at work? It's one of the biggest fears pet owners have. We worry about how we'll manage our dog's care and how we'll keep a pet, who can't walk on their own, safe when we have to be away from home.
I have to confess I was lucky. When Sophie became paralyzed, I had already switched from working in an office to working from home. It allowed me to there when she needed to pee, poop or get a drink of water.
This isn't the case for most families.
When I decided to research this problem for readers, I knew there were lots of experienced pet owners on the Dog Wheelchair LIFE Facebook page who were making the situation work. They were successfully taking care of their paralyzed dog while going to work every day. I reached out to them, asking for tips, and an overwhelming 179 people shared their daily routine.
If you're struggling with this dilemma, I know you're going to find their creative solutions helpful and hopefully their answers will set your mind at ease. Each pet family developed their own unique strategy that works for their work schedule and lifestyle. I'm sure one of their ideas will strike a chord with you.
You'll be relieved to know there aren't 179 comments to read. I summarized them, but I appreciate and thank everyone who shared their story.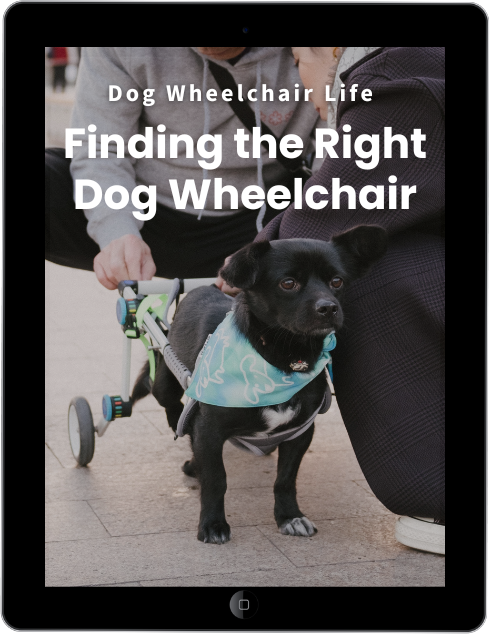 eBook
Find The Right Dog Wheelchair For Your Pet
Your dog has a mobility problem, and you want to buy a wheelchair. But do you know what kind of cart will work best for your dog's individual needs? After a decade of teaching pet owners how to make the right choice, I put the information into an eBook!
What working pet families worry about most
When I put out the word for advice to our Facebook community, Carol C. wrote back to say she was facing the problem of going back to work. Her dog had been diagnosed with Degenerative Myelopathy (DM), a progressive neurologic disease.
Carol wrote:
"There is one day where my dog will be left alone for 8 hours. She has DM and isn't able to walk. We have her in diapers and she pees fine. I am worried because she doesn't get up for anything including water. I work 10 minutes away and plan on coming home for lunch, but sometimes I get busy. Is she going to be okay?"
Carol's question confirmed one of the biggest fears of pet owners. We worry their condition will get worse, if they are home alone too long.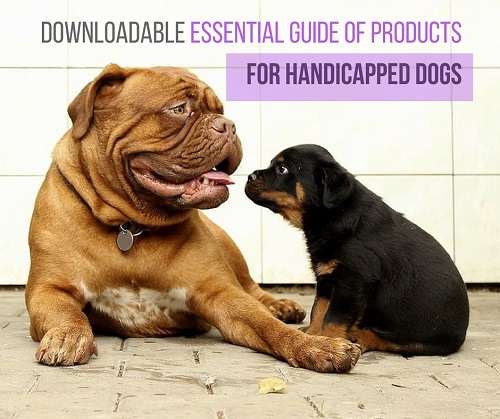 Get the Essential Guide
The Essential Guide of Products for Handicapped Dogs e-book is a labor of love for me. I wrote it to answer your most pressing questions about where to find the best products for your wheelchair dog. You'll find products you didn't know existed and each will improve your dog's quality of life. Print a copy and keep it by your side.
Here's a list of the other top concerns families have:
You worry about how to keep your pup dry.
Pet owners have concerns about a dog being able to eat and drink on their own.
There are worries about pressure sores. Dogs that lie in one position too long are prone to developing skin ulcers and hygromas.
Pet owners think their dog will be lonely or bored.
And because of a paralyzed dog's incontinence, you worry about the cleanliness of your home, especially if there are repeated accidents.
The four categories of how to take care of a paralyzed dog while at work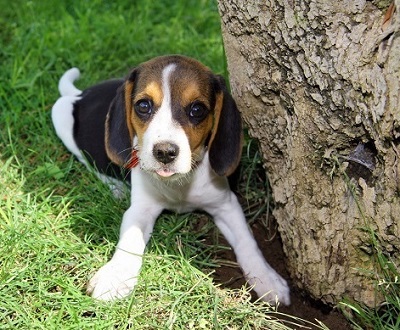 Once I read the solutions pet owners shared, I realized there were four clear classifications of how they tackled work and caretaking.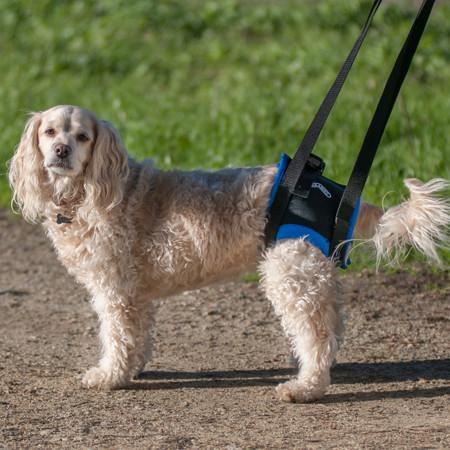 My favorite harnesses for disabled dogs.
Here's how the four categories look:
Dogs who stay home all day on their own
Pet owners who pop in during the workday
People who found another person to check-in on their paralyzed dog
Owners who take their pup to work
The following are real-life solutions pet parents have developed.
Dogs who are home on their own all day
This encompassed the largest category of pet owners who work away from home. Some of them have been handling life this way for many years. Here are excerpts and compilations of their daily routines.
Most of the pet parents manually express their dog's bladder when they wake up and once again before they head out the door. Some put their dog in a diaper for the day, while others spread pee pads on the floor. Both give added protection to their pup and their home while they're at work.
Half of the dogs were allowed to roam free in the house, while the other half have access to only one. Other dogs spent their day in a play pen or a doggie x-pen.
All of the dogs have water bowls within easy reach, toys to entertain them and many had the company of other dogs in the family.
Pet owners said when they come home at the end of the day, they immediately express their dog's bladder. Then they clean up any urine or fecal mess and spend the rest of the evening enjoying family time. The accounts people shared of their daily routines had very little drama.
Specific examples from pet parents
Paula W has a paralyzed dog named Katy who was hit by a car. Paula works 45 hours a week so Katy has free run of the house along with her 8 dog housemates. Paula expresses Katy before she leaves for work, when she gets home and before bed. She looks at leaks or poops as a small price to pay for having Katy in her life.
Joyce C has a Boxer with DM. When he got sick, Joyce worked full time, had one child in high school and another in college. She learned how to express the dog's bladder and used a small glycerin suppository (recommended by her vet) to express his bowels before going to work. She also found that an inexpensive webcam relieved her anxiety about him home. It allowed her to watch and talk to him. Later Joyce taught her kids how to express the dog so they could pitch in with his care.
Judy J from South Africa gives her dog Vesper free rein of the garden while she's away. Vesper stays in her wheelchair during the day. She has a kennel she can wheel into and huge cushion where she can park and rest.
Pet parents who use diapers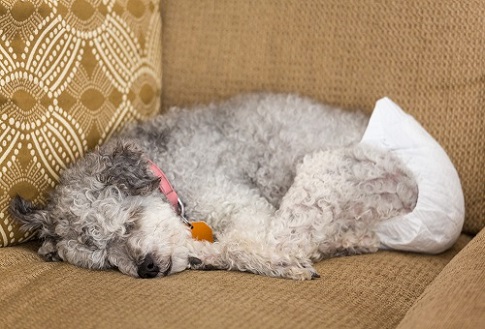 Missy B puts her dog, Domino, in a diaper when she heads to her part time job. If there's an accident, she cleans it up. She also adds big "bumper" pads all over the room to protect Domino.
Alyssa G likes cloth diapers for her paralyzed dog. She cuts a hole for the tail and her dog roams free in the house.
Liz O uses diapers and a crate for her dog Pudge. She spreads toys on his bed and keeps on eye on him with a camera.
Owners who use pads, towels and other barriers
Becky B has been using washable waterproof pads in her dog's crate for the past 5 years. He has access to water at all times to keep his kidneys flushed. Becky is proud to report her system has kept her dog free of urinary tract infections for the past 3 years.
Lauren L covers her tile floor with old towels for her French bulldog. Then she puts a trash bag under his bed for leakage and gives her dog access to the kitchen for the day.
Jessica L covers her bedroom floor with pee pads so her dog has room to play. Her dog doesn't need to be expressed. She calls her bedroom a "giant dog kennel."
Lisa B has a paralyzed dachshund. He stays in a crate during the day, diaper free, with a washable pad under him.
Chantal F has a dog who dribbles so she puts him in a tiled room. The floor gets a thorough cleaning when she returns home.
Dog owners who pop home for lunch
Debra A is lucky to live about 20 minutes from work. She comes home every day to take care of her dog Shadow. She puts Shadow into her wheelchair for a water and pee break and then heads back to work.
Shelley uses the time to change out pee pads because her foster dog leaks urine.
Lori M's dog Cassie has been paralyzed for 5 years. During the first few years, Lori would express Cassie before work and pop in at lunch to see how she was doing. She'd clean up any accidents, play with Cassie and head back to work. Today, Cassie's body works better, so she's expressed twice a day and is "happy as a clam."
Pet parents who found help to come into the home
Mon' Taj wrote about the caring vet techs in her community in Rockford, IL. They offer a drop-in service for special needs pets. The vet techs take dogs out to relieve themselves, give medications and check on their overall welfare.
Tracey H found an amazing dog walker who took her two disabled dogs, Jake and Melvin, on walks twice a day. Jake, who was paralyzed, went in his stroller.
Teresa P expresses her mini schnauzer Gino before she leaves for work. The dog had an FCE stroke. A friend comes in at 11:30 each day to express Gino and give him playtime.
Read more about where to find pet sitters for special needs dogs.
Owners who take their dog to work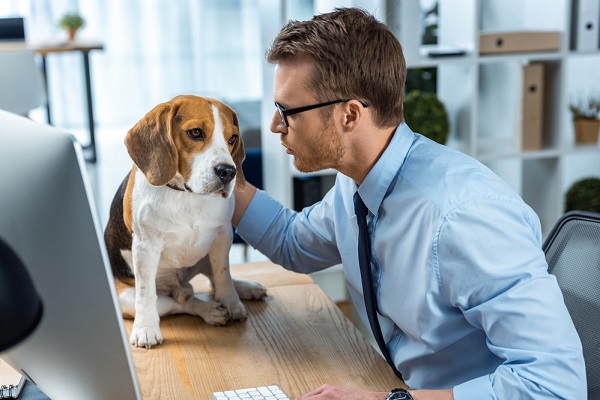 Caryn Mc used a combination of taking her Chihuahua Caspian to work and enlisting the help of a veterinary daycare. Caspian had a birth defect that left him unable to use his front limbs. He spent 4 days at daycare where he was loved and cuddled by the staff. And on Fridays, he went to work with mom where he stayed in Caryn's office and enjoyed lunch with her coworkers.
Nicola P feels lucky to bring her dog to work. The pup stays in a crate in an area with a small garden. Nicola checks on her at 11am, 3pm and they do physical therapy together at lunchtime.
Doreen S brings her dog to work and during breaks the two go for walks with a wheelchair.
Sarah B takes her dog Gizmo to the office. He has a play pen and toys and goes outside to be expressed several times a day.
What I learned about taking care of a paralyzed dog while you work
I was impressed with every example shared. I know the solutions from other pet parents will be a lifesaver to the family of a newly paralyzed dog.
Each remark demonstrated an overwhelming love and devotion to a disabled dog, but what I love most was the fact that pet owners didn't sweat the small stuff. They found practical solutions to solve their problems and appreciated every step of their journey with their handicapped dog.
Learn more about the topics discussed in this article.
Degenerative Myelopathy in Dogs: What Pet Owners Should Know
7 of the Most Common Spine Diseases in Dogs
Intervertebral Disc Disease: Understanding the Condition
Learning How To Express Your Incontinent Dog's Bladder
Our new eBook