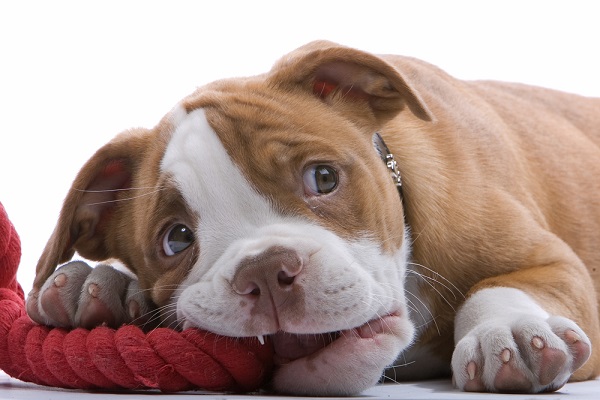 This will sound strange, but a quote popped into my head when a pet owner asked me about dog enrichment toys.
The quote by Teddy Roosevelt says, "Do what you can, with what you have, where you are." In layman terms, it means we should work with the circumstances given to us, rather than wish things were different. It applied perfectly to the pet owner's situation.
Her German shepherd had been diagnosed with a progressive neurologic disease called Degenerative Myelopathy. His hind legs were paralyzed and he could no longer do the activities he loved, like chasing a ball. The woman worried he was becoming depressed.
I told her she was looking at her dog's disability backwards. Instead of fixating on what her dog lost, she should focus on the activities he still enjoyed. We discussed that some of them might need to be modified, but they were doable.
To me, that's the mission of dog enrichment toys. It gives pets, especially those with disabilities, a chance to play in a brand-new way.
Note: Some of the links below are affiliate links. That means I may earn a small commission, at not extra cost to you, if you make a purchase.
What is a dog enrichment toy?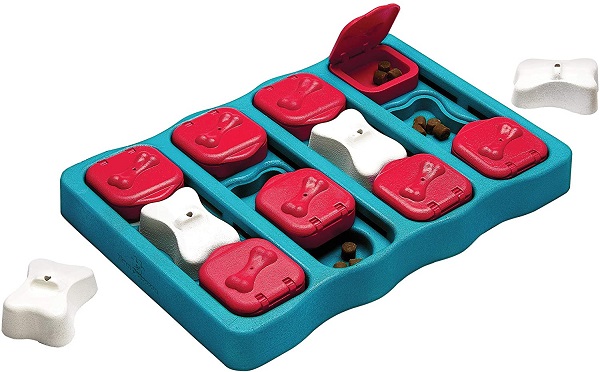 Enrichment toys are interactive games and puzzles that challenge a dog's mind. They prevent boredom, relieve anxiety and are downright fun.
They work by allowing a dog to use their natural abilities, like their keen sense of smell, to solve a problem.
Enrichment games are popular with puppy owners who want to stop their pet from wreaking havoc in the house. And they're a great way to keep a dog busy while their owner is at work. Enrichment toys are also a nearly perfect answer for handicapped animals.
The games and puzzles are designed to entertain and engage pups like the German shepherd with the mobility problem. Most of them don't require a dog to run after them. They're brain games that are made so a dog can lie on the floor and play with a toy that keeps them motivated.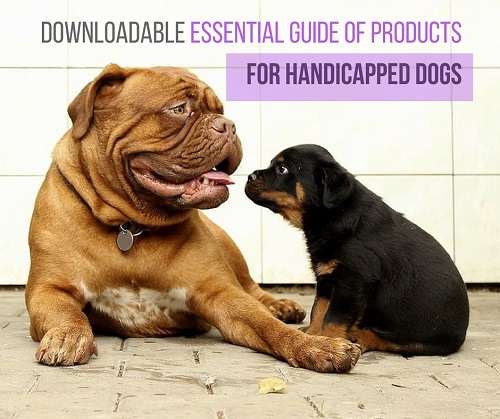 Get the Essential Guide
The Essential Guide of Products for Handicapped Dogs e-book is a labor of love for me. I wrote it to answer your most pressing questions about where to find the best products for your wheelchair dog. You'll find products you didn't know existed and each will improve your dog's quality of life. Print a copy and keep it by your side.
A special note to people with special needs pets
Some dogs with mobility problems easily get around on their own. In fact, if your dog has Intervertebral Disc Disease (IVDD) I'm sure you're wondering what all the fuss is about, keeping a dog entertained.
But if you think back to a time when your pet had spine surgery and was confined to their crate while they healed, you'll get a glimpse into the life of other disabled animals.
Interactive games improve life for pets with:
Degenerative Myelopathy
Arthritis
Fibrocartilaginous Embolism (FCE) strokes
Wobbler Syndrome
Vestibular Disease
Crate rest
Hemivertebrae
Spina Bifida
Pug Myelopathy
My dogs' favorite interactive toys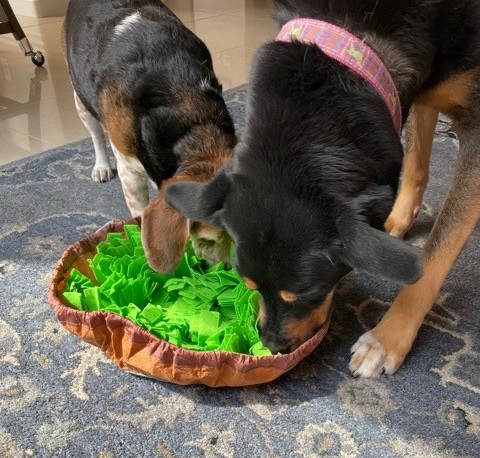 Four of the nine dogs I've raised have played with enrichment games. Sophie and Cody used them because of their mobility issues. Bailey and Olivia love them as an alternative to playing fetch. We currently have 8 puzzles and I pull out two different games every night. Here are their favorites.
KONG makes lots of sturdy, chew-proof food or treat dispensing toys for dogs of all sizes and ages. Sophie and Cody loved the Wobbler best. It has a weighted bottom so no matter how hard they hit it with their paw or pushed it with their nose, the toy never moved out of their reach. It was the perfect game for dogs who can't move around.
This is Bailey and Olivia's latest favorite. Snuffle mats are large cloth mats that have lots of hidden crevices to hold kibble or treats. They encourage a dog to use their sense of smell and natural foraging skills to find the hidden morsels of food. Snuffle mats come in a variety of sizes and levels of difficulty. And if you can sew, snuffle mats are an easy DIY project.
We love all of the interactive puzzles designed by pet mom Nina Ottosson and Outward Hound. The puzzles come in 3 levels from beginner to expert and challenge dogs to use their brain. Dogs use their mouth, nose and paws to remove obstacles, open drawers and slide barriers. You'll be surprised how fast your dog understands how to complete the puzzle.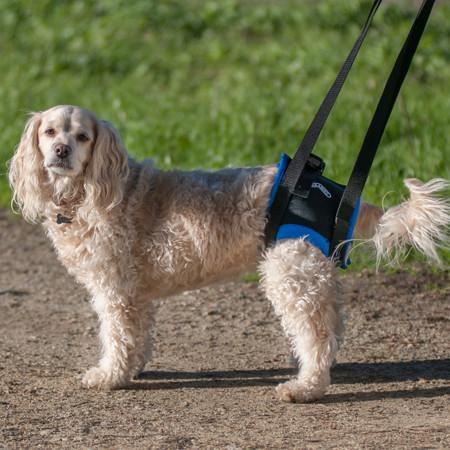 My favorite harnesses for disabled dogs.
Other popular dog enrichment toys
If your dog isn't handicapped, there's a plethora of treat dispensing balls that will keep your pet entertained for hours. The toys come in every size imaginable, but the goal for each is the same. Dogs must figure out the best way to remove the treat and empty the ball.
This product is new to the dog enrichment toy scene. It's an interactive game that calms a dog. Pet owners spread peanut butter or yogurt onto the mat where it seeps into the different shapes embedded in the toy. Then dogs lick the treat. Licking is a natural way for a dog to soothe themselves and lower stress and anxiety.
The goal of this fun enrichment game is to pull six stuffed animal squirrels out of a tree trunk. The toy is made for small dogs who want to explore their natural hunting instincts.
Dogs love to play tug-of-war. This game from Elopaw is for large breed dogs who love to chew. It has two suction cups that anchor a tug-of-war rope to the ground. Dogs are then free to pull and tug on the toy at the end other end.
We're fans of Benebone dog chew toys. It's a great toy, not a digestible treat, for aggressive chewers. Each Benebone has real bacon baked into it so dogs want to chew it for hours.
DIY enrichment games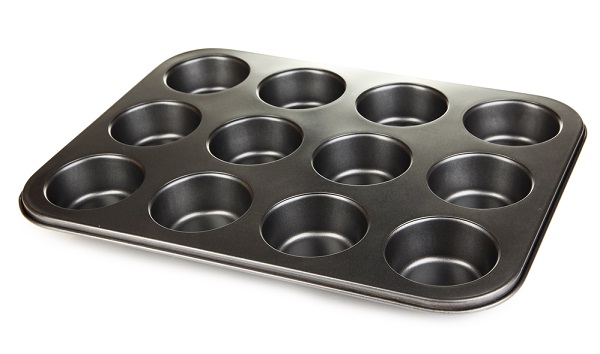 If you're handy there are lots of enrichment games you can make at home. Use your imagination as your guide.
Toys like snuffle mats are easily sewn together. And you can create your own interactive puzzle with a muffin tin. Place a tasty treat in the bottom of the muffin tin. Then place a tennis ball over each mold to cover the treats. Your dog will have fun removing the tennis balls and gobbling up the kibble or cookies underneath.
DIY nose work
My dogs play a game we call "Find It." Small treats are hidden on the floor in the kitchen or living room or the backyard, while the dogs stay in another closed off area. When everything is hidden, the dogs are shown which rooms to explore. They're released and told to "find it." The dogs run up and down every inch of the area sniffing the scent until they find the delicious prizes.
If there's a favorite interactive game your dog plays, please share it in the comment section. I'd love to know how you enrich the life of your pet.