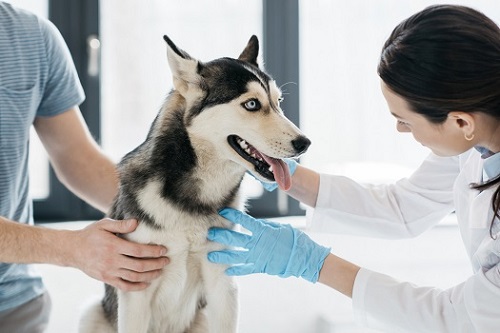 Your relationship with your vet is important and if you're like me you spent a lot of time choosing the right one. But do you know your veterinarian's philosophy about treating a paralyzed dog? There are a lot of emotions to deal with when a pet becomes disabled so it's vital the professional you turn to for guidance shares your viewpoint. It's a conversation every pet owner should have when their pup has a life-changing health problem.
Attitudes can vary and you don't want to be surprised if you run into a crisis.
Some vets are comfortable treating the ongoing needs of a paralyzed dog while others may prefer you see a specialist. Here are the questions to ask when you have this necessary heart-to-heart talk.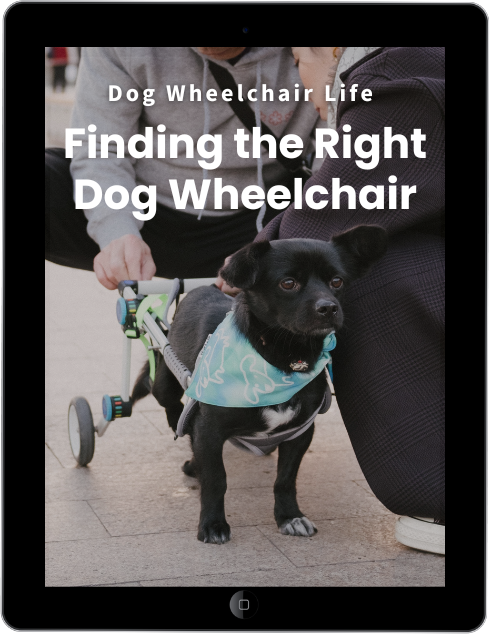 eBook
Find The Right Dog Wheelchair For Your Pet
Your dog has a mobility problem, and you want to buy a wheelchair. But do you know what kind of cart will work best for your dog's individual needs? After a decade of teaching pet owners how to make the right choice, I put the information into an eBook!
My veterinarian's philosophy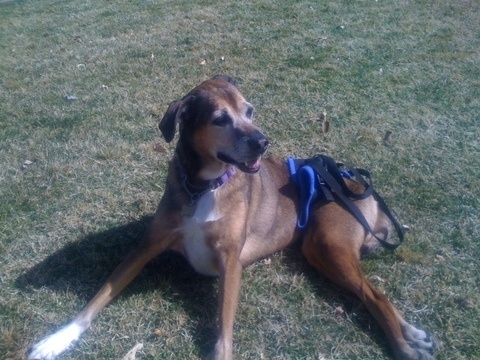 I've had lots of pets over the years, so I have two stories to tell. The first time I realized that veterinarians don't all share the same ideals happened after a vet I loved, moved out-of-town. It meant that I had to interview someone new.
My favorite vets are the ones who say a quick hello to me and then get down on the floor to play with my cats and dogs.
That's the type of vet I had and that's what I was looking for again.
I brought my German shepherd, Bear, to meet a vet who donated her time with my rescue group. It seemed like a good choice. When she walked into the exam room, she barely looked at my handsome guy and touched him only when it was necessary. At the end of the visit I asked her about it and thankfully she gave me an honest answer.
The vet said she preferred working with cats and was saving to open her own cat hospital, which she did several years later. My question saved both of us a lot of frustration.
Later I had a similar experience with Sophie and another veterinarian. We'd been going to her for a while and I liked her. But I noticed a difference in her behavior during the 6 months Sophie went from being a healthy dog to paralyzed. At each visit I asked questions and they were answered quickly and professionally, but I never felt the compassion I needed to hear in her voice.
Finally, I asked if there was a problem.
That's when the veterinarian told me she didn't believe in keeping a "down" dog alive.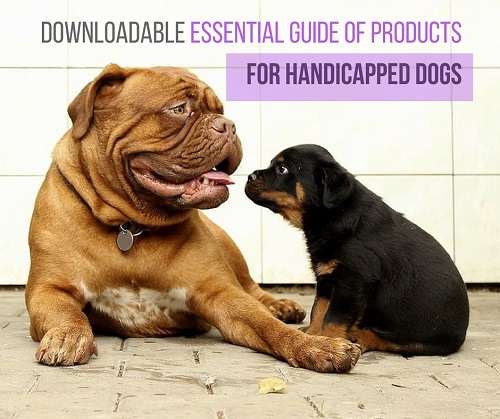 Get the Essential Guide
The Essential Guide of Products for Handicapped Dogs e-book is a labor of love for me. I wrote it to answer your most pressing questions about where to find the best products for your wheelchair dog. You'll find products you didn't know existed and each will improve your dog's quality of life. Print a copy and keep it by your side.
Most veterinarians are happy to help
Pet owners have told me their vets are happy to share their knowledge and teach them about life with a dog in a wheelchair. So, I don't expect you'll have an experience like mine.
That said, there are important questions you need to ask to decide if your philosophy matches that of your vet.
Facebook members to the rescue
I asked members of our Facebook group to share the "best question they've asked their vet" or the question they, "wished they had asked." Here are the questions and the answers received.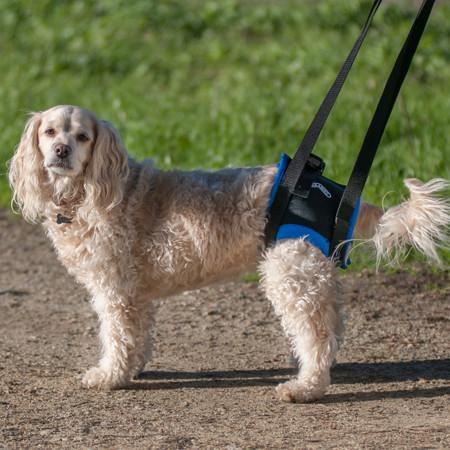 My favorite harnesses for disabled dogs.
How much experience does my vet have treating dogs with paralysis?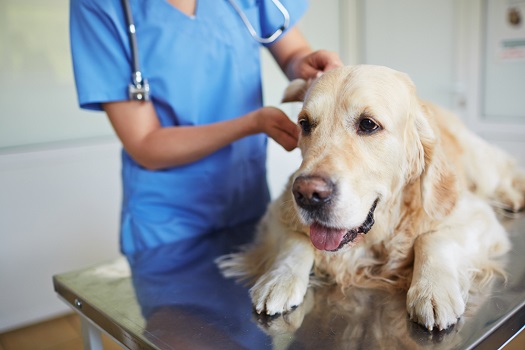 It's extremely important that your veterinarian has treated multiple patients with your dog's disorder. Their expertise sets the stage for the level of care your dog will receive and the information and support you will get. They'll know about the daily care your pet needs and what their future looks like.
Pet mom Ana R. rescued a dog who became paralyzed after being hit by a car. When Ana asked questions, the veterinarian answered all of them by telling her to take the dog home and have a good life. Ana realized this lack of specific answers meant she needed a more experienced advisor in her corner.
Renee B. had the opposite experience after her pet was diagnosed with Degenerative Myelopathy. The vet gave Renee encouragement, thoroughly answered her questions and was by her side until the end.
Does my vet perform spine surgery often?
You might love your vet, but when it comes to delicate spine surgery, you want a surgeon who does them often and achieves the best results.
Carina T. said she should have asked this question before her dog's procedure. She thinks there might've had a better outcome with a surgeon who had a high success rate.
Can my vet clearly explain what life will be like with a paralyzed dog?
Your vet should be able to describe in detail what daily life will look like, based on your pet's specific needs. For instance, some dogs need crate rest when they come home from the hospital. Others might be prescribed physical therapy or to start using a wheelchair.
Each case is unique and an experienced vet should be able to explain this to you.
Will the veterinarian teach me how to express my dog's bladder?
Because the majority of paralyzed dogs are incontinent, learning how to manually empty their bladder is important. It's the skill owners worry about most. They're fearful about doing it wrong and injuring their dog.
I think the technique is best learned with hands-on training. If your vet offers you a one-on-one lesson, you'll know you picked the right practitioner.
Pet mom Missy B. wanted to learn how to express her dog, but instead of a demonstration, the vet talked her through the technique. Missy tried to follow the instructions, but didn't realize she was supposed to fully empty the bladder. It caused her dog develop a urinary tract infection.
Fortunately, her vet realized the problem and helped Missy learn the right way to do it.
Should my dog see a neurologist?
Not every mobility problem warrants a visit to a veterinary neurologist, but if your dog is referred for an exam make sure to have this conversation. Talk with the specialist about the tests that will be done and the cost. Then ask what the neurologist hopes to learn from the exam. You want to know if there will be a confirmed diagnosis or if the tests are being performed to rule out certain illnesses.
Neurological tests are expensive, so if the cost is prohibitive, it's okay to ask the vet about a payment plan. It's also alright to talk about alternative procedures, especially if the tests are being done to omit disorders. The specialist might have another method to do this.
My vet thought Sophie might have a spinal tumor so we chose to use an older, less expensive diagnostic test. Sophie was given steroids over a period of time. I was told that if her symptoms improved it was a clue that she had a tumor.
Does my vet's practice have integrative and holistic treatments?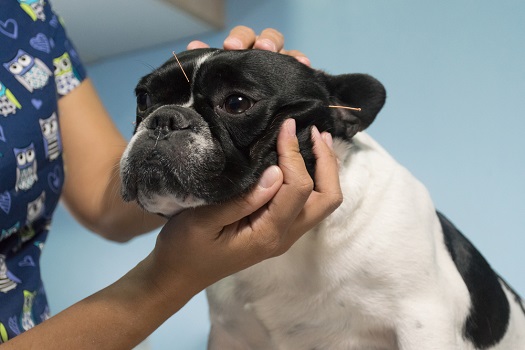 Many dogs with mobility and spine problems are good candidates for alternative therapies. These include treatments like: physical therapy, water therapy, acupuncture, laser therapy, hyperbaric oxygen therapy, Chinese herbs and chiropractic treatments.
Have a conversation about which alternative therapies might benefit your dog and whether your vet offers them. It's more convenient to have rehab services under one roof, rather than running your dog all over town. It's also a good way to see how familiar your vet is with these therapies.
Pet mom Ish R. wishes she had talked with her vet about rehab for her dog. She found out about the benefits of water therapy several years after her pup became paralyzed.
Is my veterinarian able to explain ongoing costs?
Dog wheelchairs, diapers, drag bags and other mobility devices can make life with a paralyzed dog expensive. Talk with your veterinarian about the specific items your dog needs and their cost.
It's wonderful there are so many new devices available, but your pup won't need them all. Let your vet guide you to the best solutions for your pet.
Denise S. wishes she had talked to her dog's doctor about this. She wasn't prepared for the expenses after her Schnauzer had a stroke.
How familiar is your vet about the latest clinical trials?
Universities across the country are conducting studies on all aspects of canine paralysis. If your vet is familiar with them, your dog might be able to participate.
This could lead to an improvement in your pet's condition and help future paralyzed dogs.
What's my veterinarian's end of life philosophy?
It's important to know the level of support you'll receive from your dog's doctor at the end of their life. There are two topics I wish I had discussed:
Will my vet be honest and straightforward with me when my dog's health declines?
Will my veterinarian be there at the end?
Taking care of a disabled dog requires a circle of support. Some are family and friends. The rest are the professionals who watch over your pet. Choosing people whose philosophy matches your own, will make the journey a success.
Click to read: 9 Physical Therapy Exercises You Can Do At Home