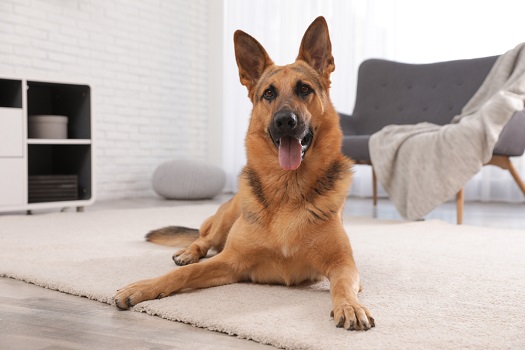 While I was doing research to update a story about laser therapy for dogs, I stumbled onto the results of a new study. It said, laser therapy prolongs the lives of Degenerative Myelopathy dogs.
In my book, this is very exciting news, but I don't remember reading about it in April 2020, when the results were released. Up until now, rehabilitation, like physical therapy and hydrotherapy were the only clinically proven methods to slow the disease.
If your dog's been diagnosed with DM, laser therapy is a topic to discuss with your vet.
The 2020 research showed that when laser therapy was combined with intensive physical therapy, the disease progressed at a significantly slower rate and dogs lived longer.
Facts about Degenerative Myelopathy
DM is a progressive neurologic disease that primarily attacks large breed dogs between the ages of 8-14. The condition is terminal. Dogs first show signs of a wobbly gait that gives way to hind end weakness. This progresses to incontinence and complete paralysis of their back legs.
The disease then continues to move to a dog's front limbs and eventually effects the organs. The life expectancy for a dog with DM is typically 12 months, with some dogs lasting longer. It's a heartbreaking condition that takes the lives of thousands of loving pets every year.
Click here for a complete explanation about DM: What Pet Owners Should Know
A brief overview of laser therapy for dogs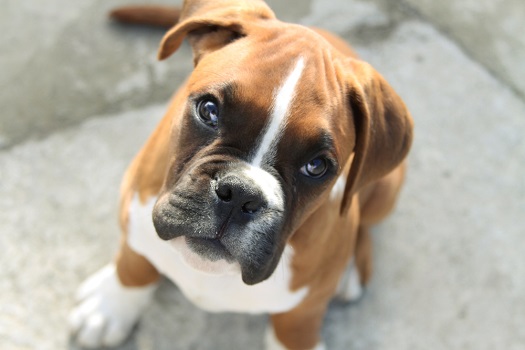 Laser therapy for dogs is a safe and painless way to treat a variety of ailments and injuries. It works by emitting a low-powered infrared laser light that accelerates the healing process.
The infrared light is transmitted to your dog's body through a wand that is swept back and forth over the skin of an injured area.
It's used to treat medical conditions that include: spine problems, arthritis, Intervertebral Disc Disease, fractures, bladder infections and more.
Dogs typically enjoy the treatment.
How the study was conducted
The research was run by a team of veterinarians that included: Lisa Miller, DVM, CCRT, and Deb (Gross) Torraca, DPT, MSPT, Diplomat ABPTS, CCRP and Luis De Taboada, MSEE.
Their objective was to determine the impact laser therapy had on dogs who were receiving high intensity physical therapy to treat their Degenerative Myelopathy symptoms.
Investigators conducted the study through a process called "Retrospective Observational Analysis." That means they analyzed data from dogs via their medical records.
The disease process was analyzed for 20 dogs who had all received physical therapy at a well-known veterinary rehab center in Connecticut.
Researchers divided the dogs into two groups:
Dogs who received laser therapy that lasted about 5 minutes.
Dogs who received laser treatments of 25 to 26 minutes.
The outcome: Laser therapy prolongs the lives of Degenerative Myelopathy dogs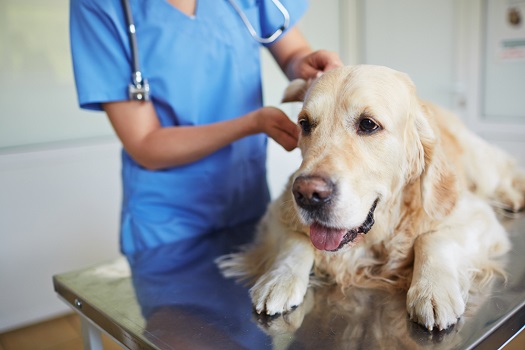 There was a significantly longer survival rate for dogs who received the lengthier laser therapy sessions.
On average these canines became paralyzed after nearly 21 months and lost their battle with Degenerative Myelopathy at about 27 months.
Prior to including laser therapy as part of the treatment plan, dogs who received intensive physical therapy as their sole rehab plan, survived only 8 ½ months.
The research team told Veterinary Practice News they were excited about the results of their first study. Dr. Miller was especially pleased because it gives vets a new treatment option for a heartbreaking condition.
The team plans to continue their work by studying more DM patients who have laser therapy added to their rehab treatments.
You can read the entire study by clicking here.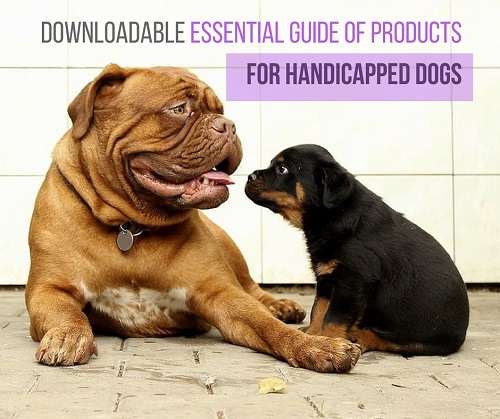 Get the Essential Guide
The Essential Guide of Products for Handicapped Dogs e-book is a labor of love for me. I wrote it to answer your most pressing questions about where to find the best products for your wheelchair dog. You'll find products you didn't know existed and each will improve your dog's quality of life. Print a copy and keep it by your side.
Dog breeds prone to Degenerative Myelopathy
American Eskimo Dogs
Bernese Mountain Dogs
Borzoi
Boxers
Cardigan Welsh Corgi
Chesapeake Bay Retrievers
German Shepherd Dog
Golden Retriever
Great Pyrenees
Irish Setters
Kerry Blue Terriers
Pembroke Welsh Corgis
Poodle
Rhodesian Ridgeback
Shetland Sheepdog
Soft Coated Wheaton Terriers
Wire Fox Terrier
If you suspect your dog has DM, an inexpensive DNA test can be ordered online through the Orthopedic Foundation for Animals (OFA).